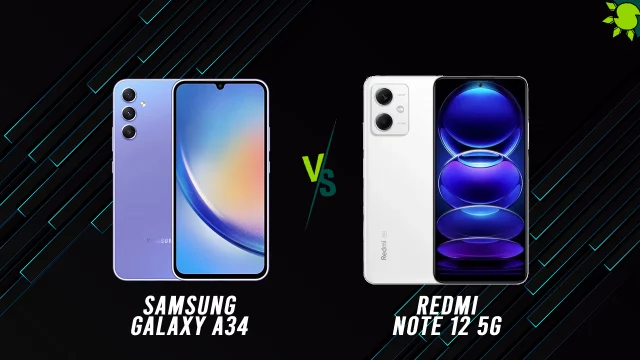 Xiaomi's Redmi Note 12 5G and Samsung's Galaxy A34 are new smartphones entering the crowded and competing mid-range segment. They both launched simultaneously in the lower-middle range category on the worldwide market. Both devices deliver impressive functionality and speed at a reasonable cost. We'll examine key differences and similarities to help you decide between the Redmi Note 12 5G and the Samsung Galaxy A34.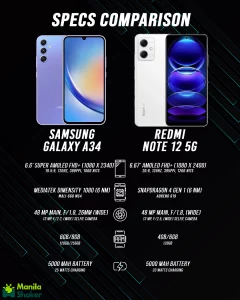 Related: Xiaomi 13 Pro vs. Samsung Galaxy S23 Plus—Flagship Battle.
Design and Display
Compared to the Samsung Galaxy A34, which measures 161.3 x 78.1 x 8.2mm and weighs 199g, the Note 12 5G has 165.9 x 76.2 x 8mm and weighs 188g. The Redmi Note 12 5G's style is more classic, while the Galaxy A34's is more contemporary. However, unlike its competitor, the Galaxy A34 features an unsightly waterdrop opening, which may turn off some customers. The Galaxy A34 is better than the Redmi Note 12 5G because it has an IP67 rating, making it dust- and water-resistant, while the latter only has an IP53 rating, making it resistant to dust and splashes.
The Redmi Note 12 5G display is 6.67 inches, with a 1080 x 2400 pixels resolution and a frame rate of 120 hertz. The display on the Samsung Galaxy A34 is 6.6 inches in height, and it also has a display of 1080 x 2340 pixels and a refresh rate of 120 hertz. Crisp images and vivid colors can be seen on both phones, but the Galaxy A34's Super AMOLED screen may have slightly superior contrast and deeper blacks. In addition, it has a fingerprint scanner, whereas the Redmi mid-biometric ranger's sensor is located on the edge of the device, next to the power button.
Camera
The Note 12 5G has a 48-megapixel primary lens, a 2-megapixel depth sensor, and an 8-megapixel front-facing camera. The primary camera on the Samsung Galaxy A34 is 48 megapixels with optical image stabilization; there's also a 13-megapixel ultrawide lens and a 2-megapixel depth sensor. The Galaxy A34's camera has a slight edge over its competitor, thanks to optical stabilization.
OS and Hardware
The heart of the Redmi Note 12 5G is an octa-core CPU from Qualcomm's Snapdragon 4 Gen 1 family, running at 2 GHz. However, the Samsung Galaxy A34 features an octa-core CPU clocking in at 2.6 GHz, manufactured by MediaTek. The Galaxy A34 has a faster processor, so while both smartphones work admirably, the Galaxy A34 is the superior choice. The Redmi Note 12 5G is available with four, six, or eight gigabytes of Memory and either 128 or 256 gigabytes of storage. The Samsung Galaxy A34 offers three different RAM and storage configurations: 6GB of RAM and 128GB of internal storage, 8GB of RAM and 128GB of internal storage, and 8GB of RAM and 256GB of internal storage.
Given that equally powerful memory configurations are available, the disparity is due to the CPU. Android 12 with Xiaomi's MIUI powers the Redmi Note 12 5G, while Android 13 with Samsung's One UI powers the Galaxy A34. Regular upgrades will release for both devices, but the latter will support an extended time.
Battery and Charging
Both devices have batteries with 5000 mAh. The Galaxy A34 only allows 25W rapid charging, while the Redmi Note 12 5G is capable of 33W, and they shouldn't be drastically different in terms of energy life.
Price and Availability
A Redmi Note 12 is only €299, or $322 (around Php 17,480), while a Samsung Galaxy A34 is €399, or $430 (approx. Php 23,343). The Samsung Galaxy A34 is a better phone, but the price gap is significant.
---
Read More Articles Here