MediaTek has recently announced its new Kompanio 1380 chip for premium Chromebooks such as the new Acer Chromebook Spin 513.
The MediaTek Kompanio 1380 (MT8195T) is based on TSMC's 6nm manufacturing process featuring an octa-core CPU with four high-performance Arm Cortex-A78 cores with speeds up to 3GHz. Its five-core Arm Mali-G57 GPU supports fast and vivid visuals, while the quad-channel 2133MHz LPDDR4X ensures plenty of data bandwidth.
According to MediaTek, this powerful multi-core AI processor accelerates AI-camera and AI-voice applications while also optimizing battery life.
Moreover, the Kompanio 1380 supports up to two 4K 60Hz displays, or one 4K 60Hz display plus two 4K 30Hz displays. It has advanced decoding features that allow consumers to stream 4K movies and TV shows with the best quality settings, while also enjoying longer battery life.
There's also a dedicated audio digital signal processor (DSP) that provides an ultra-low-power voice on wakeup (VoW) capabilities for a wide variety of voice assistant services. For connectivity, the chip supports Wi-Fi 6/6E and Bluetooth 5.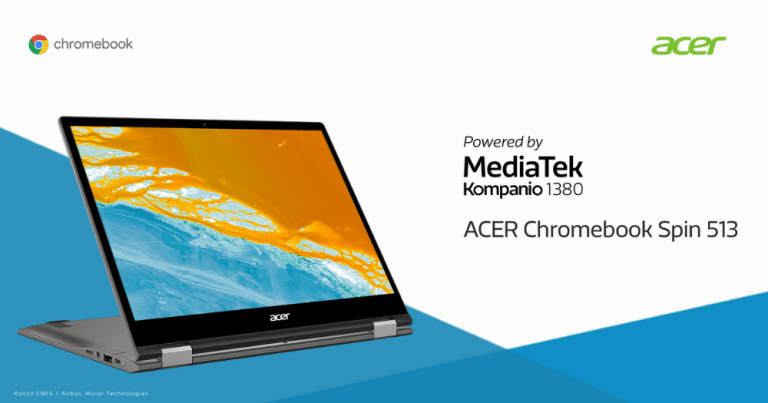 The MediaTek Kompanio 1380 has been widely adopted by device manufacturers to power mobile computing devices, including Chromebook laptops and tablets. Additional devices powered by the Kompanio 1380 will be available in the market soon.
READ: MediaTek Dimensity 9000 beats Snapdragon 8 Gen 1, Exynos 2200 on Geekbench 5