Hyundai Philippines has officially launched the electric version of Hyundai Kona locally. It's the EV type model of the currently available Hyundai Kona crossover.
The Hyundai Kona Electric will be available this quarter of the year with a price of P2,380,000 pesos or roughly P2.4 million before government incentives for the EV. However, until now, there is no clear law present to support discounts for electric cars in the Philippines.
Read: Top EV or Electric Cars in the Philippines in 2019
Technically speaking, the Hyundai Kona EV is powered by a 64-kWh lithium-ion battery which produces around 200 HP and 394 Nm of torque, which is incredibly powerful for its size and comparable to a premium crossover.
The Hyundai Kona EV promises up to 400 kilometers range in a single charge. In terms of charging, the onboard 7.2kW power charger could fill the battery in full in 10 hours and 30 minutes while the faster 50kW could reach 80% in just 1 hour and 15 minutes. Moreover, there is an international 100kW charger that is not present in the Philippines but could fill 80% of the battery in just 54 minutes.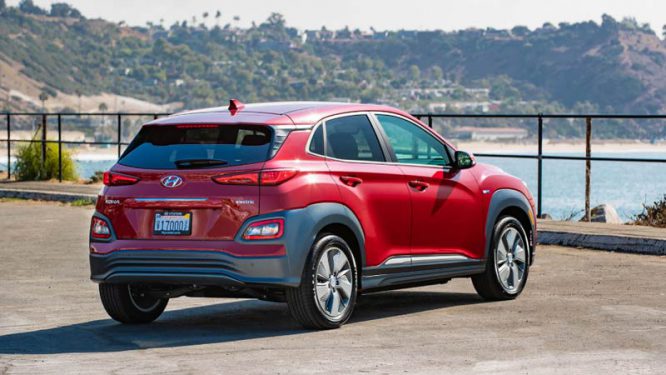 Read: Nissan Leaf Electric 2020 Launching in the Philippines for P2M price
Hyundai Kona Electric 2019 EV Photos
Hyundai Kona Electric 2019 EV price, specs, availability in the Philippines
Range: 415 kilometers (258 miles)
Power: 201 horsepower
Torque: 283 Nm
Battery Capacity: 64 kWh
Charging: 10.5 hours full charging via 7.2kW wall charger at home or station, or 1 hour 15 min. via 50kW
Fast charging: 80% in 54 minutes via 100kW DC
Acceleration 0 – 100 kph: 7.6 seconds
Body type: 5-door hatchback, compact crossover
Price: $39,990 before tax discount, official SRP in the Philippines at  P2.38 million pesos
Release date: May to June 2019 availability in the Philippines