We had the HP Envy x360 with Ryzen chipset for several days, and without a doubt, it's a top-notch laptop to consider in 2019 for a handful of reasons including the performance and premium build for a budget price.
Read: HP ENVY x360 Review – Gaming on a budget and premium machine



Here's a list of solid top six reasons why you should consider it on your next laptop upgrade:
1. One of the best premium design for Windows laptops (or MacBooks )
After reviewing it, the HP ENVY x360 is undeniable, one of the best-looking convertible Windows laptops today. And in fact, it's far better than my recent MacBook Pro in terms of portability and performance.
It is significantly a big upgrade from the slew of polycarbonate-built laptops as it is made of a solid aluminum body with minimalist touches and refined edges. Every detail is stunning like the unique patterns along the lid and sides, and the materials used are really exceptional.
Its 14mm thinness and 1.3kg weight will give you a sleek profile. Plus its robustness and minimalist design are two enough reasons why you should buy this one.
2. Thin bezels, Crisp touch display
On the HP ENVY x360, the 13-inch models are composed of metal edges and really tough Gorilla Glass protection on the front while the bezels remain thin, overall. The Full HD touch display features accurate and crisp colors supporting Windows Ink and high-res writing pens like from HP or other brands.
There's also an option going for 4K or UHD screen in some markets but the 1080p alone is already more than enough for both professional tasks or entertainment consumption.
It's very rare for a Windows laptop at the price of HP ENVY x360 to feature both touch display that supports pen input and protected by Gorilla Glass. Those are mostly reserved for around P100k and up pricing while the HP ENVY x360 retails for half.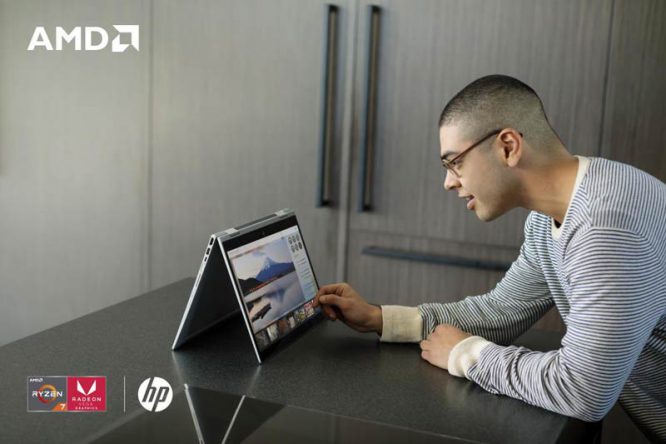 3. Practical 360-degree flexibility and useable modes
At home, I have a smartphone, tablet for ebooks and browsing, and a traditional laptop for work. Most of the time I am away from my working desk, I always bring my smartphone and tablet with me. But during the period we reviewed the convertible HP ENVY x360, all I need to do is flip it to the tablet mode and then I can readily open my books or even browse comfortably on the couch.
There are actually four major modes including the tent and flat modes. But my favorite so far is the tablet mode which really suits my work and play periods. Also, the hinges feel tough and the screen does not wobble uncomfortably.
I never thought that this 360-degree flexibility of the HP ENVY x360 is very useful. Now I am considering the same design as the HP Envy x360 if ever I will upgrade my laptop.
4. Battery Life is great for this size
I do not play graphics-intensive games that much when I am at home working or even outside. But with mostly moderate to heavy multitasking while connected to the internet, I only plug the HP ENVY x360 once a day–and that's quite solid results considering I am working for up to 12 hours a day. And it's far more appreciable given how light and thin this laptop.
5. AMD Ryzen 7 provides extra oomph and reliable performance
At 2.2 GHz speed, the quad-core processor is noticeably powerful and considerably performs like my more expensive notebook with Intel Core-i7 CPU. Switching to different programs in Windows 10 is smooth while graphics demanding tasks like Adobe Photoshop and 4K UHD streaming are handled better on the Ryzen chipset, thanks to the RX Vega 10 graphics.
Though not built for hardcore games, the HP ENVY x360 could handle titles like Blizzard's Overwatch in low to medium graphics and resolution as well as DOTA 2 and Fortnite in above 30fps.
6. Budget price on capable specs and premium build
More of a bonus for this list is how the HP ENVY x360 is positioned in the market. It has really the looks and performance of a more expensive laptop but its price is more attractive. It's hard to find the same premium and solid build on this price range so we really recommend checking out the ENVY x360 when you're looking for a great value for your money.
HP ENVY x360 which is priced starting at P56,990 pesos available at HP Concept Stores authorized dealers nationwide and HP Flagship Stores on Lazada and Shopee.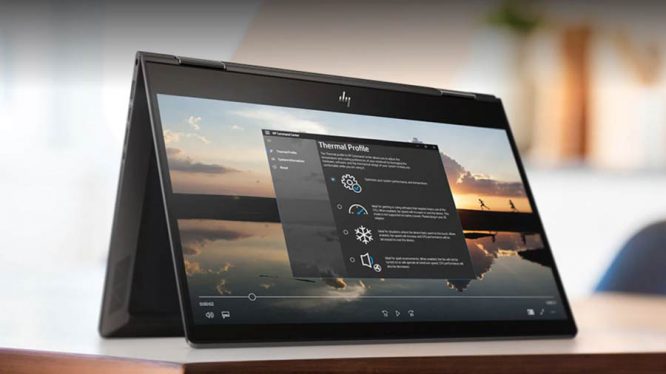 HP ENVY x360 (Ryzen) specs, price, availability in the Philippines
Display: 13.3-inch Full HD IPS LED or 15-inch, Gorilla Glass NBT, Windows Ink or Digitizer Pen support
Design: 14.9mm thin and 1.3kg weight for the 13-inch model, Aluminum metal, 360-degree convertible
CPU: AMD Ryzen 5 2500U or Ryzen 7 2700U quad-core processor
GPU: Radeon RX Vega 8 or Vega 10 graphics
RAM: 8GB DDR4
Memory: 256GB PCIe NVMe M.2 SSD
Ports: 1 USB Type-C™ 3.1 Gen 2 (Data Transfer, Display Port 1.4, HDMI 2.0b, Power Delivery 3.0, HP Sleep & Charge); 2 USB 3.1 Gen 1(1 HP Sleep and Charge); 1 headphone/microphone combo, microSD media card
Audio: Bang & Olufsen; Quad speakers; HP Audio Boost 2.0 (discrete smart amp solution)
Security: side-mounted Fingerprint scanner
Battery: 53.2Wh, rated of up to 10 hours, Fast Charging 0 to 50% in 45 min.
Color: Dark Ash Silver
Release date: March 2019 in the Philippines
Price: P56,990 for Ryzen 5 model and P63,990 for Ryzen 7 model