A small setup for a big comeback – after some time of hiatus Cherry Mobile launched the Flare S7 Plus a couple of months ago. It is the top-of-the-line mid-range offering from a local brand. And after using it as a daily driver since January this year, the Flare S7 Plus did not disappoint. But should I recommend it over other options in the market? Find out in our long-term review of the Cherry Mobile Flare S7 Plus.
Read: Samsung Galaxy A50 vs Oppo F11 Pro vs Vivo V15 – Best midrange P18k priced phone
DESIGN
The design is clean, modern and reminds me of the latest smartphone affairs – the notch, the placement of the camera, the attempt to maximize the screen, and the circular fingerprint sensor at the back. At first glance, you wouldn't think it's Cherry Mobile because they dropped the branding in the design. It doesn't have a 3.5 mm headphone jack and has USB-C type port instead (surprise, Oppo and Vivo!).
The Flare S7 Plus is sleek and easy to grip while being solidly built. Seriously speaking, it felt like a premium glass-made flagship smartphone on my hands. There's very little to complain about on the quality and looks of this device. Instead, it's a footprint that should be followed by other brands since it has the premium feel on it.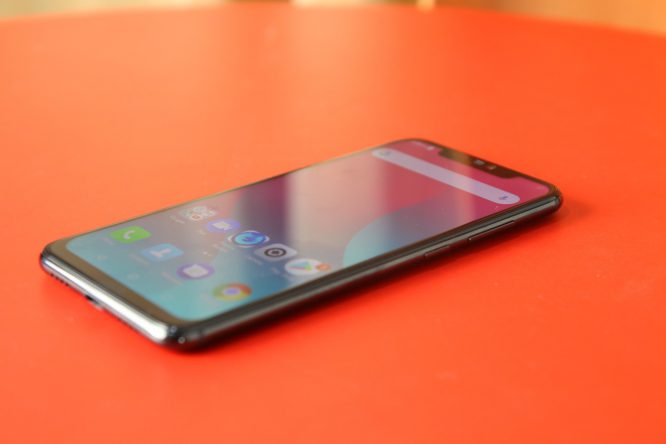 DISPLAY
The Flare S7 Plus has 6.2-inch LTS TrueView display width 19:9 aspect ratio. It's protected with Corning Gorilla Glass 3. It also has a Full HD+ resolution 403 (ppi). The display quality is good and sharp considering its screen size and amount of resolution on gaming and playing videos.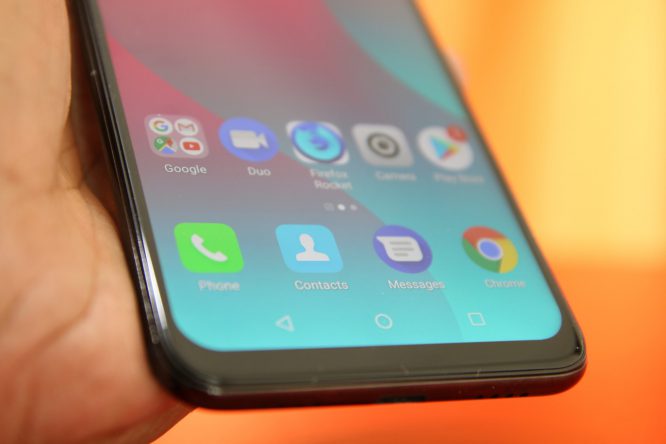 CAMERA
The camera wasn't disappointing. It is equipped with a 16 mp + 5 mp dual rear AI camera and 16 mp camera in front. With good lighting conditions, it is able to produce a good set of photos with high quality and rich colors. Thee details are also vivid but if only photos are taken with steady hands. In low light and night, it performed just right with flash but is not as detailed when there's good lighting.
The group selfie feature got me confused because it needs to take three shots and it's like a lot of work – I would suggest to a wide angle lens feature instead.
PERFORMANCE AND BATTERY
I'm glad that Cherry Mobile Flare S7 doesn't have much bloatware or pre-installed apps like the previous units that have been released before. It also has a lot of storage space, thanks to the 64GB internal while microSD card support up to 256GB extra memory.
The performance was a smooth as mid-range phones in the market thanks to MediaTek Helio P60, Mali 672 MP3 GPU and 4gb RAM that powers the Flare S7 Plus – the same hardware that powers most of the smartphones these days.
When used in gaming, it warmed pretty quick on heavy apps like PUBG Mobile and Mobile Legends. I experienced some frame drops on low ping but is really not bothering.
Everything was performing quite well but the only sad part is its small battery pack 3500 mAh. With moderate games and web browsing that includes playing videos, it lasted me about 6 hours.
Overall, the Flare S7 Plus performs like a midrange phone while the battery is fairly average for all-day use.
CONCLUSION
Cherry Mobile Flare S7 Plus has its flaws but very close to a mid-range phone that is more pricey when it comes to specs and performance. Few tweaks and I will choose it over other expensive phones considering its price of Php 11,999.
Its availability is fairly limited since Cherry Mobile did not restock both in online and retail stores. It will be a good deal if you could get it at a discounted price since it has a larger RAM and storage capacity than most of the competition.
Read: Top Reasons To Buy The Oppo F11 Pro