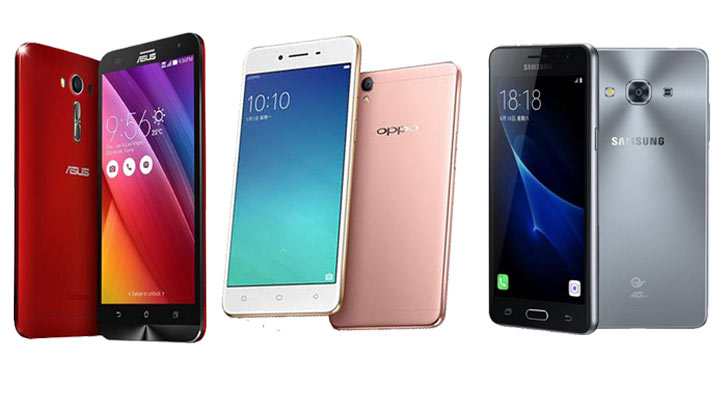 Budget Android under P8k price specs review: Laser 5.5S vs Oppo A37 vs Galaxy J3 Pro
Asus and Samsung officially launched their budget Android entry for this year, the Asus Zenfone 2 Laser 5.5 S and Samsung Galaxy J3 Pro 2016, respectively. Meanwhile, Oppo is looking to join the party with the release of the Oppo A37 that's price for P8990 pesos in the Philippines or $199 abroad.
These three Android smartphones share some features and specs so that's why we put those into a specs and price comparison table below.
More comparisons and reviews
Price Advantage: Samsung Galaxy J3 Pro 2016 is cheaper
In terms of pricing, Samsung may launch the Galaxy J3 Pro with sub P8,000 price locally and internationally. This may cut the prices of the Asus Zenfone 2 Laser 5.5S and Oppo A37 which are valued for P9000 or $199. Of course, things may be different once the J3 Pro is launched, we'll just wait for the final release.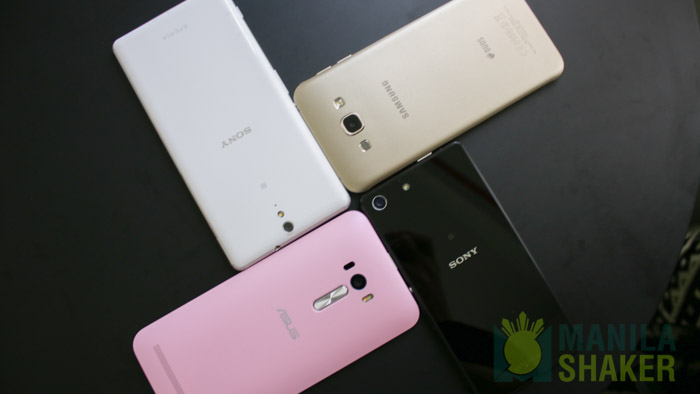 See also: Camera Comparison Mid-ranger Xperia M5, Zenfone Selfie, Xperia C5 Ultra, Galaxy A8
Performance and CPU: Zenfone 2 trumps all
One of the biggest advantages of the Asus Zenfone 2 Laser 5.5S is the faster and more powerful chipset and extra RAM and memory. The Snapdragon 610 is an octa-core processor providing 4 extra cores and 1GB RAM more. The storage is also 32GB which is double over the 16GB of the competition. The two budget, Oppo A37 and Galaxy J3 Pro, are powered by a low-end, entry-level processor of last year.
Read: Android Phones Powered by Snapdragon 650 hexacore chip
More pixels and sharper camera for Zenfone 2 Laser
By numbers alone, the Zenfone 2 Laser 5.5s features more pixels than the two shooters. This also maxes out the video recording at 1080p Full HD. Hopefully, we could compare these cameras in actual test and review once we received the units.
Extra battery juice for extra screen size
The Laser 5.5 S is the bulkiest in the group but it has bigger battery capacity and wider display in exchanged for the size. If you want to go for a compact phone, you better narrow down your choices to Oppo A37 and Samsung Galaxy J3 Pro.
Metal design resembling high-end Oppo F1 and iPhone 6s
Perhaps the pros of the Oppo A37 here is the high-end design. The back resembles a lot from the flagship selfie expert Oppo F1 while taking a few hint from the iPhone 6s' metal and curved form.
The Samsung Galaxy J3 Pro 2016, on the other hand, share some design elements of the Galaxy S6 and the spun-metal finish of the Asus Zenfone 3 series despite the faux metal construction.
With the specs and features in, which budget Android phone do you plan on buying? Let's know in the comment section of other phones that are closely priced and specs with this trio.
Asus Zenfone 2 Laser 5.5 S

Oppo A37

Samsung Galaxy J3 Pro 2016

Display: 5.5-inch HD IPS LCD, Gorilla Glass 4, 267ppi

5-inch HD IPS LCD, Gorilla Glass 4, 293ppi

5-inch HD Super AMOLED, Scratch-resistant, 293ppi

Design: Plastic

Metal + Plastic

Faux Metal

CPU: 

Snapdragon 610

octa-core (2015 mid-range processor)

Snapdragon 410 quad-core (2015 low-end processor)

Snapdragon 410 quad-core (2015 low-end processor)

GPU: Adreno 405 graphics

Adreno 305 graphics

Adreno 305 graphics
RAM: 

3GB

2GB

2GB

Memory: 

32GB

internal storage

16GB internal storage

16GB internal storage
microSD card: up to 64GB

up to 128GB

up to 128GB

Camera main: 13MP f2.0

8MP f.20

8MP f2.0

Features: 1080p FHD video, LED flash, HDR

720p HD video, LED flash

720p HD video, LED flash

Selfie: 5MP selfie

5MP selfie

5MP selfie

Connectivity: 4G LTE, Dual-SIM micro cut, Bluetooth 4.0, GPS, WiFi n

4G LTE, Dual-SIM micro cut, Bluetooth 4.0, GPS, WiFi n

4G LTE, Dual-SIM micro cut, Bluetooth 4.0, GPS, WiFi n

Ports: micro USB 2.0

micro USB 2.0

microUSB 2.0

Audio: Standard, mono speaker

Standard, mono speaker

Standard, mono speaker

Fingerprint scanner: n/a

n/a

n/a

Battery: 

3000mAh

2630mAh

2600mAh
OS: Android 5.1.1 Lollipop, upgrade to 6.0 Marshmallow

Android 5.1.1 Lollipop, upgrade to 6.0 Marshmallow

Android 5.1.1 Lollipop, upgrade to 6.0 Marshmallow

Colors: Pink, Red, Black, White

Pink / Rose Gold, Gold

Grey, Pink, Gold

Release date: May 2016

June 2016

July 2016

Price: $200 / P8995 pesos official SRP in the Philippines

$200 / P8990 pesos official SRP in the Philippines

$150 to 200 / P7000 to 8000 pesos

Where to buy: Asus Philippines, available

Oppo Philippines, available

Samsung Philippines