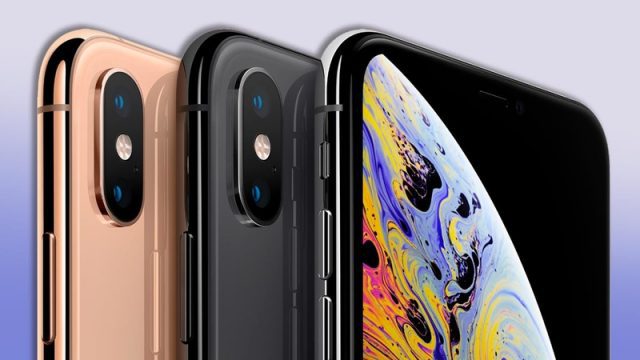 Where to buy/pre-order the Apple iPhone Xs, Xs Max, XR?
You've got it right, the latest iPhone Xs, Xs Max, XR are already up for grabs here in the Philippines. For the iPhone Xs and Xs Max, people can already purchase it in Apple PH store and via Smart/Globe postpaid plans.
> Huawei Mate 20 specs, pricing
> Huawei Mate 20 Pro specs, pricing
How much is the Apple iPhone Xs, Xs Max, XR?
As courtesy of Apple PH, the iPhone Xs is priced at P67,990 while the XS Max is priced at P74,990 (both 64GB variants). While the iPhone Xs' 128GB variant goes at P77,490, its 256GB variant will be priced at P90,490. In terms of XS Max, the Xs Max' 256GB variant is priced at P84,490 while its 512GB variant will go for P97,490. Yet, Philippine pricing for the Apple iPhone XR is yet to be released.
For Smart postpaid price, the iPhone Xs (64GB) is available for at P50,000. That is, for 599 GigaX plan. While Globe, on the other hand, priced it for P59,400 for their THEPlan 999. For their GigaX plan 1,499 monthly, the smartphone is priced at P43,200 for Smart and P50,400 on Globe's 1799 Plan.
You may check more info on the plans available from Smart here and Globe here. Pre-order already started last October 19. Shipping starts on October 26. As always, stay tuned for more tech updates!
Apple iPhone Xs, Xs Max, XR official photos
Apple iPhone Xs full specs, Philippine price, release date
Display: 6.5-inch (diagonal) all-screen OLED Multi‑Touch display, Super Retina HD display, HDR display, 2688-by-1242-pixel resolution at 458 ppi, 1,000,000:1 contrast ratio (typical), True Tone display, Wide color display (P3), 3D Touch, 625 cd/m2 max brightness (typical)
Resistance: Rated IP68 (maximum depth of 2 meters up to 30 minutes) under IEC standard 60529
Sim: Dual SIM (nano-SIM and eSIM), Not compatible with existing micro‑SIM cards
CPU: A12 Bionic chip, Next-generation Neural Engine
GPU: Apple GPU (eight-core graphics)
Storage: 64GB/256GB/512GB internal storage
Rear Camera: Dual 12MP wide-angle and telephoto cameras, Wide-angle: ƒ/1.8 aperture, Telephoto: ƒ/2.4 aperture, Dual optical image stabilization, 2x optical zoom; digital zoom up to 10x, Wide color capture for photos and Live Photos, Quad-LED True Tone flash with Slow Sync, Portrait mode with advanced bokeh and Depth Control, Portrait Lighting with five effects (Natural, Studio, Contour, Stage, Stage Mono), Smart HDR for photos
Front Camera: TrueDepth camera, 7MP photos, ƒ/2.2 aperture, Retina Flash, Wide color capture for photos and Live Photos, Smart HDR for photos, Portrait mode with advanced bokeh and Depth Control, Portrait Lighting with five effects (Natural, Studio, Contour, Stage, Stage Mono), Extended dynamic range for video at 30 fps, Cinematic video stabilization (1080p and 720p), 1080p HD video recording at 30 fps or 60 fps, Animoji and Memoji
Battery:  Lasts up to 1.5 hours longer than iPhone X, Built-in rechargeable lithium‑ion battery, Wireless charging (works with Qi chargers), Charging via USB to computer system or power adapter
Security: Face ID, Enabled by a TrueDepth camera for facial recognition
Connectivity: Gigabit-class LTE with 4×4 MIMO and LAA, 802.11ac Wi‑Fi with 2×2 MIMO, Bluetooth 5.0 wireless technology, NFC with reader mode, Express Cards with power reserve, Assisted GPS, GLONASS, Galileo, and QZSS, Digital compass, Wi‑Fi, Cellular, iBeacon micro-location
Audio: Wide Stereo Speakers
Ports: Lightning
OS: Apple IOS 12
Colors: Gold, Silver, Space Gray
Apple iPhone Xs Max full specs, Philippine price, release date
Display: 5.8-inch (diagonal) all-screen OLED Multi‑Touch display, Super Retina HD display, HDR display, 2436-by-1125-pixel resolution at 458 ppi, 1,000,000:1 contrast ratio (typical), True Tone display, Wide color display (P3), 3D Touch, 625 cd/m2 max brightness (typical)
Resistance: Rated IP68 (maximum depth of 2 meters up to 30 minutes) under IEC standard 60529
Sim: Dual SIM (nano-SIM and eSIM), Not compatible with existing micro‑SIM cards
CPU: A12 Bionic chip, Next-generation Neural Engine
GPU: Apple GPU (eight-core graphics)
Storage: 64GB/256GB/512GB internal storage
Rear Camera: Dual 12MP wide-angle and telephoto cameras, Wide-angle: ƒ/1.8 aperture, Telephoto: ƒ/2.4 aperture, Dual optical image stabilization, 2x optical zoom; digital zoom up to 10x, Wide color capture for photos and Live Photos, Quad-LED True Tone flash with Slow Sync, Portrait mode with advanced bokeh and Depth Control, Portrait Lighting with five effects (Natural, Studio, Contour, Stage, Stage Mono), Smart HDR for photos
Front Camera: TrueDepth camera, 7MP photos, ƒ/2.2 aperture, Retina Flash, Wide color capture for photos and Live Photos, Smart HDR for photos, Portrait mode with advanced bokeh and Depth Control, Portrait Lighting with five effects (Natural, Studio, Contour, Stage, Stage Mono), Extended dynamic range for video at 30 fps, Cinematic video stabilization (1080p and 720p), 1080p HD video recording at 30 fps or 60 fps, Animoji and Memoji
Battery: Lasts up to 30 minutes longer than iPhone X, Built-in rechargeable lithium‑ion battery, Wireless charging (works with Qi chargers), Charging via USB to computer system or power adapter
Security: Face ID, Enabled by a TrueDepth camera for facial recognition
Connectivity: Gigabit-class LTE with 4×4 MIMO and LAA, 802.11ac Wi‑Fi with 2×2 MIMO, Bluetooth 5.0 wireless technology, NFC with reader mode, Express Cards with power reserve, Assisted GPS, GLONASS, Galileo, and QZSS, Digital compass, Wi‑Fi, Cellular, iBeacon micro-location
Audio: Wide Stereo Speakers
Ports: Lightning
OS: Apple IOS 12
Colors: Gold, Silver, Space Gray
Apple iPhone XR full specs, Philippine price, release date
Display: 6.1-inch (diagonal) all-screen LCD Multi‑Touch display with IPS technology, Liquid Retina HD display, 1792-by-828-pixel resolution at 326 ppi, 1400:1 contrast ratio (typical), True Tone display, Wide color display (P3), 625 cd/m2 max brightness (typical)
Resistance: Rated IP67 (maximum depth of 1 meter up to 30 minutes) under IEC standard 60529
Sim: Dual SIM (nano-SIM and eSIM), Not compatible with existing micro‑SIM cards
CPU: A12 Bionic chip, Next-generation Neural Engine
Storage: 64GB/256GB/256GB internal storage
Rear Camera: 12MP camera, ƒ/1.8 aperture, Optical image stabilization, Digital zoom up to 5x, Wide color capture for photos and Live Photos, Quad-LED True Tone flash with Slow Sync, Portrait mode with advanced bokeh and Depth Control, Portrait Lighting with three effects (Natural, Studio, Contour), Smart HDR for photos
Front Camera: TrueDepth camera, 7MP photos, ƒ/2.2 aperture, Retina Flash, Wide color capture for photos and Live Photos, Smart HDR for photos, Portrait mode with advanced bokeh and Depth Control, Portrait Lighting with five effects (Natural, Studio, Contour, Stage, Stage Mono), Extended dynamic range for video at 30 fps, Cinematic video stabilization (1080p and 720p), 1080p HD video recording at 30 fps or 60 fps, Animoji and Memoji
Battery: Lasts up to 1.5 hours longer than iPhone 8 Plus, Built-in rechargeable lithium‑ion battery, Wireless charging (works with Qi chargers, Charging via USB to computer system or power adapter
Security: Face ID, Enabled by a TrueDepth camera for facial recognition
Connectivity: 4G LTE Advanced, 802.11ac 802.11ac Wi‑Fi with MIMO, Bluetooth 5.0 wireless technology, NFC with reader mode, Express Cards with power reserve, Assisted GPS, GLONASS, Galileo, and QZSS, Digital compass, Wi‑Fi, Cellular
Audio: Wide Stereo Speakers
Ports: Lightning
OS: Apple IOS 12
Colors: White, Black, Blue, Coral, Yellow, and Red