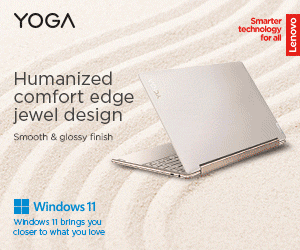 Whether you wish to preserve your files for subsequent content or just keep them for potential usage in the future, there are various options to back up or store your data. Additional storage options include USB devices, external hard drives, and cloud storage. But the equipment we are using now is more complex than a straightforward storage device. Aside from storage, it also provides you with security, and flexibility of access integrates stuff, and backs up stored copies. The DS1522+ from Synology was kindly sent to us with a few 4TB hard disks. This is one of Synology's 2022 NAS models and as usual, we are excited to get the chance to review it.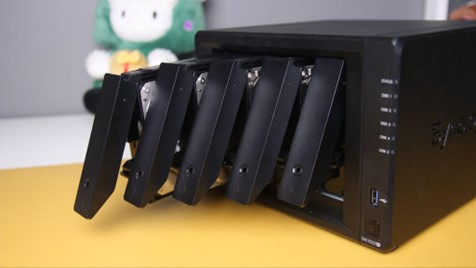 First off, what does NAS actually mean? A NAS, or Network-Attached Storage, the device serves as the central storage hub for all of your devices. In other words, it's a standalone storage device that can be accessed by your PC or smartphone through Wi-Fi or a local area network. Our system has a 5-bay configuration so that you can fit 5 hard drives in it. The 15 in its model name indicates that the NAS can have a maximum of 15 drives with two 5-bay Synology expansion units. But how does using a Synology DS1522+ in daily life work? Especially for individuals who work in offices or need to preserve documents. Will it be practical? And would purchasing such a gadget be worthwhile?
Design And Specs
The Synology DS1522+ is a portable backup storage device with a plastic texture and matte black appearance. The 5 hard disks you can see in the front will fit there. A power button, a USB connector, and an LED indication are also present. The HDD mount doors have rings on them to close the lid so that the HDD can't be removed accidentally or quickly. With the particular feature, it includes grills to lower the temperature in addition to the business logo being etched on the sides.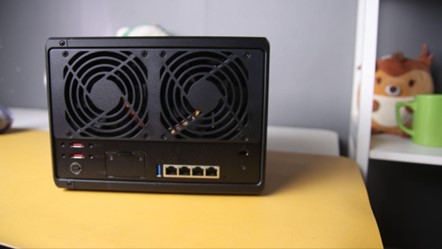 Two cooling fans, two LAN ports, and two eSATA ports for connecting Synology 5-bay expansion units. A power port and a USB port are all located on the device's rear. Additionally, two NVMe SSD slots for caching are underneath, which essentially increases read/write performance.
The NAS is essentially a system unit with an AMD Ryzen R1600 CPU and 8GB of DDR4 RAM that can be expanded to 32GB. The OS for this equipment is Synology DiskStation Manager (DSM), a user-friendly web-based operating system created by Synology and specifically for its NAS systems. It functions as a little computer but is built differently, with storage rather than games as the primary consideration.
How to Power it up
First, install your HDD to the DS1522+. After that, connect the LAN Cable to both your internet router and your DS1522+. Plug the AC adapter onto an outlet and connect it to your Synology device.
After turning on the DS1522+, proceed to your PC and use your web browser to search find.synology.com to find your Synology. Finally, make an Admin Account to have access to your DS1522+. You may use your Synology DS1522+ after registering. If you are a new user, Synology has an installation tutorial video on their Official YouTube channel.
Setup
Since it updated to 7.0, DSM 6.2 has given huge upgrades and enhancements, and Synology continues to release updates to maintain security and make it easier to use. The logos and layout of the updated DSM 7.1.1 have been modernized and refreshed. It has a more fascinating default wallpaper than the previous version's solid blue foreground, and it has a more user-friendly layout with a new and modern login screen. There is also a secure sign-in app for Android/iOS, which provides another degree of security. Despite the fact that the OS is web-based, navigating the UI is easier and more intuitive, with nearly no latency.
There are also some updated apps; the new and integrated application has been streamlined, cleaned, and simplified. For example, they integrated their most popular picture programs and created an easy-to-use photo management solution called Synology Photos. We have a complete review of the Synology Photos app here (https://manilashaker.com/synology-photos-better-option-to-google-photos-how-to-use-it/) if you want to learn more about it.
Enhanced Security
With more core features that have been cleaned and improved, what's more, vital is the security that you require in your accounts and devices. The most recent operating system now supports two-factor authentication for individual accounts as well as user groups. It isn't totally new in DSM 7.1, but it has been enhanced and made more secure. It provides passwordless authentication with merely a username and two-factor authentication, or you may utilize a user, password, and second factor. Any of these options will still provide a layer of protection.
Install the Synology Secure SignIn app on your smartphone, and when you've configured everything, it will simply prompt you on your phone to accept sign-in every time you connect to your NAS systems. It is preferable than using a password that can be brute-forced. You may add as many Synology devices as you like to one authenticator app, and I found it to be incredibly uncomplicated and secure.
Detailed Storage Management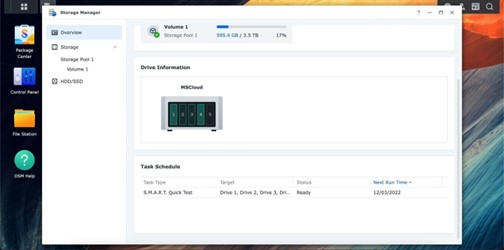 Storage Manager has also been updated, but the biggest change is that you can now readily monitor what's going on with your drives in a dashboard. The information is brief and clear. With a simplified UI, we can now recognize what's going on, and the sidebar is now in a compact tree structure as well.
The ability to automatically replace a drive when it displays a critical or poor status is a very valuable feature in Storage Manager. Using the hot spare function, advanced drive replacement will effortlessly transition to the cloned drive, which is a useful tool for reducing central backup system downtime.
Verdict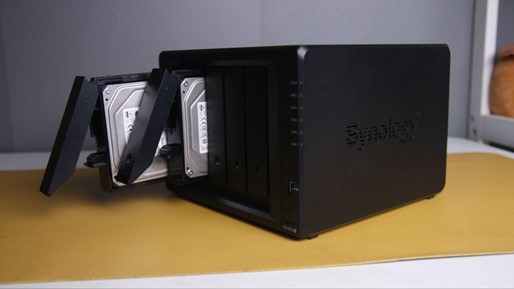 The Synology DiskStation DS1522+ NAS is a fantastic option whether you're a home user seeking to save multimedia files and share them in the cloud or a small business needing a flexible storage solution with numerous RAID choices. Even though it doesn't provide much more than its predecessor, it is still not a drawback. Energy efficiency noticeably improves with the switch to the Ryzen R1600, thus to the allure of this device.
For the majority of home customers seeking to utilize a NAS for entertainment, the direct play option appears to be more than sufficient. The DS1522+ excels tremendously in that circumstance. It provides a variety of storage possibilities with 5 drive bays, two inbuilt M.2 NVMe SSD cache slots, and the capacity to add ten additional drives via two extension units. It also has a number of I/O ports and provides a quick and reasonably priced way to connect to a 10Gbps network.
With its price of Php 65,094 on their Lazada Store, we all know it's an expensive one, but thanks to its reliable performance, strong features, and an enormous selection of software, it wins the Editors' Choice award for multi-bay NAS.
---
RELATED