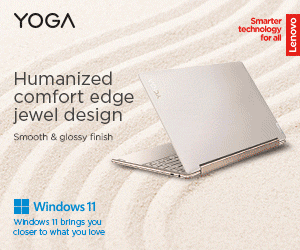 In years of doing services and storage backup solutions, Synology managed to combine their current sought-after photo apps to make a better, secured, and easy to use photo management tool and this is called Synology Photos. Synology Photos is similar to Google Photos except it's better and is hosted by you. Visit here to learn more about Synology Photos.
Why you should back up your mobile photos?
Storage is one of the main things you're looking to buy in a smartphone and sometimes when our storage is full we can accidentally or force ourselves to delete that moment to free up some space. Every photos we take and every moments we share, we keep a piece of history. Memories with our family, friends, loved ones, and even pictures of dogs. And to keep your files safe and secured, Synology Photos offers a very simple solution. Backing up photos automatically on your Synology NAS.
As we know, the Network Attached Storage device (NAS) is a centralized backup system and it has a built-in Web GUI and companion apps for Android and iOS. If you are going to maximize the use of the NAS for photography/videography stuff, just install Synology Photos from Playstore or Appstore for iOS devices.
How to use Synology Photos?
After installing the app you will be greeted with a login screen and you just need to sign in with your server name, username, and password. (Please note that you have to enable the QuickConnect on Synology NAS first.)
This slideshow requires JavaScript.
Now you are inside the Synology Photos, there are tons of useful stuff to see in the app. Let's dive into each feature.
Back up Photos using Synology Photos
The first thing you have to do is to back up all your photos from your smartphone to Synology NAS and by doing this, the Synology Photos will make it easy for you. By tapping the Enable Photo Backups on the bottom right and hitting the upload button, you will have to manually choose to back up new photos only or all photos in the mobile.
This slideshow requires JavaScript.
To back up your photos and videos automatically, you just need to manually enable the Automatic Backup setting on the More tab in the bottom right corner of the app. Now, you can see the status on the first column is Photo Backup Not Enabled. Once you tap to set up the auto-backup feature, new settings will appear. There are three backup rules, first is Resume Task–resume all backup tasks, Back up new photos only–very straightforward, and Back up all photos— this will back up the entire photos from your device, it's pretty simple. After choosing your backup rule, click the Enable on the top right. You will see the first column turning to Photo Backup Complete.
This slideshow requires JavaScript.
You can also choose where to back up all your photos, whether in your personal space or shared space. Shared space is for easy access by other family members or colleagues. By default, it will create a backup folder on Personal Space.
This slideshow requires JavaScript.
Simple Management
If you want to sort, clean things up, or isolate all your backup photos and videos. Synology Photos provides easy management features that will help you organize photos. Similar to their Moments app, photos are viewed in a chronological timeline by default but you can also click on the 3 dots in the top right corner and select Switch to Folder View. From there you can easily select the folders that contain the photos.
This slideshow requires JavaScript.
On desktop, you can manually create albums and set specific conditions to create one specific album like location, time taken, file type, and people, however, you cannot find it on mobile. What the upside is, you can still create manual albums similar to desktop as well as automatic creation of albums by recognizing faces, location, tags, and recently added.
This slideshow requires JavaScript.
Through the help of its AI, Synology Photo determines each face and puts them in one album. On each face, you can name them so you can filter them later.
Smart Search Filters
Speaking of filter, there's a smart search filter in the Synology Photos which I personally like. After clicking on the search icon, you can search for specific people you have named or search for the photo location and it will filter all the photos in that location and show them to you in a snap. It's pretty simple and straightforward.
There's also a smarter filter for desktop. After clicking the funnel-looking symbol it'll grant you access to sort of things from the file type, date/year, or just click the names and icons of people that the AI recognizes. It will automatically search and show all pictures with that person on it and that's pretty smart.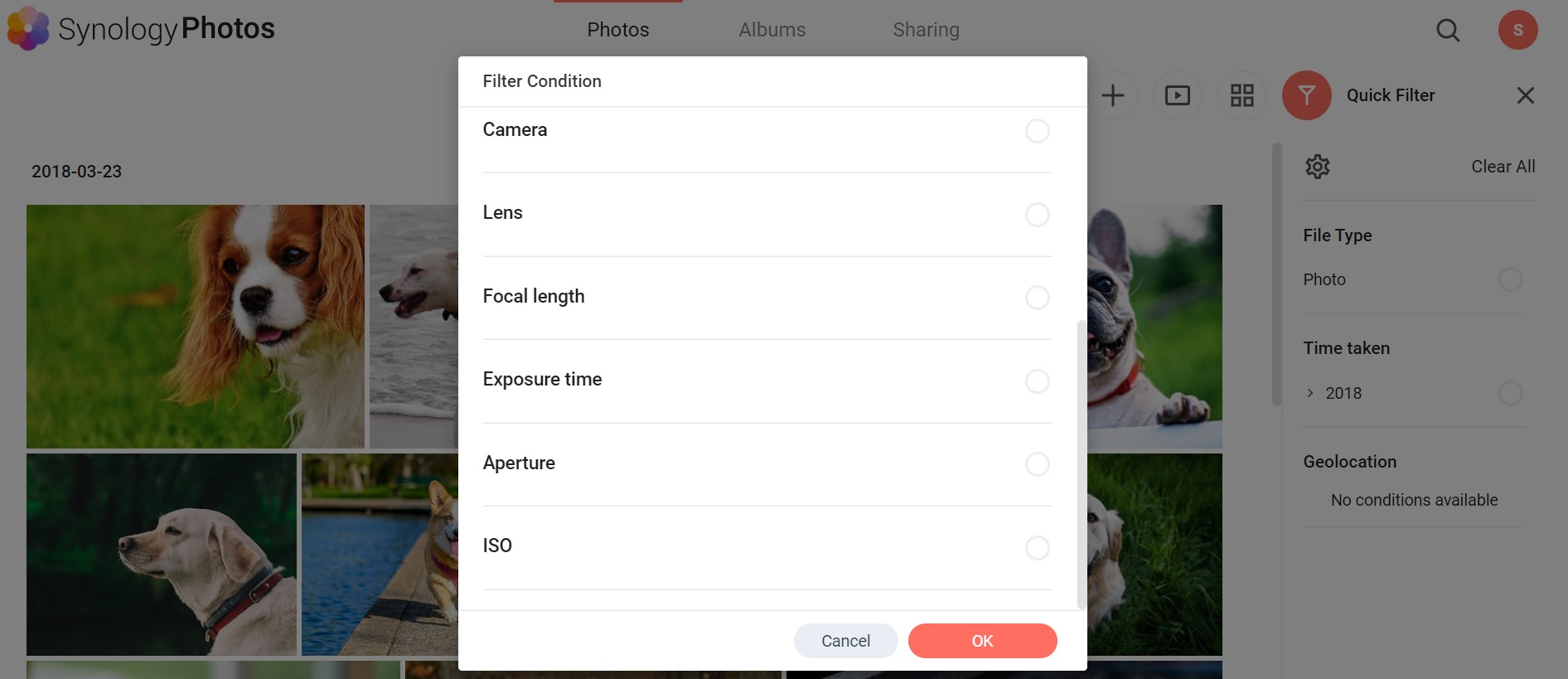 I also like that for photographers like me, clicking the settings icon inside the quick filter option will enable you to choose or filter metadata from the photo from Aperture, Focal length, Lens used, and even cameras.
Share Files Quick and Easy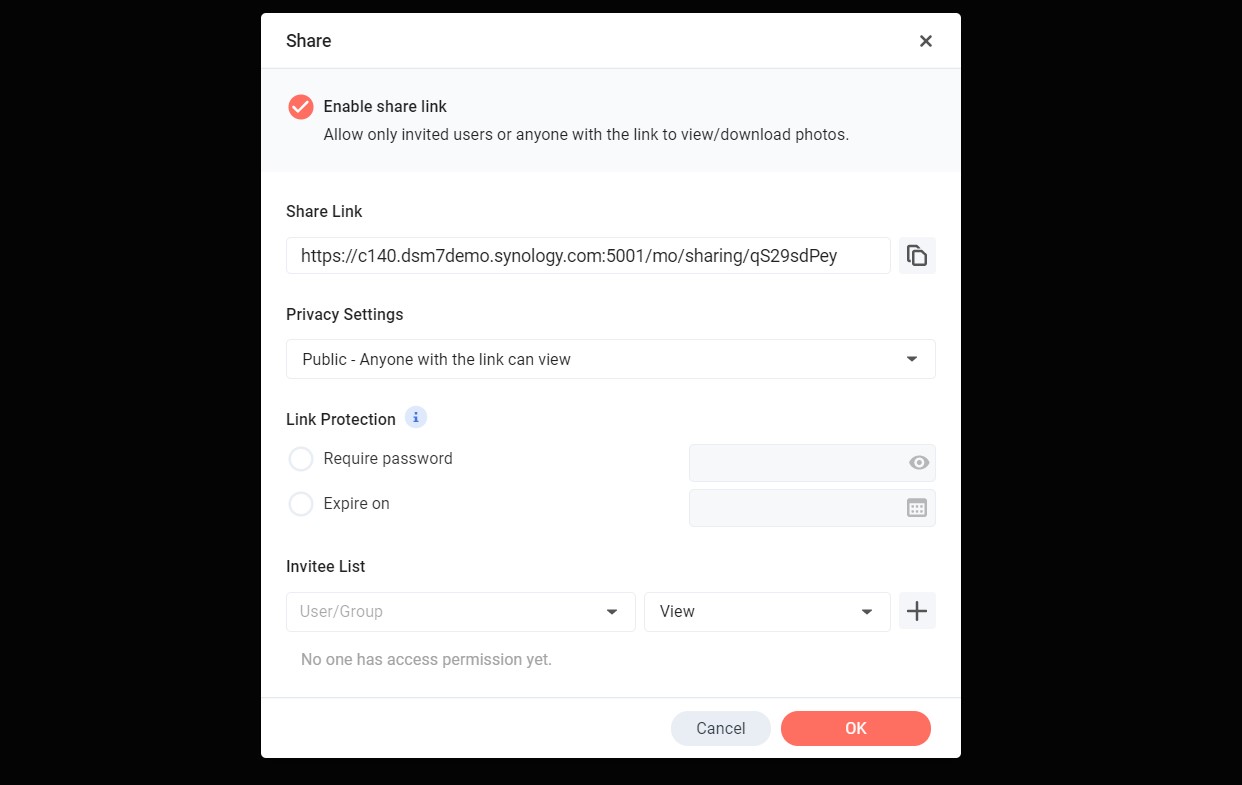 So let's say you want to share photos and videos from your Synology NAS with other family members or colleagues. You can easily do that by highlighting photos and pick whichever photos or videos you want and tap the share button at the top part of the screen. A new window will pop up and you just need to tap the Enable share link button to display the options which will now grant you access to copy the link and paste it on messaging services. You can also choose the photos to be private so only users with invite access can view your photos and videos. It is as easy as pie.
Creating DSM user account
Now that you know how to operate the Synology Photos. It's time for the administrator to create a DSM account for each of the family members or colleagues to access the photos on the central backup or NAS. By doing this simply access the Web GUI and head over to Control Panel > User & Group > Create.
You need to create a new user account so click the create button.
It'll open a User Creation Wizard window to set permissions and accounts.
There are only three fields to fill up: Name, Password, and Confirm Password.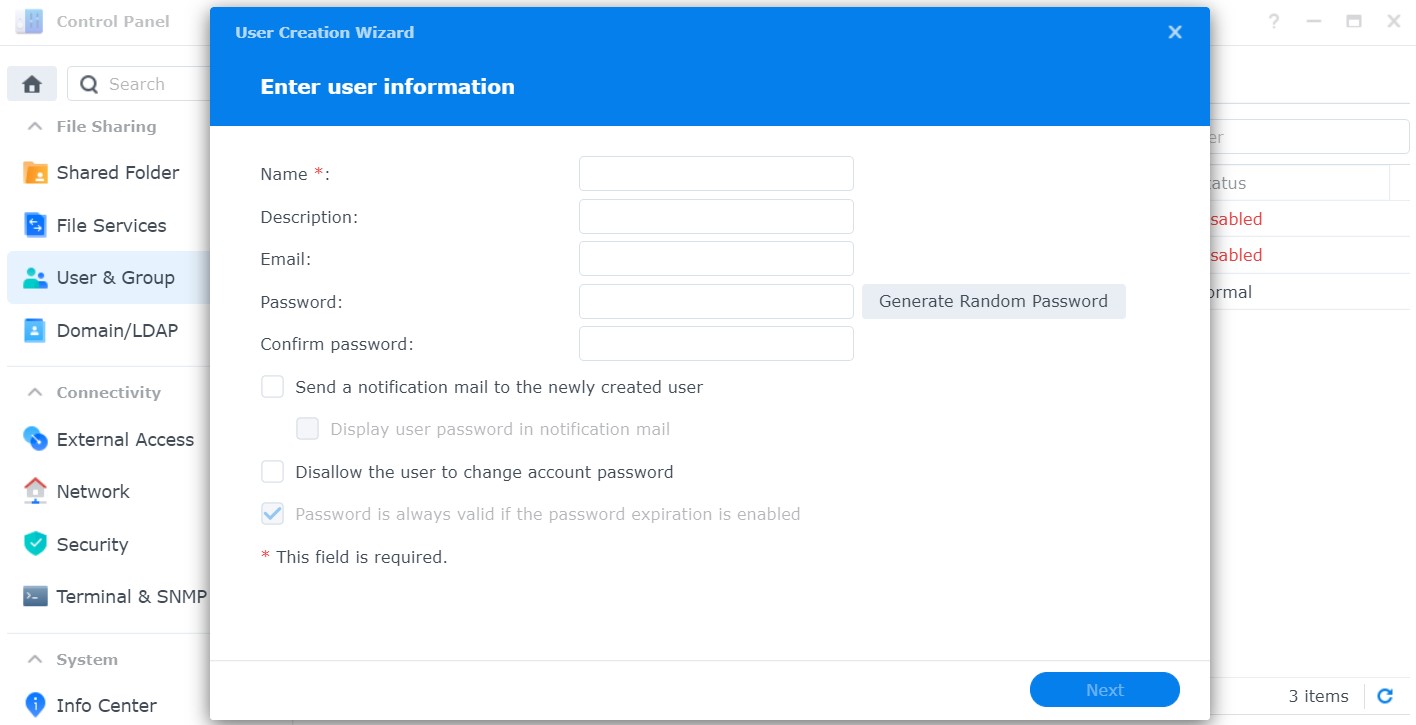 After you created a credential set up which group the account will be. It should be user by default so it doesn't have administrative access.
Then set access rights to shared folders
Next is to set quotas. You don't have to set quotas if you don't want to.
Then assign the user to access an application like the Synology Photo. Or leave it by default.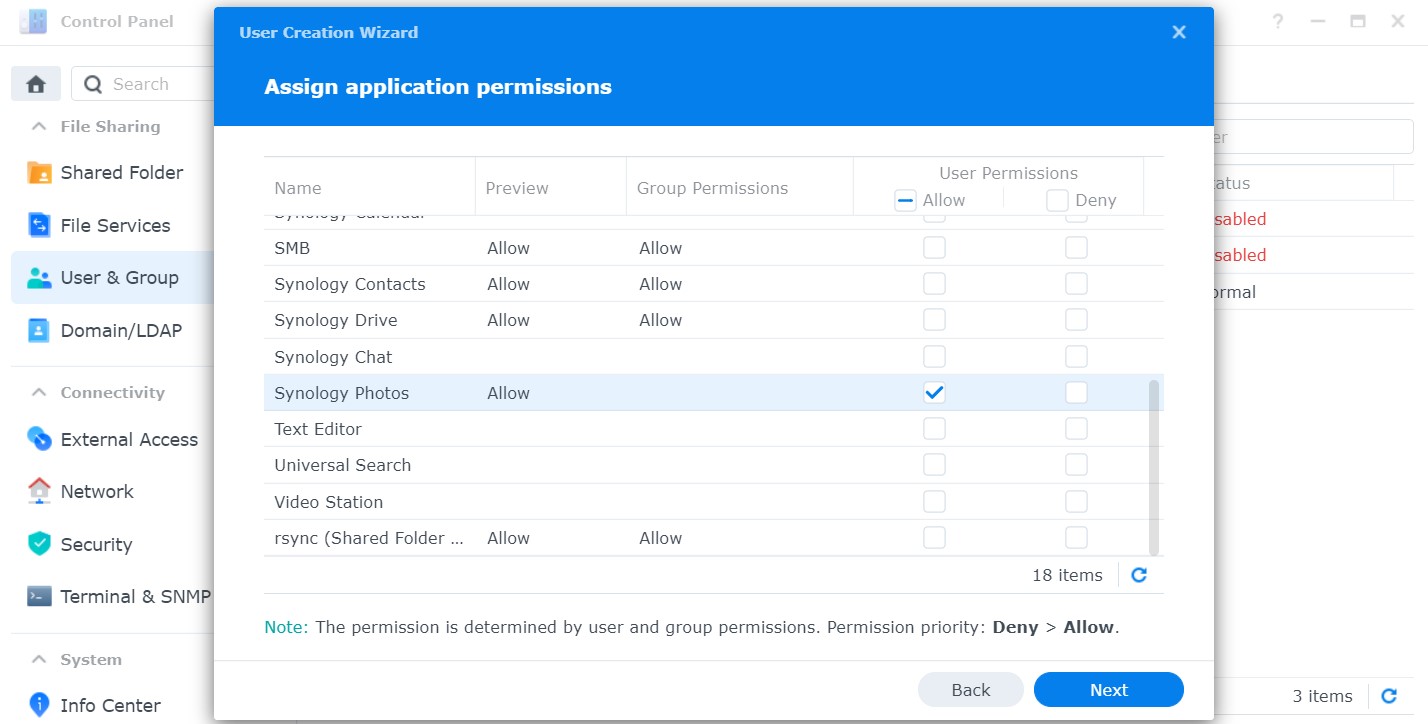 Next is to limit the user speed. You don't have to set limits if you don't want to.

After all the setup, click apply and give the credential to one or more family members.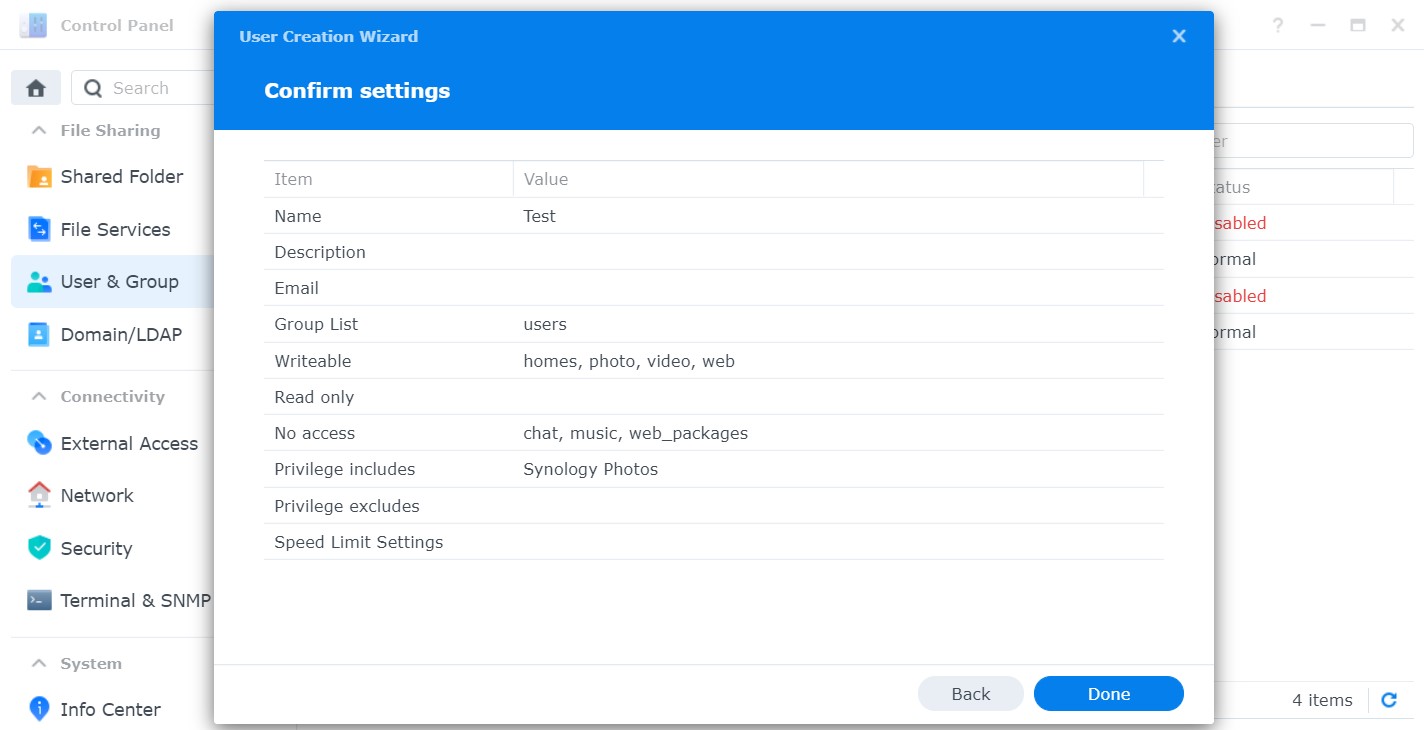 Conclusion
Overall, Synology Photos is a convenient tool that is fast, accessible, and useful for colleagues, and photo / video-related businesses like me as a video editor. But most importantly Synology has made it easy for family members to store all photos in one place. A great backup solution in the comfort of home.
To learn more how to use NAS as a photo storage, you may visit here and join the survey to win a router by June 30th.
For more NAS models, find Synology online on its LAZADA and Shopee Official Stores.
READ: Synology Photos Review – The Future of Photo and Video Backup