Oppo is focusing to make productivity and creative content on their OPPO Reno series lineup and this time they made it gorgeous and eye-catching. The OPPO Reno 5 5g is their latest midrange device and the main thing you'll see outside its shell is the back's design. It has a color-changing back panel on the Galactic Silver color variant, but is it still gorgeous on the inside?
Pros
Fast Charging 65W
Stunning Design
Great AI on Camera
Cons
No expandable storage
Rely on AI camera
READ: The Division Movie coming to Netflix
Design and Build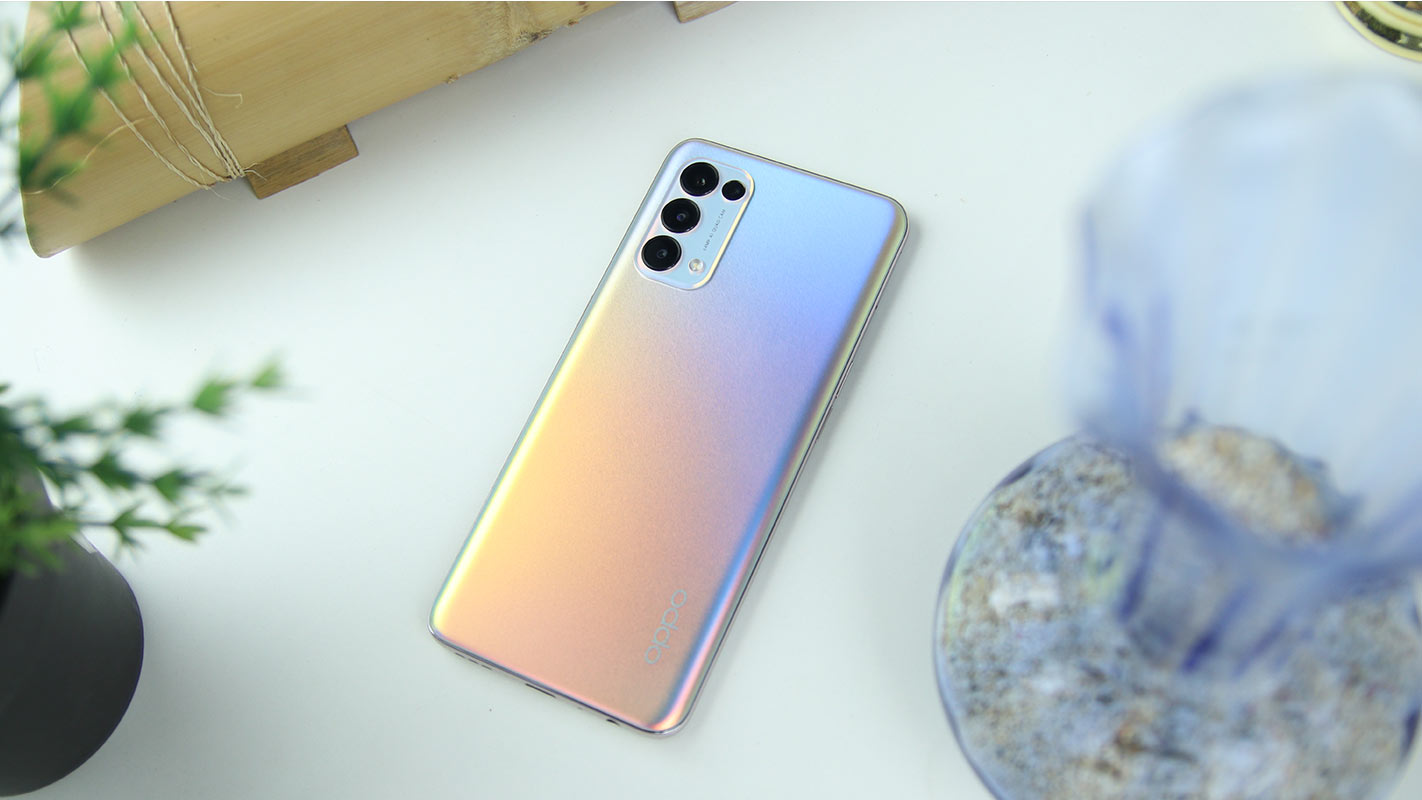 Again the design of the OPPO Reno 5 5G is a head-turner, unlike the 4G version with polycarbonate plastic, the back panel is a 3D curved matte, textured glass. The back reflects whatever the color it's facing and just like a chameleon, it has wonderful colors and not just one.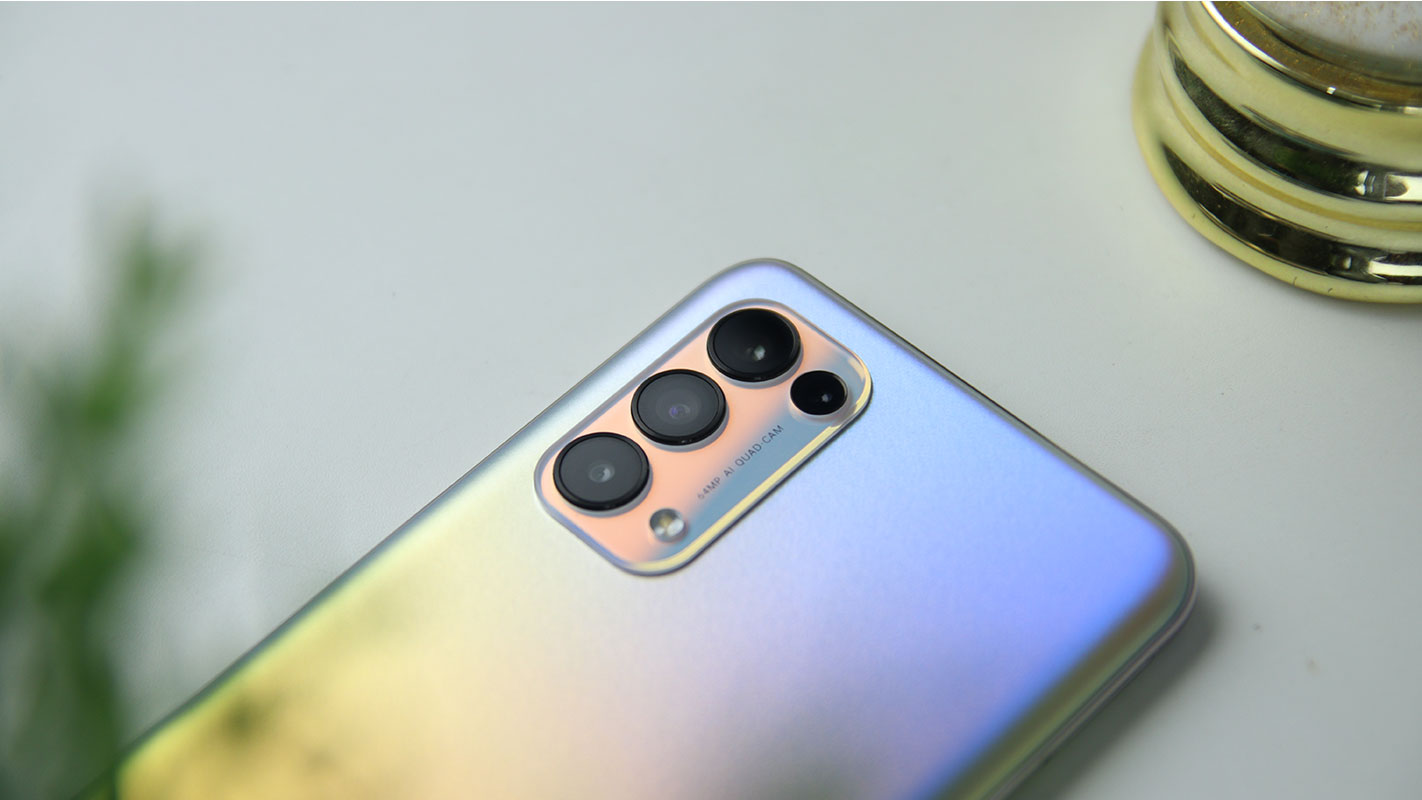 The camera bump is not that big and inside the camera module, the three lenses have a large circle design and one additional camera on the side along with the LED flash. On the bottom part is the OPPO branding and the overall design is pretty minimal, unique, and elegant.
This slideshow requires JavaScript.
It has an aluminum texture on its frame and on the right-hand side is the power button with a green accent. Then on the left is the volume rocker and simtray with 2 nano sim slots. It doesn't have an expandable storage slot and that is quite a bummer since the configuration on the base version is 128GB only. On top is the secondary microphone and at the bottom, it has a 3.5mm headphone jack, microphone, USB Type-C port, and speaker grille.
Holding the Reno 5 5G in the hands feels solid and premium built. The back is so soft but you might want to hold the phone tight because it feels slippery, putting a phone case will have you a better grip. Unlike other smartphones in its price range, it is surprisingly lightweight and slim, weighing 180 grams, and 7.9mm thickness.
READ: The Meizu 18 Pro features the Samsung GN1 50-Megapixel Image Sensor and more
Display
Now flipping to the front, the OPPO Reno 5 5G has a punch hole cutout housing a 32MP selfie camera. The screen-to-body ratio is quite good at 85.1%. The best thing about the display is the fast refresh rate and OLED. It has a 6.43 inch FHD+ OLED display with a 90Hz refresh rate for smooth scrolling and up to 750 nits brightness. It is so bright that the brightness slider indoors is just at 10% and it is very visible outdoors at max brightness.
This slideshow requires JavaScript.
The display has impressive specs and upon observing it has a bright punchy screen with deep blacks thanks to OLED display. The 90Hz is smooth and pleasing but I can't deny the fact that if you're from a higher refresh rate you can't go back. The screen's contrast is quite good and you can tweak the screen's color by heading to screen color mode which will display either Vivid or Gentle, less punchy–sRGB mode.
Camera
Now moving on to its cameras, OPPO Reno 5 5G is equipped with four lenses on the rear, 64MP f/1.7 main cam–which I believe is backed with a Sony IMX686 camera sensor– next, it has an 8MP ultrawide alongside with 2MP macro and 2MP depth sensor.
READ: Redmi Note 9T Review – A Budget 5G Phone, is it Powerful Enough?
Starting with the main cam, the AI which processes the photos are noticeably good and it really improves the output drastically, which enhances the photos even more. But it sometimes over-processed the photos and it gets brighter but not to the point that the highlights will be blown out. The dynamic range is fine on normal photo mode and shadows are sometimes deep but turning on HDR the shadows are noticeably lifted. However, it does introduce grains but the details that pops out while having good texture and colors. I think it is one of the smartphones with brighter pictures, and the software AI process is again impressive.
This slideshow requires JavaScript.
Texture details it is sharp and colors are sometimes true to life, sometimes it captured warmer tone which is not a problem since warmer temperature outputs richer photos. Color management or color reproduction is also vivid with or without AI enhancement. Though the main cam captured a little bit saturated and it will be boosted even more when you turned on the AI scene enhancement and it feels that the colors are washed out.
This slideshow requires JavaScript.
Night mode shots are bright and clear, it outputs lesser details and a bit soft but turning on night mode highlights were reduced. It gets brighter and the white balance is correct and it now looks sharper but it is still not the best among all.
READ: Epic Games Acquired Fall Guys Developer Mediatonic
This slideshow requires JavaScript.
Now switching to Ultrawide, what I first notice is the dynamic range is lesser compared to the main camera, it also introduces color fringing and flares if the sky's highlight is so bright but not to the point that it will be distracting. It outputs decent exposure, it is not overexposed or underexposed, it's just the shadows are deep that it removes details. and again AI process will do its job if we turn on HDR mode. It will output brighter images and the shadows will be lifted but capturing nighttime is soft and even turning on night mode is still not enough.
This slideshow requires JavaScript.
On portrait mode, the subject to background separation is accurate and it's lovely, however, the blacks are deeper. The good thing is, the highlights are not blown out and I think the AI process again is doing its job well enough. Highlights are not drastic but not that balanced as well.
This slideshow requires JavaScript.
Macro shot is just acceptable, there's a bit of grain but colors, however, are almost true to life, though it only has fixed focus so we can't get to the subjects up close.
READ: Realme Watch S Pro – A Premium and Customizable Smart Watch
Switching to the front cam the OPPO Reno 5 5G has a hole punch cut out on the top left side of the screen housing is a 32mp f/2.4 selfie cam.
This slideshow requires JavaScript.
I just have one complaint about the selfie cam, the sky's highlight is bright but the skin tone color, blacks, sharpness, subject separation, and beautification feature are all great while the night-time selfie is bright, sharp, and acceptable but not the best.
On video recording, OPPO Reno 5 5G records video clip up to [email protected] resolution which gives flexibility for advanced editing. It can also shoot [email protected] and 30fps. What is good about its video is the exposure value is constantly balance and it doesn't have a drastic switch in the highlights and shadows. There's also stabilization on all video resolution and an ultra steady feature and ultra steady pro that shoots wider view but lesser quality.
If you want to see our camera review and the quality of the video clips watch our Reno 5 5G Camera Review here.
Camera Features
This slideshow requires JavaScript.
As for camera features, it has a movie mode that enables you to shoot videos with pro features like iso and shutter, however, there is no log or raw shooting on both video and photo expert mode. It also has Dual View video which I first encountered in the Galaxy S7 Edge, but OPPO Reno 5 5G has more flexibility and even has a beautification feature which is nice and fun.
READ: Redmi Note 10 5G, 10, 10S, 10 Pro Launched for the Global Market, Starts at ~P9K
This slideshow requires JavaScript.
There's also slow-motion that shoots 1080p footages and even slower but in 720p resolution. It also has tripod mode, neon portrait, live bokeh, hyper-lapse, AI highlight video, and ultra night videos which makes the phone even fun and exciting and it really catches the eye of mobile filmmakers. Despite its featured-pack offering, there are still quite a few drawbacks and missing features which I can find in other lower midrangers.
Performance
Unto the performance, the Snapdragon 765G (7nm) is the second powerful midrange chipset in the 700 series with 5G and power efficiency. It is 12% lower than 768G and 15% higher than 720G by numbers. And talking about gaming, it has a multi-layer liquid cooling system but we still feel the warmth of the device while playing a graphic intensive game while connected to a 5G network, however, it is bearable. We tried to play triple-A games like PUBG Mobile, COD Mobile, and Genshin Impact they are all playable but in Genshin Impact you need to lower the quality settings.
This slideshow requires JavaScript.
Multitasking is efficient thanks to the 8GB of ram, however, without expandable storage, the base version that we have only had 128GB Storage means that the storage capacity is limited and small.
Game Space
This slideshow requires JavaScript.
The Game Space–which will improve the gaming capability–has a new design, there is an overlay on the side of the screen and you can easily switch to competitive mode to boost the clock speed of the CPU. It also has autoplay that will dim the brightness while the game is still running in the background to save power. You can also see the fps counter, and easily enable features by clicking the toggle buttons.
Software
This slideshow requires JavaScript.
The OPPO Reno 5 5G runs on the latest Android 11 OS with Color OS V11.1 on top. Color OS v7.2 features a wide variety of customization and I really like the smoothness of the animation of the UI, plus it has 90Hz so it adds fluidity. We didn't experience lags and stutter on the UI and the fingerprint scanner (under-the-display), as well as the face unlock features are seamlessly fast and secure.
For connectivity, it has a 5G connectivity which is one of the key features of the Reno 5 5G. It also has dual-band Wi-Fi to connect to a 5GHz network and Bluetooth 5.1.
READ: AMD Radeon RX 6700 TX, A match for NVIDIA's RTX 3070, 3060 Ti
Battery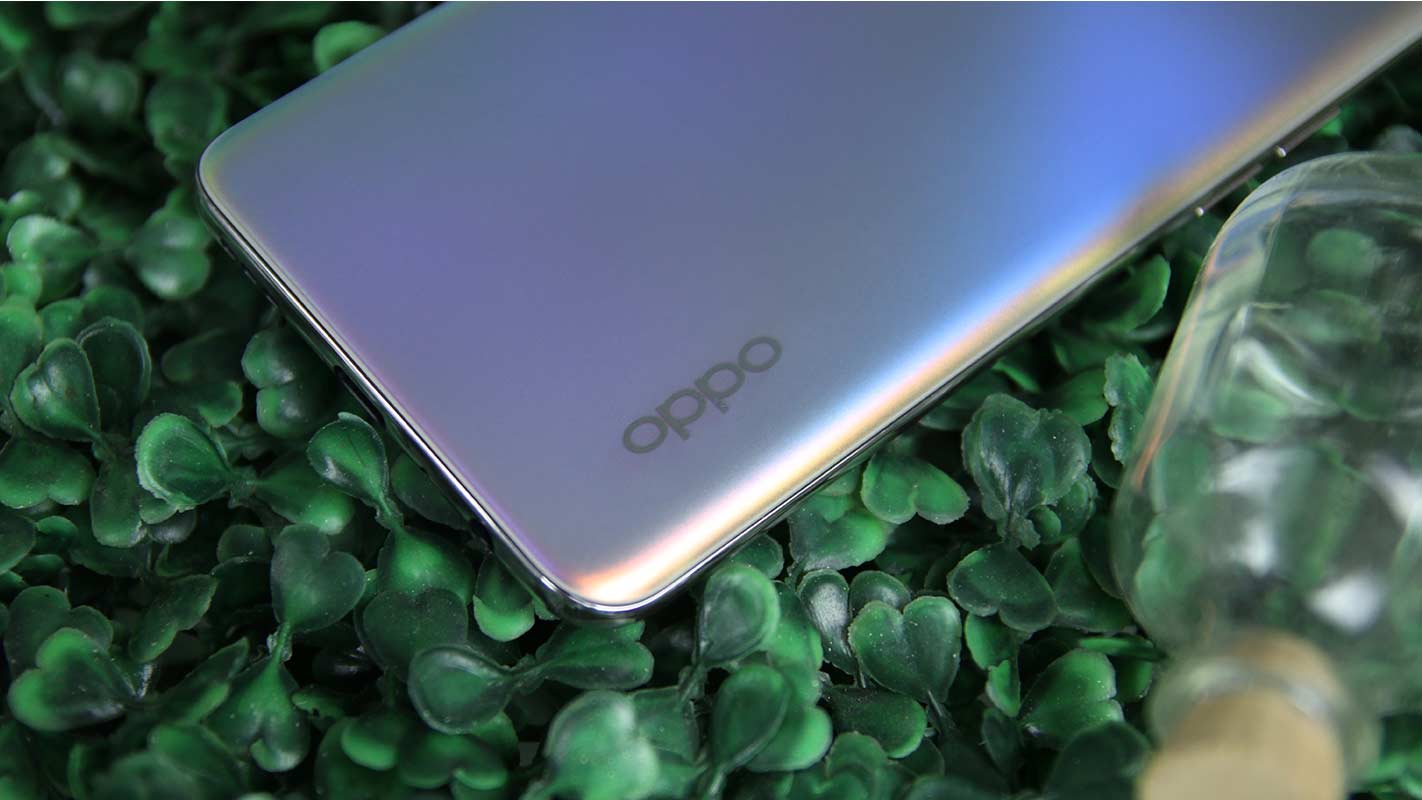 As for the battery Reno 5 5G is backed by a 4300mAh battery, there are lots of smartphones with higher battery in this tier but considering that it has a 7nm power-efficient chipset, OLED display, and the battery optimization of the Color OS, it endures 11hrs of screen-on-time while watching video clips on youtube at 50% brightness which is still an impressive result. As for charging, it is the unique specs that make OPPO Reno 5 5G stand out–its 65W SuperVooc 2.0 charging, and it fully charges in just 32 minutes.
Verdict
Overall, The Reno 5 5G is packed with more features than its predecessor, especially in the camera section. The design is stunning, it isn't for everyone but more will pick the Galactic Silver color variant since it looks striking and I can't deny it. On its performance, we generally approve the Gaming capability and UI design. Despite the fact that without expandable storage and with only 128GB capacity, Reno 5 5G is simply one of the midrange phones you can add to the lists when buying midrange 5G phones in 2021.
For the price of P23,999 for 8GB/128GB, it offers value over its price more than its predecessor does.
READ: Vivo S9e Officially Launched with Dimensity 820 Chipset and 4,100mAh Battery Capacity