Update – as of 4/17/2020, LTFRB has yet to update its list. 
Part of the Social Amelioration Program (SAP), under the Republic Act No. 11469 or the Bayanihan to Heal as One Act, is the provided cash assistance from the Department of Social Welfare and Development (DSWD), in partnership with the Department of Transportation (DOTr), Land Transportation Franchising and Regulatory Board (LTFRB), and Landbank of the Philippines (LBP).
Beneficiaries of the program include families of drivers of Public Utility Vehicles (PUVs), such as Public Utility Jeepneys (PUJ), UV Express (UVE), Public Utility Buses (PUB), Point-to-Point Buses (P2P), Taxis, Transport Network Vehicle Services (TNVS), School Transport, and Motorcycle (MC) Taxis. These families will receive an amount of between P5,000 to P8,000 depending on the regional maximum subsidy in their respective regions. 
READ: Regional Subsidy Breakdown
LTFRB has started distributing cash assistance to more than P20,000 drivers nationwide since April 7, 2020. The local agency continues to update its list of names of drivers who are already approved for the program. But if you happen to be not included or have no idea how to apply for the driver's SAP cash assistance program, we're here to help.
Step 1: Check if you're part of LTFRB Drivers' Academy Program Database and other associated transport groups
LTFRB, through Memorandum Circular No. 2017-013, introduced the Drivers Academy Program which is a one-day seminar that covers five modules to safe driving. If you were a part of this program and was able to complete the seminar, then you're automatically included in the list, waiting for the agency's approval. If not, having a PUV driver's identification card provided by LTFRB or other transport associations should also mean your name is already included. In case you're not qualified under one of these requirements, we suggest contacting your regional LTFRB office.
Step 2: Check if your name is included in the master list
The master list provided by LTFRB can be seen here. All included names mean they can go to the authorized Landbank branch to claim their cash assistance. If your name is not included, either you're still in the process or you have received cash assistance already from a different program under the Bayanihan to Heal as One Act. 
Step 3: Go to the nearest authorized Landbank branch to claim the cash assistance
Once your name is included in the master list, don't forget to bring the following documents before claiming the cash assistance from the nearest authorized Landbank branch:
Driver's License

Photocopy of driver's license with two signatures

If the driver's license is confiscated, bring temporary operator's permit, government-issued ID with signature and picture, and photocopy of ID with two signatures
If the driver's license is expired (not later than September 30, 2019), present the first 

two bullet points

. 

For driver's who will send out a representative to claim the cash assistance, bring a letter of authority with the signature of the beneficiary(driver), driver's license or government-issued ID of the beneficiary along with the photocopy with two signatures of the beneficiary, and valid government-issued ID of the representative.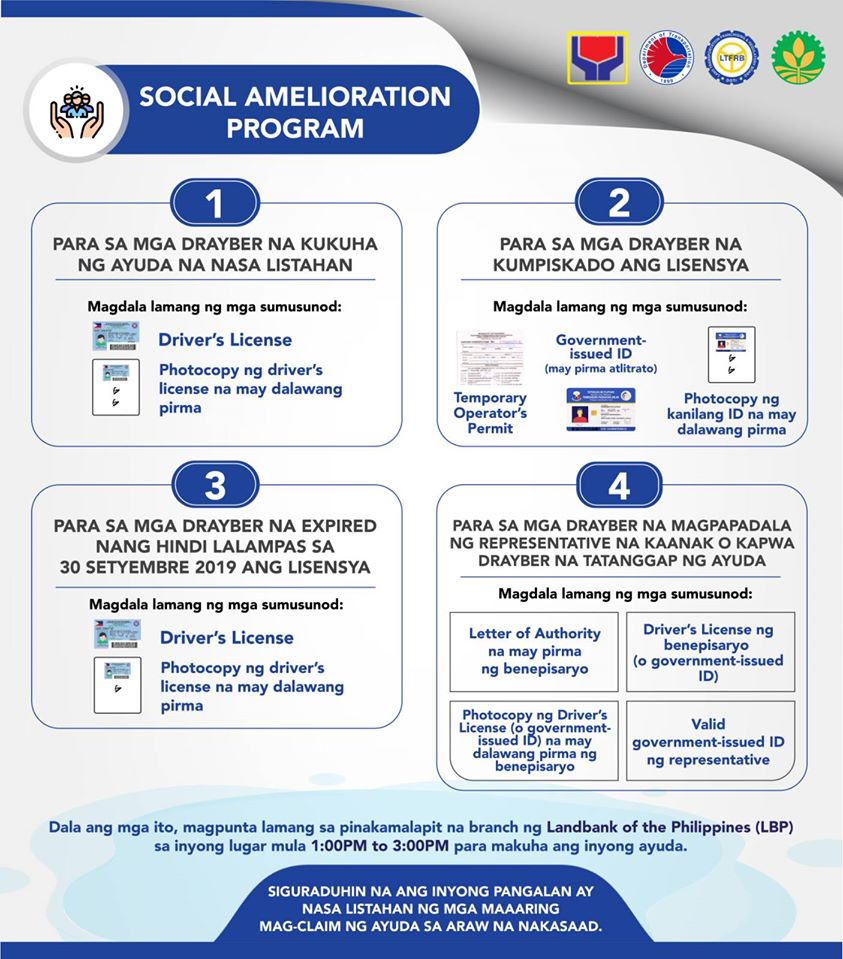 Before heading out to your nearest branch, make sure to check the operation time of authorized Landbanks as some distribute the cash assistance in a specific time of a day only. You can either contact the bank branch itself or check LTFRB's Facebook Page for the official announcement.
LTFRB also released a statement regarding the guidelines and process of its SAP program. You can see its post below:
READ: