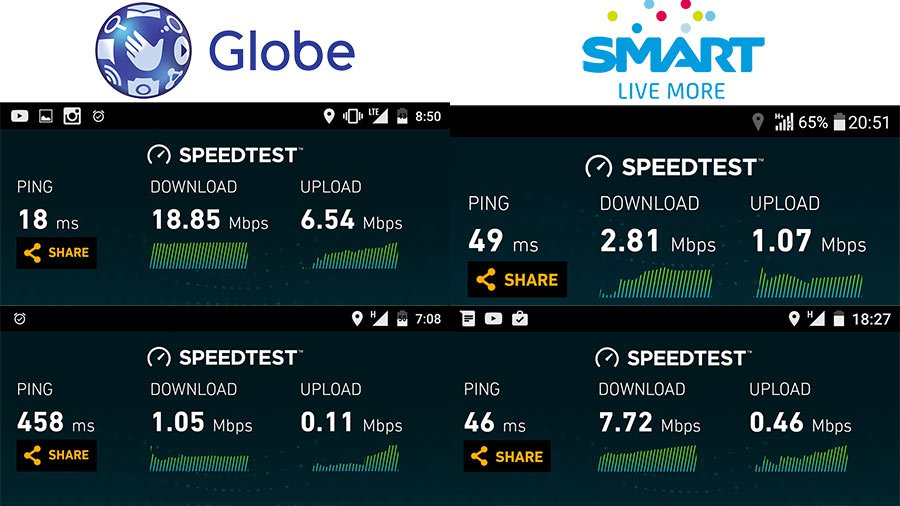 Just a few months back I moved to a new apartment somewhere in Makati-Pasay area in Metro Manila. As a tech blogger, one of my main concerns in was the internet speed reliability and service quality in the area especially the home broadband line, which was solved already, and the cellular network.
My first choice back was going to PLDT Home DSL Speedster Plan 1299, but due to the lack of available port in our area, I just went to Globe Home Tattoo wired with bundled telephone, which I currently enjoy with rare maintenance or downtime so far.
Related news, guides!
Poor SMART signal coverage in my location
The experiences from wired service were relative in my mobile cell experience. Smart, Sun Cellular, and Talk'n'Txt have very poor coverage in my place. I'm surprised because I'm in a populated area, yet Smart is unusable. The signal is between 2G/GPRS or 2.5G/EDGE. It's very rare to get a 3G/HSPA/HSPA+ signal even in one bar, but connecting still result to a very slow and unstable internet.
In my phone with Globe prepaid SIM card, I'm always on 4G LTE, which aside from that, Globe's 4G LTE is open to all its promo including the GoSakto for prepaid or postpaid. You won't need to specify before subscription if you want a 3G or 4G-only connection.
See also Smart Bro LTE is now SurfMax Plus
Smart has SurfMax for 3G/HSPA+ and SurfMax Plus for 4G LTE. The same with their postpaid plans, you need to subscribe or upgrade your SIM. Be reminded that Smart starts data capping and speed throttling when you upgrade to their 4G LTE esp. for postpaid.
To be fair, I performed a speed test in different locations just to see if which network really provides a better connection and not just conclude within a singe location. Of course, I cannot guarantee that my test results would reflect all. Overall speed will still depend on many factors including ping or latency (higher = slower) and distance to a tower.
Before going to the numbers or results of this test, let's first lay out the different factors that contribute to your internet speed.
See also PLDT Home vs Globe Tattoo vs SkyCable Plans Price, Speed
Factors for fast or slow internet speed in download or upload
ping or latency, affected by hops, server distance (lower = better)
location or distance from the cellular site or tower
the number of users within the area
software (running apps, virus, etc.)
processor speed
transit vehicles (slower when you're in a moving car, jeep/bus, or train)
the wireless chip and other hardware components
an environment such as weather, noise, etc.
I used Speed Test app on two phones with the Globe inserted in my Huawei Nexus 6P and Smart in LG G4 and LG Nexus 5X.
Results of internet speed comparison: Globe vs Smart
Telco
Globe
SMART
Link type
Download
Upload
Ping (low=good)
Download
Upload
Ping (low=good)
SM Megamall, San Juan

18.85Mbps

6.54Mbps

18 ms

2.81 Mbps
1.07 Mbps
49 ms
LRT Buendia / Libertad, Pasay

2.94 Mbps

2.50 Mbps

28 ms

2.48 Mbps
0.84 Mbps
435 ms
SM Manila
1.05 Mbps
0.11 Mbps
458 ms

7.72 Mbps

0.46 Mbps

46 ms

LRT Central
3.38 Mbps
0.22 Mbps
335 ms

4.43 Mbps

1.37 Mbps

189 ms

Bangkal, Makati

4.91 Mbps

2.56 Mbps

20 ms

3.34 Mbps
1.66 Mbps
34 ms
Note: ms = milliseconds, Mbps = Megabits per second (1byte = 8 bits) where MBps is MegaBYTES and Mbps is MegaBITS, 1 Mbps = 1000 kbps
All in automatic server except on SM Manila and SM Megamall which used Makati as the server.
See also Mobile Internet Promo, Prices for Prepaid by Globe GoSakto
The scores listed in the table are the highest from the 2-3 tests in each location. Also, take note that Nexus 6P was on 4G LTE all the time while LG G4 on HSPA+ (SM Megamall), and Nexus 5X on 3G HSPA. We just realized during the test that Smart only provide LTE to SurfMax Plus and postpaid users with 4G enabled number.
Remember this also, that 3G is more congested than a 4G network, vice versa, depending on the capacity and traffic.
Which is faster Globe or Smart? Which has the best internet service between Globe or Smart?
In our test, Globe won by 3/5 locations for having faster download, upload speeds, and lower ping rate. But again, this test will not 100% reflect on the over speed and reliability you will be getting in your area.
Feel free to share your results too in the comment section. I will also update these once I visit Ayala, Greenbelt, Ayala Triangle, NAIA 3 Terminal in the airport and more locations.