The new Nexus 6P is Huawei and Google device running on pure or stock Android 6.0 Marshmallow that was recently released alongside with the LG-made Nexus 5X. The Nexus 6P was launched few days ago in the Philippines for Php29,990 PH price, with availability from pre-order to delivery already happening from online stores and Huawei PH.
Related
Top 5 Reasons Why Nexus 6P is better than Galaxy Note
After reviewing and comparing it with other top-tier high-end or flagship Android smartphones, we found a few reasons why the Nexus 6P was a better choice than its competition. On this comparison, we take a look the top five reasons why Nexus 6P is a better buy than the Samsung Galaxy Note 5.
1. Nexus 6P is more affordable than the Note 5
Starting price of Nexus 6P is at P29,999 with the 32GB base model. Both Lazada and Huawei stores offer the Nexus 6P, which is convincingly a bargain considering most high-end flagship smartphones these days retail for more than Php30-33k in the start. The Samsung Galaxy Note 5 is offered by Samsung PH for P36,990. Of course, there's an argument that you could buy from online stores to get a cheaper offer, but it's very rare these online stores include official manufacturer's warranty.
2. Fingerprint sensor is reliable, fast and accurate
One of the most exciting features that I loving much on the Nexus 6P is the back-facing fingerprint scanner on the back. It works better than the Note 5 in terms of speed and accuracy. It works too even my fingers are wet or sweaty. The new Google Imprint, exclusive to Android Marshmallow, adds better security feature too on top of more convenient design and ergonomics.
3. USB Type-C is the future in speed and power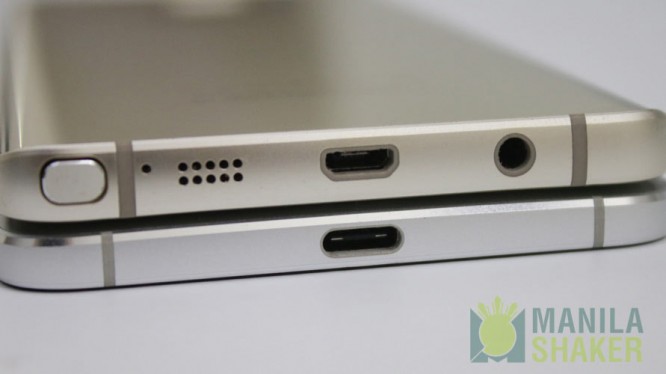 Both Nexus 5x and Nexus 6P feature USB type-C port, which is more flexible and can handle data and charging faster compared to the microUSB found on old and most 2015 smartphones. One good thing about the retail box of Nexus 6P, is you can find a USB type-A to type-C connector that is compatible to old and new PC and laptops.
4. Loud and clear front-facing stereo speakers
It's a tradition for most Nexus devices (started by Motorola) to sport front-facing speakers. The speaker on Nexus 6P proved to be louder and clearer than on the Galaxy Note 5. You can definitely feel the bass and hear crisper vocals on Nexus 6P.
5. Android 6.0 Marshmallow and software updates
Nexus devices always run on the latest Android OS. They also get the updates first whenever Google release upgrades and updates to their software. The UI or interface is much cleaner and bloatware free on Nexuses. There is also a bunch of stock software features than can be found on the Nexus only such as the Google Now on Tap.
I have been using the Nexus 6P for weeks and all I can say is that it's one of the best Androids this year, and even until next year. Mainly because of the more refined Android experience and solid and premium hardware and with very little to complain about.
If you're interested in a video comparison of the Nexus 6P and Galaxy Note 5, be sure to hit the comment and let us know.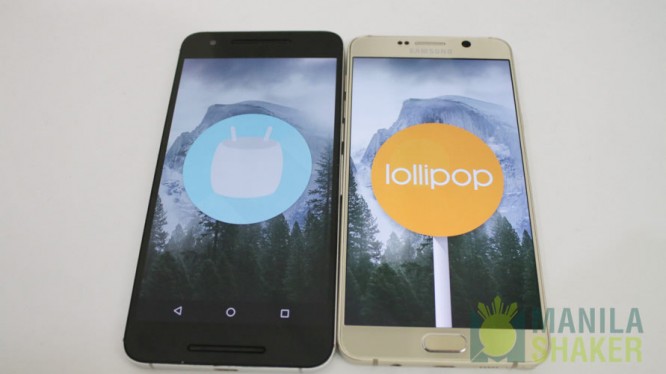 Specs, features and price comparison Nexus 6P vs Galaxy Note 5
Display: 5.7-inch QHD AMOLED | 5.7-inch QHD Super AMOLED
All-aluminum design on Nexus 6P | Glass + Metal on Galaxy Note 5
Snapdragon 810 chip with octa-core CPU | Exynos 7420 chip
3GB RAM | 4GB RAM
32/64/128GB storage | 32/64GB
12MP main + 8MP front cameras | 16MP + 5MP
USB type-c | microUSB
3430 mAh battery | 3000 mAh
Android 6.0 Marshmallow (stock) | Android 5.1 Lollipop
Front stereo speakers | single bottom speaker
P29,990 PH Price | P36,999