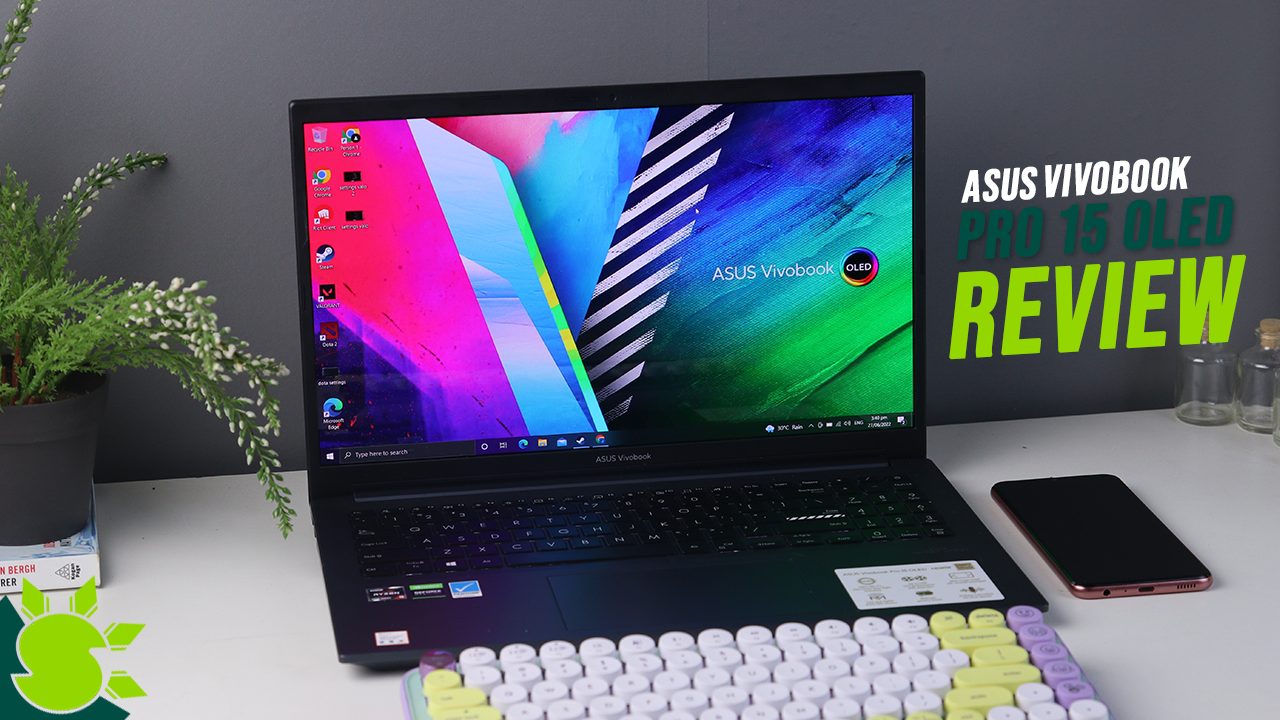 The Asus Vivobook Pro 15 OLED is one of ASUS' media content creator-focused laptops, or should I say notebooks. A wide variety of content creators or gaming laptops have come and circulated on the market for quite some time now. New features, new look but still carries the same build. Usually, they're big and heavy, but the Vivobook Pro 15 OLED is slim but packs a mean punch. It is powered by Ryzen 5 5900HX with RTX 3050 on its GPU. The question is despite the build? Does it offer the same performance and cooling capabilities compared to bigger laptops with bigger exhausts?
Design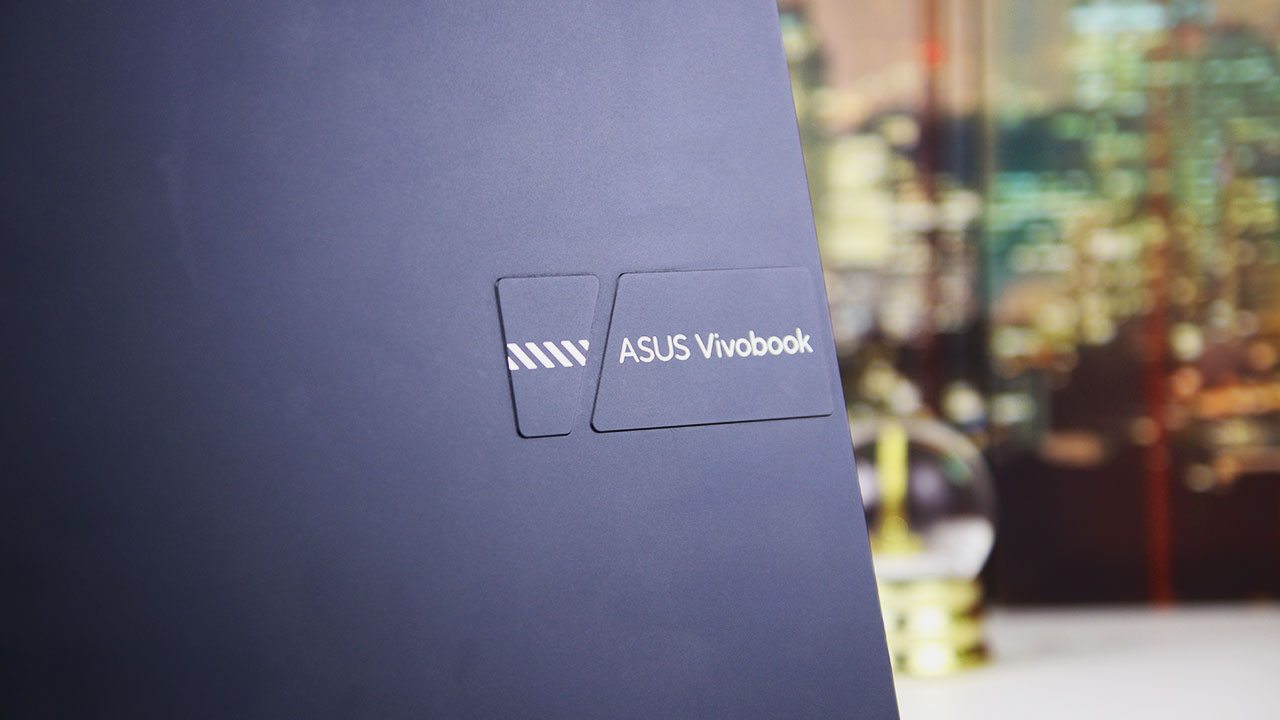 First off, let's talk about its design and build. The cover of the Asus Vivobook Pro 15 OLED is made out of aluminum that has a matte metallic finish. The Asus Vivobook logo is placed on a template above the lid that has a sleek futuristic look. Visually it looks great thanks to the clean and aesthetic design plus the minimal branding.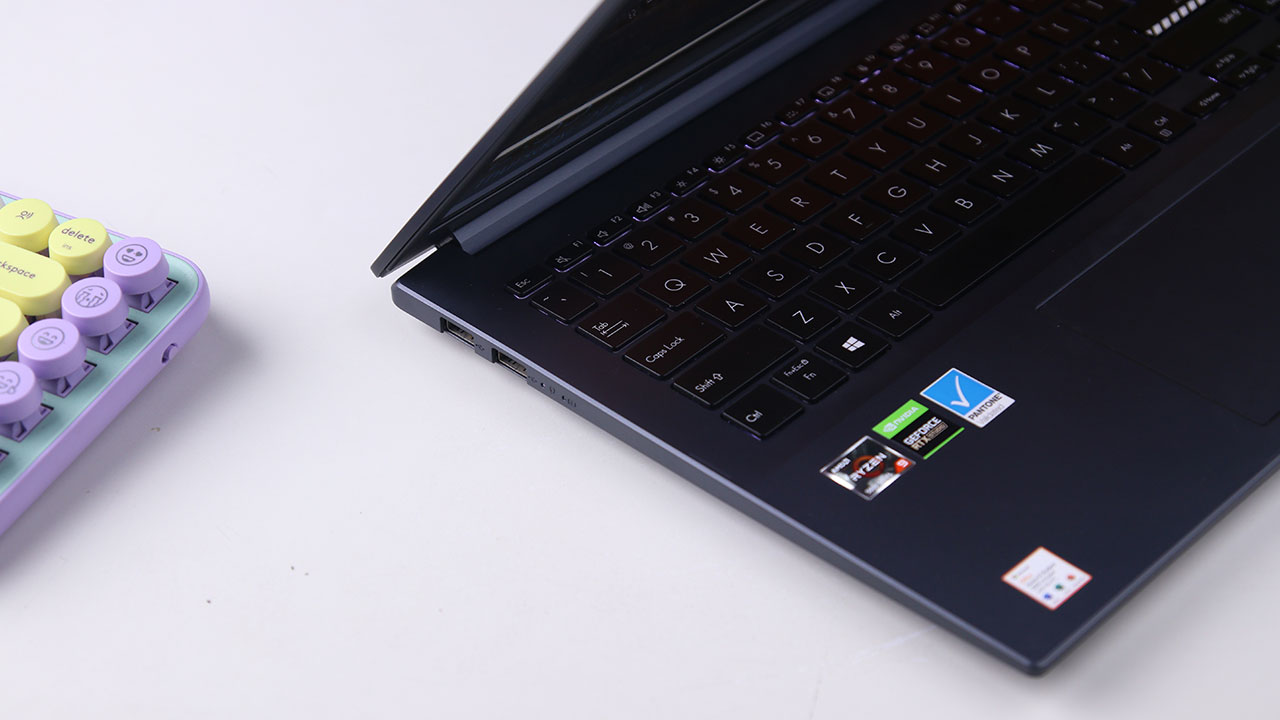 Due to the aluminum body and thinner screen, opening up, the lid is hassle-free. As I mentioned earlier, the lid is made out of aluminum, but the other parts of the body are made out of polycarbonate which makes this notebook lightweight.
Ports and Connectivity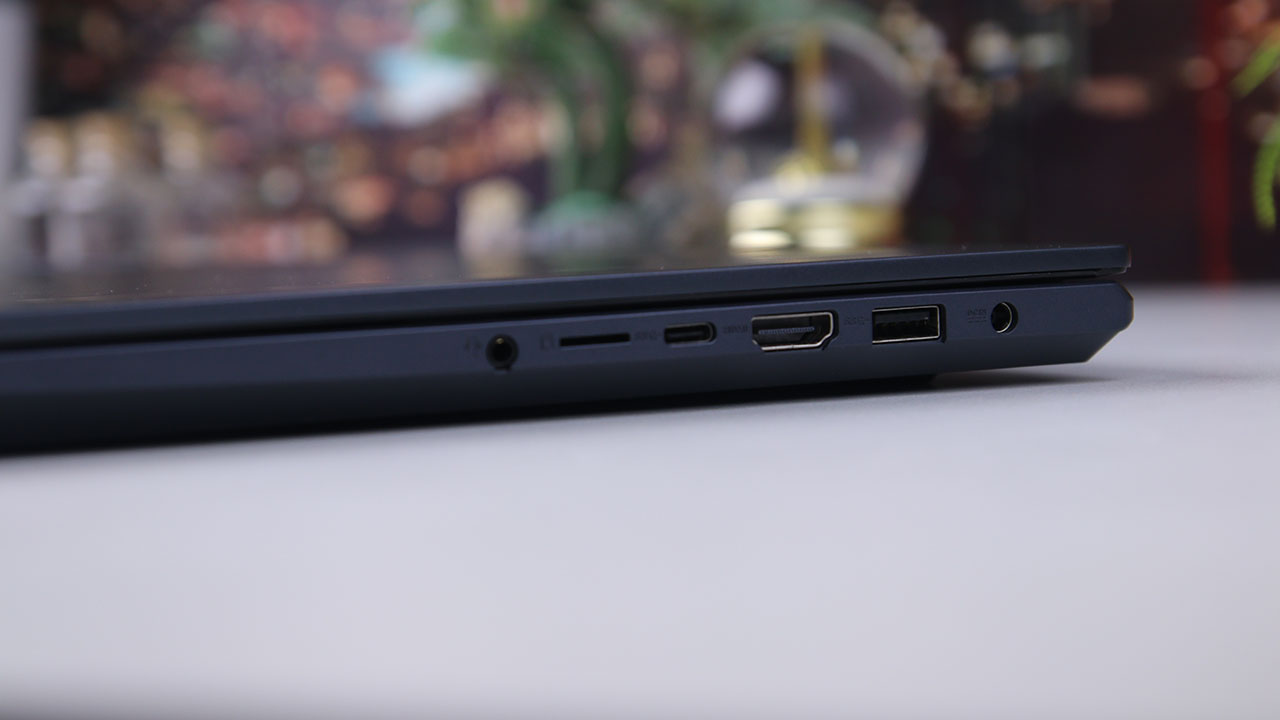 Now on the ports, on the right side of the laptop, are the 3.5mm headphone jack, micro SD slot, Thunderbolt 4 Type-C, USB 3.2 Gen 1, HDMI port, and the DC charging port.
While on the left side are two USB 2.0 along with two LED indicators. Unfortunately, it doesn't have an ethernet port, so the only option is Wifi connectivity.
Surface Design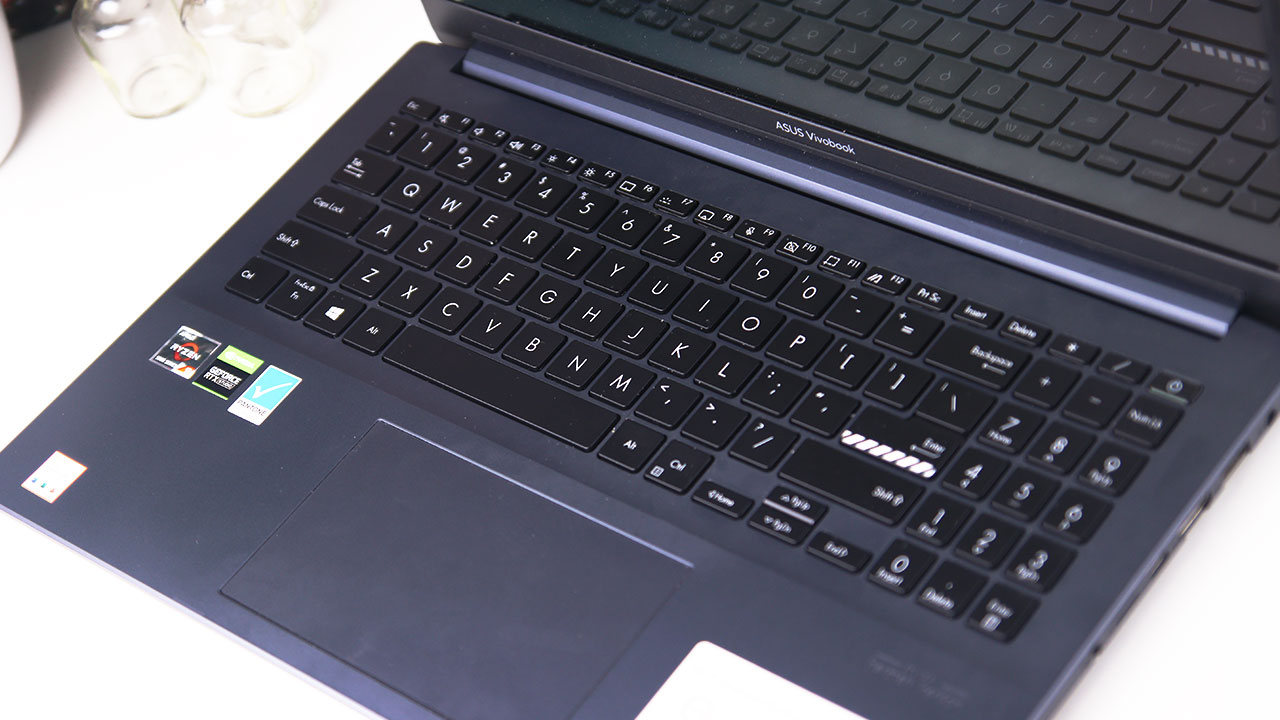 Under the lid, it has a full-size keyboard with the Numpad. The typing experience is satisfying, plus it is not that noisy since it is a linear keyboard. Although the keycaps are flat and smooth, adding a bit of texture to the keys would have been a nice addition. One of the drawbacks here probably is the power button since it is incorporated along with the keyboard. This may cause some issues since you might accidentally press it while editing or gaming.
For the trackpad, Asus built a spacious pad on the VivoBook Pro 15 lineup, which is centered on the arm-rest. Some might not like it, but according to ASUS, they made it this way so that we have more space for dragging and navigating. Although it lacks tactile feedback, it is a well-thought-out design.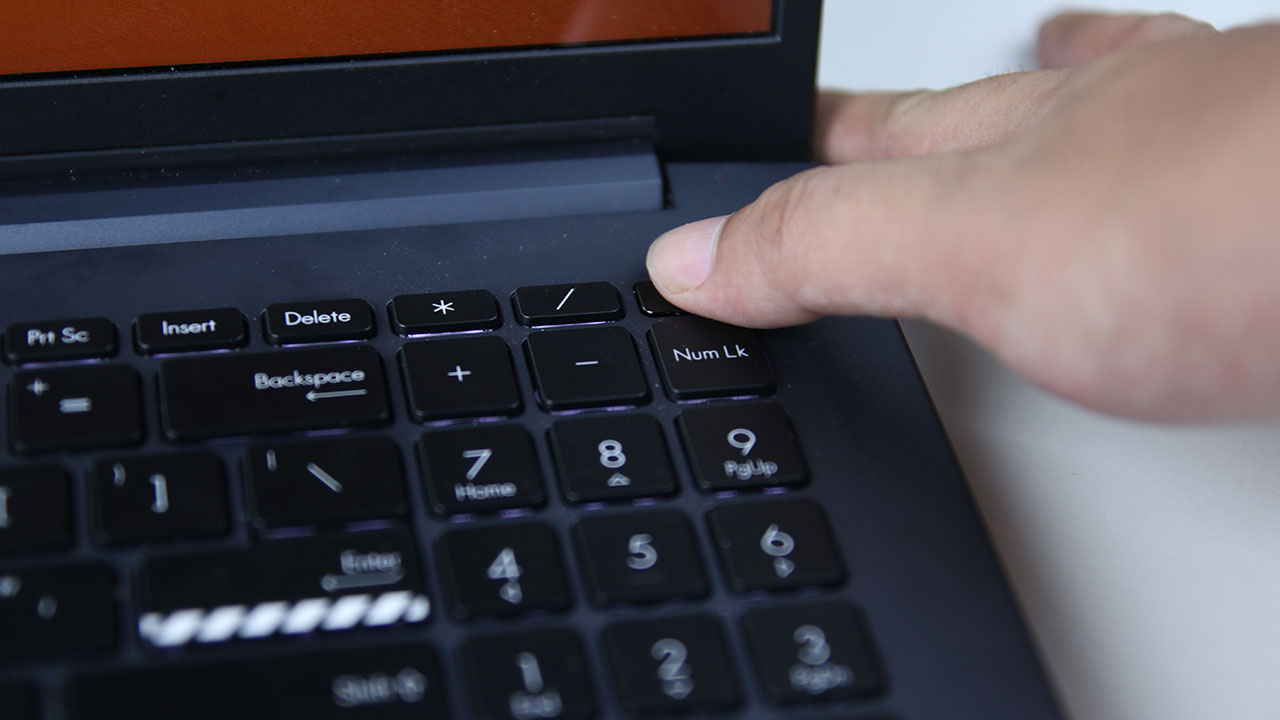 Also, the power button which is included in the keyboard also offers a fingerprint scanner that is responsive, but sometimes it is having a hard time reading your fingerprint.
Display
Moving forward to its display. Over at the bottom, there is an Asus Vivobook text, and on top of that is the 15.6-inch OLED, wrapped in a slim but not borderless design bezel. The first thing you will notice is that the display is bright and the colors are sharp and punchy. Thanks to the OLED panel, Asus managed to make the color hues brighter and look like they're going to pop out of the display. Although for the price some would say that it should have offered a higher display resolution, we can assure you that the details and sharpness are there making this notebook not only for content creators but also effective when it comes to gaming.
Upfront it also comes with a 720P webcam, with a built-in camera shield. However, the image quality is not that great. Still, the addition of the built-in camera shield is a good way to prevent hackers from spying on you.
Software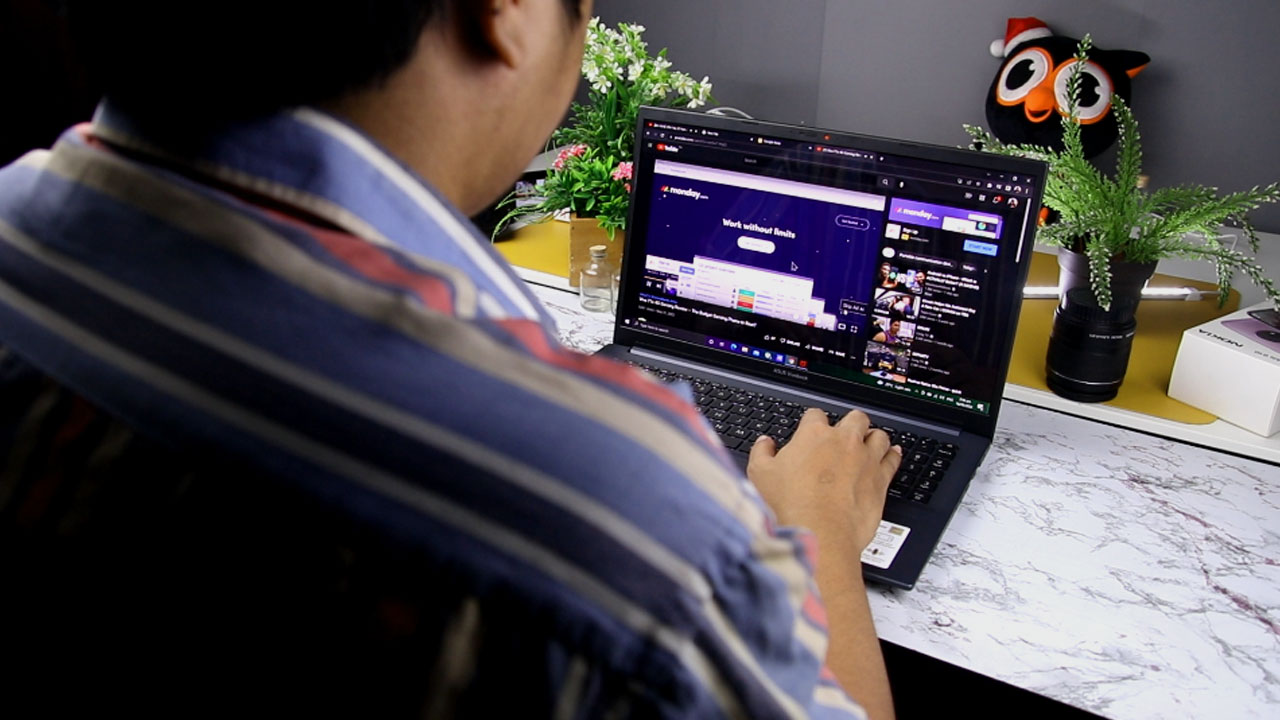 Our unit comes with a pre-installed Windows 10; it is also compatible with the Windows 11 upgrade, so it's up to you, the user, if you want a fresher look on your notebook. If you decide not to, you still have the option to upgrade for later.
Performance and Cooling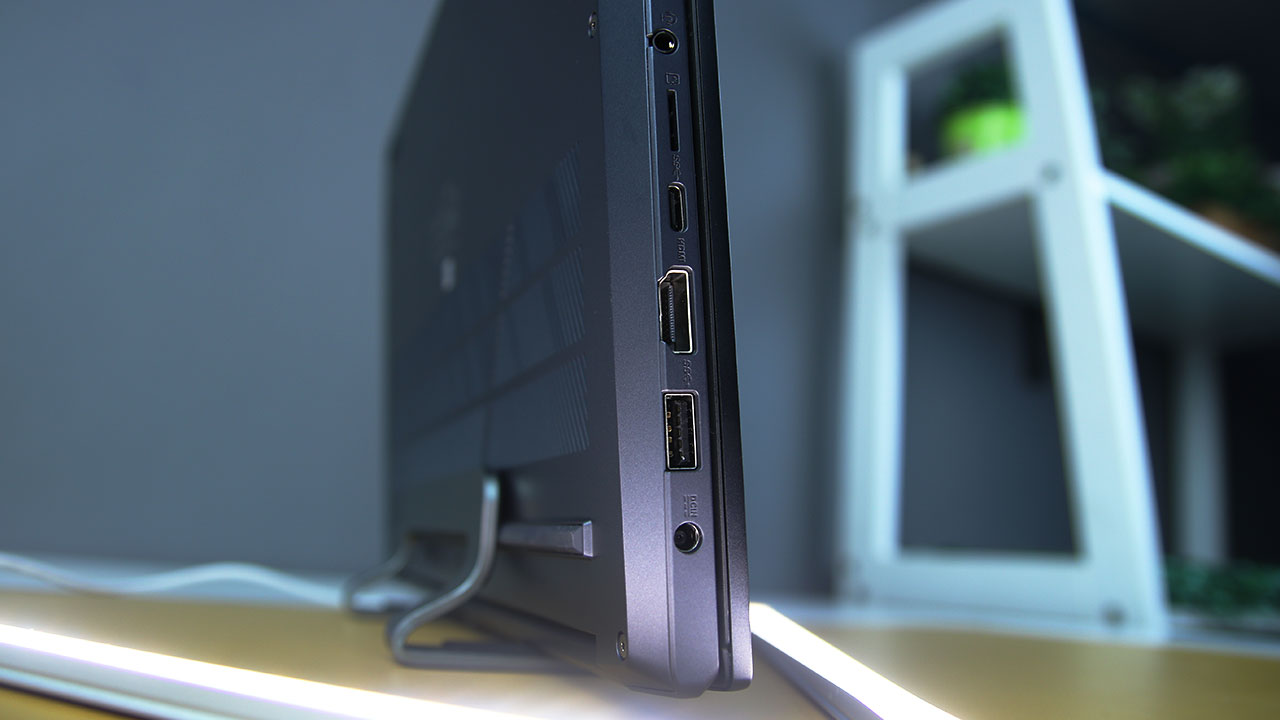 Despite the slim body, Asus outfitted the Vivobook Pro 15 OLED with a dual-fan that can switch to three different profiles.  Thermal throttling is unavoidable when it comes to notebooks and laptops due to their small form factor but this one manages to lessen the throttling itself to the point that there is none.
Benchmarks and Stress Test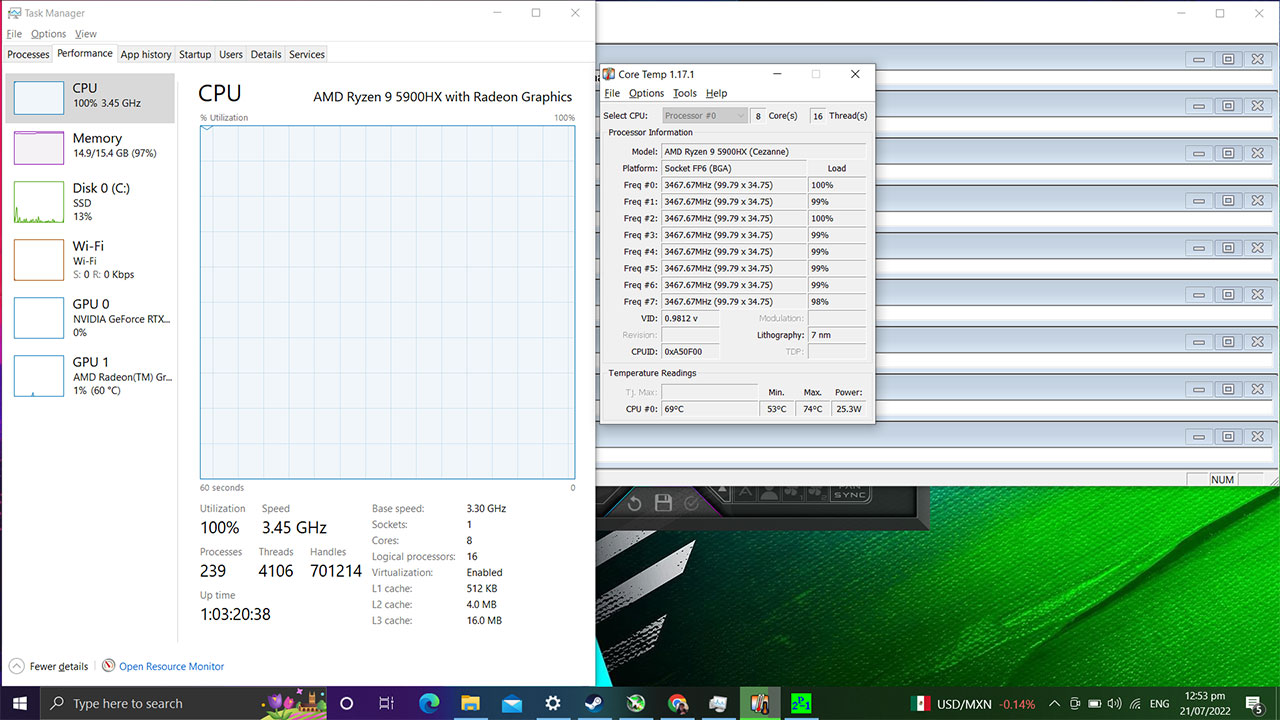 We stress tested the CPU, GPU, and RAM of the VIvobook Pro 15 OLED for about 15 minutes and the highest CPU temp we reached was 74°C. It is a decent temp for a notebook that has a slim body.
This slideshow requires JavaScript.
Battery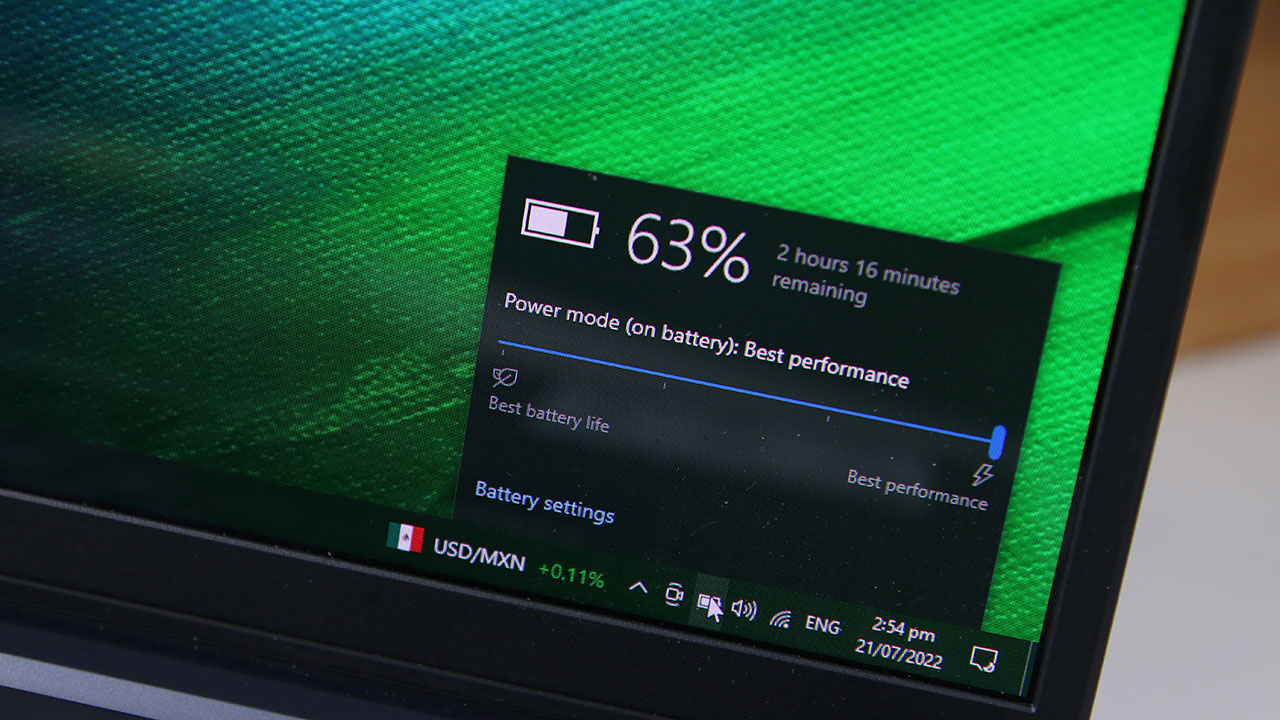 All of these incredible specs are backed by a 63Whr Lithium ION battery pack. It lasted us about 6 hours and 30 minutes with light usage, including work and video streaming. While gaming, on the other hand, gives out a much shorter life span.
As for charging, even though it has a Type-C port on its IO, charging only works on its DC port, and Juicing up the device also doesn't take long. It took us about an hour and 30 minutes to fully juice it up.
Overall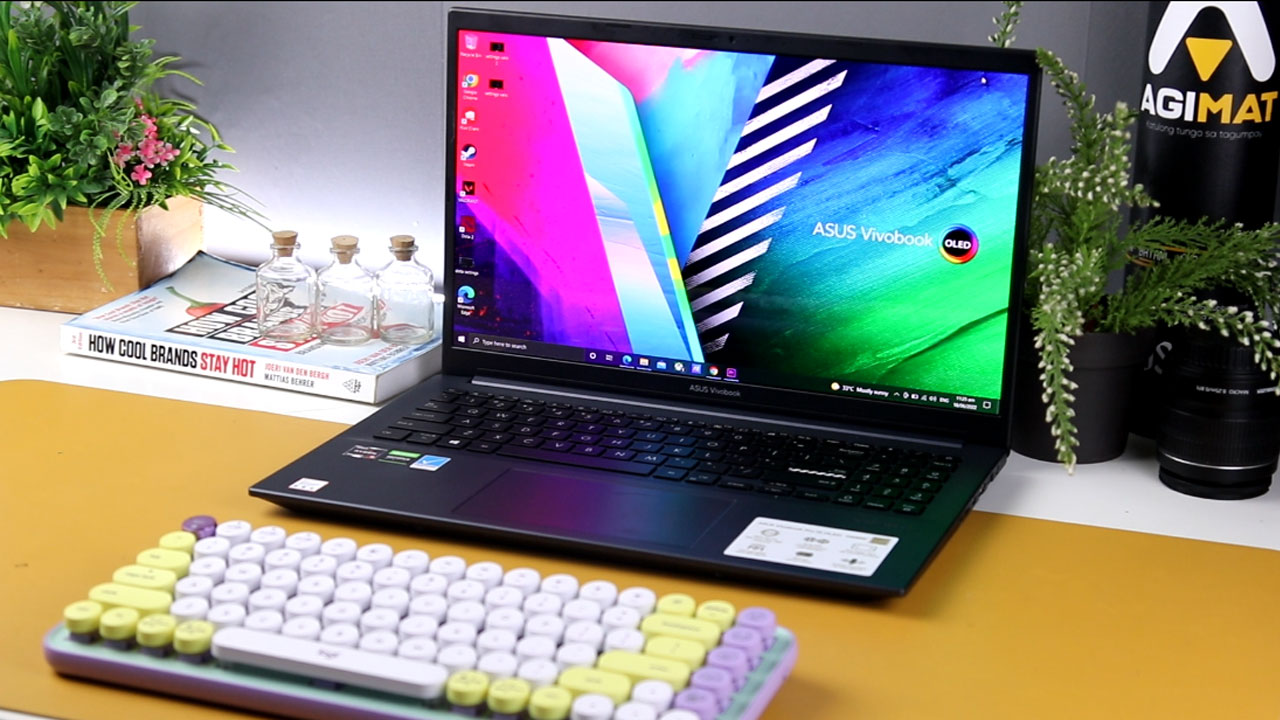 For a suggested retail price of P69,995, the Asus Vivobook Pro 15 OLED isn't simply a content creator laptop or notebook but also a handy unit that can be used for gaming, which makes it an all-rounder beast. Although cooling power is not that efficient, it can be solved by purchasing third-party cooling. The build is polycarbonate, but we haven't encountered any problems with it. it. The battery life for light users is quite lower than expected but acceptable for a notebook. But overall, the Asus Vivobook Pro 15 OLED is an all-rounder notebook; it is lightweight, with impressive performance, a sleek look, and great for overall productivity and gaming.
Asus Vivobook Pro 15 OLED specs, price, release date in the Philippines 
Display: 15.6″ FHD+ 100% DCI-P3 color gamut, Pantone Validated
Dimension: 35.98 x 23.53 x 1.89 ~ 1.99 cm (14.17″ x 9.26″ x 0.74″ ~ 0.78″)
Weight: 1.65 kg (3.64 lbs)
Design: Aluminum lid, Polycarbonate body
CPU: AMD Ryzen™ 9 5900HX Mobile Processor (8-core/16-thread, 20MB cache, up to 4.6 GHz max boost)
GPU: AMD Radeon™ Graphics, NVIDIA® GeForce® RTX™ 3050 Laptop GPU, Boost up to 1057.5MHz at 35W (50W with Dynamic Boost)
Memory: 16GB 2933MHz DDR4

 

Storage: 512GB M.2 NVMe™ PCIe® 3.0 SSD
Camera: 720p HD with Built-in Camera Shield
Connectivity: WiFi 6, Bluetooth 5.1

 

Security:  Fingerprint sensor integrated with Power Key
Ports: 1x Micro SD Slot, 1x audio jack, 1x Thunderbolt 4 Type C, 2x USB 2.0 Gen1, 1x power-in
OS: Windows 10 ( Windows 11 Ready )
Price: Php. 69,995