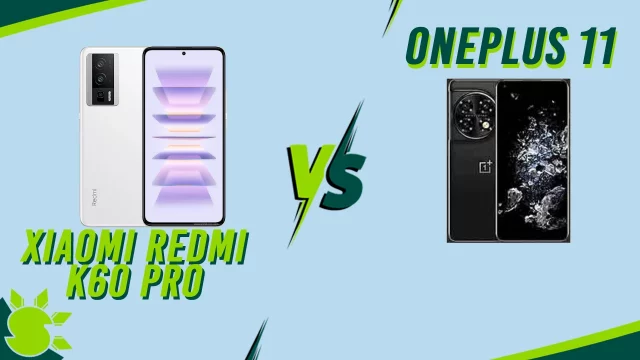 The OnePlus 11 will arrive globally in the early half of February. The phone has top-notch specs at an affordable price, and China sells it cheaply. It's hardly the only high-value flagship that debuted last month. The Xiaomi Redmi K60 Pro, a formidable competitor to the new OnePlus flagship, is one of the previous flagships produced. Comparing the OnePlus 11 and Redmi K60 Pro's primary specs should help you comprehend their differences.
Related: Xiaomi Redmi K60 Is Coming, and It Is Equipped with a Dimensity 8200
Design & Display
Let's start with how they seem externally. OnePlus 11's design is more attractive than Redmi K60 Pro. If you want a unique Android phone, go for it. It has a round camera module, a glass back, and curved sides, and I prefer it to the Redmi flagship killer. Redmi K60 Pro has a rectangular camera module and a flat display with a center punch hole, and it is unattractive and more compact. Which design is better?
The screens of these two phones are comparable, but I prefer the OnePlus 11's LTPO technology, which allows an adjustable refresh rate from 1 to 120 Hz. The OnePlus 11 boasts a 120Hz 6.7-inch QFHD+ LTPO3 AMOLED display, and the Redmi K60 offers a 6.67-inch QFHD+ OLED with a 120Hz refresh rate.
Camera & Speakers
The OnePlus 11's camera system is far superior to the Redmi K60 Pro. It has a 50-megapixel Sony IMX890 primary sensor with OIS, a 32-megapixel telephoto shooter with 2x optical zoom, and a 48-megapixel ultrawide and 8K video capture, all housed in a Hasselblad. Its selfie camera is 16 MP. The Redmi K60 Pro has a 54 MP primary camera with OIS, 8 MP ultrawide shooter, 2 MP macro lens, 8K video recording, and 16 MP front camera. Redmi K60 Pro secondary sensors are inferior.
The stereo speakers on both phones are excellent, but none has a 3.5mm earphone connector.
Battery & Charging
Moving on to their batteries, both phones have 5000 mAh batteries. Only the Redmi K60 Pro has wireless charging and 120W fast charging.
Price & Availability
Redmi K60 Pro costs CNY 3,365 (around Php 27,000), while the 12+256GB OnePlus 11 costs CNY 3,999 (Php 32,159) in China. Your pick? Comment.
---
Read More Articles Here