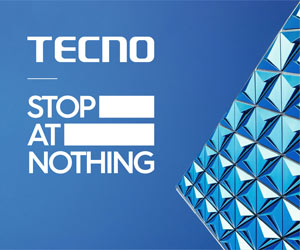 We finally put the Sony Xperia Z5 against to the more established camera phone, LG G4, iPhone 6s and the Samsung Galaxy Note 5. We covered both daylight, night or low light with flash, selfie, HD video recording with image stabilization test and HDR shootout. Which from the latest shooter will come out the best of the best in camera phone world? Find out the results in our Ultimate Camera Comparison!
The basics, specs, and camera features
The Sony Xperia Z5 packs a new 23MP (25MP under the hood in 16:9 sensor ratio) sensor equipped with a f/2.0 lens, LED flash and the much improved hybrid stabilization of Sony, the Steady Shot feature.
Its main rival is the LG G4, as this shooter sports a 16MP sensor with a very large aperture, tipping the scale at f/1.8. Along with its color spectrum sensor or CSS and laser-assisted focus for faster focusing and accurate snapping.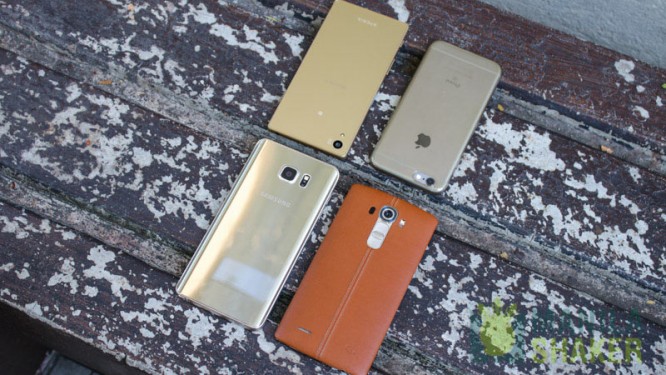 In the paper, the Galaxy Note 5 may not win against LG G4, but it has a 16MP main sensor too and a large f/1.9 aperture and CSS.
Last but not the least is the iPhone 6s, which Apple touts as their best camera phone yet (though OIS is absent and only available on iPhone 6s Plus). At the back, the 8MP from iPhone 6 and 5 is now 12MP sensor coupled with more complex and several layers of the lens at f/2.2 aperture.
How we shoot to get the best results from the camera phones
We set all controls to automatic mode to be fair for all as most users will leave this setting in their phones.
On Xperia Z5, we chose 23MP at 4:3 aspect ratio on daylight shooting or scenarios with enough sunlight. At night and low light, we switched back to 8MP resolution which is the default out-of-the-box. The 8MP produces better exposure control but loses a great amount of detail compared to the 23MP.
The rest of the group are on 12MP setup and in auto mode.
Daylight and HDR shooting
With a good amount of light from the sun, LG G4 close-up and still shots have the highest detail preservation, crispness or texture acutance (amount of detail you see). Most of its shots are well-exposed. However, its white balance and color reproduction are either warm and slightly off from natural.
It is the Sony Xperia Z5 camera that produces the most accurate, pleasing colors from the group. White balance is very accurate and tone control is spot-on. Detail are not crisp as the G4, but the texture is very fine and smooth.
The Note 5 is a miss and a hit, most images possess a good amount of detail preservation, but saturation and white balance are always wrong, thus, destroying the natural colors in the image.
iPhone 6s was able to keep up in some shots, however, the rest of its images are dull and lack sharpness.
Night and low light with flash shooting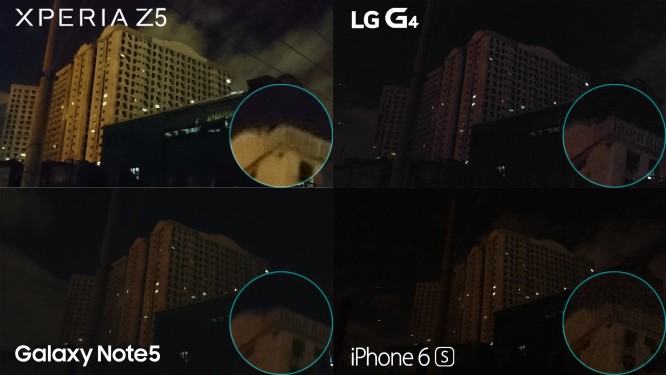 At night mode, the focus capability and stabilization of Xperia Z5 helped a lot in producing bright and natural images. Noise level control is also very good and is better than the competition.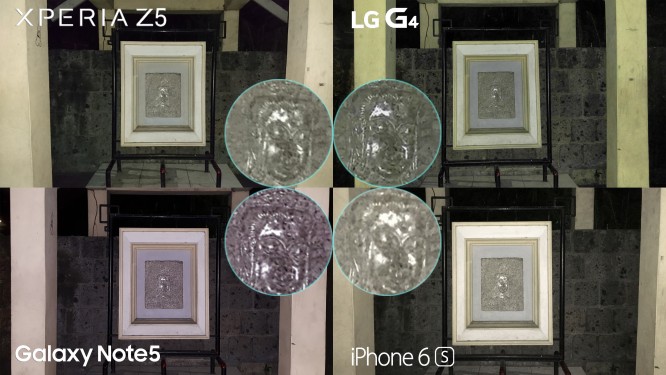 The LG G4 was still superior in detail preservation and crispness, but a lot of visible noise starts to show up at close-up inspection.
On Note 5, a slight reddish tint appears on all shots and colors are inferior to iPhone 6s.
Both iPhone 6s and Xperia Z5 produced accurate flash or lighting color rendition.
Selfie from front-facing cameras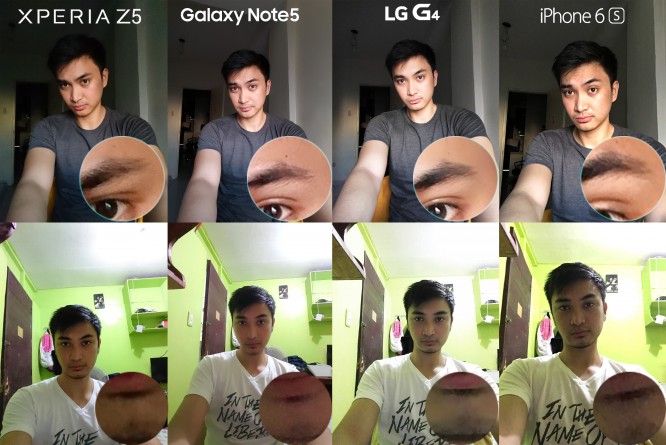 LG G4 and Note 5 convincingly take brighter and wider angled selfie shots. However, skin smoothening is very aggressive and a lot of color vibrance and detail are lost.
It was on iPhone 6s' and Xperia Z5's front cams that produced the best natural-looking skin and tone control. Detail preservation too is very good on both selfie shooters.
HD video recording and stabilization
All phones can shoot up to 4K UHD video or 2160 x 3840 pixels at 30fps or slo-mo at lower res starting at 720p up to 1080p depending on speed.
In terms of video quality, both Note 5 and iPhone 6s took off with good color and white balance, though former's control is not consistent within the entire video. On Xperia Z5, the tone is a bit off with a greenish profile but the rest of its video has consistent color reproduction and white balance control. G4 again produced a crisp image on video, but white balance and color accuracy are warm.
Xperia Z5 has the fastest focus speed and smoothest subject focus transition with iPhone coming at 2nd.
The most stable video shot is on the Xperia Z5. It has the least jolly and movement effects on the shot, thanks to the hybrid stabilization or Steady Shot feature. LG G4 came next, but it is nowhere near to the Z5.
Camera interface and shutter speed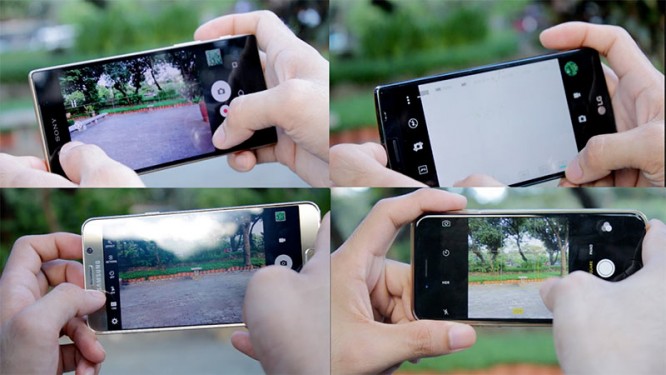 The most basic interface was on iPhone 6s running iOS 9 the rest run on Android 5.1 Lollipop with custom UI and camera interface. It is on LG G4 where manual controls, focus points are better and more dynamic.
In terms of shutter speed, Z5 is the slowest while lagging behind the speedy iPhone 6s, Note 5 and LG G4.
Conclusion: Which is the best camera phone for you?
Each phone has its pros and cons; Xperia Z5 having the most accurate color reproduction and white balance control as well as most stable video shot; LG G4 with the crispiest and highest detail preservation both in night and daylight shooting. And both Note 5 and iPhone 6s are good contenders in the camera shootout.
We will leave the decision to you if which do you think is the best, better, bad or the worst camera phone in this comparison. So tell us your answers on the comment.

| | | | | |
| --- | --- | --- | --- | --- |
| Camera specs (in-depth) | Sony Xperia Z5 | LG G4 | Samsung Galaxy Note5 | Apple iPhone 6s |
| Main sensor | 23MP (custom at 25MP 16:9) | 16MP | 16MP | 12MP |
| Sensor size in inch | 1/2.3″ or 0.43-inch | 1/2.6″ or 0.38-inch | 1/2.6″ or 0.38-inch | ??? |
| Lens aperture | F2.0 G lens | F1.8 | F1.9 | F2.2 |
| Field of view or lens focal | 24mm | 28mm | 28mm | 28mm |
| Video | up to 4K UHD video @30fps | up to 4K UHD video @30fps | up to 4K UHD video @30fps | up to 4K UHD video @30fps |
| Front-facing | 5MP | 8MP | 5MP | 5MP |
| Flash | LED flash | LED flash | LED flash | Dual-LED (two tones) |
| Stabilization | Hybrid Steady Shot | Optical Image Stabilization | Optical Image Stabilization | No OIS (only in 6s Plus) |
| Extra features or sensors | N/A | laser focus, Color Spectrum Sensor | Color Spectrum Sensor | N/A |
Related posts and reviews