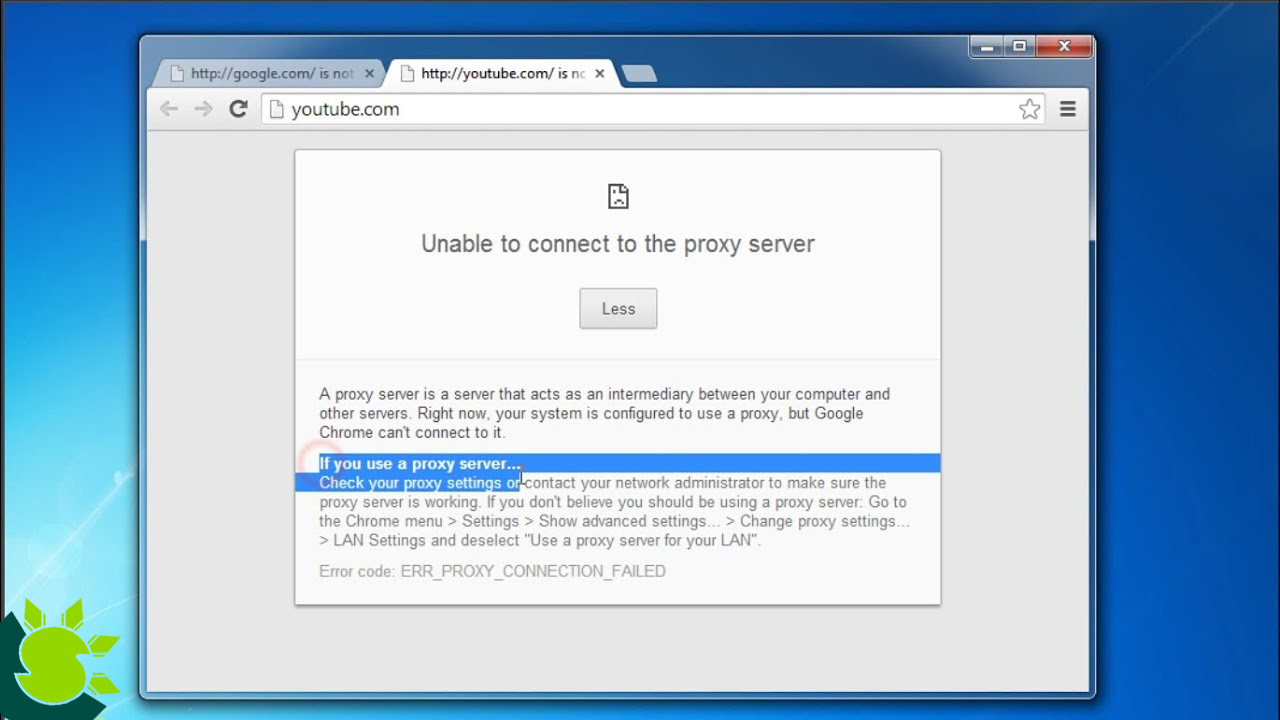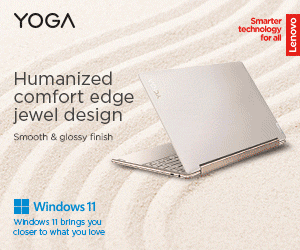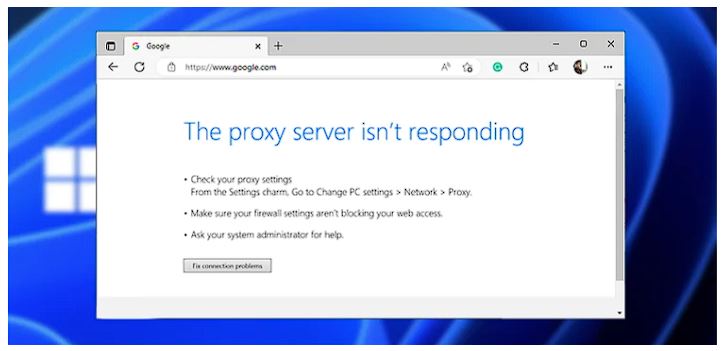 A non-responsive proxy server is a typical networking issue with several potential reasons. Backend difficulties might range from HTTP failures and certificate validation issues to a misconfigured proxy server, among other things.
Finally, all of these issues result in users seeing the Proxy Server Isn't Responding or a similar error message. As the warning says, the error is frequently caused by server-side issues. In such cases, just removing the proxy or going to a new server would solve the problem.
In other circumstances, adjustments such as reviewing the firewall settings and validating the proxy setup on the user end will be beneficial. The processes for these and other remedies are outlined in the sections below.
Related:Find Out If Your Browser Leaks Data
How to Fix the "Proxy Server Isn't Responding" Error?
As previously indicated, if the main cause is on the server side, there is nothing you can do as a user. Simply avoid using this proxy or, if feasible, switch to a different proxy server. However, there are a number of user-side circumstances that might contribute to this problem.
Check System Proxy Settings
There are several methods for connecting to a proxy server, ranging from auto-detection and setup scripts to manual configuration. In the case of WPAD (auto-discovery), disable auto-detection and switch to manual configuration. In the event of manual configuration, make sure the proxy configurations are right.
All of this is discussed in detail below via Windows Settings. The steps are the same for the legacy method (inetcpl.cpl – Internet Properties).
Select Network & Internet > Proxy by pressing Win + I.
The first solution is to just avoid using a proxy server. To do so, disable all three proxy options on this page.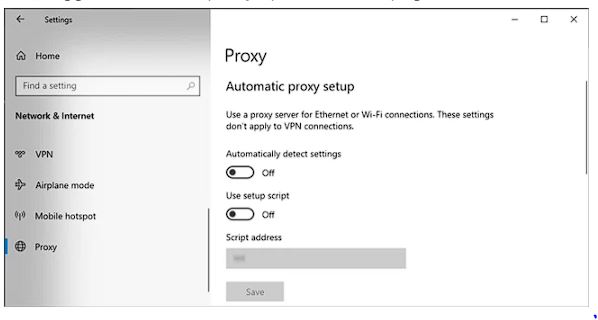 Save the modifications and check to see whether the error has been addressed.
However, there may be times when a proxy is required. In such circumstances, if you're using a setup script, verify with your proxy provider to confirm the address of the setup script is right.
If you're using manual setup, double-check with your proxy provider to make sure the address and port you're using are accurate. You should also check that your firewall isn't blocking the given port. If you need assistance, we've discussed how to implement this under the Firewall section.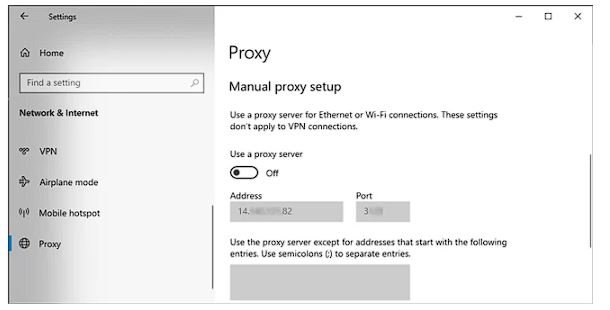 Finally, verify that the mistake is still there after doing the appropriate procedures.
We've also discovered that some users cannot update their proxy settings since they are greyed out. This can happen because of system policies that prevent users from changing proxy settings. To resolve this, perform the following steps on an admin account: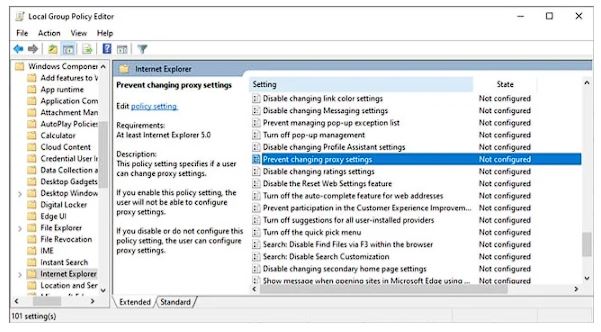 Enter gpedit.msc after pressing Win + R.
Go to User Settings > Administrative Templates > Windows Components > Internet Explorer.
prevent-changing-proxy-settings-policy
Select the Prevent changing proxy settings policy and double-click it.
Select Not Configured or Disabled, then click OK.
Check Browser Proxy Settings
Browsers normally use the system proxy settings by default, but certain browsers, such as Firefox, allow you to connect to proxy servers just for browser traffic. In such instances, we propose the following:
Launch the browser, in this example Firefox, and navigate to Settings.
Look for proxy in the search box or manually in the Network Settings section.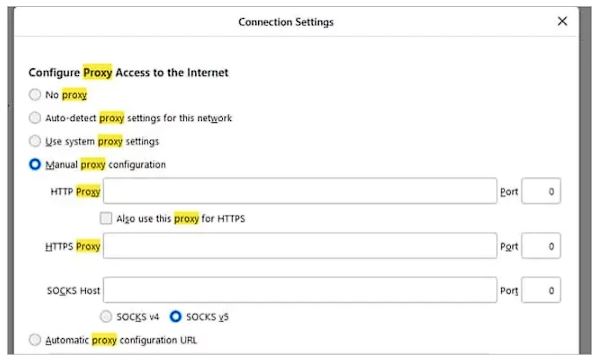 Choose whether or not to utilize a proxy, and then save your settings. Then, check to see if the mistake has been addressed.
Also, if you're using any proxy extensions, make sure to turn them off.
Check Firewall
The port used to connect to the proxy server may be closed, or the firewall may be blocking specific types of communication. As a result, a certain browser may encounter this issue, or the proxy server may cease to function entirely. In such cases, you can do the following:
Enter wf.msc after pressing Win + R.
Sort the Inbound Rules section by Local Port.
Check that no rules are blocking the port required by the proxy server. If so, disable or delete the rule in order to open the required port.
After hitting Win + R, type wf.msc.
Sort the section Inbound Rules by Local Port.
Check that no restrictions are blocking the proxy server's needed port. If this is the case, deactivate or remove the rule in order to open the appropriate port.
This page contains a list of programs that are permitted to communicate via the firewall. If you're getting the problem on a certain browser, make sure it's mentioned here and that the Private/Public box is checked.
Click Change Settings if required. This allows you to specify which applications may interact on which network types (public/private) and to add new apps as needed.
Verify System Security
This problem frequently occurs after you install particular programs (for example, sysTPL) or when your system becomes infected with malware. The apparent remedy is to uninstall the troublesome software and check for and remove malware from your machine.
Despite this, the problem will occasionally remain. Even if you use the methods in this article to resolve the problem, the settings may continue to reset. This can occur if the program creates a scheduled task to rewrite proxy keys in the registry.
This entire issue may appear to be a shambles, yet the remedy is frequently pretty easy. You can utilize a healthy system restore point if you have one. Otherwise, we suggest the following procedure:
Enter appwiz.cpl after pressing Win + R.
Look over the list for any questionable programs. If the problem began shortly after you installed a specific app, you should consider uninstalling it.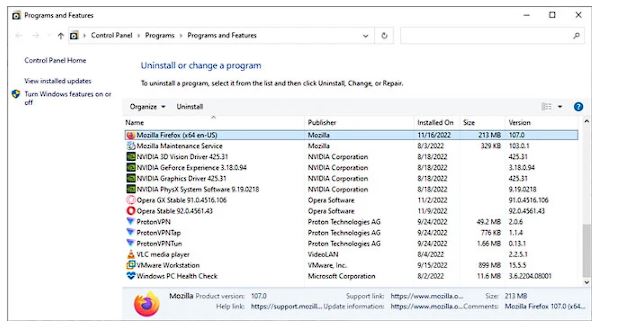 Next, do a thorough system scan using your antivirus software. Use Windows Defender instead if you don't have one.
Enter ms-settings:windowsdefender by pressing Win + R.
Select Virus and threat prevention.
Select Scan Options > Full Scan > Scan Now.
After removing any risks discovered, hit Win + R to open taskschd.msc.
Examine the list of planned tasks in the Task Scheduler Library section. Delete anything that appears suspicious.
After completing all of these procedures, make sure you check to see whether the problem has been resolved.
In most circumstances, the remedies we've discussed thus far should fix this problem. If the problem persists, common solutions such as changing your browser settings or your network settings might be considered. However, you might be better off contacting your network administrator or ISP for assistance.