Are you residing in a remote place where having an internet connection is a challenge? This article will introduce you to satellite broadband internet and the main reasons why you should get one.
Satellite internet is gradually opening into our market nowadays. Having satellite internet used to be very expensive and exclusively for the wealthy and enterprises. But with the passing of time, some operators, such as Kacific, have a vision to make satellite internet affordable and accessible to the masses and bridge the digital divide by using newer technology, disrupting the value chain and achieving a competitive price point.
Here are the reasons why Kacific is one of the leading internet satellite operators in our country today.
WHO IS KACIFIC?
Kacific is a next-generation broadband satellite operator that is committed to providing universal, fast, high-quality broadband access at an affordable cost using robust technologies and an agile business model.
Founded in 2013 by a core team of senior satellite professionals with a mission to provide high-speed with low-cost broadband to rural and suburban areas of Southeast Asia and the Pacific, their first Ka-band high throughput satellite, Kacific1, was launched in 2019 and has been operational since 2020 in the Philippines.
They also operate with internet service providers and Bambunet powered by Kloche Communications is one of their local partners. Kacific aims to connect enterprises, communities, residences, remote schools, and district hospitals using Very Small Aperture Terminal (VSAT) equipment to connect to the Kacific1 satellite. As of now, Bambunet is catering to all these sectors nationwide.
Kacific1
The Kacific1 is a high-throughput satellite that covers 25 different countries in South East Asia and the Pacific, including the Philippines. It is designed to deliver high-speed satellite broadband from 56 high powered spot beams.
How Ka-Band Technology Works
Kacific1's satellite antennas concentrate the spot beams for frequency reuse. This means higher efficiency, lowering the cost per bandwidth. Having high-power beams means the signal coverage is around 99.1% to 99.9% on each beam. This ensures that even the most remote areas with no terrestrial or cellular networks are provided with internet service.
Advantages of Ka-Band Technology
Kacific1 uses Ka-band technology and spectrum. The Ka-band has been the game changer in satellite technology in recent years, representing a better alternative to the lower satellite bands like C-band and Ku-band.
Ka-band has frequencies in the range of 26.5 to 40 GHz within the larger K band of the electromagnetic spectrum, which is mainly used in satellite communication.
Lower bands cover lower frequency ranges, which translates to slower internet speeds for end-users. The Ka-band has a higher data transfer rate and provides better performance compared to other satellite operators in the country that mostly offer C-band and Ku-band technology.
Here's a chart of the Satellite frequency bands:
The chart illustrates the different types of satellite frequencies in terms of area coverage. Being the latest in satellite technology, Ka-band can provide higher-throughput bandwidth compared to C and Ku-band using smaller antenna sizes. As a high-throughput satellite that uses Ka-band technology, the Kacific1 satellite is capable of delivering affordable, dependable, and high-speed satellite broadband solutions to end-users across the region. Kacific's Gigstarter plans can offer speeds of up to 40Mbps for residential and 120Mbps for businesses.
Applications of Ka-Band Technology
The Ka-band technology for satellite broadband has various market applications such as education, healthcare, community broadband, government services, disaster response and relief, tourism and events, economic development, and 3G/LTE/5G Backhaul to name a few.
WHAT IS THE DIFFERENCE BETWEEN KACIFIC AND OTHER OPERATORS?
Kacific is the largest Ka-band satellite operator in South East Asia and the Pacific. In addition, Kacific is able to mitigate the effects of rain fade through diverse uplink availability, having two local teleports located in Subic Bay and Clark, Pampanga.
Both price point and range play a huge role for the company as it aims to drive down the upfront cost of equipment by offering this at the most affordable price through its local internet service providers. Other competitors are charging the VSAT equipment upward of P35,000, whereas customers may avail of the equipment for as low as P31,200 through Bambunet.
In terms of monthly plans, local partners of Kacific offer monthly prepaid subscription plans that provide high-speed internet at an affordable price compared to other satellite providers. According to Kacific, they are here to connect rural and underserved communities by providing a viable alternative to terrestrial connectivity.
Satellite Advantage of Kacific
Kacific's choice of a Geostationary satellite, means that a single satellite can cover long distances (all the 7,107 islands of the Philippines), and simple VSAT can be used to receive signals from Kacific1.
VSATs or very-small-aperture terminals are simple, quick, and easy to install as it only requires a clear line of sight to the Kacific1 satellite to get internet access.
These VSATs, which are 1.2m in diameter, are easy to transport, easy to install, and inexpensive. This significantly helps to lower the barrier to entry, bringing down the cost of the equipment and bandwidth to make satellite connectivity more affordable and accessible in the market.
As a result, enterprises can gain access to internet without the high costs of construction and ground layout. That said, satellite broadband is the most viable and affordable option in areas that are not serviced by mobile and fiber infrastructure.
Pricing and subscription plans
Interested customers may purchase the VSAT equipment at a one-time cost as low as P31,200 and a one-time installation fee starting at P10,000 from Kacific's local internet service provider, Bambunet powered by Kloche Communications. Once the terminal has been installed and aligned, it can then be connected to a Wi-Fi access point to provide internet to multiple devices and users.
Bambunet's unlimited satellite broadband prepaid plans start at Php 5,940 for a monthly subscription, offering up to 3 Mbps download and 3 Mbps upload speeds. According to Bambunet, its best value unlimited plan is at P10,530 monthly offering up to 30 Mbps download and 10mbps upload speeds.
For customers who require higher throughput, unlimited enterprise plans are available, providing up to 100 Mbps download and 20 Mbps upload speeds suitable for up to 60 users.
On the other hand, capped data plans are also available starting from P4,333 to provide up to 70 Mbps download and 5mbps upload rate for 30GB monthly, and range up to 200GB depending on the data usage requirements of the customer.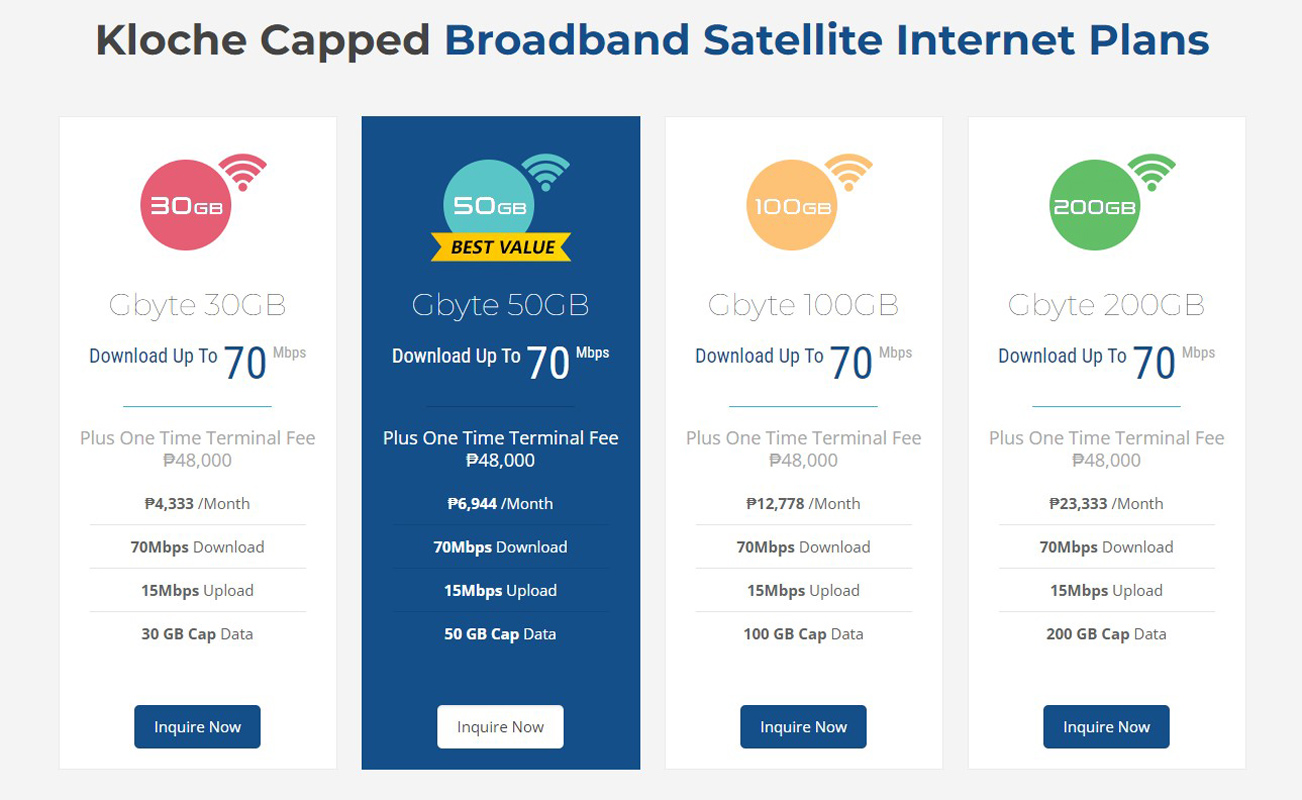 Benchmark and speed test
We went to one of Kacific's VSATs in BGC and tested it out for ourselves. We watched YouTube videos at 1080p and there was no buffering at all. It was a very stable internet. However, satellite broadband tends to have a high latency which means it is not advisable for real-time gaming.
We tried the speed test and got a ping/latency of 500ms. Although it may have high latency, the download was 30 Mbps and the upload speed was 3 Mbps which is more than decent for satellite broadband speeds and everyday Internet usage.
Conclusion
Without a doubt, the utilization of Ka-band is one of the best options for satellite internet for the Philippines. The Ka-band is the latest technology and offers the highest throughput speeds out there today and Kacific makes sure that its prices remain competitive in the market to make satellite broadband as accessible as possible.
Satellite broadband is recommended for far-flung, suburban, and rural businesses and residential customers who lack access to good Internet or traditional fiber and mobile. Satellite connectivity is also a good viable backup option for urban enterprises that are struggling with spotty internet connectivity.
Kacific is one of the fastest-growing satellite broadband operators in the Philippines today. Companies like these are not just in it for the money but are also driven by their compassion for innovating and helping others to have access to the internet.
Kacific in the Philippines just started last 2019 and the future with their technology looks promising. Kacific and its local internet service provider partner, Bambunet powered by Kloche Communications, are committed to helping people that are hindered by slow Internet speeds or lack thereof, and their pricing is much more affordable now than ever.
If you want to connect to fast, affordable internet services today, call Bambunet powered by Kloche Communications on +639985553243 or visit www.bambunet.com.
For more information on Kacific's satellite technology, visit www.kacific.com or contact [email protected].