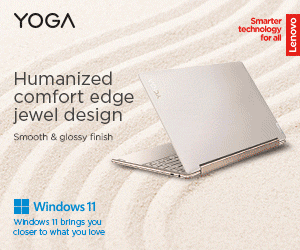 In this review comparison, two powerhouse devices get underway, as the newly released Sony Xperia Z5 (priced at Php 35,990) faces off against Samsung's beastly Galaxy Note 5 (priced at Php 36,990). Which among these powerhouse devices will surpass the other and more importantly, which of these phones suits your needs and requirements better. Stick around and find out.
Design
The Sony Xperia Z5 maintains the looks of the once renowned Sony Xperia Z3 and by  the looks of it, the Xperia Z5 designs is more of an improved version of the Z3's overall looks and feel. Material quality and design have been improved by giving the Z5 an overall robust-like feel and something that doesn't only do excellently, but does in commanding fashion. For the Note 5, its glossy metal back takes attractiveness to the  next level and dishes out the latter's sophisticated built, but also giving it a powerful looking, despite looking classy and luxurious.
Both devices carry a fingerprint scanner feature which is very expected, since both devices are really high-end and delivers great features overall. The Xperia Z5 has a dedicated shutter key for maximum shooting convenience and shooting capability, which is not present on the Galaxy Note 5. The Z5 shutter key is convenient located on the right side of the device, together with its finger print scanner. For the Note 5, its fingerprint scanner is directly located on the menu button on the lower middle of the device. The Note 5 has s-pen support on its arsenal, which is apparently not a feature on the Xperia Z5, which is actually one of the biggest contributor on the Note 5's side.
Both are gorgeous devices overall, however, if you're looking for robustness, rather than sophistication, the better option for you is the Xperia Z5, though, if luxurious feels are more of your thing, then, design-wise, the Galaxy Note 5 is a more notable choice overall. Either one you choose though, you'll get the best of both brands.
The winner: Tie for their strengths in robustness design and sophistication
See also: Sony Xperia M5 Camera Focus Speed Test VS Samsung Galaxy Note 5, OnePlus 2, Lenovo Vibe Shot, Asus Zenfone Selfie
Display
The Note 5 carries a more larger display than the Xperia Z5, with its 5.7-inch Super AMOLED display, in comparison to the 5.2-inch Triluminos LCD display of the Xperia Z5. The Note 5 also has a bigger pixel density rating of 518ppi, in comparison to the 428ppi of the Xperia Z5. For display quality, the Xperia Z5 provides a more warm and natural color distribution than of the Galaxy Note 5, however, the Note 5's Super AMOLED display gives it the advantage on overall deeper contrast and punchier color distribution than the Xperia Z5.
However, the Xperia Z5 image enhancement option would provide the device a more adaptable display capability, which is going to be useful in any situation overall. The option could mimic the saturation rate of the AMOLED display of Galaxy Note 5 and provide a more balanced take on the contrast and color, which is highly desirable, since you can match the level of contrast and warmth of color to your preference.
Note 5's huge screen and Super AMOLED feature gives the latter a grand advantage in brightness level, however, it is clearly seen the their differences is completely marginal. If you're looking to save up some battery life, go for the Note 5's Super AMOLED display, which will give you that, as well as a deep contrast level, for maximum viewing capability, however, if color accuracy and adaptability is a more controlling factor for you, then we suggest to go with the Xperia Z5, though truth be told, both phones possesses spectacular display quality overall that is unparalleled at the present.
The winner: Tie for each contributing in color accuracy and deep contrast level
See also: Samsung Galaxy Note 5 Review – The Best Android in the Market
Camera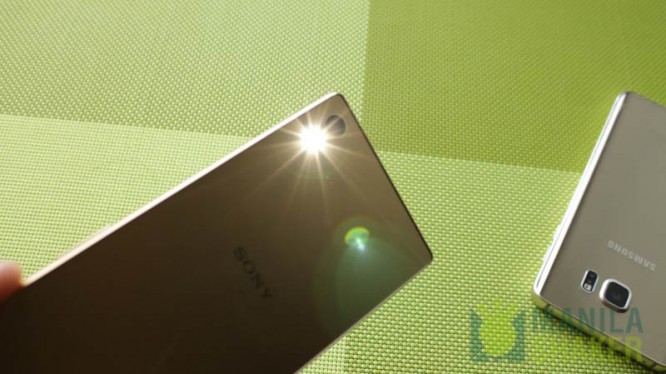 The Galaxy Note 5 carries a 16MP rear shooter, which is similar to the S6 and the S6 DUOS, however, the Xperia Z5 carries a more modernized 23MP f/2.0 rear shooter, which delivers hybrid image stabilization and a said 0.3seconds autofocus speed.
From still image outputs, we can clearly concur that the Xperia Z5 provided a more speedy autofocusing speed than the Galaxy Note 5, with white balance and color rendering more accurate in those shooting situations for the Xperia Z5. Upon zooming in on some of our outputs, we were able to see that the Xperia Z5 provided more color accurate and gave a more preserved detail distribution than the Note 5 did. The Xperia Z5 also performed at its peak, in HDR shooting, though sharpness is clearly seen to be lesser in comparison to the Note 5's.
We used the 8MP resolution for the Xperia Z5, while shooting at night to get the most of the shoots and it happened to deliver one heck of a performance, no disappoints whatsoever. The Xperia Z5 night outputs provided a more better performance in color reproduction, image sharpness and flash exposure. For selfie shooters, both devices delivered praise worthy outputs, though it was clearly seen that the Xperia Z5 delivered a better color rendering output, as well as a better exposure rate overall.
In video mode, the Xperia Z5 shows again its supremacy by giving off better and accurate colors, faster focusing speed, better white balance and a more satisfactorily exposure in night scenarios. The Xperia Z5 overall triumphs overall the Galaxy Note 5 in day or night camera shooting, though, this doesn't necessarily mean that the Galaxy Note 5 wasn't a good shooter overall, it just happens that the Xperia Z5 surpassed it, with a more up-to-date shooting technology.
 The winner: Sony Xperia Z5 for day and night still image shooting and video recording
See also: Samsung Galaxy Note 5 vs Motorola Nexus 6 Comparison, Review: Camera, Benchmark, Speaker
Performance, benchmark and speed tests
Sony Xperia Z5 and Galaxy Note 5 are pretty strong in terms of system, likewise to this, they are really good carriers of the brand and is expected to deliver more than any other devices in the market right now. The Xperia Z5 carries a Snapdragon 810 chip, while the Note 5 has in it a Samsung – made Exynos 7420 chip. RAM capacity-wise, the Galaxy Note 5 carries a more larger RAM capacity of 4GB, while the Xperia Z5 carries a slightly more smaller 3GB of RAM. The major factor that affected the Note 5 however, is its microSD capability, which is absent on the Note 5, while for the Xperia Z5, it not only has one, but has a huge expandability limit of 200GB. Both are running on Android 5.1 Lollipop, though the Xperia Z5 is expected to get a Marshmallow update, sometime later.
For benchmarks, the Galaxy Note 5 delivered a more convincing system performance overall by beating the Xperia Z5 on two out of three benchmark tests, which showcases the overall system capability of the much more older Note 5. Overall, for benchmarks, it can be concluded the Galaxy Note 5 was the clear winner on this part
Benchmark ratings
AnTuTu ratings: Galaxy Note 5 – 66599, Xperia Z5 – 51627
Basemark OS II ratings: Galaxy Note 5 – 1096, Xperia Z5 – 1322
Geekbench ratings: Note 5 – SC: 1352, MC:4387, Xperia Z5 – SC: 1004, MC: 3409
On actual tests, the Galaxy Note 5 shows it superiority again and overall was better, system-wise than the Xperia Z5, though to be honest, by the looks of things, both devices are highly capable of functioning well, through multiple task and heavy task, but the Galaxy Note 5 is something that might perform a bit better than the Xperia Z5.
The Winner: Samsung Galaxy Note 5 for supremacy in system and benchmark tests
See also: Five Similarities of The Sony Xperia Z5 Trio
Battery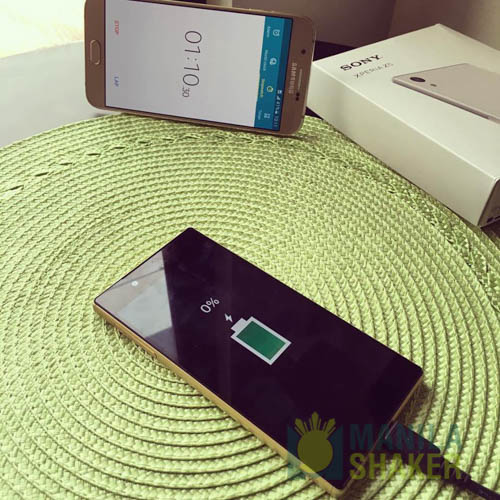 The Xperia Z5 sports a 2900mAh battery, while the Note 5 has a 3000mAh battery. Technically speaking, the bigger numbers on the Note 5 should deliver a subsequent amount of battery longevity. Our battery tests was mainly to play a 2 hour movie on flight mode, while brightness level is at 50% and volume is at 0% and see their phone's battery life and determine which is better.
The Xperia Z5 lasted over 11 hours and 45 minutes, while playing the movie, while the Galaxy Note 5 lasted over 14 hours and 15 minutes. The larger battery capacity of the Note 5 played a major role in the battery test, which helped it surpassed the Xperia Z5 overall, which is exactly, what we predicted would happen.
The Xperia Z5 carried a 2 hour and 30 minutes charging period, which gave it a 100% battery life, while a 15 minute charge gave the device a 12% battery life, while a 30 minute charge can get you up to 25% of the phones battery life. This is actually surprisingly fast, despite its charger only being 1.5Ah rating.
The Winner: Samsung Galaxy Note 5 for a longer battery longevity
See also: Five Reasons Why The Sony Xperia Z5 Premium is a Beastly Xperia Phone
Speaker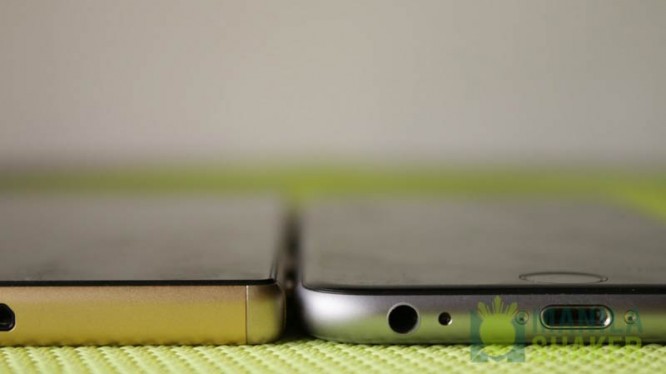 On the speaker tests, it shows that the Xperia Z5 parred up pretty well on the Note 5's mono speaker. However, the Note 5 delivered a more stronger bass than the Xperia Z5's speaker. The front facing mono speaker of the Galaxy Note 5, despite the Xperia Z5's great efforts was far more desirable overall and showcased better sound outputs, in terms of volume and quality.
The winner: Samsung Galaxy Note 5 for its high-quality mono speaker
See also: Five Reasons Why You Should Purchase Your Very Own Sony Xperia Z5
Price and overall verdict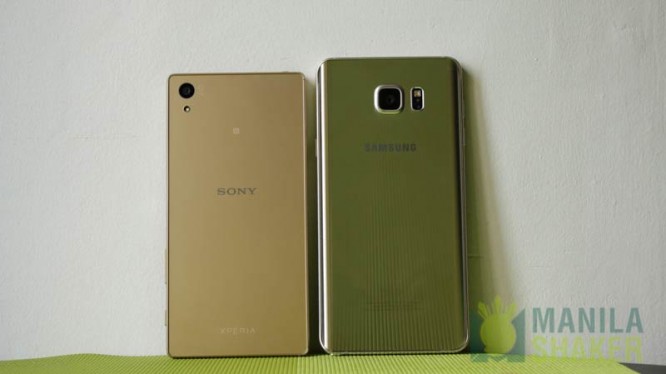 They're seen strong points of each devices on system, camera and even speaker. However, one thing is for sure, both of these phones are a worthwhile take and depending on your preferences, whether camera shooting or system are a more important factor for you, then that will only transition your choice to a particular smartphone, though, we can safely say that both phones are a grand breakthrough in the smartphone industry.
The Xperia Z5 is now available for Php 35,990 through online stores and grey markets everywhere, while the Galaxy Note 5 is available for Php 36,990 through Samsung stores, grey markets and online stores around the country.
Please leave your comments and suggestions on what you think is of our take on both powerhouse devices. Just leave them on the comments section below and we'll be happy to share more of our thoughts with you.
And also, check out the video version of this review comparison

| | | |
| --- | --- | --- |
| Specs/ PH price | Sony Xperia Z5 specs, PH price, features | Samsung Galaxy Note 5 specs, PH price, features |
| Display | 5.2-inch 1080p IPS FHD Triluminos display, 428ppi | 5.7-inch Super AMOLED 1440p QHD display, 518ppi |
| Size | 7.3mm thickness, 154g weight | 7.6mm thickness, 171g weight |
| Color | White, gold, green, black | White, black, silver, gold |
| Protection | scratch-resistant, oleophobic coating, metal frame, water and dust proof | Cornings Gorilla Glass 4, curved back |
| Chip | Qualcomm Snapdragon 810 chip | Exynos 7420 octa-core chip |
| Graphics | Adreno 430 GPU | Mali-T760MP8 GPU |
| Processor | Quad-core 1.5GHz Cortex-A53 &   quad-core 2GHz Cortex-A57 processor | Quad-core 1.5GHz Cortex-A53 & quad-core 2.1GHz Cortex-A57 |
| Memory | 3GB of RAM, 32GB of internal storage, microSD card up to 200GB | 4GB of RAM, 32/64GB of internal storage, no microSD card slot |
| Main Shooter | 23MP f/2.0 rear shooter, single LED flash, | 16MP rear shooter f/1.9 aperture, OIS feature, single LED flash, HDR |
| Multimedia | 2160p video, HDR | 2160p video |
| Front facing shooter | 5MP selfie shooter, 1080p video | 5MP selfie shooter, 1080p video |
| Connectivity | Dual 4G LTE cat 6, WiFi ac, BT 4.1, FM Radio, GPS, NFC | 4G LTE Single/dual SIM, WiFi ac, BT 4.2, NFC, FM Radio, GPS, heart rate sensor, fingerprint sensor, s-pen |
| OS | Android 5.1 Lollipop , upgradable to Android 6.0 Marshmallow | Android 5.1 Lollipop |
| Software features | Ok google, Android TV | OK google, Android TV |
| Battery Capacity | 2900mAh battery | 3000mAh battery |
| Ports and charging | microUSB v2.0 (MHL 3 TV-out), USB Host, Quick charge 2.0 | microUSB v2.0, USB Host, Wireless charging |
| Released date | 23-Oct | August |
| Official price | Official PH price of Php 35,990, as of October 21 2015 | Php 36,990 as of October 31 |
| Where to buy | Official Sony stores or retail stores in the country, Online stores and grey markets. | Samsung stores and online retail sellers |
Related posts and reviews