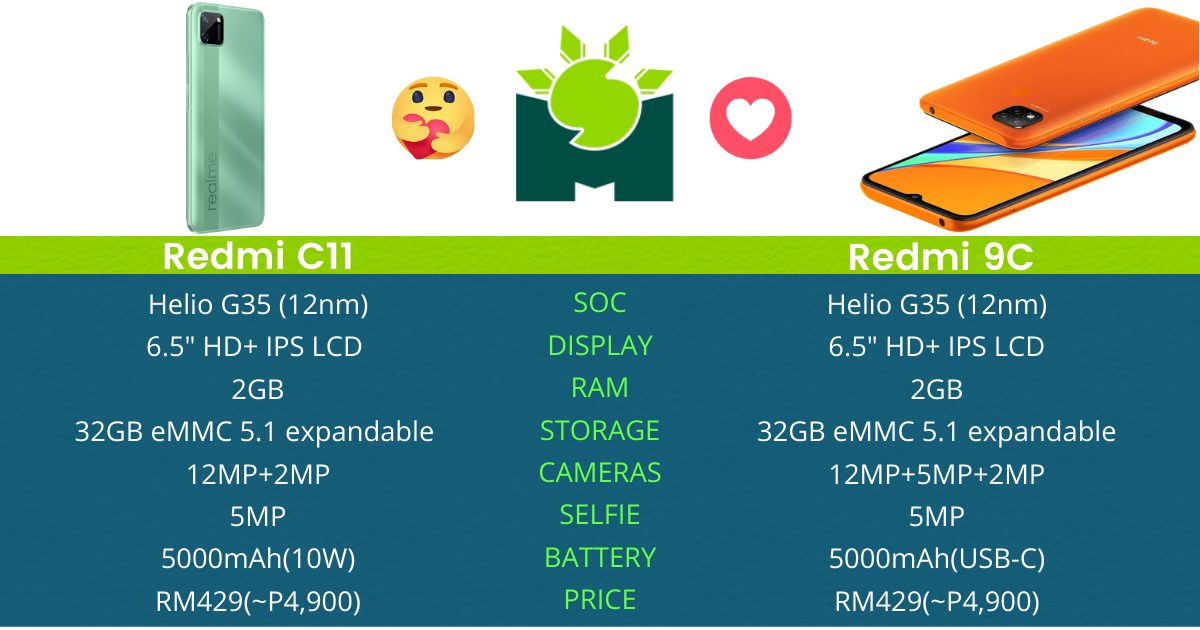 Fresh from their Malaysian release, Realme C11 and Redmi 9C — are the latest entry-level phones as of July 2020. Interestingly, both have tons of similarities than differences. But what exactly are we looking at here? Are they both worth purchasing or, is one better than the other?
Realme C11 and Redmi 9C Similarities and Differences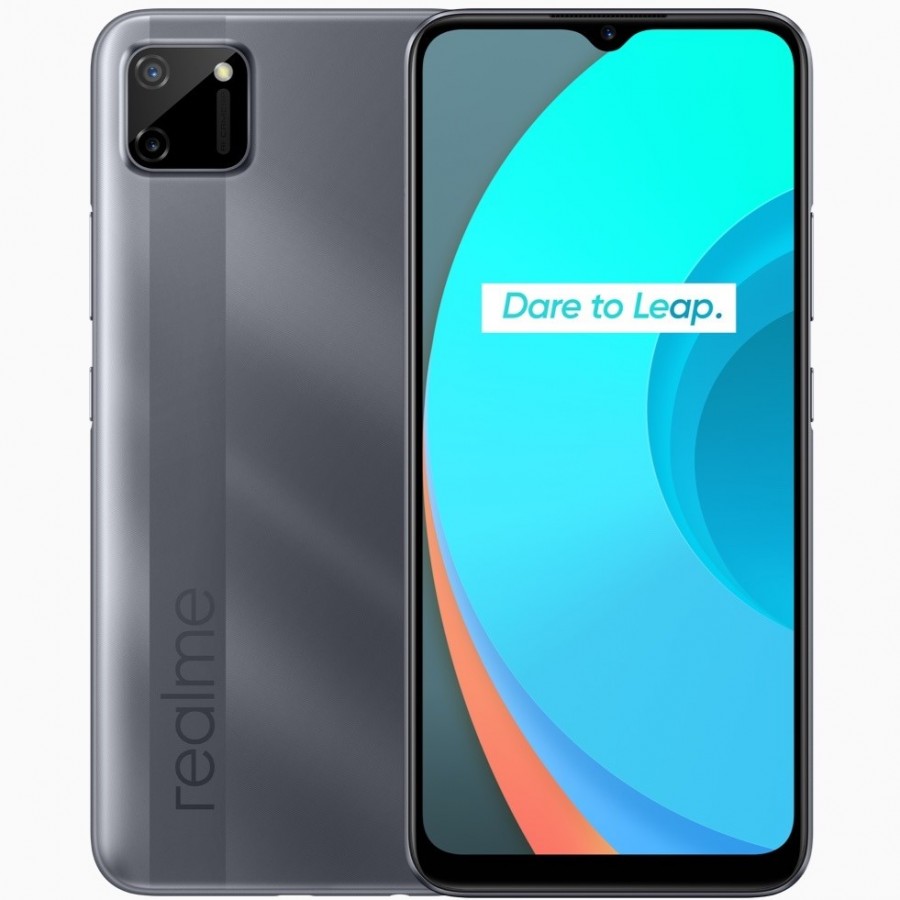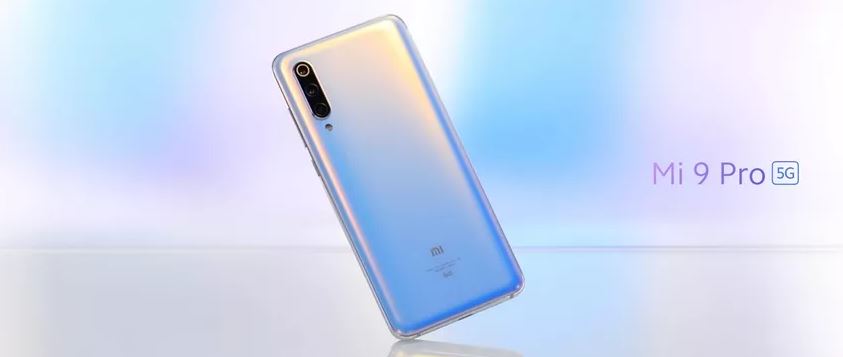 Which is the better buy between the Realme C11 and Redmi 9C?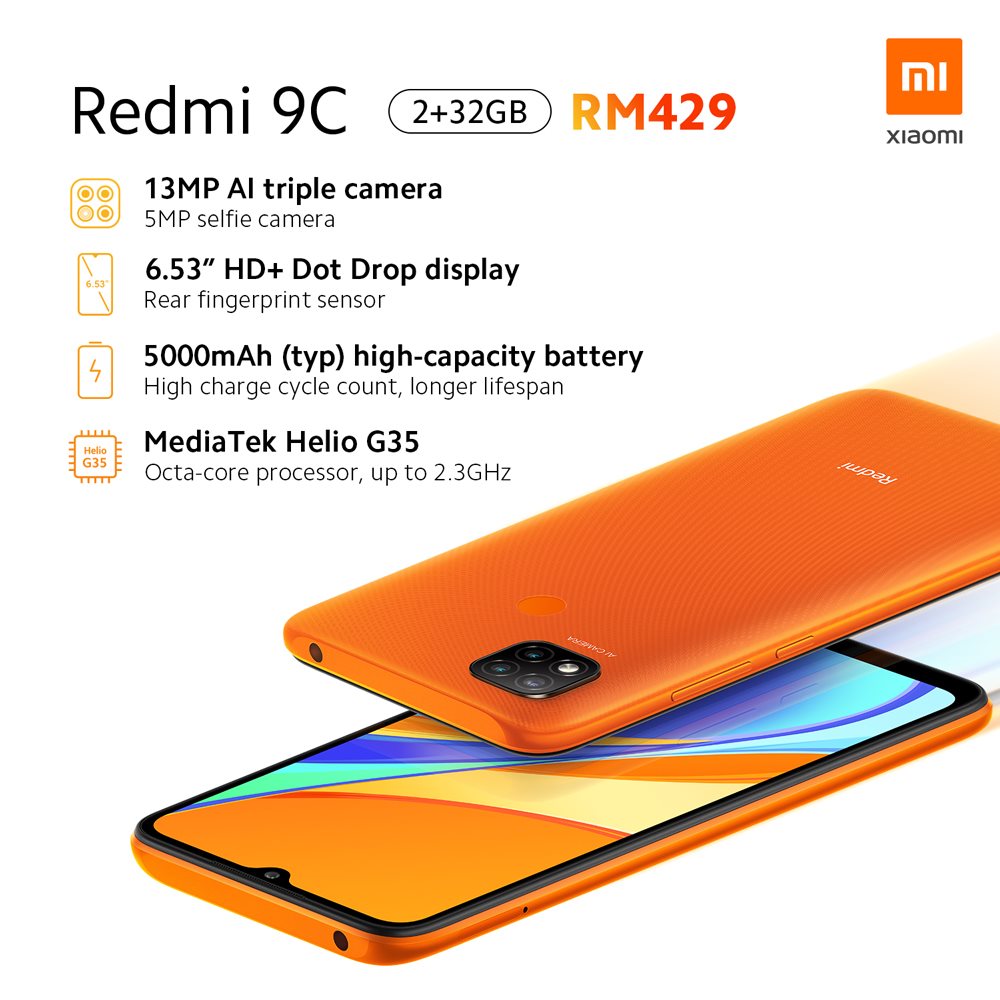 Design and Display
Both entry-level phones are out of polycarbonate material with no splash resistance. Based on schematics, they have rounded corners and backing as well as the same square-camera module placement. Where the Redmi 9C stands out is the addition of a fingerprint scanner on the back; however, we're not sure whether there is any color option other than orange. Realme C11 gets the upper hand in aesthetic, due to the Geometric Art Design. Furthermore, it comes in Mint Green and Pepper Grey colors.
Without considering the scanner, neither was able to get a significant advantage over the other; thus, making it a tie in this department.
The similarities continue to the display as we're comparing 6.5″ IPS HD+, featuring teardrop notch. For the most part, the visual quality and experience are the same, so we're giving it a tie
READ: Realme 6 vs Realme 6 Pro Specs Comparison – 90Hz on a Budget!

Performance
Both phones are rocking Helio G35 that provides the best gaming performance out of an entry-level phone. Additionally, they are with 2GB RAM and 32GB internal storage. While both are based on Android 10, tech enthusiasts might favor Realme UI due near-stock interface, as opposed to the minimal yet feature-packed Xiaomi MIUI.
For the most part, the day-to-day performance of Realme C11 and Redmi 9C shouldn't differ that much from each other. As expected, this one is a tie.
Cameras
Since we're comparing entry-level phones, their camera apps don't include tons of features such as Night Mode. It means buyers will need to rely on the hardware to get the best shot in any given scenario. In the case of Redmi 9C, it has a wider aperture than Realme C11, making it, in theory, better for nighttime shooting. On top of that, there's an added macro lens that lets you capture subjects of at least 4cm distance. As for the 5MP selfie cameras, there's really nothing to write home about.
Of course, Redmi 9C wins this one.
READ: Redmi Note 9 vs Realme 6i Specs Comparison – For the Budget Gamers

Audio
Audio-wise, both are still sporting headphone jack. Apparently, Realme C11 supports aptX codec despite being Qualcomm's technology. AptX support is, by no means, allows for hi-res playback. It's a standard made for wireless peripherals in order to achieve the best sounding quality out of common audio files. Nevertheless, an advantage is an advantage, so Realme is taking this one.
Battery and Charging
5000mAh battery capacity is becoming a standard in 2020, and we love seeing long-lasting battery life from cheap phones. However, it's saddening to see the Realme C11 sporting micro USB. We don't even mind 10W charging for that matter. But when you have Redmi 9C offering USB-C, and possibly 18W fast charging support, you'd think that Realme would do the same. With that said, Redmi 9C takes this one.
Verdict
In Malaysia, both Realme C11 and Redmi 9C are with RM429 or nearly ~P5,000, excluding taxes and duties, prices. Given how much we've been praising Redmi 9C on paper, it's the obvious winner in this comparison. But what about you? Are you willing to forego the advantages of Redmi 9C to own the C11?
READ: Realme X50m 5G vs Redmi K30 5G Specs Comparison – Round 2!