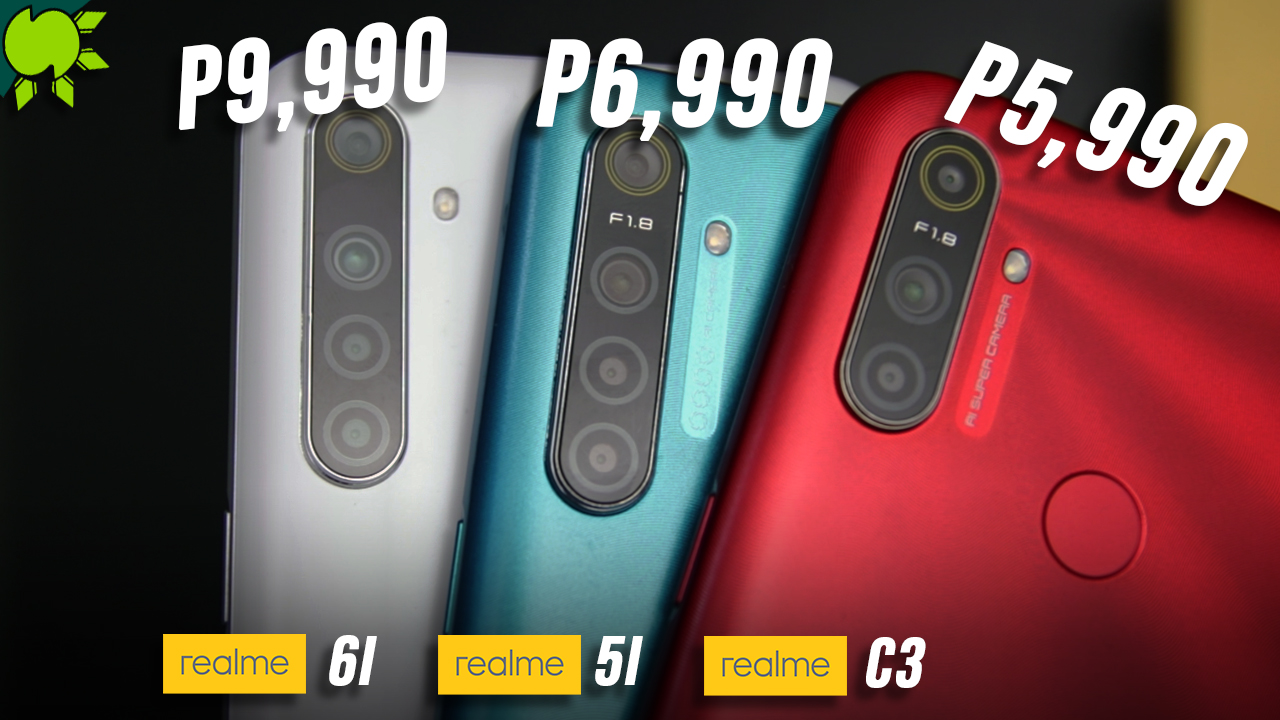 Realme phones are getting better and better while still holding the "bang for the buck" title. This year they've recently released an entry-level to midrange under P10,000 smartphones, Realme C3, Realme 5i, and Realme 6i. These devices are very similar to each other but under the hood, they have different capabilities. So which one should you buy?
Specification
| | | | |
| --- | --- | --- | --- |
| | Realme 5i | Realme C3 | Realme 6i |
| Design | | | |
| | 195g | 195g | 199g |
| | Plastic Back | Plastic Back | Plastic Back |
| | Splash Resistant | Splash Resistant | Splash Resistant |
| | Gorilla Glass 3 | Gorilla Glass 3 | Gorilla Glass 3 |
| | Blue, Green | Frozen Blue, Blazing Red | Cream White, Green Tea |
| Display | | | |
| | 6.52″ IPS LCD | 6.5″ IPS LCD | 6.5″IPS LCD |
| | 720×1600, 20:9 | 720×1600, 20:9 | 720×1600, 20:9 |
| | 83.2% STB | 82.7% STB | 82.3% STB |
| Camera | | | |
| | 12MP f/1.8 (Main) | 12MP f/1.8 (Main) | 48MP f/1.8 (Main) |
| | 8MP f/2.3 (ultrawide) | | 8MP f/2.3 (ultrawide) |
| | 2MP f/2.4 (macro) | 2MP f/2.4 (macro) | 2MP f/2.4 (macro) |
| | 2MP f/2.4 (depth) | 2MP f/2.4 (depth) | 2MP f/2.4 (depth) |
| | 4K@30fps, 1080p@60fps | 1080P@30fps | 1080P@30fps |
| Selfie Cam | | | |
| | 8MP f/20 | 5MP f/2.4 | 16MP f/2.0 |
| | 1080P@30fps | 1080P@30fps | 1080P@30fps |
| Performance | | | |
| | Snapdragon 665 | Helio G70 | Helio G80 |
| | Android 9.0; ColorOS6 | Android 10.0; RealmeUI | Android 10.0; RealmeUI |
| | Adreno 610 | Mali G52 2EEMC2 | Mali G52 MC2 |
| | 3GB Ram, LPDDR4 | 3GB Ram, LPDDR4 | 4GB Ram, LPDDR4 |
| | 64GB, eMMC | 32GB, eMMC 5.1 | 128GB, eMMC 5.1 |
| | expandable via MicroSD | expandable via MicroSD | expandable via MicroSD |
| Battery | | | |
| | 5000mAh | 5000mAh | 5000mAh |
| | 10W Charging | 10W Charging | 18W  Fast Charging |
| Features | | | |
| | Gyroscrope | | Gyroscrope |
| | microUSB 2.0 | microUSB 2.0 | USB Type-C |
| | Bluetooth 5.0 | Bluetooth 5.0 | Bluetooth 5.0 |
| | Wi-Fi 802.11 | Wi-Fi 802.11 | Wi-Fi 802.11 |
| | Fingerprint (rear mounted) | Fingerprint (rear mounted) | Fingerprint (rear mounted) |
| Price | | | |
| | P6,990(3GB+64GB) | P5,990(3GB+32GB) | P7,990(3GB+64GB) |
| | | | P9,990(4GB+128GB) |
First, what are their similarities?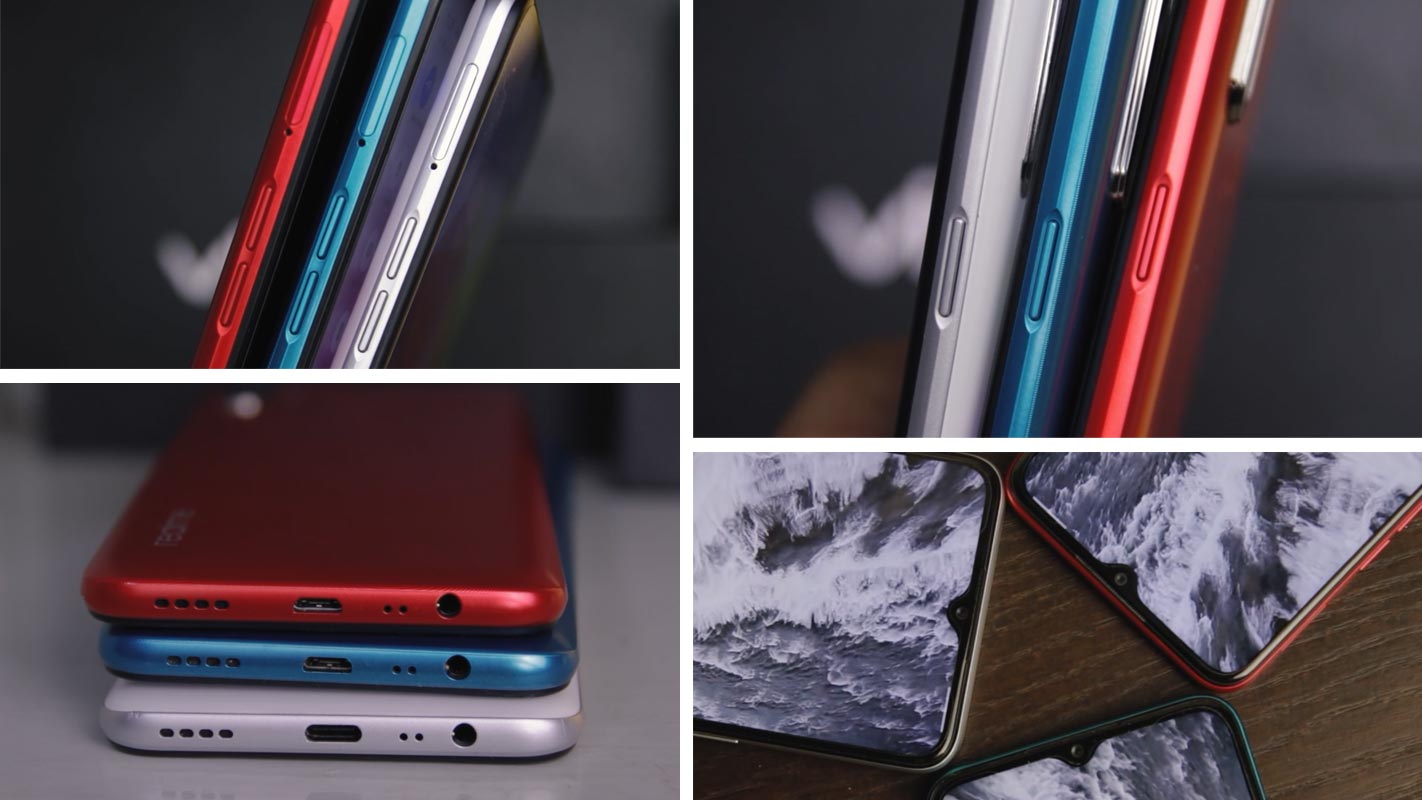 All three devices are very similar. They got the same button placement, build, and size. On the front, you will notice that they have the same dewdrop notch and the same screen size. On its frame the button placement is in the exact locations. They're like the same model with different color variants. In terms of display, the three also have the same resolution. In terms of battery, they got the same large 5000mAh.
Check out: Honor X10 5G vs Realme 6 Pro Specs Comparison – Honor is back!
Design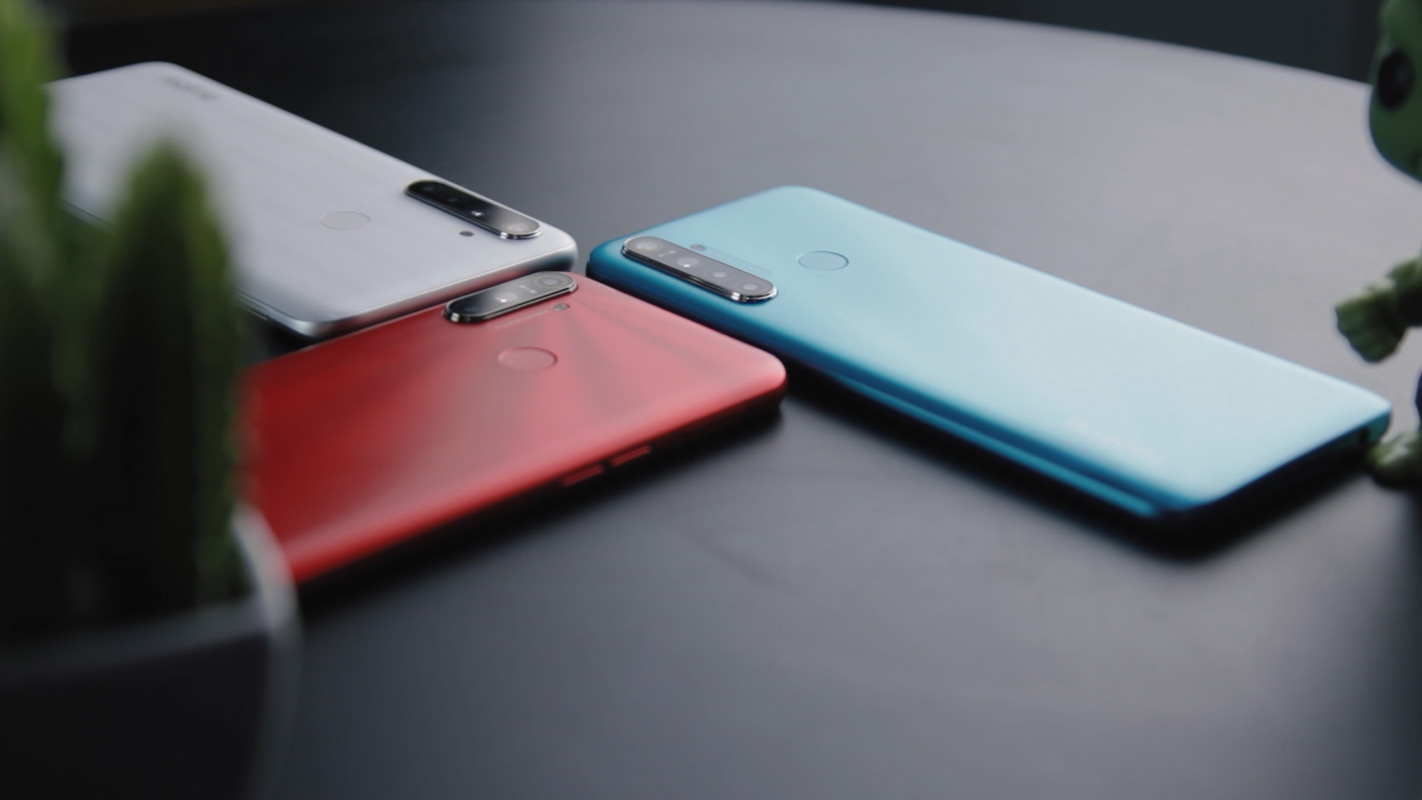 Both C3 and 5i have a sunrise design on its back with a curved parallel fingerprint-like texture while the 6i has a holographic vertical line with a silky smooth finish. All are smudge-proof and they have the same plastic back. They also have the same fingerprint scanner location, same camera module placement although C3 only has a triple camera and Realme 6i got the USB Type-C port. You will also notice that 6i doesn't have any text printed on the back only the Realme logo at the bottom part, while Realme 5i and Realme C3 has a printed aperture value on the camera module.
Display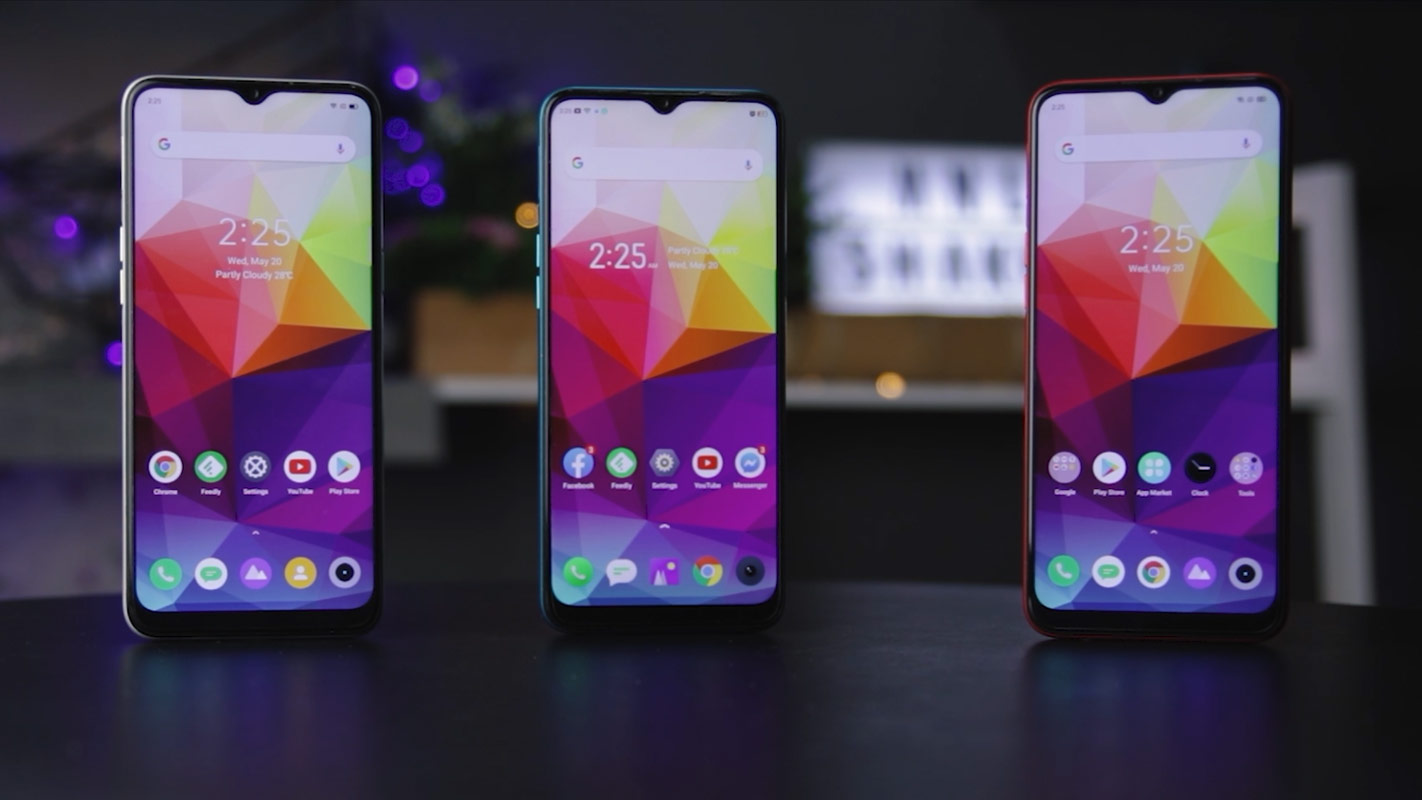 All three phones have the same 720P IPS LCD with 6.5 inches screen size. All in cinematic 20:9 ratio with 2% differential in screen to body ratio and PPI. In terms of brightness, Realme 5i's screen is less bright compared to the two. Realme C3 and Realme 6i have 480nits and 520nits respectively. Realme 5i screen is in warmer tone in default but we can easily tweak that in the settings to match those screen colors of the other two phones.
Cameras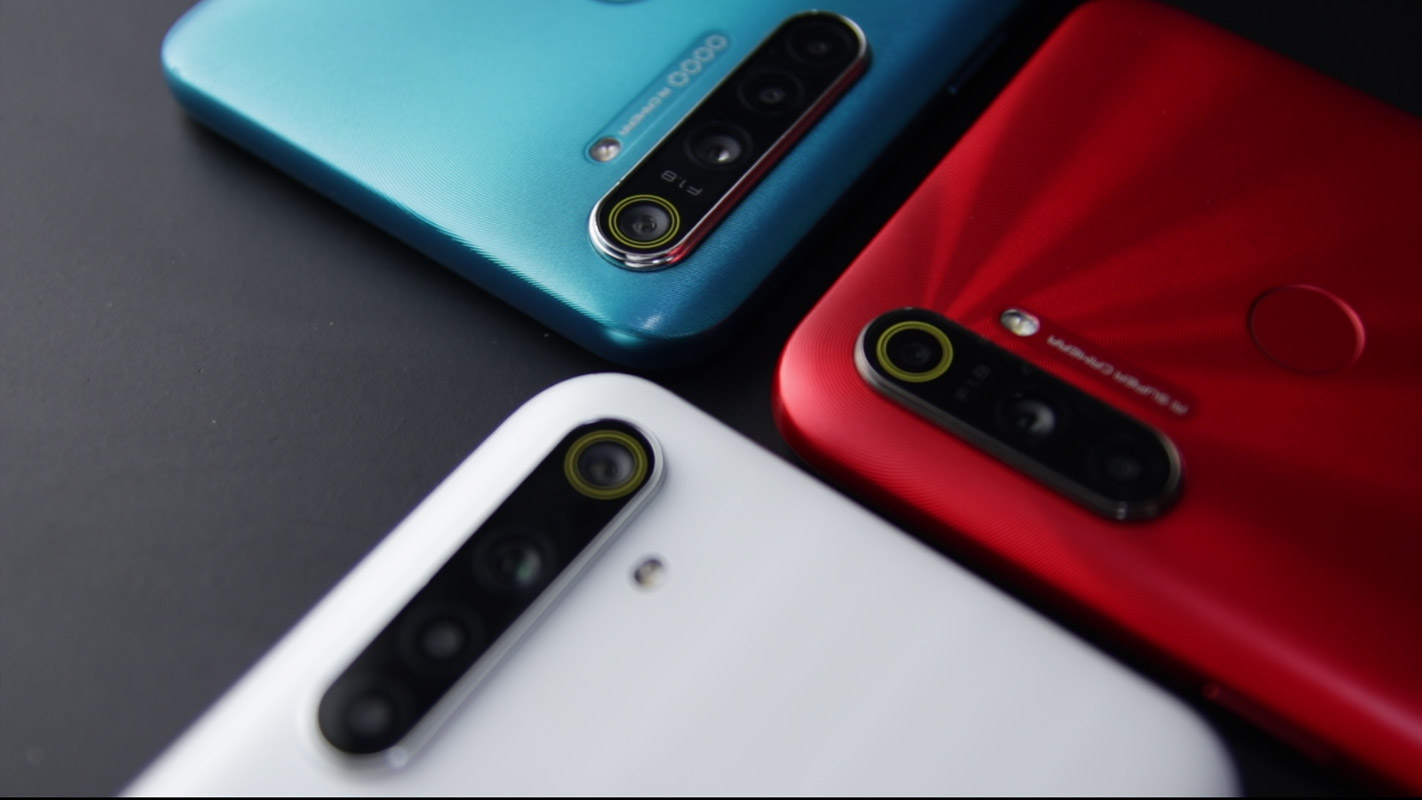 Realme 5i and Realme 6i have the same quad-camera set-up although the main lens on 6i was bumped up to 48MP while C3 on the other hand, only has a triple camera nearly the same as the Realme 5i's setup minus the ultrawide angle lens. Both Realme C3 and 5i have a 12MP Main Shooter.
Also Read: Realme X50m Now Official: 120Hz, 6 Cameras, SD 765G for ~P14K
Main lens
We can already say that Realme 6i is the winner in this section it has a wider field of view and with more natural color. Realme C3 is on a greenish tone and 5i is in magenta tint color spectrum while 6i has the best white balance output. Realme 5i manages to control the highlights in the sky but if we crop the photos we can clearly see that 6i is more detailed. In short, the white balance of each three is very distinct and the highlights handling of all three phones are inconsistent.
Ultrawide
This slideshow requires JavaScript.
Next, Realme 5i and 6i have an ultrawide angle lens, C3 is out here. At first glance we can say that 5i got the best contrasty look between the two, but as we zoomed in, details are preserved on the Realme 6i.
Macro
Moving on to the macro shots, the 6i has the best details compared to the two, the least is Realme 5i.
Depth Sensor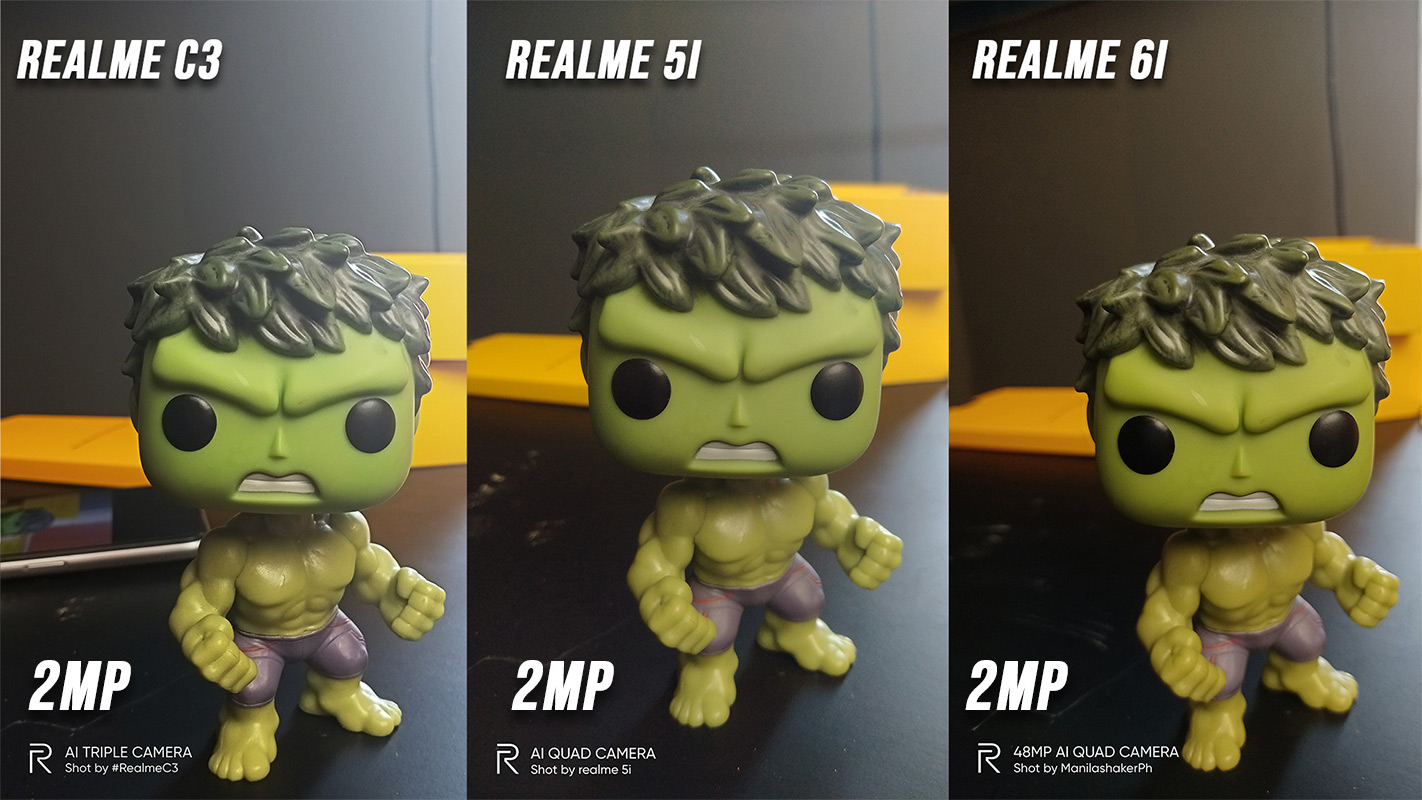 In portrait mode, colors are very distinct but the three phones manage to produce bokehlicious photos thanks to the help of it's AI.
Selfie
Switching to the front camera, the beauty enhancement AI of all three phones managed to remove my pimples. Although we're seeing different kinds of smoothness and skin tone colors. C3 produces smooth but less detailed compare to the two phones, both C3 and 5i produce pinkish skin tone, while 6i got a nice brighter image and more flattering selfies.
This slideshow requires JavaScript.
Video Recording
Realme 6i and C3 only record videos at 1080p which is a recommended video recording if you're using it in daily needs, while Realme 5i shoots at 4k resolution, which gives 5i the flexibility in terms of mobile filmmaking. Realme 5i also has a digital stabilization only at 1080p and 720p. Overall if we rank them from the best to least, Realme 6i wins next is Realme 5i then the Realme C3.
Recommended: Realme C3 vs Realme 5i – Which one you should buy?
Performance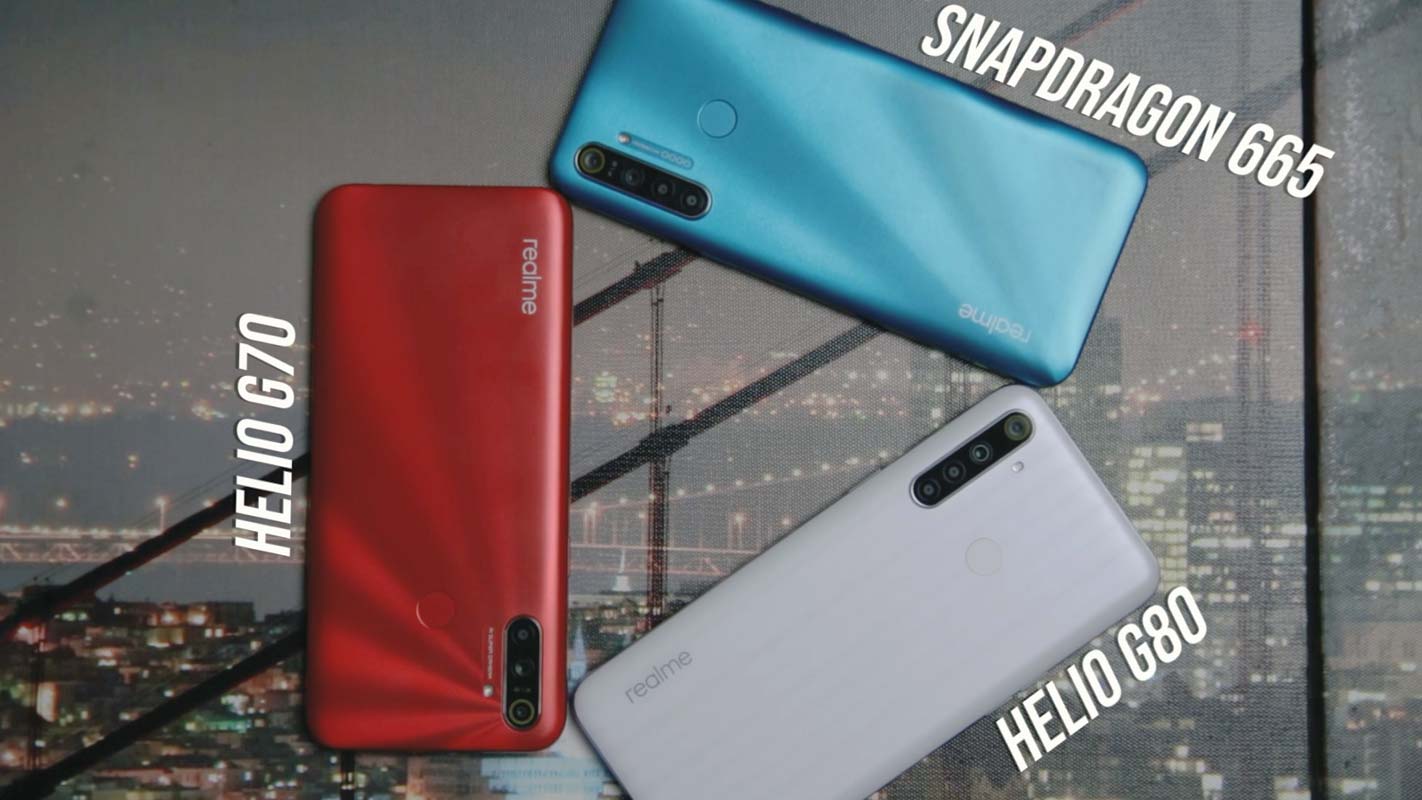 Under the hood, Realme C3 is powered by Mediatek Helio G70 while Realme 5i got the Snapdragon 665 then Realme 6i runs with Helio G80. Both C3 and 6i are running with Android 10.0 with Realme UI on top while 5i is running in Android 9(Pie) and ColorOS 6. So the big question is, which has the best performance while saving battery life at the same time? We're talking about comfortability and satisfaction in terms of daily use and heavy gaming because this is what you guys are confused about.
Launch Time
This slideshow requires JavaScript.
Realme 5i vs Realme C3 vs Realme 6i Antutu Benchmark results
In terms of speed, Realme 6i got the fastest and newest chip inside, and on our speed test and benchmark test that you will see on our comparison video you will notice that Realme 6i leads in terms of process and loading time. First, we cleared the ram and running apps in the background, then we launch some stock apps and after 5 apps we will start to see the slowed-down process of Realme 5i and Realme C3, they only have the same 3GB of ram while 6i got a 4GB ram. After we launched another couple of apps, we started to launch the Game Space app and PUBG mobile. The result is very apparent, Realme 6i is ahead then C3 comes next then Realme 5i has the least loading time. Realme 6i wins in this round.
FPS Counter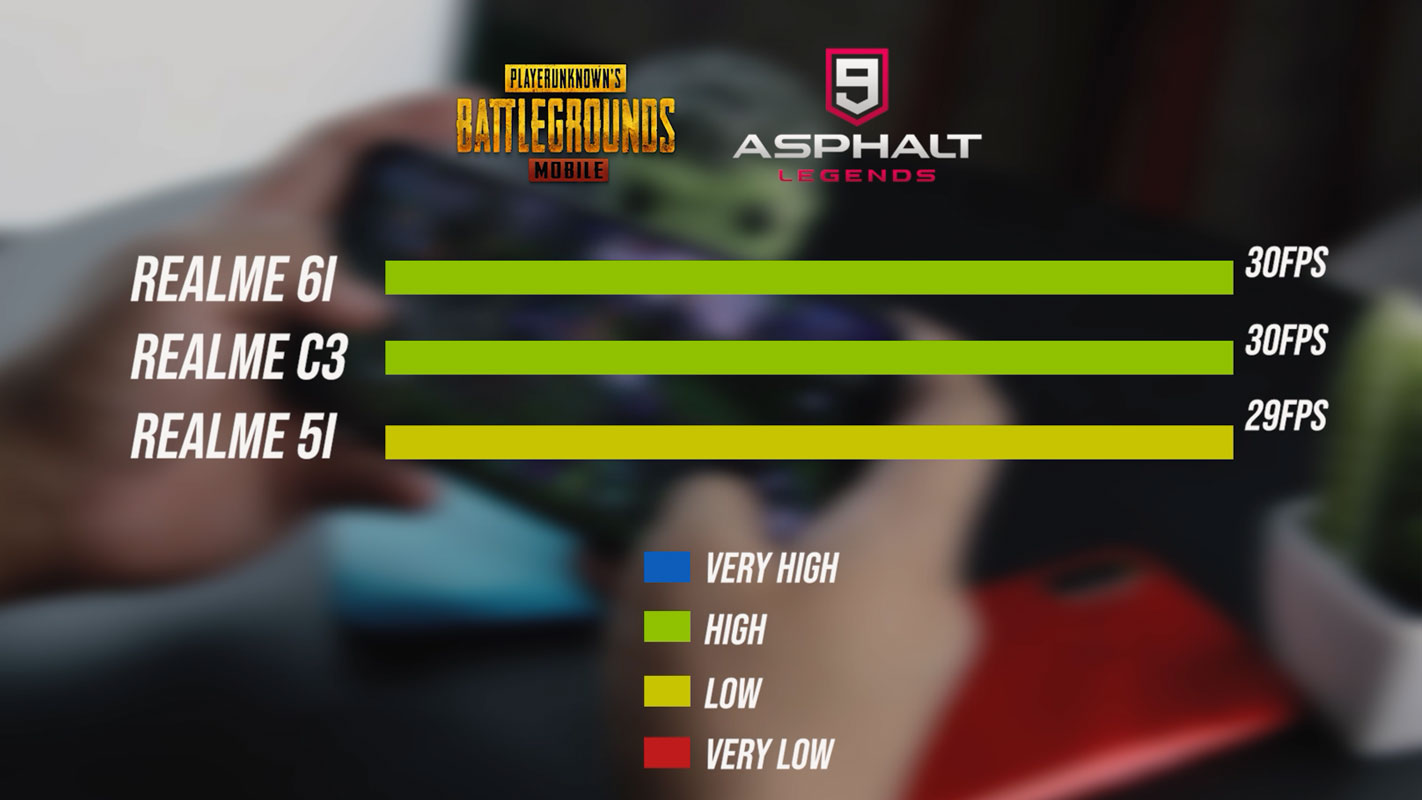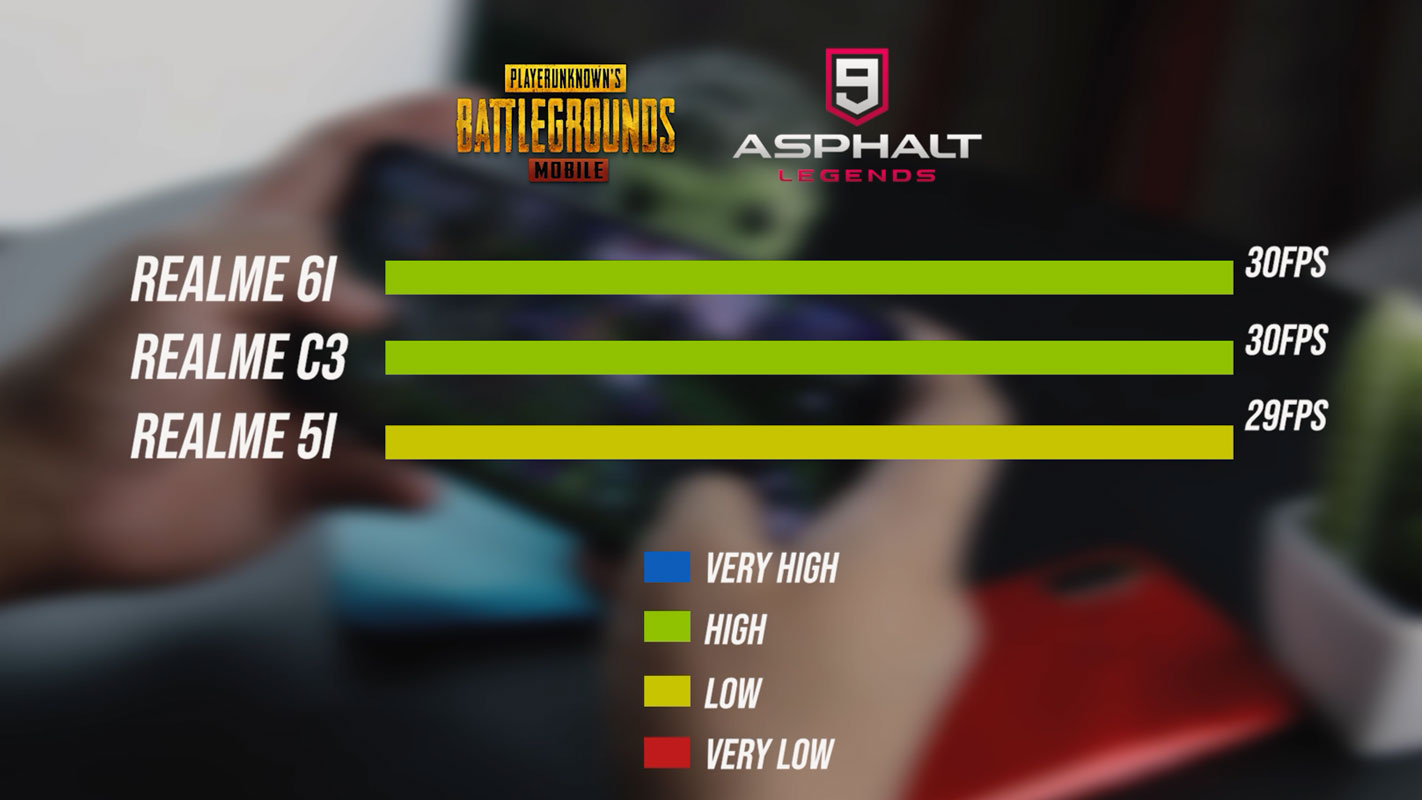 Budget phones with gaming chipset, Realme C3, and Realme 6i is powered by MediaTek G series, a chip that is specifically made for gaming at an affordable price. So we tested the power of the three in the graphic-intensive games, PUBG Mobile and Asphalt 9. Realme 5i managed to run the games with low settings at 29fps with 99% stability while C3 and 6i can run it at high settings at 30fps at 100% stability. And to reach the limit and to test further the capabilities of C3 and 6i, we tweaked PUBG in the GFX tool and set it all to maximum settings. Realme C3's stability lowered down to at least 10% while 6i manages to keep stability while controlling the GPU usage.
Watch: REALME 6i – GAMING REVIEW @ MAX GRAPHICS!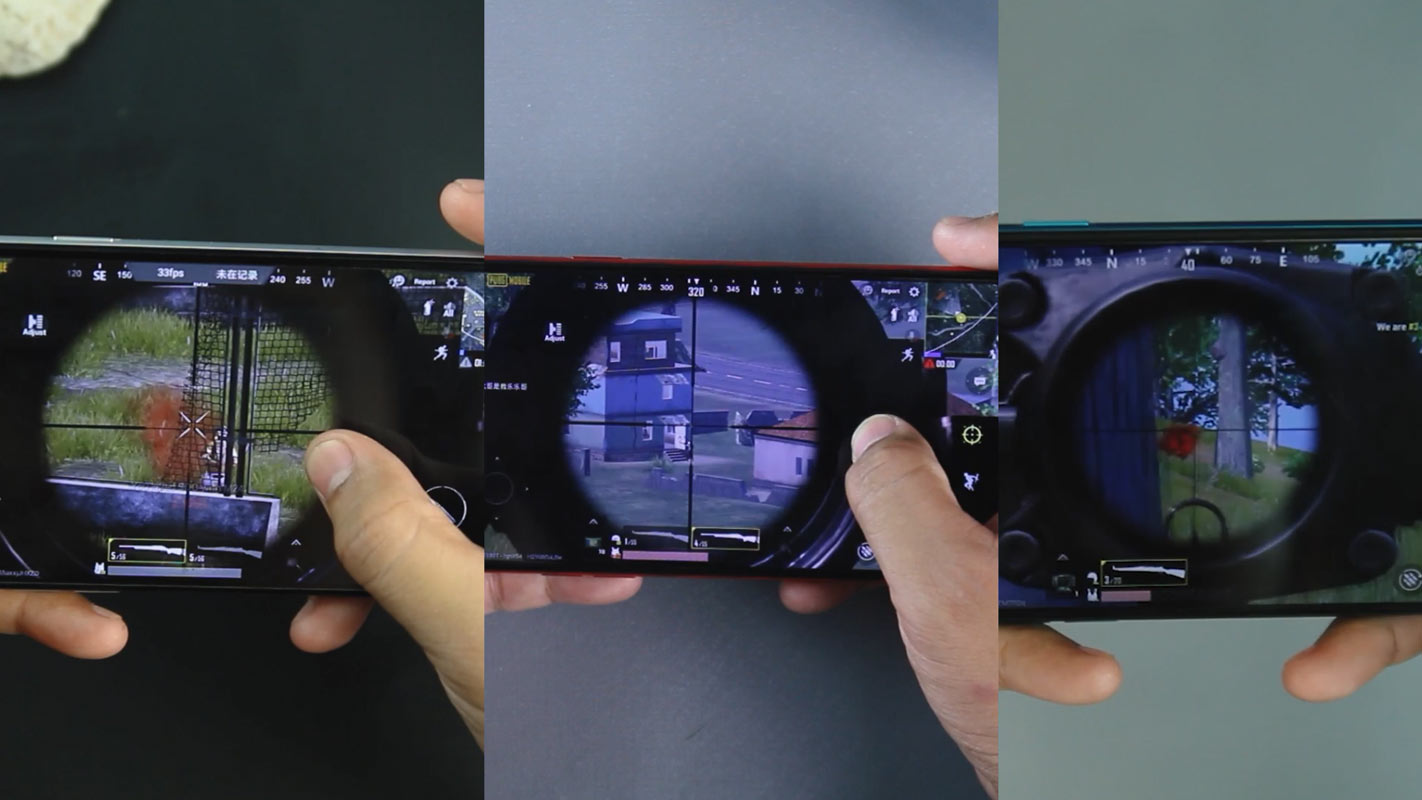 This when heat anticipation comes in, all three devices are at a normal heat even after playing at 45mins straight while in recommended settings. And if you start to boost performance all of them will start to introduce moderate heat. This may cause stuttering and frame drops so the best settings to play with are with their recommended graphic settings.
5000mah Endurance Test
This slideshow requires JavaScript.
In terms of battery consumptions all vary from their respective OS and chipset. Devices that have greater processing power will more likely drain the battery and phones that have outdated OS will vary from optimization versus battery performance. After testing the endurance of the three phones, all can last for a day or so. Upon playing games, both C3 and 6i win. After boosting the performance in settings, C3 wins next the Realme 5i then the least is the Realme 6i.
Charging Speed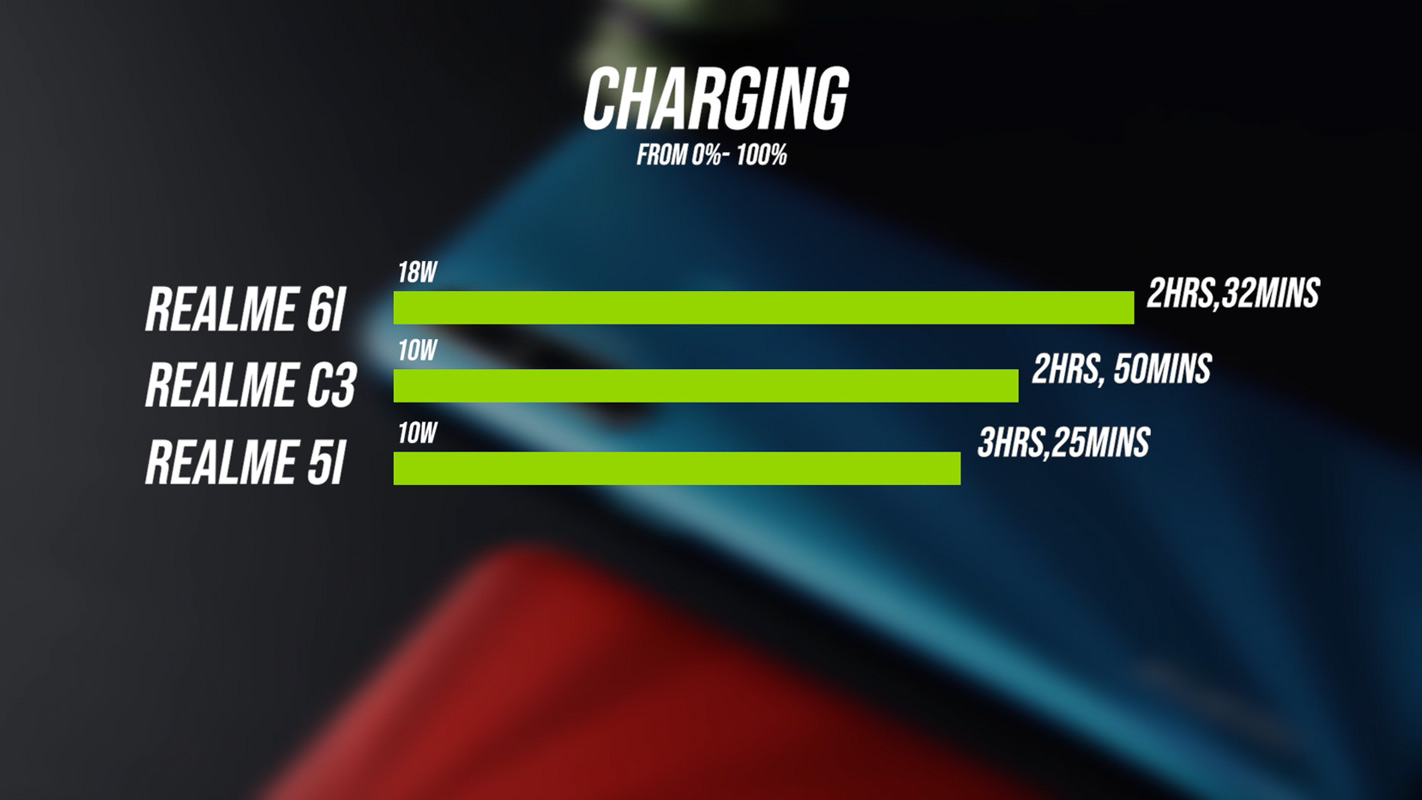 Realme 6i is now in USB Type-C port with an 18W quick charge compared to the two that charge at max 10W. Upon charging test Realme 6i was able to fill half of its battery in just 50mins but after it reaches 80%-100% the charging performance slows down.
Audio
As for the audio, Realme 6i has the loudest sound. Realme 5i is the least then Realme C3 has a good sound but not so loud either.
Overall
There are so many aspects to consider in a smartphone and that depends on the budget and satisfaction. Realme 5i cost P6,990 in 3GB/64GB variant, Realme C3 is priced at P5,990 for 3GB/32GB and Realme 6i price starts at P7,990 for 3GB/64GB and P9,990 for 4GB/128GB.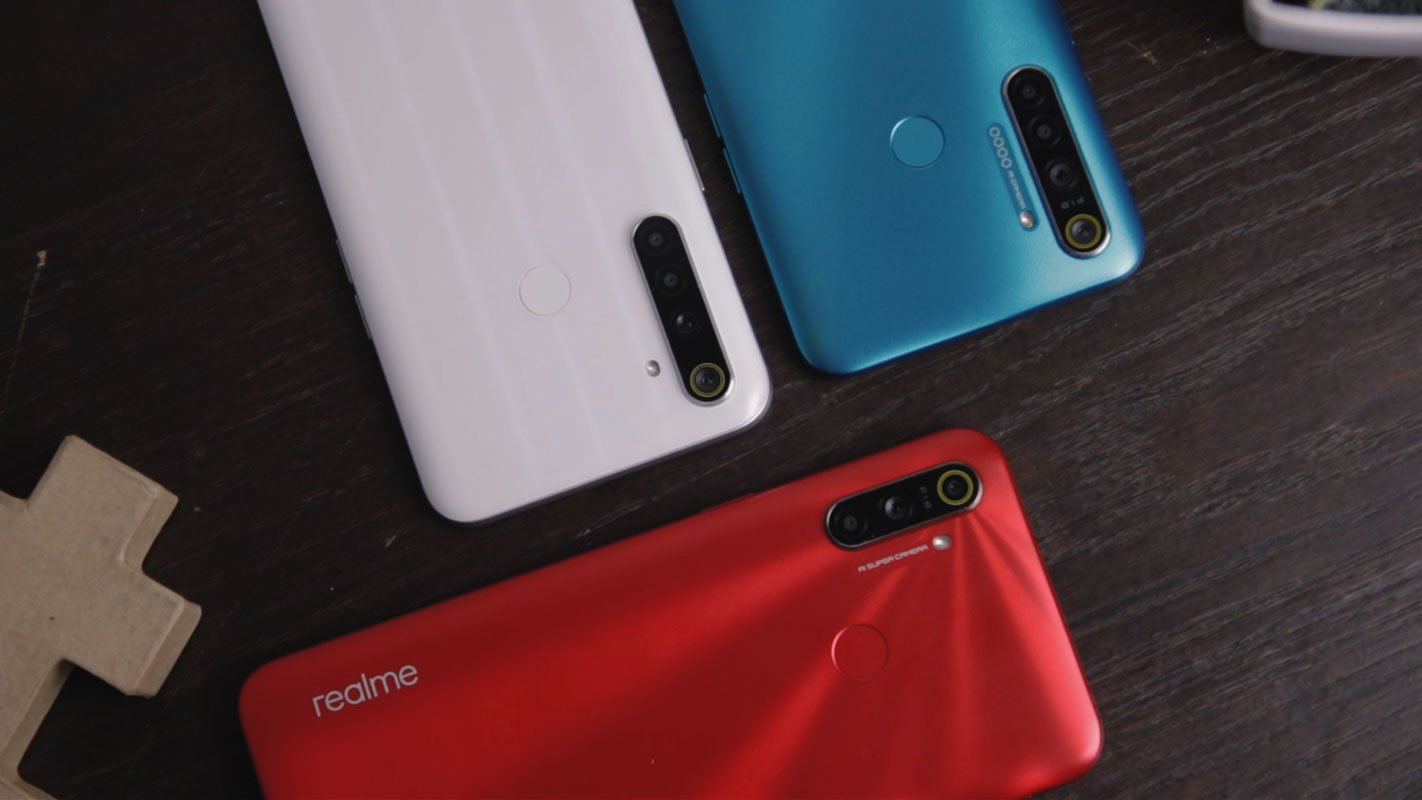 In terms of budget and performance ratio, Realme C3 wins. If you don't mind about the price then performance over price Realme 6i wins. In terms of flexibility versus its price Realme 5i wins. There's no such thing as overall champion in this comparison since we all know Realme 6i is the bigger brother if we discuss the technicality. So the best comparisons matter in the budget you have and your needs.
Read Next: Top 5 Electric Scooters to Buy in the Philippines