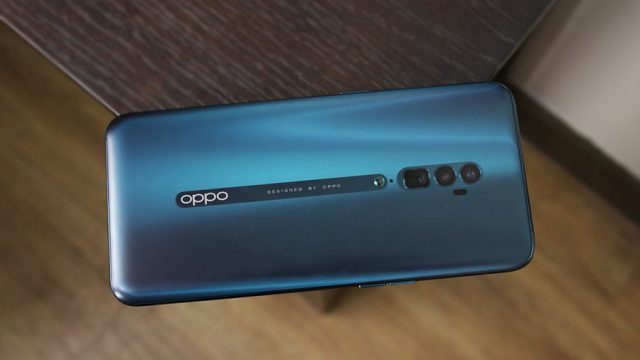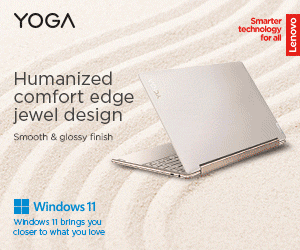 OPPO continues to step up its game as it introduces yet another innovation on its latest smartphone. Last year, it dazzled everyone with the fullscreen, motorized Find X. This year, it's doing the same thing but in the aspect of cameras. While putting a curious motorized camera mechanism, OPPO's Reno 10x Zoom is the only phone that truly stands rival to the uncertain Huawei P30 Pro. How does it hold up as a daily driver? Let's find out.
READ: Reno and Reno 10X Zoom Hands-On: No Huawei, No Problem
Design
If you've seen and felt the standard Reno, then you're really not missing out that much with the 10x Zoom. It's the same slab of glass and aluminum build, except with the thicker and heavier body. It may be a bit awkward to use for those who haven't handled two of the biggest phones out there — the Note 9 and iPhone Xs Max. And despite its thickness, it has every reason to be due to the large battery and expandable microSD card storage. Too bad, tho, there's no headphone jack.
While it comes in Jet Black and Ocean Green colors, we have to say that the frosted finish of the latter is less of a fingerprint magnet. Either way, you will surely put a case on this premium device.
Display
Unlike other flagship phones, this Reno doesn't need to put "Pro" to its name. Which also means it doesn't come with a curved screen. Having a flat display takes nothing away of its design superiority, in fact, it just makes the phone a lot easier to grip and use. Speaking of, using the FHD+ AMOLED panel is such a wonder. You get to enjoy infinite contrast ratio and vibrant colors. It's bright enough to repel sunlight, but it doesn't come close to the likes of Samsung and even Huawei.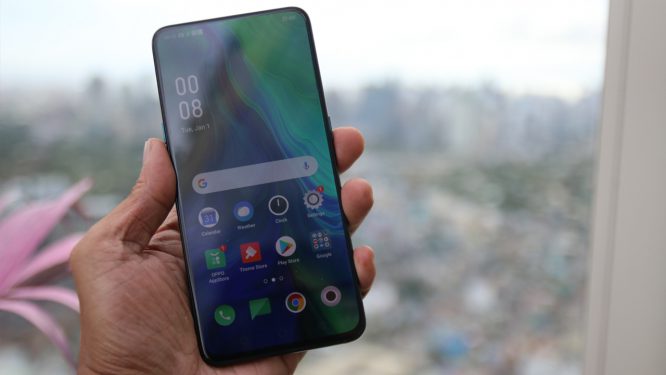 Camera
Moving to what makes this phone special — we have a triple camera setup commanded by a 48MP wide sensor. If you like to go extremely wide, the 8MP sensor is present. But if you want to get close, the 13MP periscopic lens can achieve 5x optical zoom and an impressive 60x digital zoom.
To sum up the experience, the large main sensor is every bit as capable as other flagship cameras. As expected, we didn't notice any problems in broad daylight. While night shots result in softer quality, we appreciate the absence of overexposed images. See for yourself.
As for the periscopic lens, the flagship Reno can deliver good picture quality at 10x hybrid zoom. But for the most part, the 5x optical zoom is going to be used. You will notice that, at 6x, there's a bit of oversharpening. For some reason, this is the default option of Reno. Just make sure to dial it down to 5x for the best results.
Upon opening the camera app, you will see the 16MP f2.0 wide sensor within the motorized mechanism. In typical OPPO fashion, it tries so hard to evenly expose the face by blowing out the background. But it doesn't mean selfies won't look good anymore. And for a single sensor, we like how portrait mode is more precise than other OPPO phones.
READ: Top 5 Features of OPPO Reno
Performance
Running a Snapdragon 855 SoC with up to 8GB RAM and 256GB expandable storage, it's your typical flagship experience with a touch of OPPO's ColorOS 6 skin. If you are new to this UI, you will need to do a bit of digging to explore every bit of its feature. But if not, just like any flagship device, the daily operation is smooth and snappy. Perhaps, the only thing that's missing here is timely and consistent software updates. If Reno manages to do just that, we can easily recommend this phone as a daily driver for at least two years. But for now, fingers are officially crossed.
As for biometrics, you have an under-screen fingerprint scanner and face unlock. Regardless of which, both are almost equally fast. If you want a seamless experience, face unlock is the way to go. But unless you want someone easily unlocking your phone, it's best to stick with the finger scanner.
Audio
Since both the headphone jack and USB-C adapter are missing, you will rely on the stereo speaker setup. But on the bright side, the quality is good. It can get loud with minimal distortion while providing a rich audio experience.
Battery
At 4065mAh, the Reno 10x Zoom can quickly replenish from zero to 50 within 30 minutes. While a full tank clock in within 90 minutes. All thanks to 20W VOOC Flash Charging. As for endurance, you can easily get at least 5hrs of screen time. It's a solid one-day phone, and up to two days with aggressive battery management.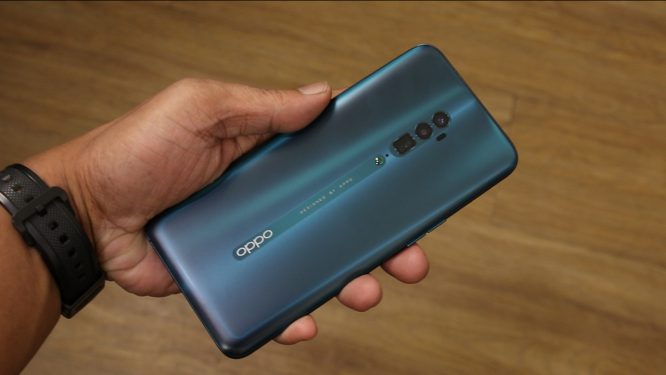 Verdict
The Reno 10x Zoom is a true flagship phone from OPPO. You get top-tier specs, top-tier cameras, and top-tier design. Of course, you will need to shed top-tier cash as it will cost you P45,990. From a consumer perspective, one can easily say it's overpriced. But OPPO has matured in 2019. It feels like it wants to make a statement that it can also do what others are already doing. And now that Huawei's future is up in the air, the Reno 10x Zoom is looking like a good alternative.
READ: 5 Design Features That Make OPPO Reno a Premium Phone
Oppo Reno 10X Zoom official specs, price, availability in the Philippines
Display: FullView 6.6-inch OLED FHD+, DCI-P3, Corning Gorilla Glass 6
Design: metal and glass, mechanical shark fin-style pop-up selfie
CPU: Snapdragon 855 octa-core AI processor
GPU: Adreno 640 graphics
RAM: 6GB, 8GB
Memory: 128GB, 256GB non-expandable UFS 2.1 storage?
Camera: 48MP Sony IMX586 sensor + 13MP zoom/periscope setup + 8MP ultrawide sensor
Selfie: 16MP front sensor
Connectivity:  4G LTE-A Wi-Fi ac, BT 5.0, GPS, USB Type-C
Battery: non-removable 4065mAh with Super VOOC Ultra Fast Charging (click for test/review)
Security: On-screen fingerprint scanner
OS: Android 9.0 Pie with ColorOS 6.0
Release date: Philippines availability July 2019
Price: SRP P45,990