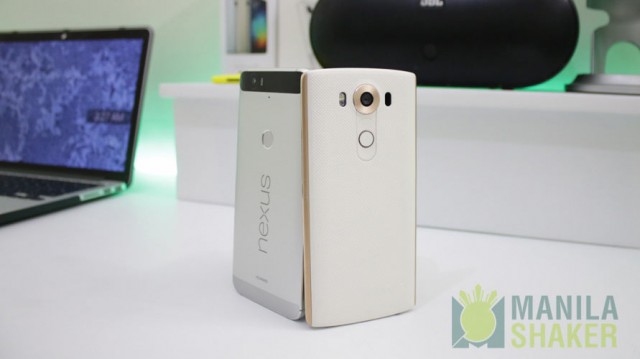 Two of the most powerful smartphones today have finally met, the LG V10 (price at Php37,990 pesos) sporting a dual display and rugged design versus to the metal-clad Nexus 6P (price at P29,990) made by Huawei. Which will come out better in this in-depth comparison, camera review, and speed test LG V10 vs Nexus 6P.
See also: Nexus 6P vs Sony Xperia Z5 Premium
Samsung Galaxy Note 5 vs LG V10
Design and build
Now on the design and build. The V10 slightly follows the footsteps of the G4 with rear buttons, rounded top and bottom, and thin bezels on front, making it easy to distinguish from the crowd. The Nexus 6P is very symmetric on the front with the camera hump on the back called visor. It is one of the signature design elements of 6P aside from the fingerprint dimple and big Nexus logo on the back.
The V10 is made from plastic while the back is textured DuraSkin that feels rubbery on the hand. There are bars fitted, one on each side of the phone adding sturdy and solid feel. V10 is a bit heavy on the hand, but you'd really feel how well-made it is with back cover snugly fitted on the body with no creaks when pressed. It's also worth mentioning that V10 is shocked proof, giving you an extra peace of mind from accidental drops.
The Nexus 6P is made by Huawei featuring an all aluminum and glass body with chamfered edges. Personally, it feels more premium than the LG V10, but it is true that it's more prone to scuffing and cracks when you accidentally dropped it.
A tour on the devices, on the right side, we have an SIM slot on the 6P and nothing on V10. On the bottom, we have a USB type C charging port on the 6P and microUSB on V10 with headphone jack and mono speaker. On the right side, we have a power button and volume rocker on the 6P, again nothing on V10. On top of V10, you have a second microphone and IR blaster while we have a headphone jack on 6P. All of the controls of V10 are located on the back with the fingerprint sensor integrated at the power button. We noticed that the power button is a bit loose, it's not a big deal breaker and it still respond quickly most of the time.
The fingerprint sensor on Nexus 6P is faster and more accurate than on the V10 especially when my fingers are sweaty. The 6P and its brother Nexus 5X have one of the best fingerprint scanners we've tried so far.
Winner: Tie. LG V10 for the sturdy and shockproof build. Nexus 6P for the premium metal design and accurate fingerprint scanner.
Display and viewing experience
The LG V10 has two displays, the main is a 5.7-inch Quad HD IPS panel covered in Gorilla Glass 4. The secondary display is 2.1-inch 160p IPS panel. The secondary screen of V10 is always on and provides shortcuts and notifications. On the other hand, the Nexus 6P has 5.7-inch Quad HD AMOLED panel covered in Gorilla Glass 4.
So the V10 screen is pretty good. It's one of the best IPS panels out there. Honestly, it looks sharper when put side-by-side to the 6P. The color is accurate, and contrast level is very high. On 6P, the AMOLED produces more saturated and punchy color, which we still prefer over V10 due to more vibrant output.
Winner: Tie. Although we prefer the punchy color on Nexus 6P, the IPS panel of LG remains accurate and sharp plus it got a second handy screen.
Camera in still, low light and video shooting
For the camera, the LG V10 sports a 16MP main sensor, laser focus, color spectrum sensor and optical image stabilization, almost the same as the G4 except on the extra manual video controls. We have a 12MP main sensor and laser focus on Nexus 6P.
On daylight, photos from Nexus 6P have more accurate color and white balance than on the V10. The photos on V10 got some clippings on the white and you lose some details. The high dynamic range on the V10 looks better compared to 6P.
On the low light, photos really look excellent on V10 whereas on 6P there are a lot of noise and details are rough.
The front-facing cameras on V10 are both 5MP, one has a wider lens while we have an 8MP on 6P.
Watch the sample video recording on the video comparison below
Both records 4K UHD video, the Optical Image Stabilization (OIS) on V10 helps a lot in eliminating undesirable movements. You'd notice that video on 6P has a shakier shot. Quality is really good on both cameras.
Winner in daylight: Nexus 6P, Winner in HDR: LG V10, Winner in Selfie: Tie, Winner in video: LG V10
Performance and benchmarks
The V10 runs on Snapdragon 808 with 4Gigs of RAM. The 6P runs on Snapdragon 810 with 3Gigs of RAM. There is not much difference in terms of speed in overall experience except running and switching apps on 6P is a bit faster. The Google Android 6.0 Marshmallow also offers cleaner interface which makes the whole experience fluid.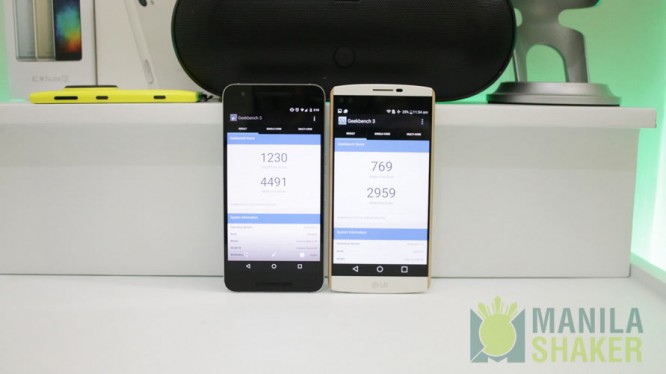 Benchmark and speed test scores
AnTuTu: Nexus 6P – 63913, LG V10 – 56798
Basemark OS: Nexus 6P – 1273, LG V10 – 1223
Geekbench single core: Nexus 6P – 1230, LG V10 – 769
Geekbench multi-core: Nexus 6P – 4491, LG V10 – 2959
Winner in speed: Nexus 6P
Battery life and charging speed
Battery life on both phablets is average. I got a day and a half on 6P and a day on V10 in moderate use. Video battery test is 8.5 hours on V10 and 9 hours on 6P. The V10 has removable 3000 mAh battery and a sealed 3450 mAh on 6P.
The Nexus 6P uses USB type-c for charging, you can fill the juice from 0 to 100% in just 100 minutes. LG V10 charges faster at 80 minutes. Both devices support quick charging of Qualcomm.
Battery life rating
Video Battery Test: Nexus 6P – 9 hours, LG V10 – 8.5 hours
Moderate use: Nexus 6P – 1.5 days, LG V10 – 1 to 1.5 days (roughly)
Charging speed: Nexus 6P with 3450mAh battery and 3A charger – 100 minutes, LG V10 with removable 3000mAh battery and 2A charger – 80 minutes
Speaker and audio experience
The Nexus 6P has a front-facing stereo speakers while we have a single or mono speaker on the bottom of LG V10. In terms of quality, the 6P does sound better than V10; it is much louder, bass and vocals are stronger.
Built as a hardware feature, LG V10 is one of the first smartphones to feature 32-bit DAC, which audiophiles and recording artists will surely enjoy.
Winner: Nexus 6P
Price and Verdict
Both are really powerful phones and being the best in their respective series. You can't really go wrong in any of the two. But I think the LG V10 has an edge on the camera primarily due to manual controls it offers. The Nexus 6P does have the best Android experience right now on top of the premium design, thanks to the stock Android Marshmallow.
The base model of Nexus 6P comes with a 32GB non-expandable storage and will cost you Php29,990 here in the Philippines. It is cheaper than the V10 but storage is smaller compared to the 64GB expandable on V10 which costs at P37,990.
Video comparison is embedded down below
| | | |
| --- | --- | --- |
| SPECS, PH Price | Huawei Nexus 6P | LG V10 |
| Display | 5.7-inch 1440p QHD AMOLED, 518ppi | Main: 5.7-inch 1440p QHD Quantum IPS LCD, 515ppi Secondary: 2.1-inch LCD 160 x 1040 |
| Size | 7.3mm thick, 178g weight | 6.3mm-9.8mm thick, 155g weight |
| Design | Aluminum, glass visor, Gorilla Glass 4 | Gorilla Glass 4, Stainless Steel bars, Removable back cover, shock resistance |
| Colors | Black, Gold, Silver | White, Beige, Blue, Black |
| Chipset | Snapdragon 810 octacore chipset | Qualcomm Snapdragon 808 hexa-core |
| Processor | Quad-core 1.5 GHz Cortex-A53 & Quad-core 2 GHz Cortex-A57 | Dual-core 1.82GHz Cortex A57, Quad-core 1.44GHz Cortex 153 |
| Graphics | Adreno 430 GPU | Adreno 418 GPU |
| Memory | 3GB RAM, 32/64GB internal, No microSD card | 64GB internal storage, microSD card slot up to 200GB |
| Main Camera | 12.3MP camera, dual tone LED flash, laser focus | 16MP f/1.8 laser autofocus, color spectrum sensor, auto HDR, 2160p video, OIS |
| Multimedia | 4K UHD video, 720p @120fps SloMo, HDR | 4K UHD video |
| Front camera | 8MP selfie camera | 8MP selfie camera, 1080p video |
| Connectivity | Dual 4G LTE cat 6, WiFi ac, Bt 4.1, FM Radio, GPS, NFC | Dual SIM, 4G LTE cat 6, WiFi ac, Bt 4.1, FM Radio, GPS, Wireless charging, Infrared for remote |
| OS | Android 6.0 Marshmallow | Android 5.1.1 Lollipop |
| Software | Stock/vanilla android | Optimus UX 4.0 |
| Battery | 3450mah, Quick Charge 2.0 | 3000mAh, Quick Charging |
| Ports | USB type-c | microUSB 2.0/SlimPort |
| Official Price | Php29,999 for 32GB variant | P37,990 official price for 64GB from LG Philippines |
| Availability date | 2015 December | 2015 November |
| Where to buy | Huawei Philippines | LG Philippines |
LG V10 vs Nexus 6P Video Comparison

Related posts, news, comparison, reviews: