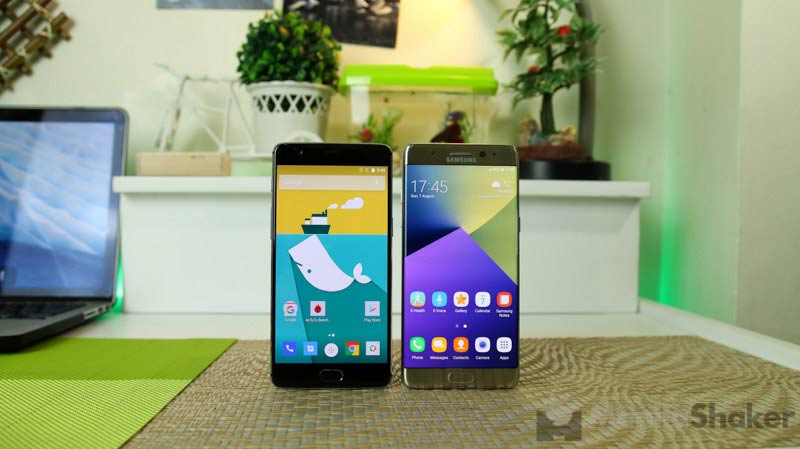 For half the price of the Samsung Galaxy Note 7, what does the OnePlus 3 put into the table? We review and compare the pricey Samsung phablet against the budget "Flagship Killer" OnePlus 3 to find out if there are any compelling reasons for either buying the expensive Galaxy Note 7 or choosing the latter.
Design and build
Sitting comfortably, on one hand, a full-metal unibody design covering the back to meet the 2.5D Gorilla Glass protection clad in 5.5 inches of Optic AMOLED glory, the OnePlus 3.
The Samsung's phablet is covered in Gorilla Glass 5 in the front and back that meets its metal frame. There's is also a 5.7-inch of curved Super AMOLED panel, always-on notification edge, an iris scanner, S-pen, and water-resistance that will cost you an arm and a half.
Both devices feel cool and secure in the hand tapering off to the edge giving more grip considering their heft. Both our contenders feel slippery though if you're lazily operating either expanses with one hand especially for the slightly larger Samsung phablet. Needless to say, finger gymnastics will be a desirable skill for one handed use.
Nothing much can be said about overall design and attraction except when considering color options where the OnePlus 3 will come in graphite and soft gold with a slightly matte finish and the Galaxy Note 7 will be covered in reflectively-shiny Blue Coral, Gold Platinum, Silver Titanium, and Black Onyx.
Display
On the wallet-friendly OnePlus 3 is a 5.5 inch FullHD Optic AMOLED display that produces sharp and accurate colors when displaying your daily content.
Over at the luxury side, 5.7 inches of QHD Super AMOLED glory that favor high saturation and sharpness.
Both units have nearly similar display qualities, despite the pixel density difference, since human eyes aren't made for discerning dots per square inch.
Camera
On the budget conscious OnePlus 3, we'll find a 16MP main camera and an 8MP front facing shooter where both are set at f2.0 aperture.  The costly competition brought a 12MP back-facing shooter and a 5MP selfie camera both set at the f1.7 aperture to the battle.
As per usual Samsung photography fashion, the Note 7 can command good still images but it has always been the case where image processing for the Korean giant has leaned towards brighter reds and yellows. The Chinese startup gives more focus on natural colors and sharper images, shown here, with the 4 extra megapixels gaining some edge.
Thanks to its f1.7 aperture the Note 7 shines brightest in night photography allowing more light in as seen here with clearer and sharper photo compared to the OnePlus that struggled a lot to make a bland photo of the same image. Both excel in taking HDR photos where the OnePlus 3 does it faster than the Note 7.
Front facing camera shots look sharper and more detailed on the OnePlus 3 giving a nod to its 8MP selfie shooter.
We can't help but notice that, despite turning all features off, the Note 7 still does post processing on our faces are seen here where the blemishes are smudged off resulting in poorer image quality.
Both devices can handle 4K video resolution and are at par with one another with sharp and vivid details. But the OnePlus struggles in night shooting with obvious noise and blurriness.
Performance and benchmark
The Note 7 brought its proprietary Exynos 8890 Octa to the fight backed with a Mali T880 GPU, 4GB of RAM and 64GB of on-board storage with an option to expand. The OnePlus 3 on the other corner, firing on all cylinders, brought Qualcomm Snapdragon 820, Adreno 530 GPU, 6GB of RAM and 64GB of memory without the option to expand, to the fight.
Benchmarks and speed tests revealed the OnePlus 3 pulled ahead by a few thousand points over its competition thanks to the monster of a 6GB RAM complementing an already powerful chipset.
Overall speediness and real-life usage are at par with one another without any obvious sluggishness or hiccups playing or otherwise.
Battery and charging
With about a 500maH difference between battery packs, it is obvious the Note 7 won endurance testing by almost a full hour on screen-on-time differences and almost 4 hours of standby time more than the OnePlus 3. OnePlus' Dash charging tops the 3 up at 1.5 hours where Samsung's Adaptive Charging does it a little slower at almost 2 hours.
Speaker and audio
Audio went to the Note 7's updated speakers providing louder and crisper tunes over the OnePlus's speaker grill. It's also worth mentioning that Samsung's phablet sports a built-in high-res 24-bit audio while the latter is stuck with a standard one.
Pricing and verdict
At less than half the price, it's hard to argue going away with an iris scanner, sPen, water resistance and other gimmicks of the Note 7 in favor of the OnePlus 3. Even power users lean towards the simplicity and ease of use of the Chinese startup compared to the over-the-top luxury take of the Korean giant and opt for real power devices instead of one phablet to do it all. It's nice to have, but not really that necessary.
What focal points did you like on this phone-off? Let us know in the comments section below.
http://www.youtube.com/embed/yFhL6EAUXJg?version=3&rel=1&fs=1&autohide=2&showsearch=0&showinfo=1&iv_load_policy=1&wmode=transparent
| | | |
| --- | --- | --- |
| Specs/PH price | OnePlus 3 | Samsung Galaxy Note 7 |
| Display | 5.5-inch 1080p FHD display AMOLED, 401 ppi | 5.7-inch Quad HD 2K Super AMOLED, 518 ppi |
| Design | Metal + Curved Glass | Glass and metal Dual Edge curved Gorilla Glass 5, IP68 waterproof, Stylus S-Pen |
| Chipset | Snapdragon 820 (2016 flagship chip) | Snapdragon 820 (2016 flagship chip) or Exynos 8890 octa-core |
| CPU | Quad-core | Quad or Octa core |
| Chipset | Adreno 530 graphics | Adreno 530 or Mali T880 graphics |
| Memory | 6GB RAM, 64GB internal storage, no SD slot | 4GB, 64GB internal storage, microSD card (hybrid) |
| Camera | 16MP f2.0, phase detection, OIS, 4K video | 12MP f1.7, 4K video, LED flash, Color Spectrum Sensor |
| Selfie | 8MP f2.0 | 5MP f1.7 wide angle front-facing, 1440p video |
| Connectivity | Dual SIM, 4G LTE, WiFi ac, Bluetooth 4.2, GPS, NFC | 4G LTE Cat 12 / VoLTE, dual-SIM or single, GPS, WiFi ac, Bluetooth 4.2, NFC, FM Radio |
| Security | Fingerprint scanner | Fingerprint, Iris scanner |
| OS | Android 6.0 Marshmallow, Oxygen UI | Android 6.0.1 Marshmallow, upgradeable to Android 7.0 Nougat |
| Battery | 3000mAh battery capacity | 3500mAh battery capacity |
| Ports and charging | USB Type-C, Dash Charging | USB Type-C, Fast Charging |
| Release Date | June 2016 in the Philippines | August 20, 2016 Samsung Galaxy Note 7 availability in the Philippines |
| Official price | $400 / P19,000+ | official price at P39,990 or $850+ USD |