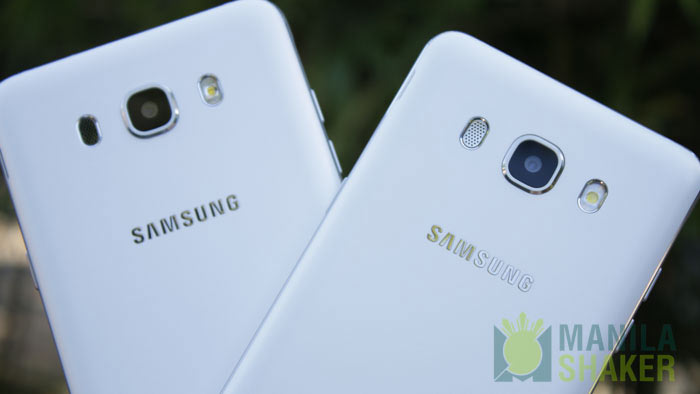 Samsung is not only gearing up its premium metal + glass Galaxy A series, but it has started releasing some Galaxy J series 2016 edition too just recently. We put the latest Samsung Galaxy J7 2016 and Galaxy J5 2016 in a full comparison and camera review to find if there's really a big difference between these budget Samsung Android phones.
To find out the answer if the Galaxy J7 2016 is really worth it than the Galaxy J5, check out our full comparison and review.
More comparisons and review
Design and build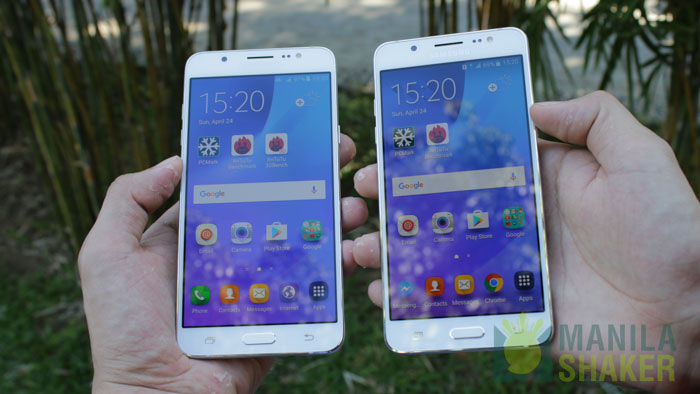 There are little changes in the design and build quality on the new Galaxy J series. The Galaxy J5 and J7 are identical in shape and style and only differ in dimensions as the latter features a wider display.
The back is removable plastic cover with access to a replaceable battery, dual micro-SIM cards, and microSD card slot. The cover really fits snugly on each with no creaks and hollows felt when you pressed. Coming from plastic sides, the frame on the J 2016 is now made of metal up to the buttons on each side. The front is classic Samsung budget phone.
Despite some changes, both look boring and plain in my opinion compared to the metal and glass Galaxy A series. Nonetheless, Samsung made these two solid and comfortable to hold.
Display
In terms of display and viewing experience, the Super AMOLED panel on each has superb color and viewing angle even on a bright sunny day. The Galaxy J7 Asia variant we have packs Full HD 1080p screen and has more pixel per inch on its 5.5-inch screen. Without pixel peeping, it's really hard to see the difference in sharpness unless you would go closely. It's pretty safe to say that these two screens are good as each other display, generally speaking.
Camera
Packing 13MP f1.9 camera on each, the quality is mixed on both shooters. But in sharpness, the Galaxy J7 takes more pictures with better detail preservation. The color balance is different on each, J7 tends to capture more neutral colors while the J5 has more saturated and slight yellowish shots.
The J7 features HDR or Richtone mode which the J5 lacks. You can see the overblown highlights on J5 on this shot with no HDR.
HDR and daylight
Selfie shooting is really good on each with over processed beauty shots, but you can always dial down the level in the settings. Each 5MP selfie snapper comes equipped with an LED flash.
Low light and night shooting
On video mode, the two can shoot up to 1080p Full HD video.
Selfie portrait using 5MP front-facing with flash
Performance and benchmark
Powered by an octa-core Exynos 7580 and 3GB RAM, the J7 opens apps faster and more capable than J5 with quad-core Snapdragon 410 chip and 2GB RAM. Again, you won't really feel the speed difference unless you would run a side-to-side speed test and benchmarks. The Exynos 7580-powered Galaxy J7 trumps the J5 in Antutu benchmark score. The two remain snappy with very rare stuttering or lagging at all.
Antutu benchmark
Battery life and charging
Now on battery, the larger J7 with 3300 mAh juice lasts few hours more than the J5 with 3100 mAh battery in our endurance test. The screen on time on two is around 3-4 hours, which is average for an Android smartphone and enough to get you going the entire day on a single charge. Charging took about 2 hours or less on each device.
Head on this link to see the entire battery ranking using PCmark, GSMArena, and other battery test apps.
Speaker
The backfiring mono speaker on each phone produces decent but not loud enough audio output. It sounded tinny in max volume and lacks bass. Overall, you'll notice that the quality and loudness is really close on each loudspeaker.
Pricing and Verdict
The Samsung Galaxy J7 is expected to retail at around Php 16k pesos SRP or $340 USD while the Galaxy J5 2016 for Php 12k or $260 USD price.
The difference between each is not big enough to say that the other is better or has more value on it. If you want an easier to handle smartphone, the J5 is more of the choice though you will be sacrificing some CPU power and speed you could get on the larger J7. You can't go wrong whichever phone you will pick.
The more pressing matter, however, is finding the difference between the Galaxy J and Galaxy A series. We will answer that on our next comparison featuring the Galaxy J7 2016 vs Galaxy A5 2016. Let's know in the comments if you have any suggestions or requests.

| | | |
| --- | --- | --- |
| Specs, PH Price | Samsung Galaxy J7 2016 | Samsung Galaxy J5 2016 |
| Display | 5.5-inch 1080p FHD Super AMOLED, 401 ppi, Scratch resistant | 5.5-inch 720p HD Super AMOLED, 282 ppi, |
| Size | 7.8mm thick, 170g weight | 8.1mm thick, 159g weight |
| Design | Metal frame + plastic removable back and battery | Metal frame + plastic removable back and battery |
| Colors | Black, White, Gold, Rose Gold Pink | Black, White, Gold, Rose Gold Pink |
| Chipset & CPU |  Exynos 7580 octa-core | Snapdragon 410 quad-core |
| Graphics | Mali T720 graphics | Adreno 306 graphics |
| Memory | 3GB RAM, 16GB storage, microSD up to 128GB | 2GB RAM, 16GB storage, microSD up to 128GB |
| Camera | 13MP main, f1.9 lens, 1080p video, LED flash | 13MP main, f1.9 lens, 1080p video, LED flash |
| Selfie | 5MP selfie front-facing, LED flash | 5MP selfie front-facing, LED flash |
| Connectivity | 4G dual LTE micro SIM (dedicated), WiFi n, Bt 4.1, GPS | 4G dual LTE nano SIM (dedicated), WiFi n, 4G LTE, Bt 4.1, GPS |
| Software | Android 5.1 Lollipop, up to Marshmallow | Android 5.1 Lollipop, up to Marshmallow |
| Battery | 3300mAh | 3100mAh |
| Ports, quick charge | microUSB ver. 2.0 | microUSB ver. 2.0 |
| Release date | April 2016 | April 2016 |
| Price | Php 15k / $320 USD in the Philippines | Php 12k / $260 USD in the Philippines |