Motorola unveiled its newest flagship device, the Moto X40, at the end of 2022. However, this needed to be better for the Lenovo-owned business. The Motorola ThinkPhone was unveiled earlier this month at the Consumer Electronics Show. It's a new kind of smartphone that takes its design cues from Lenovo laptops. But why did they quickly drop not one but two flagship smartphones? Learn the answer by reading about how the Motorola ThinkPhone stacks up against the Motorola Moto X40 in terms of its most essential features.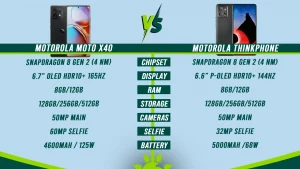 Related: Motorola Moto X40 vs. Xiaomi 13—Specs Comparison
Design & Display
The Motorola ThinkPhone has the most outstanding build quality and unique design. Aramid fiber for the back and aluminum for the frame make it premium. MIL-STD-810H and IP68 certifications make it waterproof and dustproof. Finally, Gorilla Glass Victus protects its display. This business phone is made of robust materials. The Motorola Moto X40 looks lovely with a glass back, metal frame, and curved display, but its build quality is inferior to its internal competitor. It's IP68-certified and waterproof.
When comparing the two phones' front faces, the Motorola Moto X40 has a more engaging display than the Motorola ThinkPhone. It's an OLED display with a 6.7-inch screen and a refresh rate of 165 hertz. While the Motorola ThinkPhone's 6.6-inch FHD+ P-OLED display screen has a lower 144Hz refresh rate, it has many of the exact other specifications.
Camera & Speakers
Motorola Moto X40 has the most excellent camera. Its triple rear camera arrangement includes a 50 MP primary sensor with OIS, a 50 MP ultrawide lens, and a 12 MP telephoto lens with 2x optical zoom. Better than the Motorola ThinkPhone's 50 MP OIS sensor, 13 MP ultrawide shooter, and 2 MP depth sensor. The X40 has a 60 MP selfie camera instead of 32 MP.
Both gadgets have similar audio quality. Both feature stereo loudspeakers but no 3.5mm audio jack.
OS & Hardwares
Looking deeper into the software and hardware, we find both phones ship with Android 13. The Motorola Moto X40 comes out on top in our hardware comparison because of its superior processor. The newest Qualcomm mobile platform, the Snapdragon 8 Gen 2, features a 4nm technology and an Adreno 740 GPU. In contrast, the ThinkPhone is powered by a Snapdragon 8+ Gen 1 CPU and an Adreno 730 GPU, both of which were manufactured using a 4 nm technology. Each may accommodate up to 512 GB of native storage and 12 GB of RAM.
Battery & Charging
Because of its larger battery, the Motorola ThinkPhone lasts longer. The battery's 5000 mAh capacity exceeds its internal rival's 4600 mAh. 125W fast charging allows the Motorola Moto X40 to charge faster than 68W.
Price & Availability
The Motorola ThinkPhone retails for at least $1100 (around Php 59,895) globally, while the Moto X40 begins at just CNY 4,608 (approx. Php 36,987) in China. Which one do you think is the best? Please leave a comment.
---
Read More Articles Here