Launched few months ago, the Lenovo Vibe Shot is the latest upper mid-range Android to sports a premium build and dedicated extra camera features. It is not officially available from Lenovo Philippines yet, but some online stores offer the Z90-7 and Z90-3 around P15k and P12k price mark. Find out more about the Vibe Shot in our review.
Design and build
Perhaps, the Lenovo Vibe Shot is one of the most premium looking Android I've seen from the company. Main design resembles a lot from a Sony CyberShot TX camera with flat and edgy form supported by a metal frame that comes in metallic red, white or grey accent.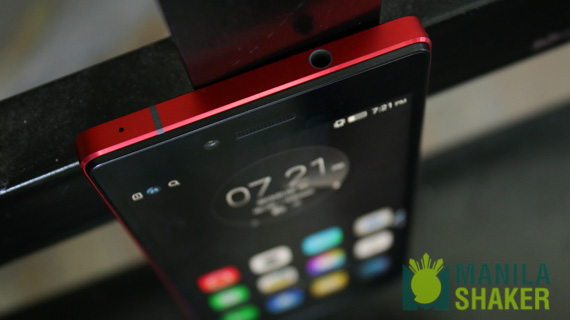 Our unit is crimson red which looks cheap and too saturated in my opinion. Luckily, that color is only accented on the aluminum frame so the rest of the phone still looks classy. I suggest that potential buyers should check the grey or white options before going with red.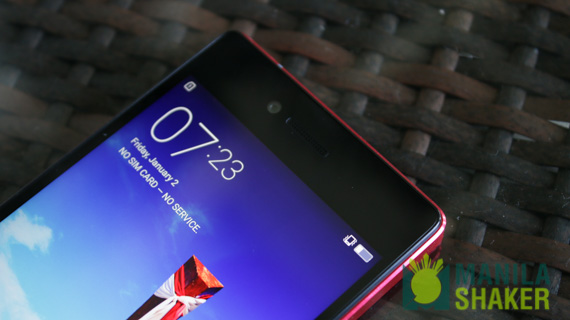 Weighing only 145g, the Vibe Shot doesn't feel hefty nor too light to make it prone to breakage. The curved corners don't dig much into my hands while the metal and glass feel cold in comfortable way.
The front is all black with capacitive keys hardly noticeable below when the screen is off. Only visible markings are its 8MP front-facing cam and earpiece on top of the screen.
What makes the Vibe Shot standout is its back design where a wide metallic strip occupies almost quarter of the area on the back. The Lenovo Vibe logo is neatly printed and placed down on the strip while the camera, Tricolor LED flash and focus assist beam are positioned at the top left corner. Personally, I don't like the position of camera as my fingers could easily blocked some parts of the image when taking pictures. But I'm pretty sure Lenovo has some reasoning for this, particularly on keeping the phone thin as possible.
Unlike other mid-range Android smartphones, Lenovo Vibe Shot has complete physical buttons on its right side with a dedicated auto/pro switch in camera mode besides the shutter key. The only issue is the flimsy and shallow design of these buttons which need more pressure and user's adjustment when pressing.
Both microSD and dual microSIM trays are located on the left side which are ejectable using a pin. Lastly, a 3.5mm audio jack is located on the top side while the microUSB 2.0 port is sandwiched by mono speaker grills and antenna gates on the bottom side.
Display
Lenovo Vibe Shot packs a 5.0-inch 1080p IPS display protected by Gorilla Glass 3. The 5-inch FHD display translate to a pixel density of 441ppi which is already very sharp within its size category.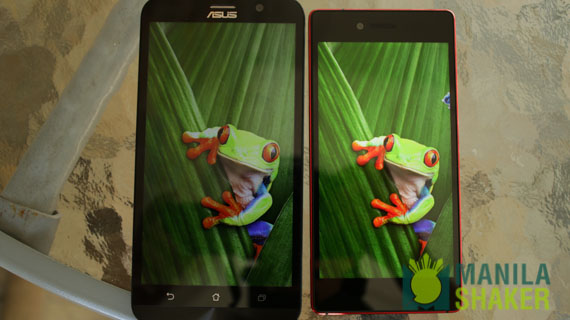 We were impress on how bright and clear the IPS screen of the Vibe Shot even in outdoor test. The colors are rich and close to the viewing experience of an AMOLED screen from the Galaxy S6.
Camera
Lenovo Vibe Shot joins high ranking Androids such as LG G4 and Galaxy S6 in offering top-notch camera features with its 16MP main sensor, OIS, focus assist beam and being first with Tricolor LED flash.
Our sample still shots and videos show that Lenovo Vibe Shot takes sharp and bright images. But colors in normal and HDR modes are too saturated destroying the true colors of the images.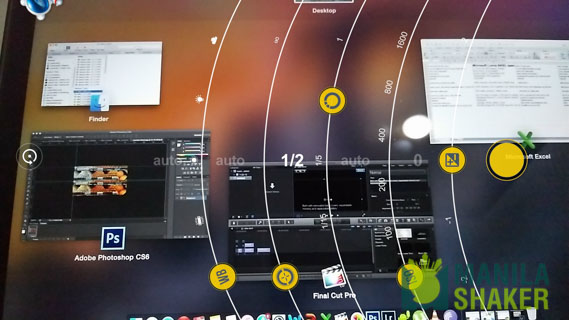 The 16MP shooter struggles in low light shooting, the same with its Lenovo siblings (K80 and K3 Note). The Tricolor LED flash provides accurate color lighting in low light conditions, but sometimes the image is under filled with light level.
Pro controls of Vibe Shot works the same as on LG G4 and Lumia series where you have full control on the different camera settings. Only downside is the limited shutter speed of 1 second.
Performance and benchmark
The Vibe Shot is powered by a 64-bit Snapdragon 615 octacore chip (similar to Xperia M4 Aqua) paired with 3GB of RAM and expandable 32GB storage. The performance feels similar to a high-end Android flagship phone where browsing experience is very smooth and snappy. The Vibe Shot could handle QHD video playback effortlessly.
Don't expect the Vibe Shot to be a benchmark-topper, but results are considerably good for a mid-range device with AnTuTu maxing at ~3900. See full benchmark results below.
AnTuTu – 38573
GeekBench – 708 for single core, 2569 for multi cores
Basemark OS (Web test gets error all the time) –  283
Software and experience
Our unit is running on Android 5.0 Lollipop flashed with KitKat UX. So overall experience is far from stock Lollipop OS. However, advance users could opt out from KitKat by flashing the phone with custom ROMs. Others would wait for Lenovo to update the phone to Android 5.1 Lollipop or just temporarily install themes.
The experience in Lenovo Vibe Shot is almost the same when using K80 and K3 Note. I guess all these units are flashed by the same supplier from China. We will see if what will be the difference in software once official Lenovo Vibe Shot is launched here in Philippines next week.
Speaker
We compared the speaker of Vibe Shot to Zenfone 2 and we found that the Vibe could do better in speaker output. The sound is slightly clearer and volume is a bit louder. Overall quality is above average, just under the Xperia C4′ and Lumia 640XL's speaker.
The mono speaker is placed at the bottom. Only the right speaker grill has channel output, the left side is built just to yield a symmetric design.
Battery Life
We really like the battery life of the Vibe Shot. Its 3000mAh power juice can last up to 8 hours of HD movie playback with brightness at 100% and volume maximum while on airplane mode.
Daily usage shows the bright, high-res screen is the top energy-sapping element in the phone. But you should not worry as the battery rating on Vibe Shot could last up to 2 days with few emails, social network posts, whole day SMS and few minutes of web and voice calls a day.
Verdict
The Lenovo Vibe Shot is definitely a big step-up from the budget flagship category of Lenovo and other brands. The construction is proved to be solid and premium in our review and comparison. Its 16MP shooter is one of the sharpest camera in the mid-range section while battery and speaker performance are above average.
The only step back in buying the Vibe Shot is the price. For around P15k pesos, this price point sits close to the brand new LG G3 or Galaxy S5 from online markets. In fact, both of these offer more flagship experience despite their dated chip. In the end, buyer's decision will still depend on how hooked they are on the feel of the Vibe Shot.
What we like from Vibe Shot
Premium design, solid build
Sharp daylight image quality
Battery life is above average
What we don't like from Vibe Shot
Camera struggles in low light and night conditions
Software and experience is limited and boring
A bit expensive with price close to a brand new LG G3 or SGS5
Lenovo Vibe Shot Z90-7 specs
5-inch IPS 1080p FHD IPS LCD, 441ppi (720HD Z90-3)
7.3mm thick, 145g weight
Gorilla Glass 3
Snapdragon 615 octa chipset
3GB RAM
32GB internal, microSD max 128GB
16MP camera, HDR, Optical Image Stabilization, Tricolor LED flash, 1080p video, AF focus assists
8MP selfie, 1080p video
Dual 4G LTE, WiFi a, Bt 4.1, GPS, FM Radio
Android 5.0 Lollipop
3000mAh
Crimson Red, White, Grey
P15,490 (P12,490 Z90-3) dual 4G LTE as of July 23, 2015