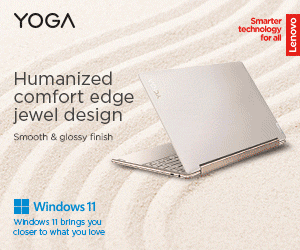 We compared the latest Lenovo Vibe Shot Z90-7 priced P15.4k in online stores in the Philippines to Asus Zenfone 2 ZE551ML that costs under P10k. Find out in which phone did better in our ultimate comparison and review covering camera, benchmark, speaker, display and design department.
Design
Lenovo entered the premium category with the mid-range Vibe Shot. Design and form factor are classy with glass body and metal frame. It is thinner and lighter than Zenfone 2 at the cost of reduced screen size.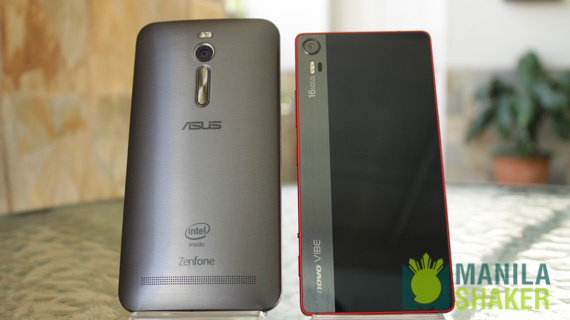 Tapered back with metal finish on Zenfone 2 while Vibe Shot has very appealing style similar to Sony CyberShot Tx series cameras. Vibe Shot's back and front are all glass protected by Gorilla Glass 3.

Vibe Shot is 3.6mm thinner and 25g lighter than Zenfone 2.

Vibe Shot has metal frame with grey, white and crimson red options. Its speaker is only mono despite having two speaker grilles.

The physical keys on Vibe Shot are complete plus there is a dedicated auto-pro switch for the camera mode.
Zenfone 2 still feels a flagship but when it is placed at the side of the Vibe Shot it becomes a typical phablet Android in our eyes.
Winner: Lenovo Vibe Shot
Display
The 5-inch IPS LCD of Lenovo Vibe Shot is a lot brighter and clearer in outdoor conditions. The colors are punchier and more saturated despite having the same IPS LCD type to Zenfone 2. We prefer the viewing experience in the Vibe Shot than the Zenfone 2.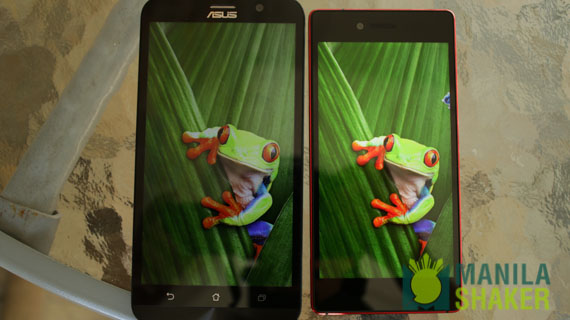 Winner: Lenovo Vibe Shot
Camera
Lenovo Vibe Shot sports a 16MP snapper with Tricolor LED flash, OIS and focus assist beam. Most of its shots are sharper and brighter than the ones taken from Zenfone 2. It slightly struggles in low light but the results are pretty close to the 13MP Pixel Master of Zenfone 2.
Video quality is also brighter and clearer on Vibe Shot. Zenfone 2's video shot is dark thus it lose some details.
Winner: Still Images – Lenovo Vibe Shot, Video – Lenovo Vibe Shot
Performance and benchmark
The Asus Zenfone 2 managed to overtake the octacore Snapdragon 615 chip of Vibe Shot in AnTuTu, Basemark OS and GeekBench test. But in our actual test, the Vibe Shot performed faster specifically in boot up and running a game.
Winner: Benchmark – Asus Zenfone 2, Actual – Lenovo Vibe Shot
Speaker
Audio output from each device is different, the one on Zenfone 2 sounds slightly muffled by the speaker grille, while on the Vibe Shot the audio is slightly tinny. However, both volumes are closely matched.
Winner: Tie
Battery, Price, Verdict
Battery life of the Vibe Shot is more reliable than on Zenfone 2 because of the massive 3000mAh battery it has while only having a 5-inch FHD screen. On the other hand, Zenfone 2's screen size is 0.5-inch wider and it has the same 3000mAh of juice. The result is clear, Vibe Shot could last up to 2 days of continuous use compared to 1 day and half of Zenfone 2.
The price difference of the 2GB ZE551ML model of Zenfone 2 vs the Z90-7 of Lenovo Vibe Shot is more than P5,000. In this price difference you will get 3GB RAM, sharper and feature-rich camera and premium design on Vibe Shot.
| | |
| --- | --- |
| Lenovo Vibe Shot Z90-7 specs | Asus Zenfone 2 ZE551ML specs |
| 5-inch IPS 1080p FHD IPS LCD, 441ppi (720HD Z90-3) | 5.5-inch FHD IPS LCD screen, 403 ppi |
| 7.3mm thick, 145g weight | 10.9mm thick, 170g |
| Gorilla Glass 3 | Gorilla Glass 3 |
| Snapdragon 615 octa chipset | Intel Atom 3560 quadcore |
| 3GB RAM | 2GB RAM |
| 32GB internal, microSD max 128GB | 16GB internal, microSD up to 64GB |
| 16MP camera, HDR, Optical Image Stabilization, Tricolor LED flash, 1080p video, AF focus assists | 13MP camera, HDR, 1080p video, Dual Tone LED flash |
| 8MP selfie, 1080p video | 5MP selfie camera |
| Dual 4G LTE, WiFi a, Bt 4.1, GPS, FM Radio | Dual SIM, 4G LTE, WiFi ac, Bt 4.0, NFC, FM Radio, GPS |
| Android 5.0 Lollipop | Android 5.0 Lollipop |
| 3000mAh | 3000mAh |
| Crimson Red, White, Grey | Black, Gold, White, Red, Gray |
| P15,490 (P12,490 Z90-3) dual 4G LTE as of July 23, 2015 | P9,995 (2GB) as of July 6 |