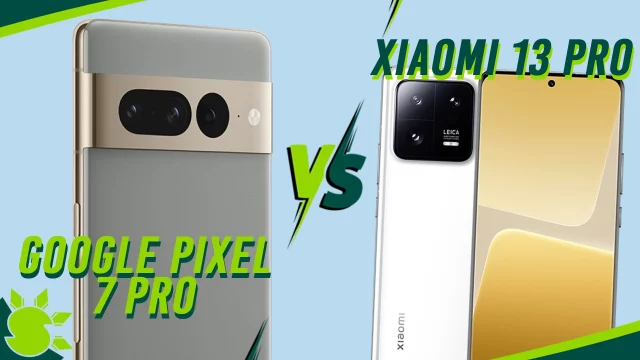 Xiaomi has recently released its latest flagship smartphone, the Xiaomi 13 Pro, in China. While we wait for its global rollout, we can give you a better idea of whether or not this is the most fabulous flagship available by holding it up against one of the top devices from other companies, the Google Pixel 7 Pro. Both smartphones have garnered recognition for their advanced imaging capabilities, stylish exteriors, and speedy internals, but which one is best for you? Check out the rest to learn more.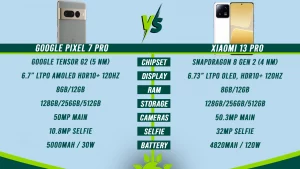 Related: Google Pixel 7 vs. Pixel 7 Pro—Specs Comparison
Design & Display
In terms of design, the Xiaomi 13 Pro and the Google Pixel 7 Pro are both innovative, but the latter is more captivating. Neither in format nor its distinctively horizontal camera module is it remotely similar to Apple's iPhones. The IP68 rating, the phone's glass back, and the metal frame make it waterproof. On the other side, the Xiaomi 13 Pro features a curved screen on three sides and comes in a unique colorway with a ceramic back.
To compare them side by side, the fronts of these two phones are roughly equivalent, so you should pay more attention to the other features. The Pixel 7 Pro features a 120Hz-refreshing 6.7-inch LTPO AMOLED Quad HD+ display. Whereas the Xiaomi 13 Pro's 6.73-inch LTPO OLED QHD+ display boasts the same 120Hz refresh rate, it is significantly bigger. The two gadgets include a Corning Gorilla Glass Victus for safety.
The Google Pixel 7 Pro is the clear winner when comparing their front and rear faces. What do you think? Do you agree or disagree?
Camera & Speaker
Speaking of cameras, the Xiaomi 13 Pro excels in this area with its trio of 50 MP shooters, thanks to its close collaboration with Leica. On the other hand, the Google Pixel 7 Pro is exceptional because of its triple camera setup consisting of a 50 MP primary sensor, a 48 MP telephoto lens, and a 12 MP ultrawide snapper. So, which one has the superior camera?
Despite both smartphones' dual loudspeakers and high-quality audio, there is no 3.5mm audio connector.
OS, RAM, & Storage
Compared to the Google Pixel 7 Pro, Xiaomi's 13 Pro has superior hardware. Android 13.1 is standard on both devices. While MIUI 14 is available on the Xiaomi 13, the Pixel will receive more frequent upgrades for a more extended period. The Snapdragon 8 Gen 2 processor manufactured on a 4nm technology drives the Xiaomi 13 Pro. However, the Google Tensor G2 equips it with a 5nm technology, making it more powerful. Additionally, you may have as much as 512 GB of native storage and as much as 12 GB of RAM. The Tensor G2 chipset, used in the Google Pixel 7 Pro, is a rebranding of the current Exynos chipset, which is a step down in performance.
Battery & Charging
With its larger 5000 mAh battery and support for faster 23W cable charging, the Google Pixel 7 Pro can stay powered for longer in various situations. However, the Xiaomi 13 Pro's 120W fast charging and 50W wireless charging make it possible for you to charge the device rapidly. The Google Pixel 7 Pro only supports 10W wireless charging, whereas the Xiaomi 13 Pro supports 50W. The Google Pixel 7 Pro also supports reverse wireless charging at a lower 10W.
Price & Availability
The Google Pixel 7 Pro retails for $900 (approx. Php 49,159) in the United States. While the Xiaomi 13 Pro has a price of $899 (around Php 49,099). Which one is your best pick? Please leave a comment and let us know.
---
Read More Articles Here