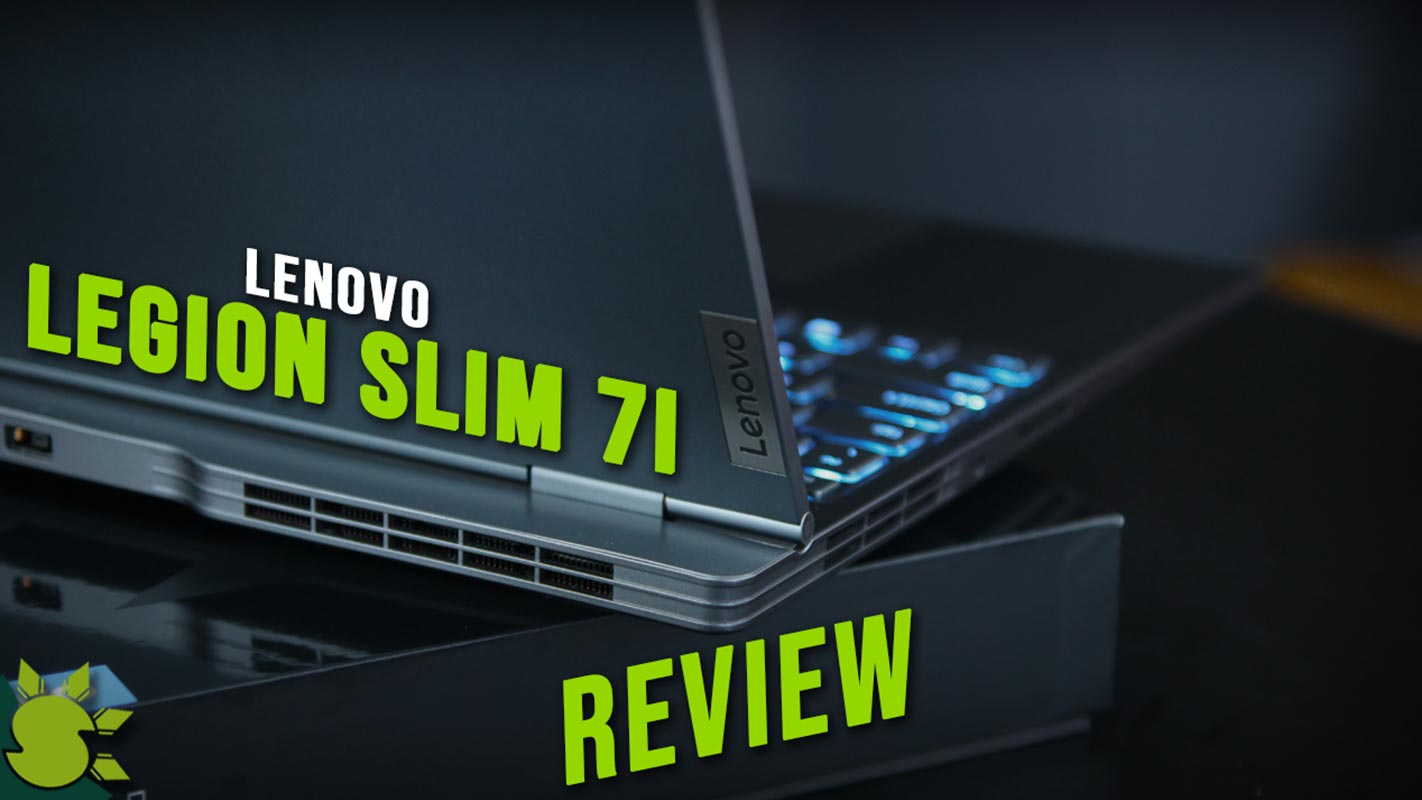 A wide variety of gaming laptops have come and circulated the market for quite some time now. Lots of new features shine but still the weight and built of them are always the same. Normally they're big and heavy but what we have in our hands is the Lenovo Legion Slim 7i with a slimmer and lighter build. It is powered by an Intel Core-i7 10th gen processor with RTX 2060 on its GPU. The question is if this laptop gives a heavy-duty performance even with a lightweight build? Can it still be as powerful as heavier gaming laptops?
READ: The ASUS ROG Zephyrus G14 (2021) with Ryzen 9 CPU; NVIDIA GeForce RTX 3060 GPU ~ PHP 119,995
Design
This slideshow requires JavaScript.
Starting with the design, the cover of the Legion Slim 7i is made out of aluminum that is very smooth and is in a slate gray color with a matte finish that looks very sleek. Legion logo is everywhere even on the top lid and on the hinges. On the corner side of the lid, it has an engraved silver "Legion" logo. The O in the Legion logo lits up when opening the lid or in standby mode which adds a style slash gamer feel. The signature silver-plated Lenovo logo is located close to one of the hinges.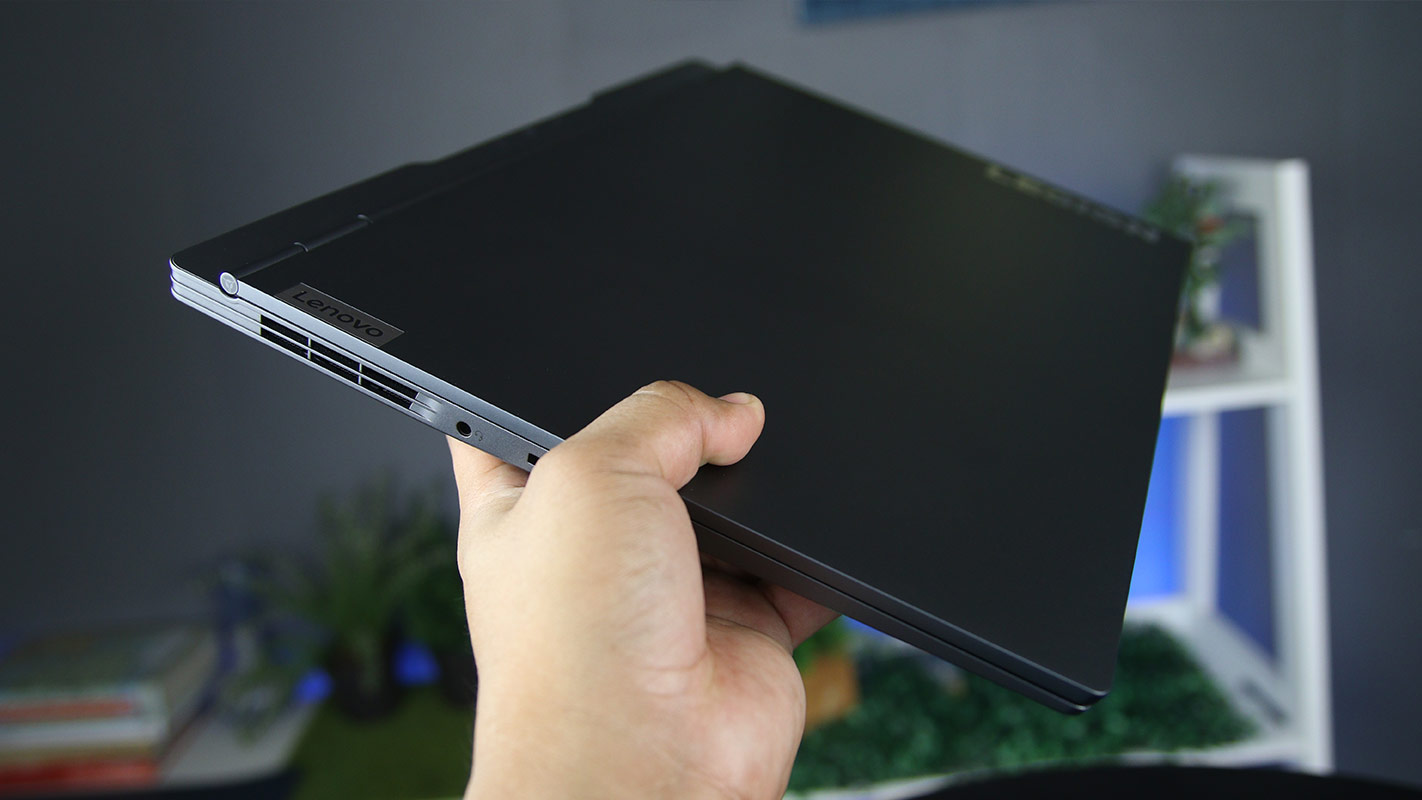 The chassis is also made out of aluminum and it gives a very compact and sturdy feel. The new build makes up why this is called the Slim version, it is for sure thinner and lighter than the 7i version. It only weighs 1.8kg and is only 17.9mm thick making it one of the lightest gaming laptops out in the market.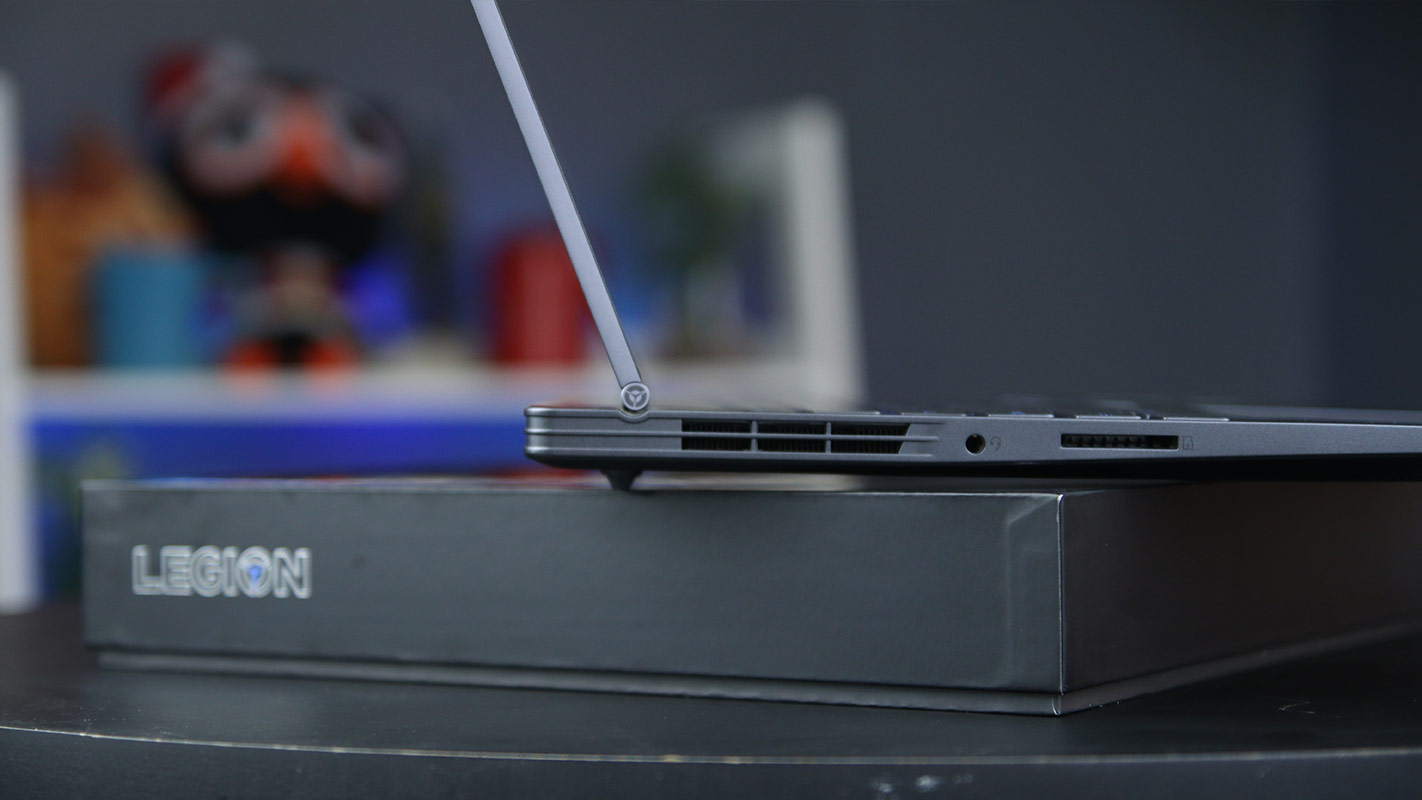 Due to the aluminum body and thinner screen, lifting the screen of the Lenovo legion slim 7i is hassle-free. The lid can also be opened up to 180 degrees flat and I don't know the purpose of it, but it's great it is flexible, kinda, flexible.
READ: Sony is Shutting Down its Communities Feature on the PlayStation 4
Ports and Connectivity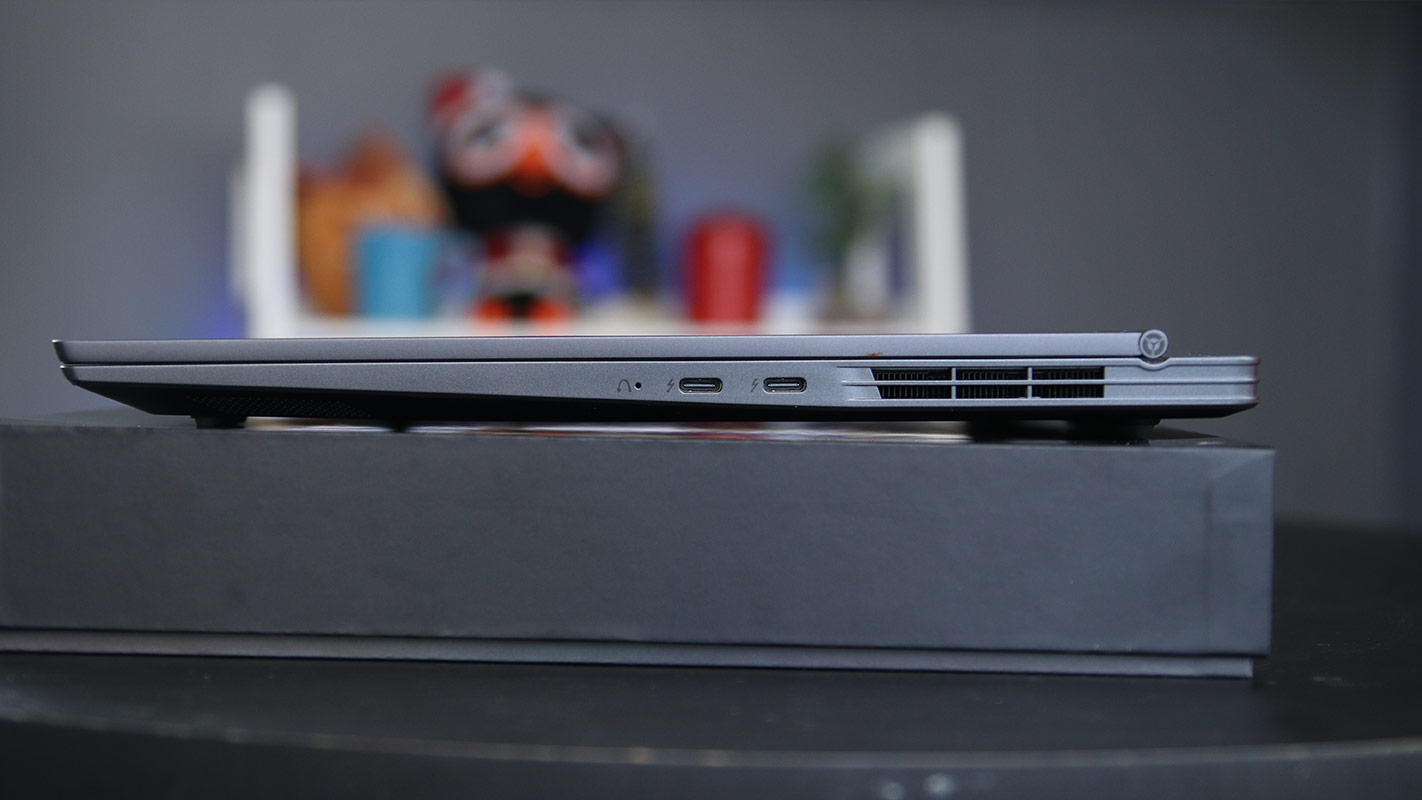 Now on the ports, on the right side of the laptop is the two USB-C Thunderbolt 3 ports along with the Novo Hole–This allows you to enter Lenovo Onekey recovery if the PC fails to boot normally.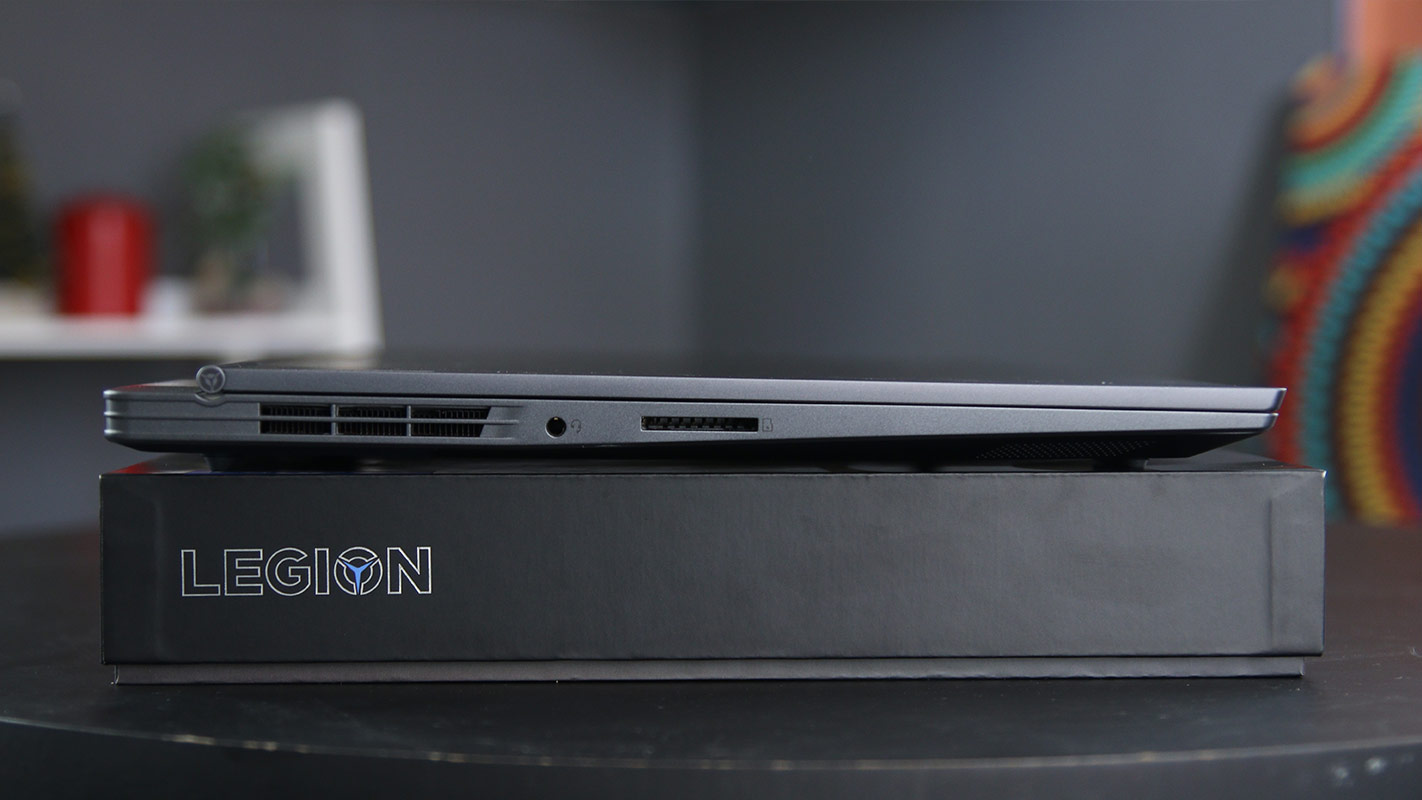 On the left are the Headphone/mic combo and a 4-in-1 card reader.
This slideshow requires JavaScript.
I've wondered why there are no USB-A ports but I almost forgot that there are three more ports at the back. A two USB 3.2 Gen 2 ports and another port for the power-in. Making the sides slimmer while still providing a wired connection for the mouse and keyboards as well as giving a cleaner looking in front.
Surface Design
This slideshow requires JavaScript.
Now unto the surface design, what I like about the keyboard, it is full size with Numpad. Not only it has very clickable, stress-free typing and is made out of a matte aluminum finish, it also has Corsair® iCUE RGB support. The good thing, the keyboard is customizable through the corsair ICUE app. You can set whatever lighting pattern you like which adds a gamer feel. You can also set specific profiles for each. (It adds 10% aiming skills trust me).
READ: Lenovo Partners with VST-ECS and FileWave to improve Work-From-Home Setup
At the upper corner of the keyboard, is the power button with LED. It also acts as a fingerprint scanner for fast accessibility and added security as well. It is quite fast and secure.
There's also a wide 2 x 2W Dolby Atmos Speaker System that fires really great surround sound.
On the bottom side of the keyboard, the touchpad is also responsive and has clicky buttons but most of the time I bet you will use an external mouse if you will game.
Moving on to the display part of the laptop, first, at the upper corner, the webcam has a 720P video recording. The quality is satisfactory for video calls, streaming, and recording. Also, it has a built-in privacy shutter for added security with an led indicator, which indicates that the camera is on. Unfortunately, we don't have an IR camera for face unlock so you will probably utilize the fingerprint scanner to unlock the device
READ: Samsung Galaxy S21 Base Model Starts at P44,990; Get an Additional P5000 Discount
Display
This slideshow requires JavaScript.
Lenovo Legion Slim 7i boasts a 15.6-inch FHD, anti-glare, IPS display with Dolby vision and 100% sRGB. It is sharp and crisp and the colors are very accurate making the laptop not only for gaming but for productivity as well. Lenovo also offers an optional 4K screen but with a 60Hz refresh rate only.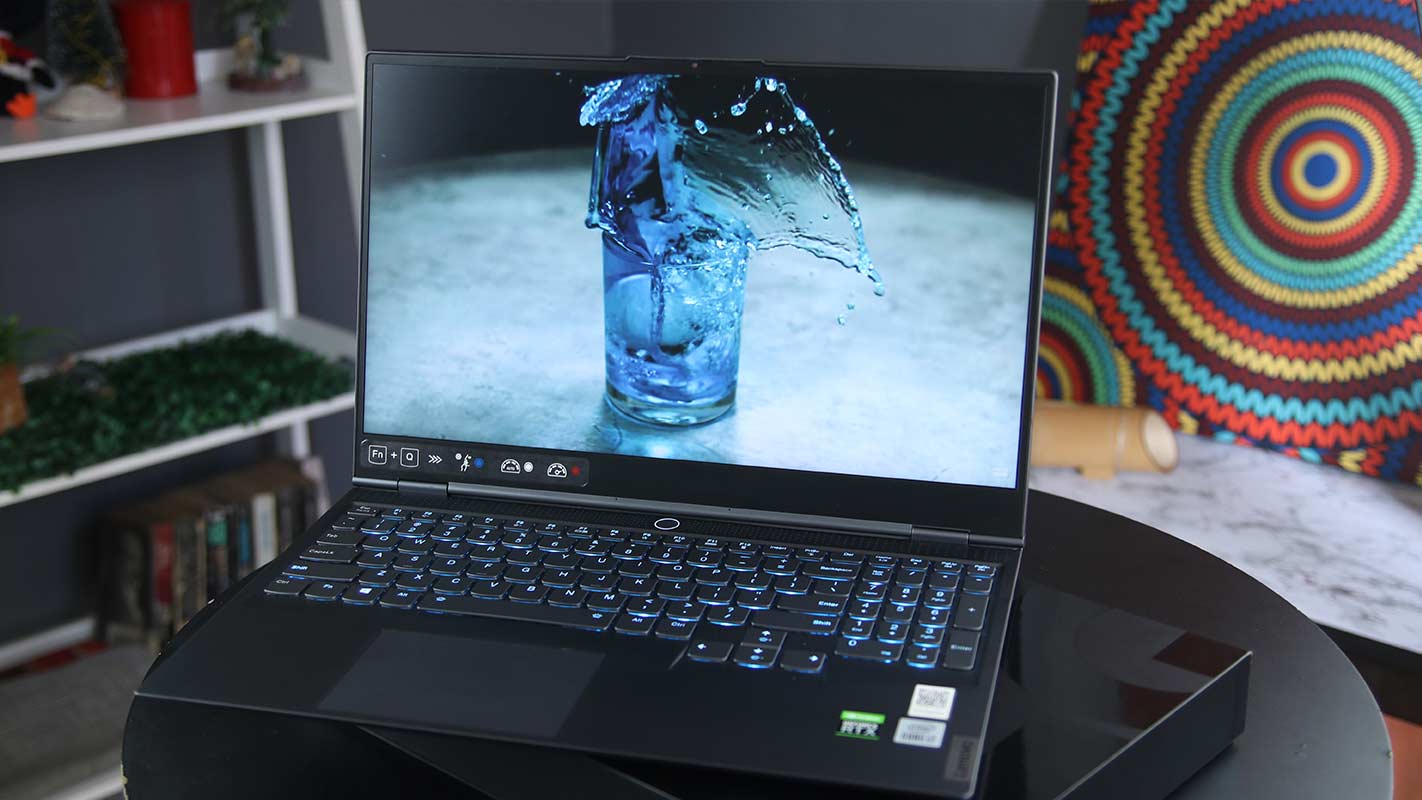 If I were to choose an option for the display, I will choose the FHD display as it has a 144hz refresh rate configuration for a better gaming feel. The screen is a lot thinner than the usual height of a gaming laptop but the chin bezel is quite thick. I never have a problem with the display though, and besides the laptop has an anti-glare screen so you won't have a problem using it outdoors.
Performance and Cooling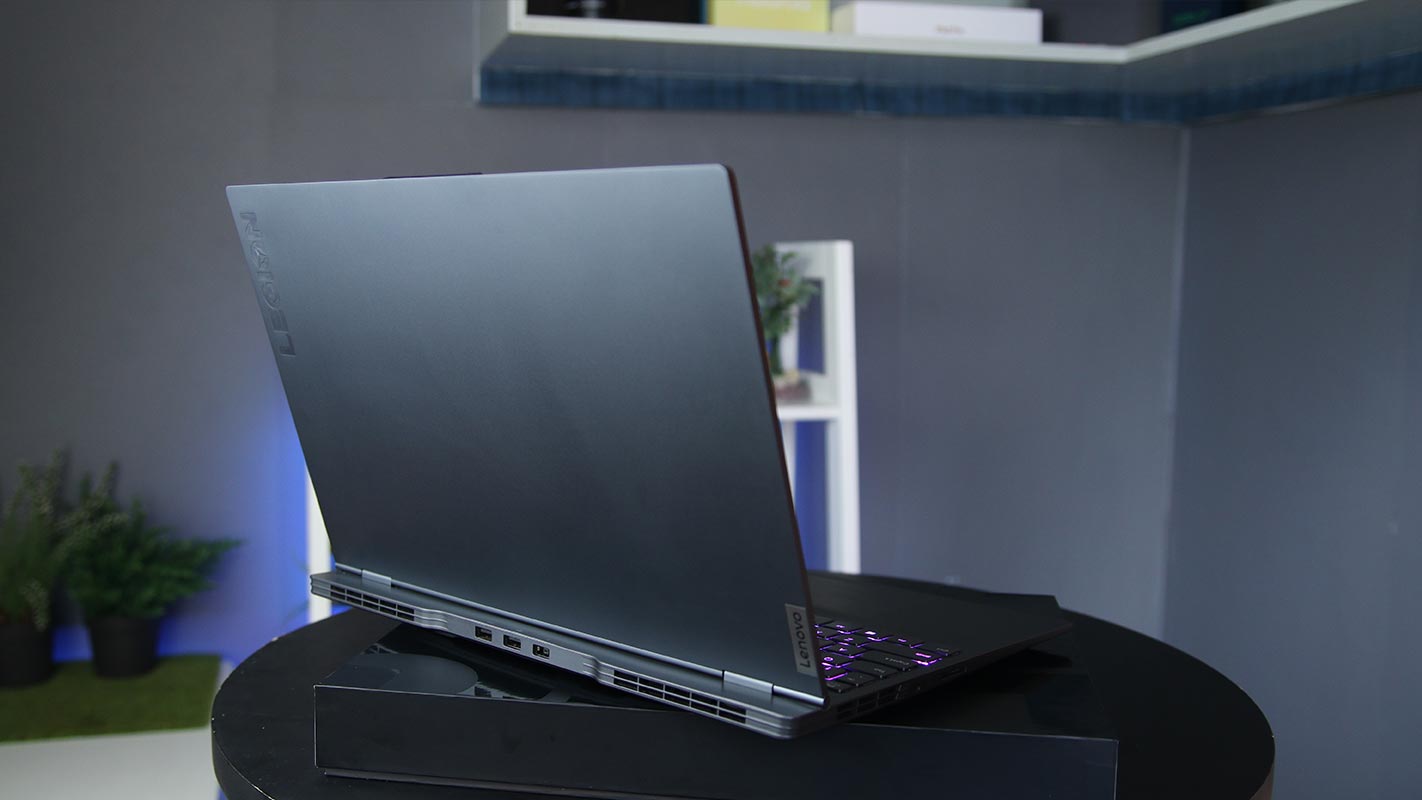 Since it has a 144hz, the GPU should be able to draw 144fps or higher on most games. The unit we have is powered by an Intel Core i7-10750H processor and with an Nvidia GeForce RTX 2060 Max Q GPU. It has a 16GB of DDR4 ram and 1TB SSD for storage.
READ: Lenovo Yoga Duet 7 – Can it offer a Great User Experience?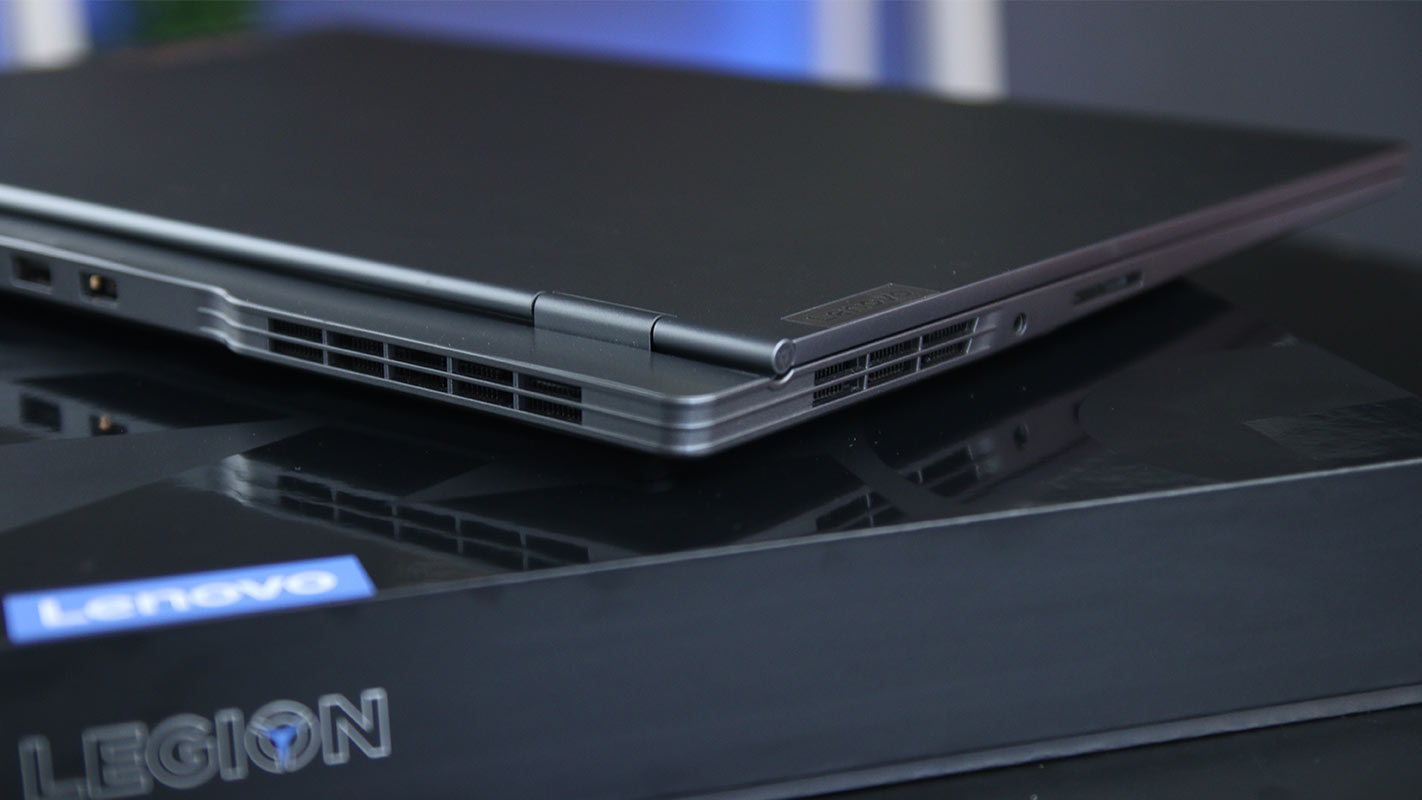 Making it slim may compromise the cooling of the laptop so let me tell you, like its bigger brother, it also has a Coldfront 2.0 cooling system. Means it has two wide cooling vents on the back that extends up to the side of the laptop. The intake grille is located below.
This slideshow requires JavaScript.
With great cooling architecture, we tested its capability by enabling better performance, and an 80% processor state–the laptop is quite cool at 49°C to 57°C in light use. While gaming, it has a 98fps average in Valorant with a temp of 64°C. Then 80% processor state and best performance, and max in-game graphic settings, Valorant could go up to 155fps max but at 96°C which is quite hot.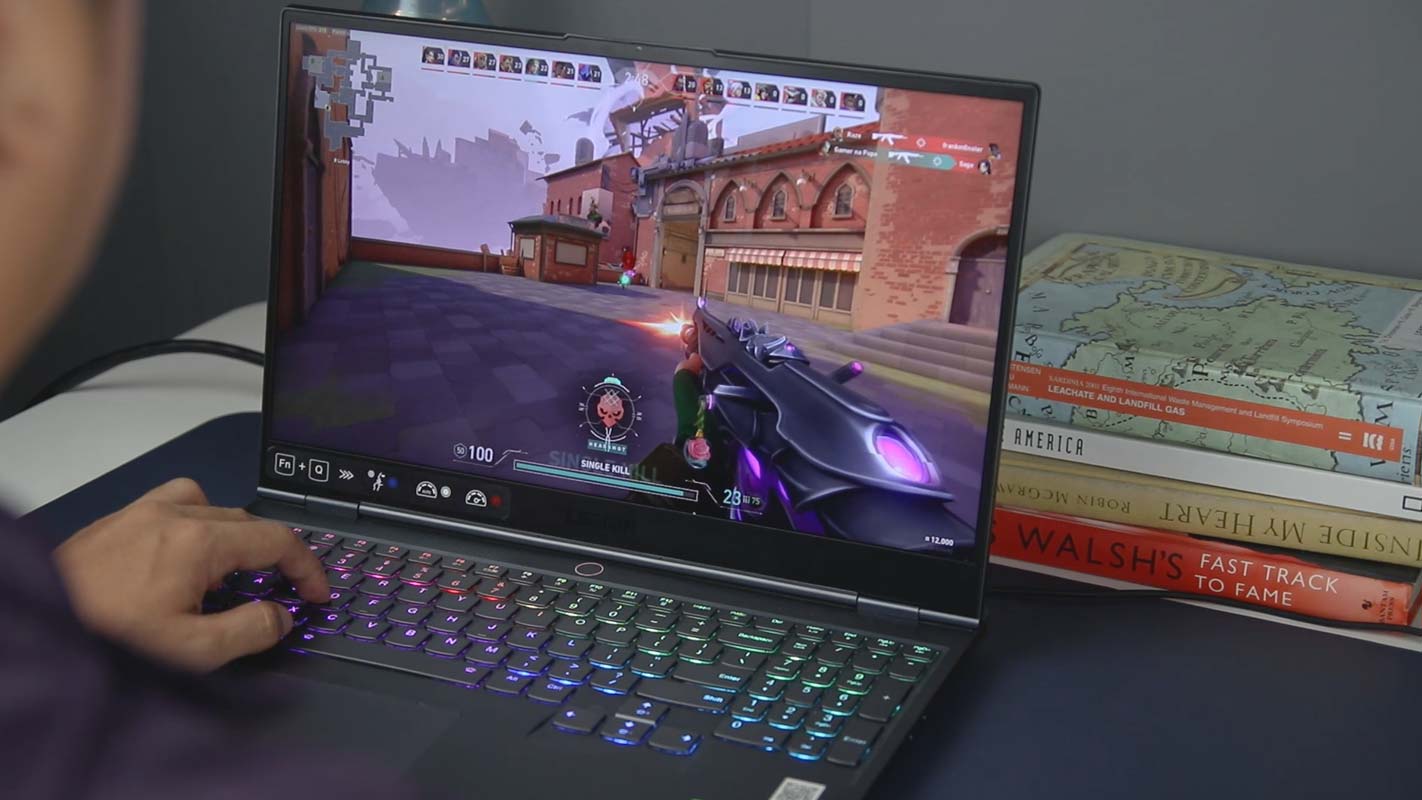 It still needs to have an external cooler as the temperature rises when we play triple-a games. The good thing though it is quite stable. This means that there is still room for it to breathe and the throttling is not noticeable. FPS games are the best if playing on a 144hz screen and since the most popular First-person shooting game doesn't require much power, Lenovo Legion Slim 7i is one of the powerful laptops to handle 144fps gaming.
For the benchmarks here are the results.
This slideshow requires JavaScript.
There is no throttling occurred during our test which is good, even with a sudden rise in temperature.
READ: A Camera-Update Rolls out for Samsung S20 Series
Battery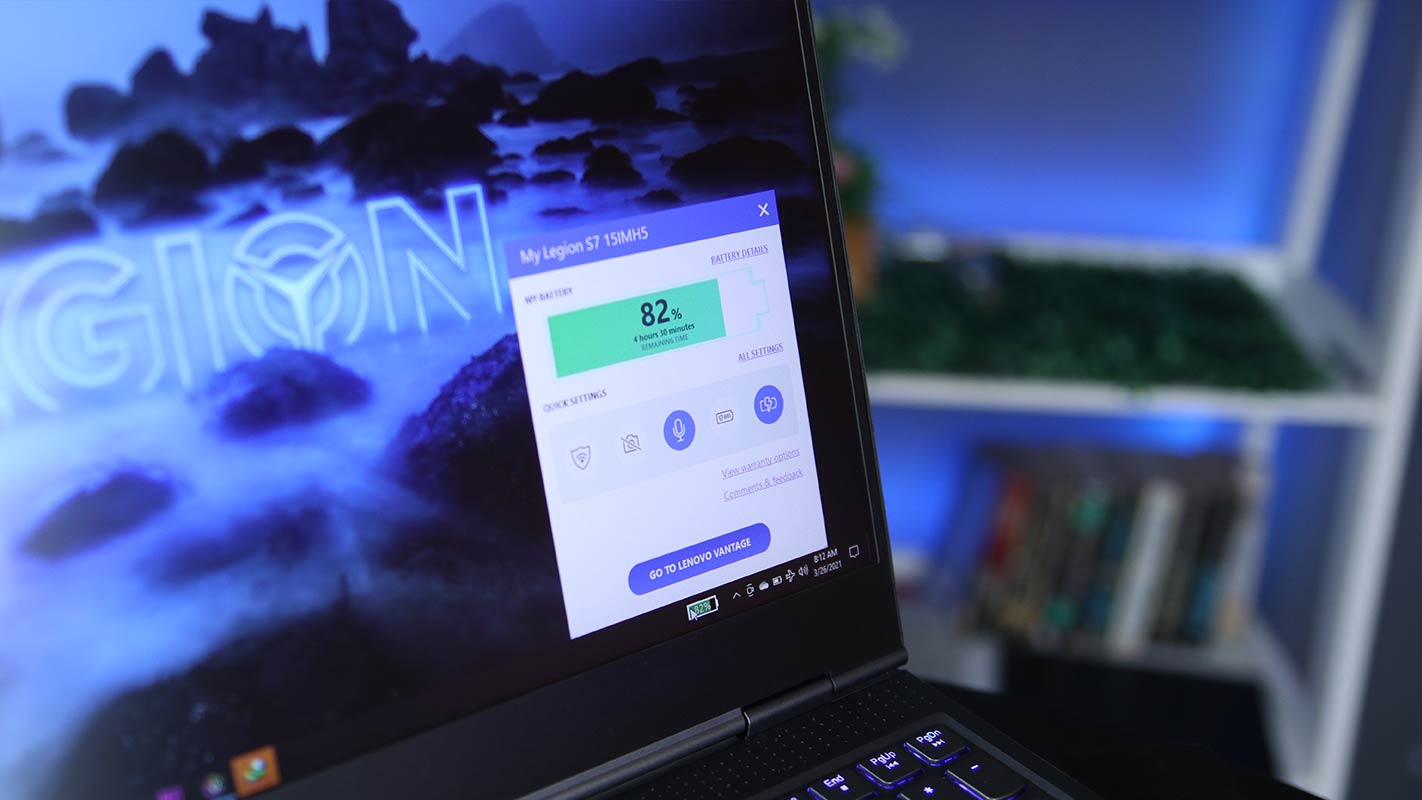 As for the battery, it has a 71W/h with rapid charge support, now again the cooling system and power pulls more juice to the battery for it to cool the device properly while giving the performance, we recorded up to 3hrs and 35mins of heavy usage on the Lenovo legion slim 7i which is quite acceptable. But it isn't impressive enough and it could go longer if there are no compromises in the cooling. But if using the laptop in stress-free apps, it can go up to 8hrs of normal usage.
Overall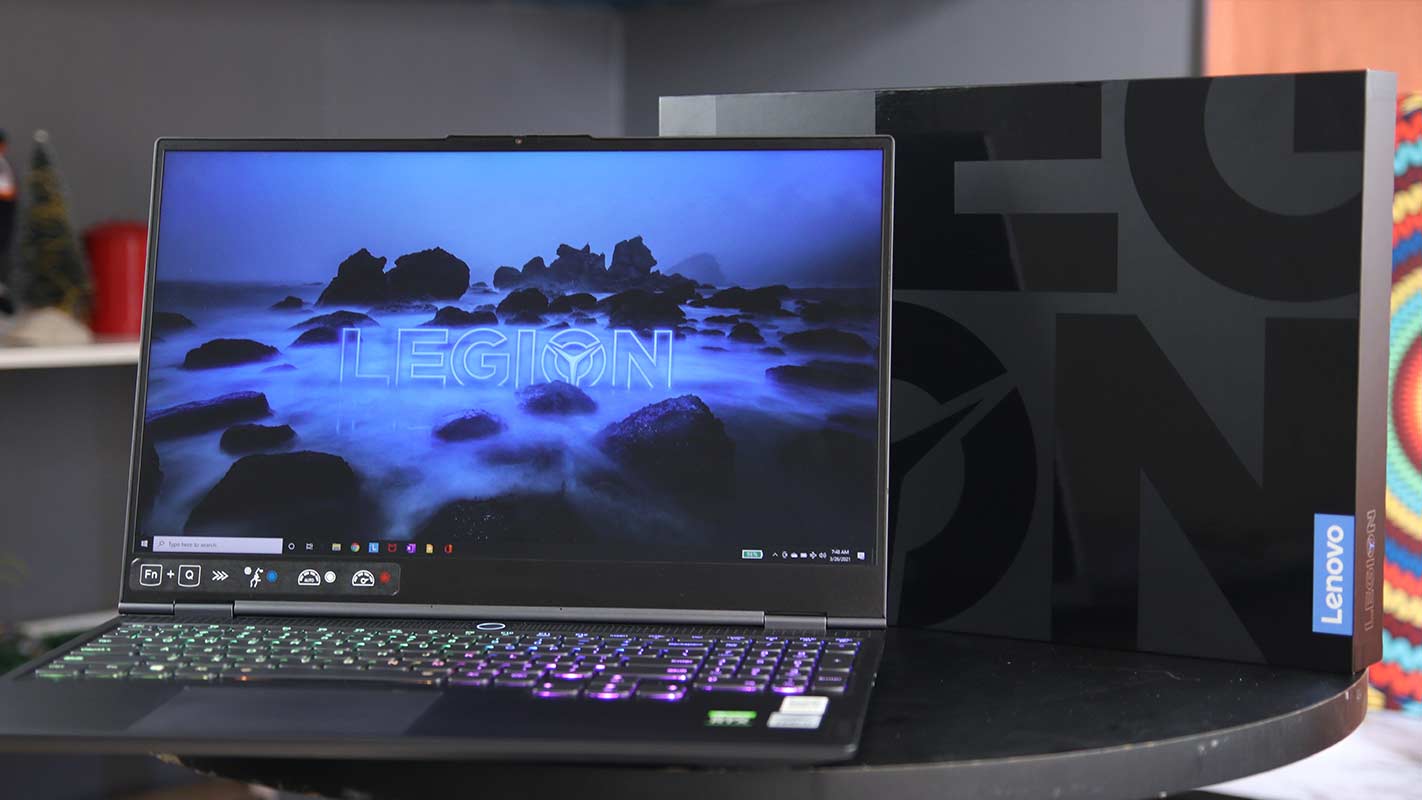 For a suggested retail price of P99,995, the Lenovo Legion Slim 7i isn't simply for gaming yet for editing 1080p up to 4K clips as well which makes it an all-rounder beast. The only trade-off for us is that the fans get loud when stressing the system due to intense gaming. The build may decrease the stability of this gaming laptop but we didn't encounter it. The battery, for us, is quite lower than expected but acceptable since it gives RGB and quite efficient cooling power despite its slim build.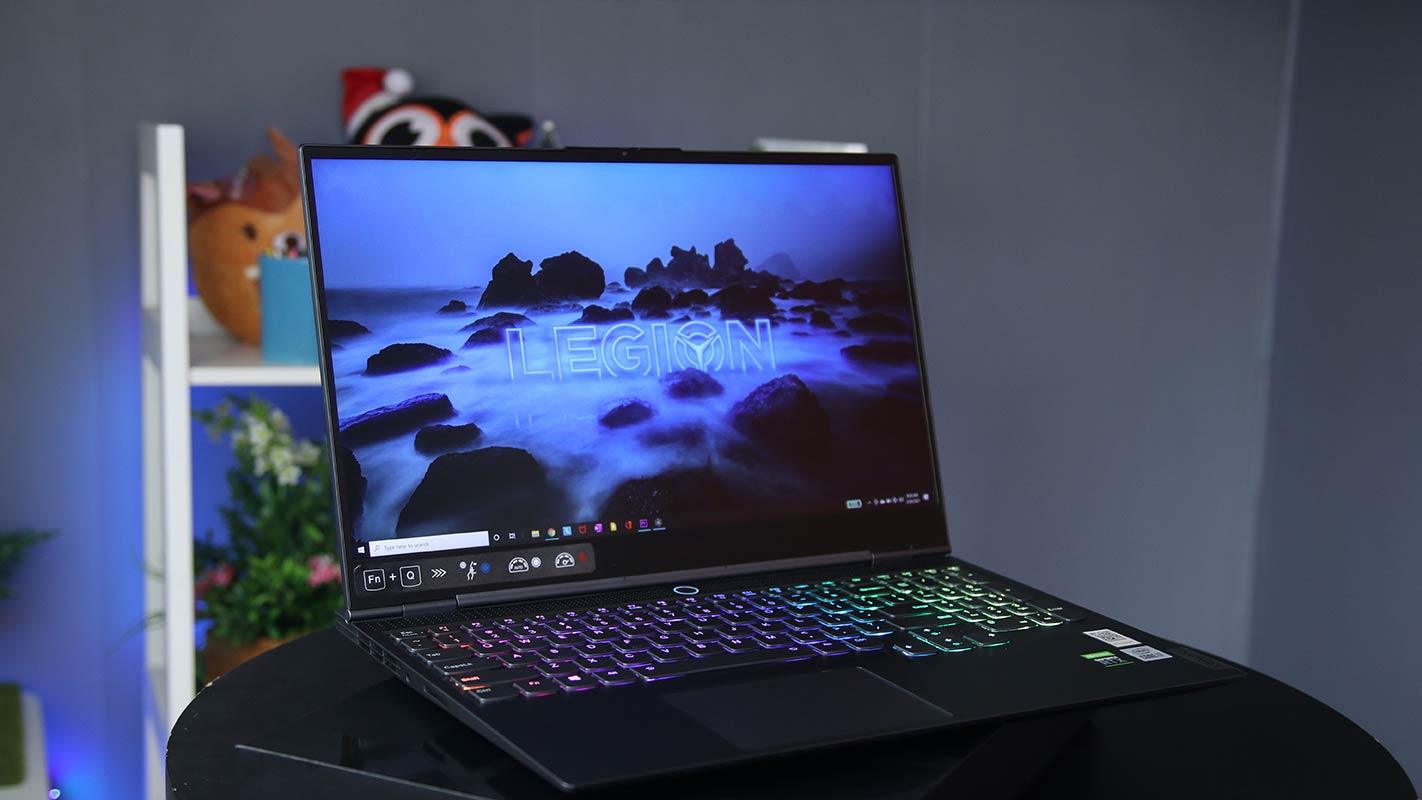 Overall, the Lenovo Legion Slim 7i is a handy laptop, it is lightweight with a savage performance great for overall productivity and gaming, in addition, is incredible RGB.
READ: Microsoft in talks to acquire Discord for $10 Billion
Lenovo Legion Slim 7i specs, price, release date in the Philippines 
Display: 15.6″ FHD+ 144Hz 100%sRGB 300nits Dolby Vision

Dimension: 356 x 250 x 15.9-17.9mm
Weight: 1.86 kg (4.1 lbs)

Design: all-aluminum chassis

 

CPU: Intel Core i7-10750H

 6C/12T

GPU: NVIDIA GeForce RTX 2060 Max-Q

 

Memory: 16GB 2933MHz DDR4

 

Storage: 1TB SSD with an extra slot for expansion

 

Camera: 720p HD with Privacy Shutter

Connectivity: WiFi 6, Bluetooth 5.1

 

Security: Windows Hello via On-Power Fingerprint Reader

Ports: 1x 4-in-1 SD card reader, 1x audio jack, 2x Thunderbolt 3.0, 2x USB 3.2 Gen2, 1x power-in

Audio: 2x 2W Dolby Atmos Speakers

 

OS: Windows 10

Preloaded Software: Lenovo Vantage, Dolby Atmos Speaker System, Dolby Vision, McAfee Antivirus, Corsair® iCUE RGB

Availability: November 2020 (Philippines)