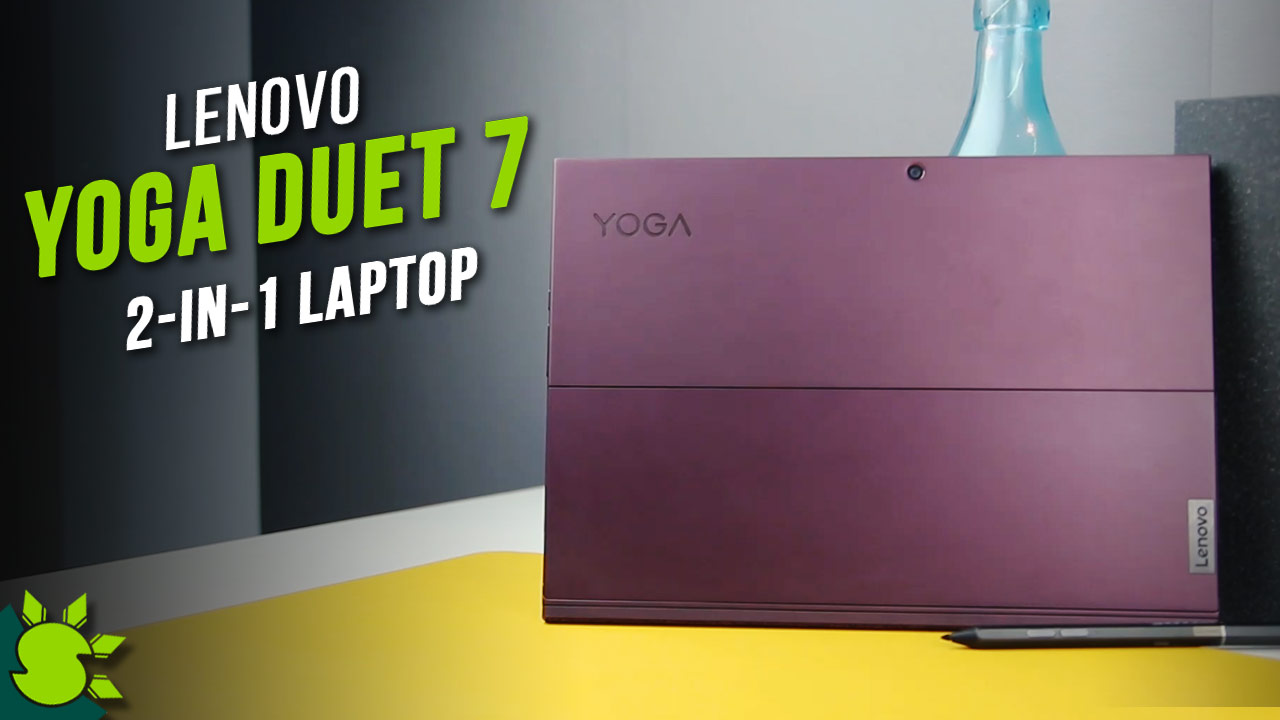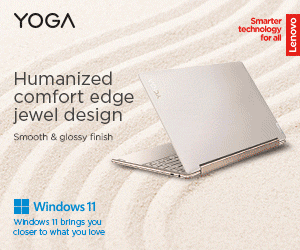 A 2-in-1 laptop is not exactly new in the market especially with Lenovo that has already released a few models with this kind of feature. In this article, we have a bit of a unique, elegant device and this one can literally be a 2-part laptop. The Lenovo Yoga Duet 7 is a tablet with a kickstand so it can stand on its own, it also has a Bluetooth keyboard and a stylus. It focuses more on productivity with a slim form factor and flexibility. With its more affordable price, can it offer a great user experience?
Design and Build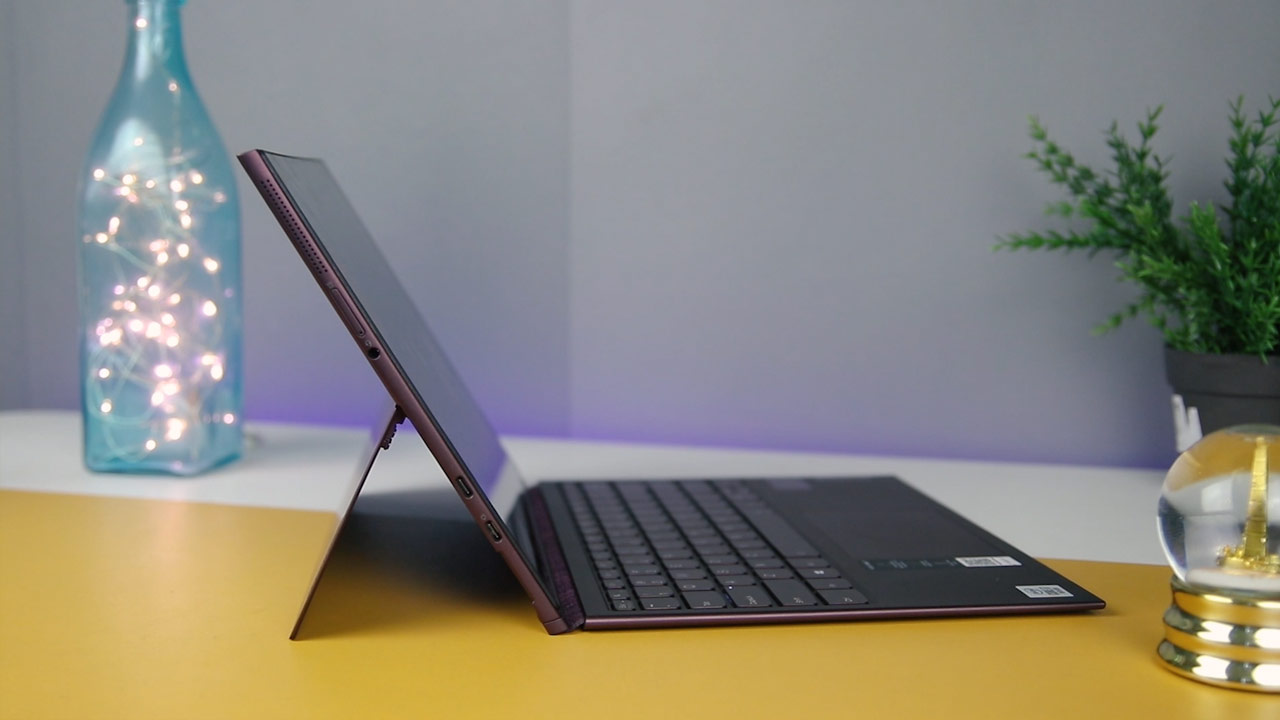 The surface design of the Lenovo Yoga Duet 7 is a tablet with a detachable keyboard, but if you set it aside it will have an 8.9mm thickness, weigh 802 grams, and is lightweight and compact.
This slideshow requires JavaScript.
The back part of the Yoga Duet 7 is matte aluminum material which very smooth and looks classy for me. It has a 5MP rear camera and a kickstand to make the tablet stand on its own. It is adjustable and can go up to a 70-degree angle and it is really stable. It has sleek branding at the top left corner which is pretty minimal and simple.
READ: Top 5 Features of Samsung 50MP ISOCELL GN2
This slideshow requires JavaScript.
On the left side of the screen, it has a power button, volume rocker, and a USB-C 3.0 with DisplayPort 1.2 & Power Delivery 3.0. On the right side is two more USB-C 3.0, a headphone/mic combo, and a microSD tray that supports FAT32 up to 256GB and exFAT up to 1TB. The audio runs on Dolby Audio speakers and it is located on both sides, it produces nice quality surround sound but with less bass.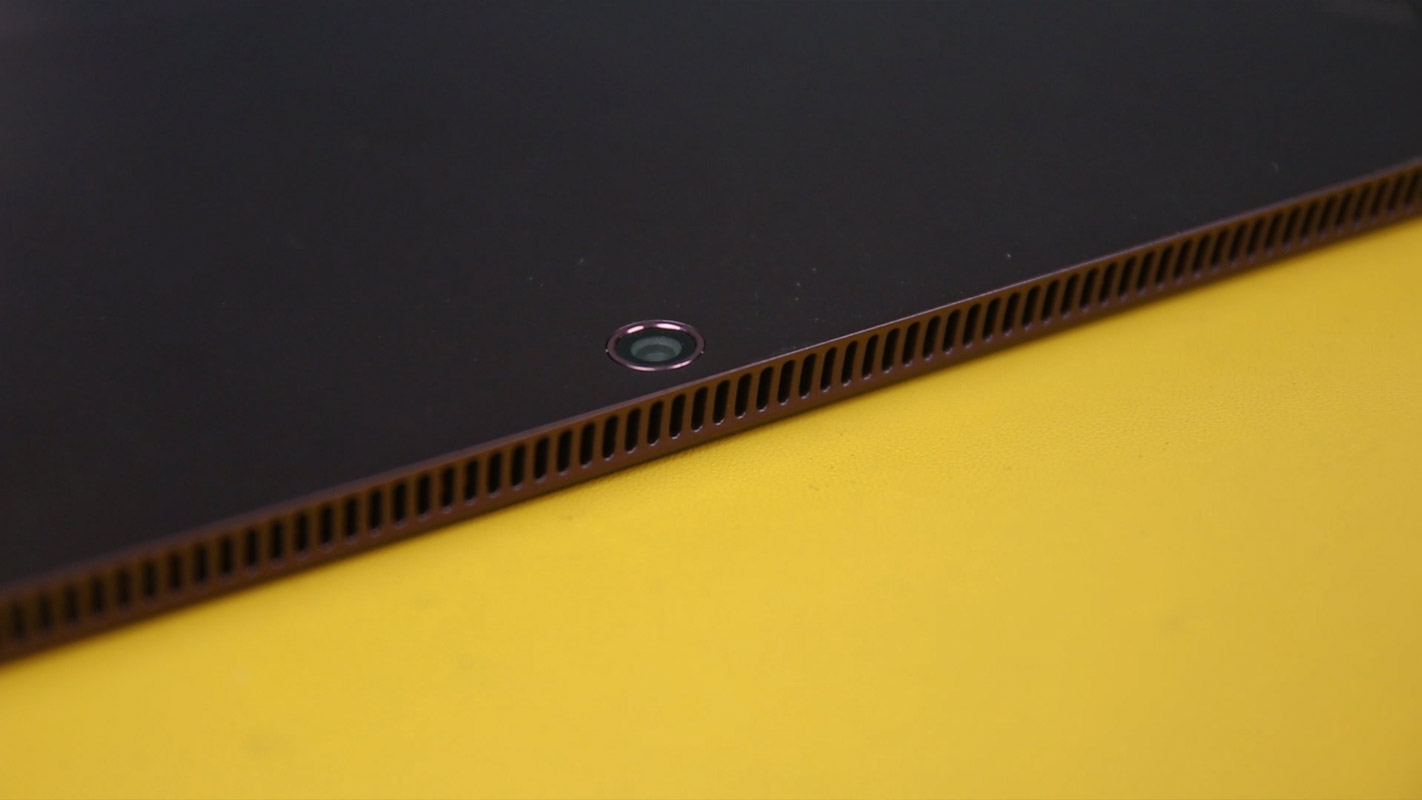 On the top part is the ventilation grille for cooling the device. What I concern about is that it fires warm air and you can use it as a tablet but not for prolong use. Lenovo Yoga duet 7 doesn't have a USB-A port which means you need to have an adaptor to connect other devices or to have peripherals with Bluetooth compatibility.
Overall the design is sleek, elegant, and feels premium. 
2-in-1 Tablet and Keyboard
This slideshow requires JavaScript.
The keyboard is also made out of matte aluminum material but at the bottom, it has a classy fabric texture to help with the steadiness of the device. The keys of the board have a very soft touch feel and typing is stress-free while scrolling on the touchpad is smooth and responsive. There's a Bluetooth slider at the right side of the keyboard with an LED indicator to indicate that it is charging and if the keyboard has a low battery.
READ: 14″ Lenovo Yoga 7i │ 2-in-1 Convertible Touchscreen Display for Productivity
The body can be detached from the keyboard and it has a magnetic hinge that holds the two tight, and you won't have any hassle separating them. But if you are going to place the laptop on your lap (because it is a 'lap'top right?) well, it doesn't have a solid hinge to hold the tablet vertically. You can still do it however, your only support is the kickstand which is quite terrifying giving you paranoia that the magnet will detach to the body and it might fall to the ground.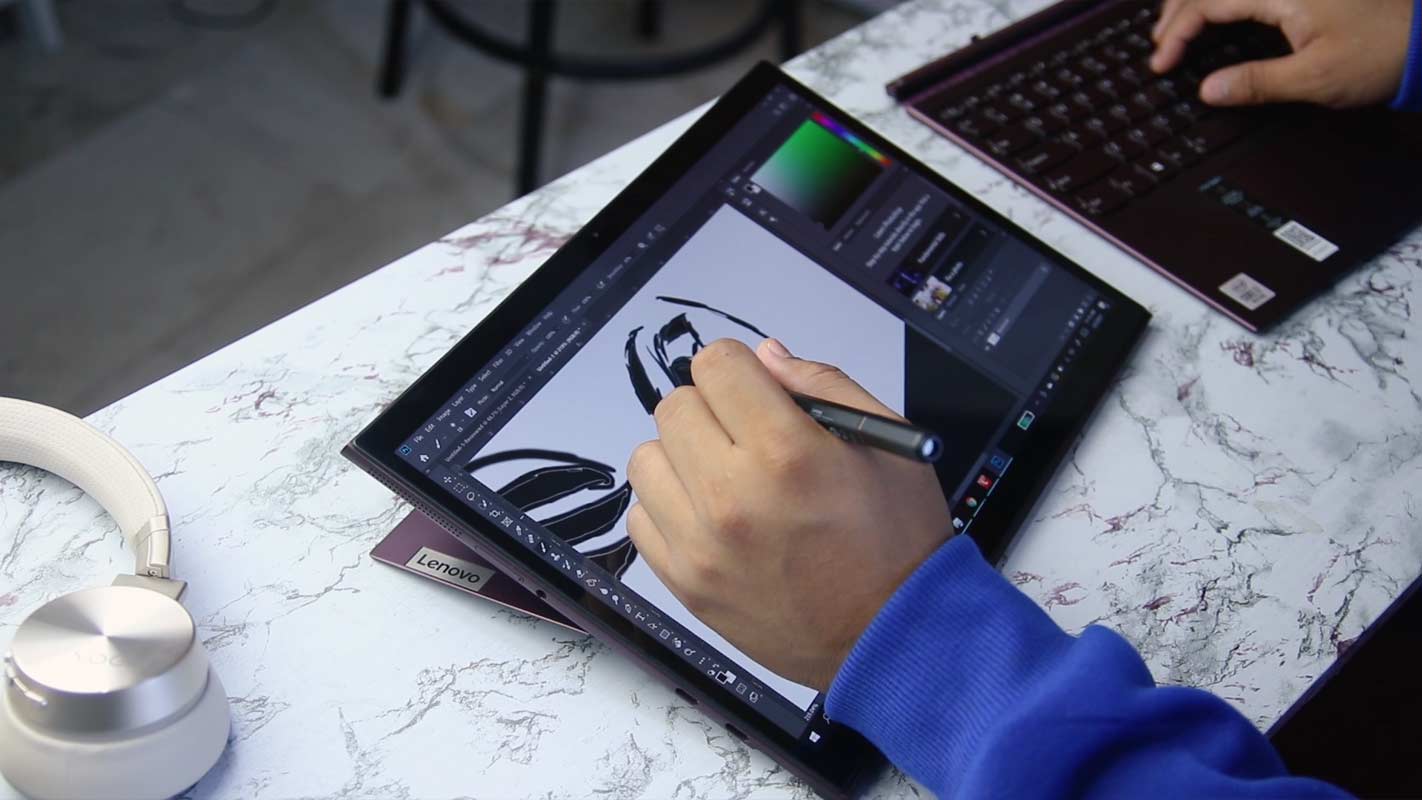 The best thing that this laptop can do is to place it on the table with the kickstand at a 70-degree angle, while you are designing or sketching. Then you can place the Bluetooth keyboard beside where it will in any case still allowing you to control it while you are making some creative content.
Display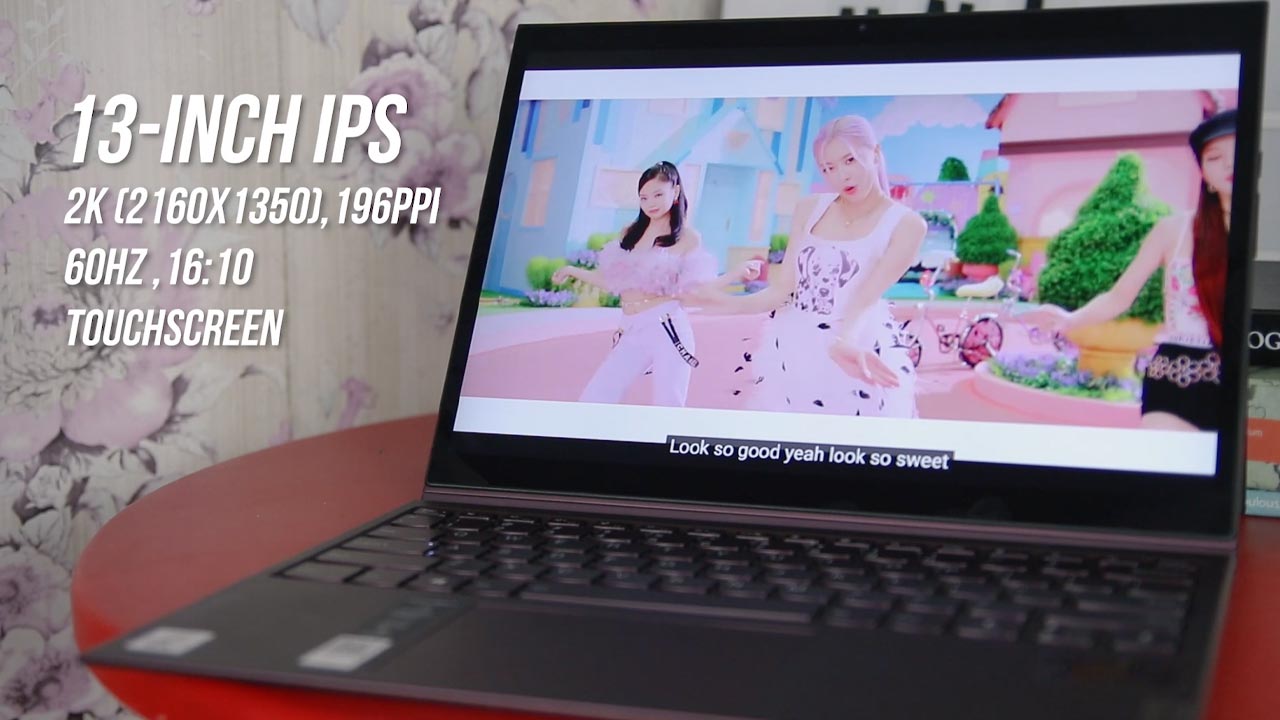 Lenovo Yoga Duet 7 boasts a 13-inch 2K (2160×1350) IPS panel with a 10-point multi-touch and it is in a 16:10 format. The display has 100% sRGB coverage with Dolby Vision and it has a sharp and good display.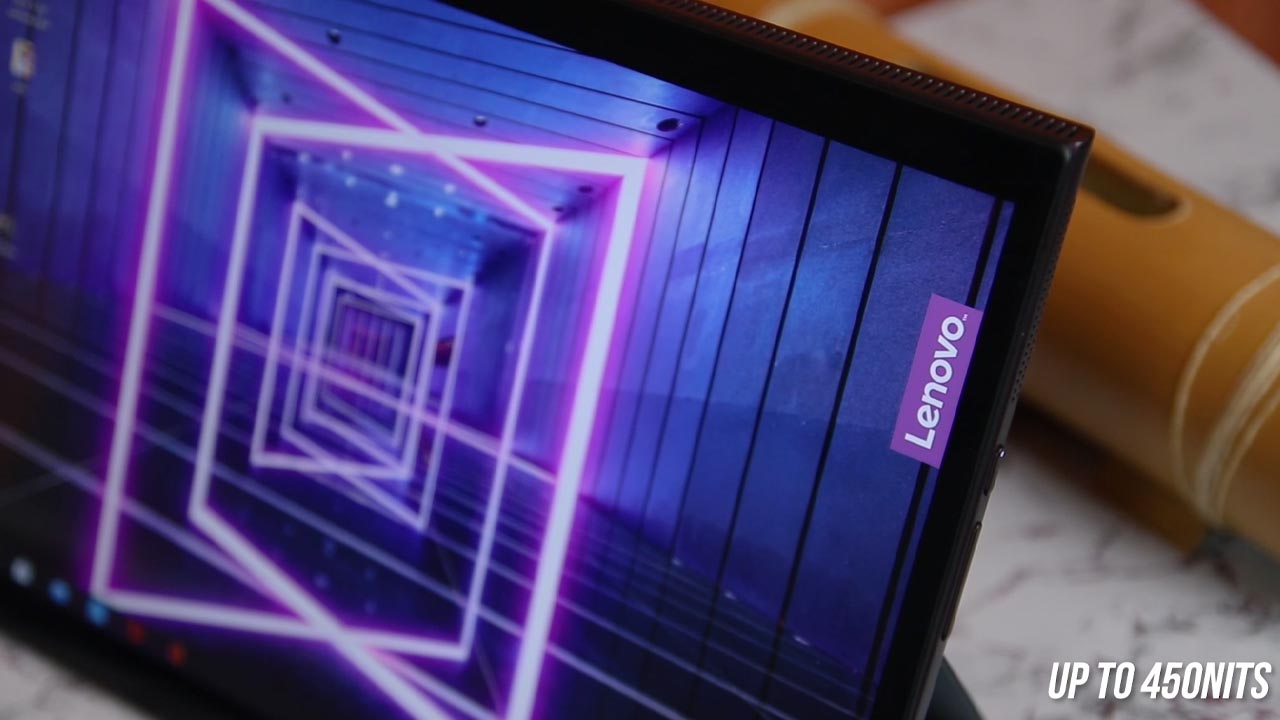 It also has a color-accurate display perfect for content creation and color adjustments. The screen has a glossy finish and it can go from 400 nits and 450 nits, it is a bit too much indoors but makes it pretty useful when outdoors.
READ: Redmi Note 10 5G, 10, 10S, 10 Pro Launched for the Global Market, Starts at ~P9K
The 2-in-1 laptop comes with a stylus with a pen tip that is pressure-sensitive. It is very responsive and has a realistic feel to it as if you're using a real pen. Sketching in it is also smooth and sophisticated. It has two buttons for added functions and Unlike other laptops that come with a stylus, this one doesn't have a stylus holder, which is a bummer. Good thing they've made the body of the pen into a hexagon shape to avoid it from rolling out the table or other surfaces.
Performance
Now let's talk about the performance, Lenovo Yoga Duet 7 mainly focuses on productivity, and running some productivity apps works effectively. It can render 1080p footages in Adobe Premiere Pro fast with no lags in scrubbing the timeline. It runs with an Intel Core i7-10510U processor with 16GB DDR4-2666 of ram and a 1TB PCIe SSD.
This slideshow requires JavaScript.
The benchmarks are great, they have shown good impressions and the Crystal Disk Mark shows impressive read and writes speed, these means render time and loading time is quite fast.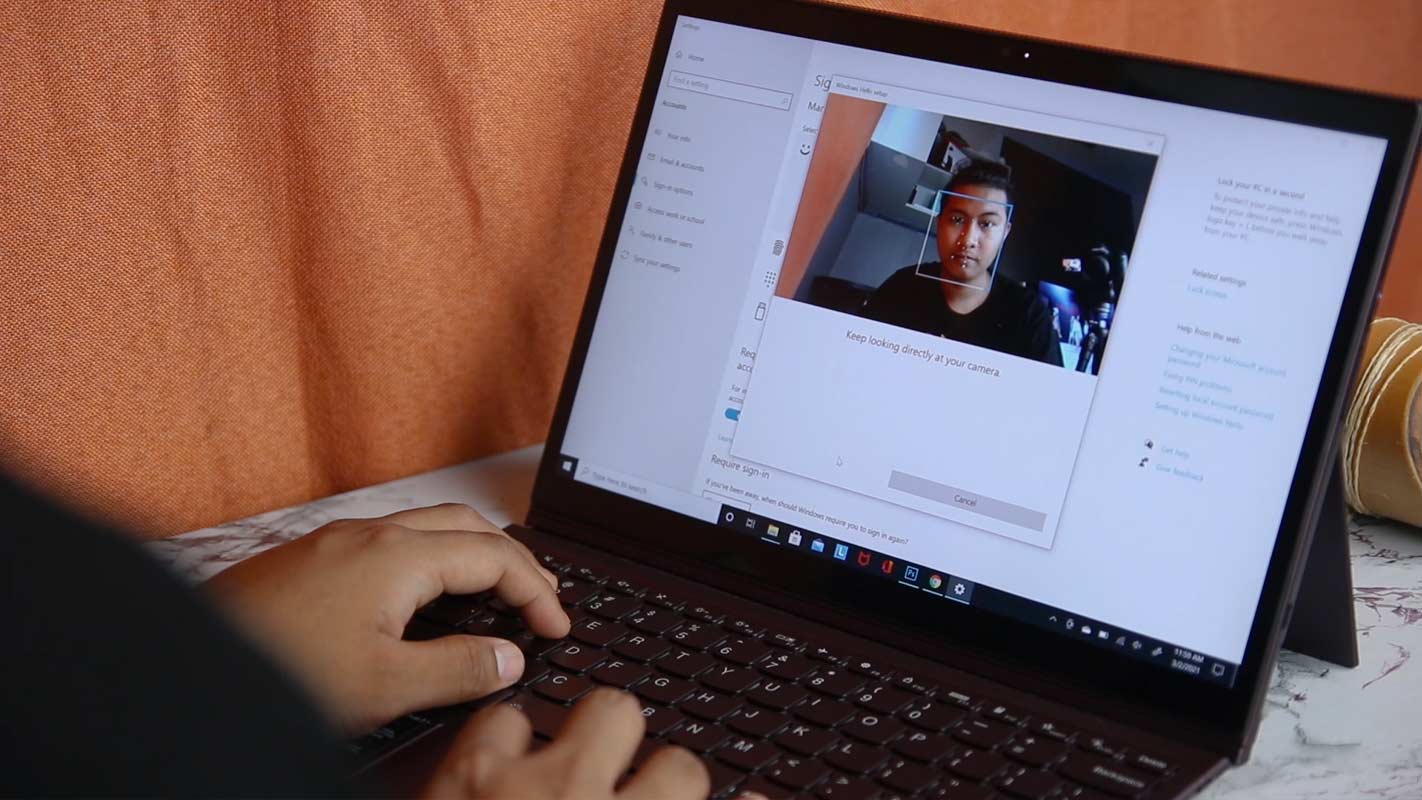 For security, it doesn't have a fingerprint scanner but it has facial recognition as it has an IR blaster with Windows Hello Support. The webcam on For connectivity, you can get the latest Wi-Fi 6 and Bluetooth 5.0 and it is seamlessly fast.
Lenovo yoga duet runs in Windows 10 Home with Microsoft Office already installed and some built-in apps like Lenovo Vantage, Lenovo Pen settings to customize the button functions of the pen, and McAfee for protection. Lenovo vantage helps you optimize things inside the device and it offers easy controls to help the laptop perform efficiently. You can also boost performance or enable power saving and it is effective.
READ: DJI FPV Launched as First-Person Hybrid Drone
Battery
As for its battery, the device focuses mainly on productivity and not on gaming. The integrated 41Wh battery of the Yoga Duet 7 can endure up to 8-10hrs of designing and watching movies or clips on youtube at 50% brightness which is a good impression on its battery efficiency. There's a 45W charging on the device and it can juice up the laptop in just 2 hours or so.
Verdict
Overall, the Lenovo Yoga Duet 7 is a good laptop for everyday productivity. It has a starting price of P64,995 and not only it has a great performance and sleek design but its flexibility is the best thing that this laptop has. You can use it in whatever setup you like, you can even put the screen on a table while having the keyboard on you and rest at the back of your chair. The Yoga Duet 7 for me is something that is worth the money.
READ: Redmi Monitor with 27" IPS Display and 75Hz Refresh Rate
Specification
Up to 10th Gen Intel® Core™ i7-10510U Mobile Processor
Up to Windows 10 Pro
Intel® UHD Graphics
Up to 16 GB DDR4 2666MHz (Soldered)
Up to 1 TB PCIe SSD
13″ FHD (2160×1350) IPS, touchscreen, 450 nits, 100%sRGB, Magnetic Hinge
Weight: starting at 798.8grams (tablet only), starting at 365grams (with folio case)
Dimension: Pad: 297.4 x 207.4 x 9.19 mm, Folio case: 297.4 x 221.2 x 6 mm
2 x Dolby Audio™ speakers
Front 5.0MP + IR , 720p HD Web Camera / Rear 5.0MP
Wi-Fi 6 802.11AX (2 x 2)
Bluetooth® 5.0
Battery: Integrated 41Wh
Colors: Orchid
Ports
2x USB-C 3.2 Gen 1 (support data transfer, Power Delivery 3.0, and DisplayPort 1.2)
1x microSD card reader
1x USB-C 3.2 Gen 1 (support data transfer only)
1x headphone/microphone combo jack (3.5mm)
Preloaded Software
Lenovo Vantage
McAfee® LiveSafe™
Office Home and Student 2019