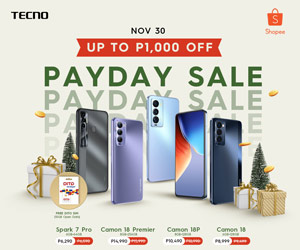 It seems there's no stopping Xiaomi from entering the laptop market with their new Xiaomi Mi Notebook Air. Launched with 12.5-inch and 13.3-inch variants, these Ultrabooks are the clearly direct competitor to latest Apple MacBooks and other Windows 10 laptops.
With a slightly thinner and lighter form factor while packing a longer battery life than the bigger model, how does the 12.5-inch fare in the real world? Let's find out in our full review.
Unboxing the Xiaomi Mi Notebook Air
The resemblance starts on the packaging with the retail box in white and Mi Notebook Air sitting on top inside while accessories are housed below. The USB Type-C power adapter is rated at 40W with amperage ranging from 1.2A to 2.25 for 20V.
Design and build
In terms of build and design, the exterior is made of aluminum finish with no obtrusive Mi logo can be found outside as the Chinese company wants to keep the entire exterior clean and slick. Another color option is a gold. The bottom has the same aluminum finish and houses the dual AKG speakers.
The 12-inch Mi Notebook Air is a few hairline thinner and shorter than the 13-inch Macbook Pro while it is noticeably lighter. Overall build is solid with no flexes on the chassis and screen.
The hinge tension on the screen is good where you can lift the lid easily with one hand. But there's an apparent vibration every time you tilt or move the screen.
The feet on the bottom add some height but those keep the Notebook Air away from scratches.
The ports are a little skimpy with a USB Type-C on the right for both data and fast charging along with the full sized USB 3.0 and an HMDI on the other side. There's also a LED indicator, a 3.5mm audio jack, and Dolby Audio support. Not a ton of ports but should be enough for most users.
Display
Opening the lid, you will be greeted by a 12.5-inch non-touch 1080p LCD screen with 170-degree viewing angles and 300 nit brightness. The color gamut is 50% and a bit less from the 70% of the 13-inch model. As far as the actual quality, the screen is bright and clear but the glossy texture is a bit struggle outdoors.
Camera
Along the two dedicated microphones on top is a 1MP full HD camera that's pretty okay for video calling and few snaps. We clearly don't have the Windows Hello integration here which is preserved to more capable Windows Ultrabooks.
Keyboard and Trackpad
The keyboard has one level backlighting with a neat layout anyone could get used too easily. The typing experience is relatively fair with keystroke a little bit behind on the responsiveness of high-end Macbook Pro. But the overall keyboard is reliable and capable of typing-intensive works.
It's hard distinguishing the trackpad if it is made of glass or plastic, but we're leaning it on the former. It's not so smooth as the one on MacBook Pro but it's responsive enough for scrolling and clicks.
Performance and gaming
Coming with an Intel Core m3 dual-core, four-thread processor and Intel HD 515 graphics, the performance is comparable to some areas of a 4th gen. Intel Core i5 but just more efficient. The Mi Notebook Air 12-inch could handle casual games at low graphic settings like DOTA 2 without stuttering.
Low graphics settings in DOTA2
4K video playback
Light video editing in Adobe or Sony Vegas
Gaming alone, we can't recommend the Mi Notebook Air as the storage is a standard 128GB SATA at 500Mbps speed, which is enough for those who do a lot of office or light tasks for travel or at home.
In terms of heat, the Mi Notebook Air felt a little bit warm but not alarming when handling demanding tasks.
Battery and charging
The battery on the 12-inch Notebook Air is a 37Watt-hour with a rated 11.5 hours battery life which is achievable on moderate usage including browsing, typing, and video playback. Overall battery life is less depending on what you do.
Charging the Mi Notebook Air is what we really like as you can fill it from 0% to a 100% in just under 50 minutes.
Moderate usage: 11.5 hours rated by Xiaomi
Charging time: 50 minutes
Audio
The dual AKG speakers at the bottom sound clear and averagely loud. We'd just wish a bit of solid bass and more volume output. For a closed room, the speaker will do while the Dolby audio support is a good addition to external accessories and speakers.
Pricing and Verdict
For a P29,990 retail price or $650 USD from the online stores in the Philippines ($525 in China), the Xiaomi Notebook Air 12.5-inch makes a really great option for people wanting to have an Ultrabook. It's light, slick, and yet capable to get your work done. The robust battery life is also a big plus for those who are always on the road.
But if you're looking for an Ultrabook that could handle all graphics-intensive games and video editing, that's probably reserved to the pricier 13-inch Mi Notebook Air.
https://apis.google.com/js/platform.js
Xiaomi Mi Notebook Air 12.5-inch Full specs, Release date, Official price in the Philippines
Display: 12.5-inch Full HD 1080p, non-touchscreen, 300-nit brightness, 50% color gamut
Size: 292x202x12.9 mm thick, 1.07kg weight (2.35lbs)
Design: All metal build / aluminum finish
CPU: Intel Core m3 processor, dual-core + four threads, 1.1GHz to 2.2GHz clock speed
GPU: integrated Intel HD graphics 515, 300MHz to 850MHz speed
RAM: 4GB LPDDR3
Memory: 128GB SSD SATA (500MB/s)
Camera: 1MP Full HD front-facing sensor
Connectivity: dual WiFi 802.11ac, Bluetooth 4.1
Ports: USB type-C 3.1, full-sized USB 3.0, HDMI
Audio: AKG speakers, 3.5mm combo jack, dual microphones
Battery: 37Wh, 11.5 hours rating
OS: Windows 10 Home