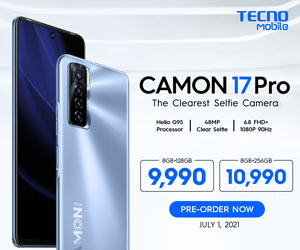 Get up to 30% off of Xiaomi smartphones and accessories
Xiaomi is partnering up once again with Lazada and Shopee to deliver its smartphones and accessories at lower price tags than ever just for you. Kicking off its 10th anniversary is the release of budget phone Redmi 9C that costs P5,290 only for 2GB/32GB. You can get a special P300 discount as part of its early bird promo, pushing down the price to P4,990. The top model with 3GB/64GB is available for P5,990. Both models are available starting today, including official retailers nationwide. Redmi 9C is available in blue, orange, and gray colors. One of the best deals right now is the POCO F2 Pro that launched with an SRP of P26,990 for the 6GB/128GB model. At the moment, you can get it for as low as P19,990. You can see the rest of the devices below.
READ: Realme C11 vs Redmi 9C Specs Comparison – The Best Entry-Level Phones!
Product

Price

Special deal

Available on

Period

Smartphones

Mi 9T (6GB+64GB)

PHP 15,990

PHP 10,990

August 18-21, 2020

Redmi 9A (2GB+32GB)

PHP 4,690

PHP 4,390

August 18-21, 2020

Redmi 9 (3GB+32GB)

PHP 6,990

PHP 5,990

August 18-21, 2020

Redmi 9 (4GB+64GB)

PHP 7,490

PHP 6,890

August 18-21, 2020

Redmi Note 9S (4GB+64GB)

PHP 10,490

PHP 9,790

August 18-21, 2020

Redmi Note 9S (6GB+128GB)

PHP 11,990

PHP 11,290

August 18-21, 2020

Redmi Note 9S (6GB+128GB)

PHP 11,990

PHP 9,990

August 17-23, 2020

Redmi Note 9 (3GB+64GB)

PHP 7,990

PHP 7,290

August 18, 2020

12:00a.m. – 10:00a.m.

Redmi Note 9 (4GB+128GB)

PHP 9,990

PHP 8,990

August 18-21, 2020

Redmi Note 9 Pro (6GB+128GB)

PHP 13,990

PHP 12,990

August 18-21, 2020

Mi Note 10 Lite (6GB+64GB)

PHP 16,990

PHP 14,990

August 18-21, 2020

Mi Note 10 Lite (6GB+128GB)

PHP 18,990

PHP 16,990

August 18-21, 2020

POCO F2 Pro (6GB+128GB)

PHP 26,990

PHP 19,990

August 17-23, 2020

POCO F2 Pro (8GB+256GB)

PHP 29,990

PHP 23,990

August 17-23, 2020

POCO F2 Pro (8GB+256GB)

PHP 29,990

PHP 23,990

August 18-21, 2020

Ecosystem Products

Mi TV Stick

PHP 1,590

PHP 1,540

August 18-21, 2020

Mi Smart Band 5

PHP 1,790

PHP 1,690

August 18-21, 2020

Mi Smart Band 4C

PHP 990

PHP 940

August 18-21, 2020

Mi Curved Gaming Monitor 34″

PHP 19,990

PHP 19,490

August 18-21, 2020

Mi True Wireless Earphone 2

PHP 3,495

PHP 3,290

August 18-21, 2020

Mi Electric Scooter Essential

PHP 14,990

PHP 14,490

August 18-21, 2020