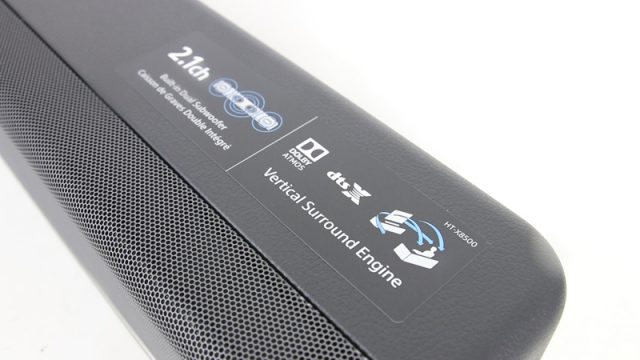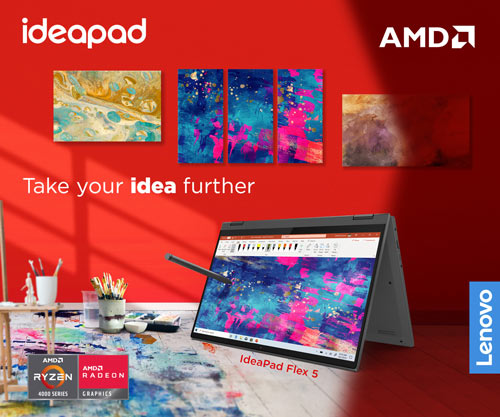 Even with the most expensive 4K or 8K TVs in the world, built-in audio speaker quality leaves a lot to be desired. You might be getting the best picture quality, but it doesn't change the fact that the viewing experience is spoiled by the lackluster audio quality. In this case, consumers opt to buy a dedicated speaker for their TVs. If you have a budget of around P22,299 for a mid-range soundbar, Sony HT-X8500 might be for you.
READ: Razer Kraken Tournament Edition Wired Headset with USB Audio Controller Review
Design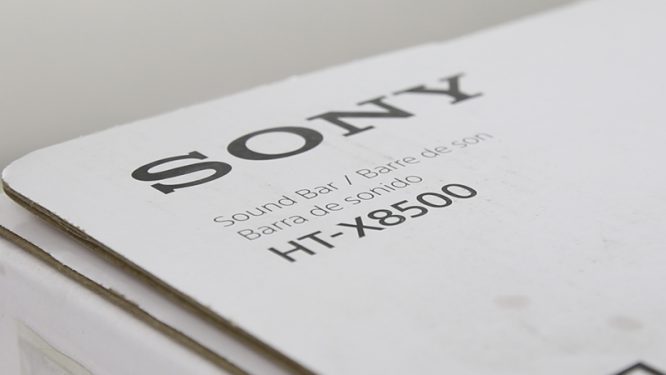 At a glance, Sony HT-X8500 looks like your typical soundbar. It's clad in black with a wide footprint that's no wider than a 50″ TV. While the design allows you to mount it on a wall, it also looks good when it's just placed under a TV. However, you will need a bit of gap as to not block the IR receiver of your TV.
The front is dominated by a metal grille that protects the speakers, while the rest is covered in a leather-like texture that adds value to the overall look of Sony HT-X8500. Around the top-middle portion are the touch-sensitive controls for power, Bluetooth, volume, and source selection. Instead of making use of a display to provide comprehensive information, Sony's soundbar depends on six indicator lights. These are for Bluetooth, HDMI, TV, Vertical Surround, DTS:X, and Dolby Atmos.
The light indicators show several combinations that will need memorization. So for beginners, you will have to rely on Sony HT-X8500's manual.
On the back, the Sony HT-X8500 is powered via the included 24V DC adapter or AC power cable. As for port configuration, there's HDMI output(eARC and ARC), optical audio input, and HMDI 2.2 input. Furthermore, it supports HDMI passthrough of up to 4K resolution complete with HDR and Dolby Vision support. When it comes to the wireless connection via Bluetooth, only SBC and AAC codes are supported.
READ: Tronsmart Element T6 Quick Review: Affordable Bluetooth speaker w/ ultra bass
Sound Quality
During testing, the best audio quality is achieved thru HDMI. Not the optical audio input or Bluetooth, however, you do get good quality when using either of the two. But if you want the best, you have to use your TV.
Sony HT-X8500 sports 2.1ch speaker setup that's located on each end, while the two built-in subwoofers are situated side-by-side in the middle. In real-world usage, the bass is more pronounced and crisp. For a built-in subwoofer, this is more than impressive. While the low-end delivered excellent quality, what about the mids and highs?
Fortunately, we can say the same thing for both. Like most soundbars today, the strong end of Sony HT-X8500 is the mids. The dialogue delivered by binge-worthy series are clear, and sometimes, louder due to the processing of the soundbar itself. Even at higher volume levels, both background and foreground sounds were delivered clearly.
One of the main features of Sony HT-X8500 is virtual 7.1.2ch output. So for a native 2.1ch setup, Sony's mid-range soundbar can virtually deliver sounds in seven directions. And in practice, it's noticeable. Sure it's not as great as a real 7.1.2ch setup, but the difference in directional sound is impressive. You will surely get a more immersive experience with Sony HT-X8500.
Verdict
For P22,299, there's not a lot to complain about Sony HT-X8500. You won't have any problem if you want to achieve better audio quality. We even end up impressed with its virtual surround feature. But at this price point, we'd rather have a display than indicator lights for ease of use.
Do we recommend getting a Sony HT-X8500? Only if you want virtual 7.1.2ch with great bass delivery. If not, there are less expensive options out there.
READ: Best Travel and Vlog Smartphone Cameras in 2019