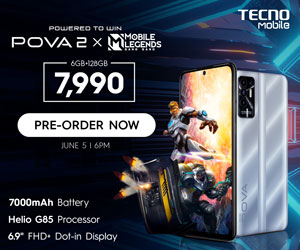 For the third time in a row, Smart Communications is the Philippines' fastest mobile network provide since 2018. According to Ookla, the global leader in internet testing and analysis, Smart surpassed Globe in terms of Speed Score and average upload and download speeds, based on millions of consumer-initiated tests performed on Speedtest on LTE-capable devices in the Philippines.
"This award recognizes Smart's commitment to delivering fast speeds to their customers across the Philippines. With this latest win, Smart has won the Speedtest Award for Fastest Mobile Network in the Philippines three consecutive years in a row," said Ookla CEO Douglas Suttles in a statement. 
In 2018, Smart achieved average download speeds of 17.24 Mbps (8.11 Mbps upload) versus Globe's 11.10 Mbps (5.01 Mbps upload). By 2019, Smart averaged 19.62 Mbps in download speed and 9.45 Mbps in upload. Globe only reached 12.04 Mbps down and 4.92 Mbps up.
In 2020, Smart dominated Globe for the entire year. The Q4 2020 showed Smart posting an average download speed of 20.08 Mbps and an average upload speed of 7.42 Mbps. In comparison, Globe posted 15.25 Mbps up and 4.11 Mbps down.
Smart is at the forefront of the 5G revolution in the Philippines as the first local telco to launch 5G services nationwide last July 2020 in Metro Manila, and strategic areas in Luzon, the Visayas, and Mindanao.  
To date, Smart has fired up more than 2,300 Smart 5G sites across the Philippines – the most extensive 5G coverage in the country.