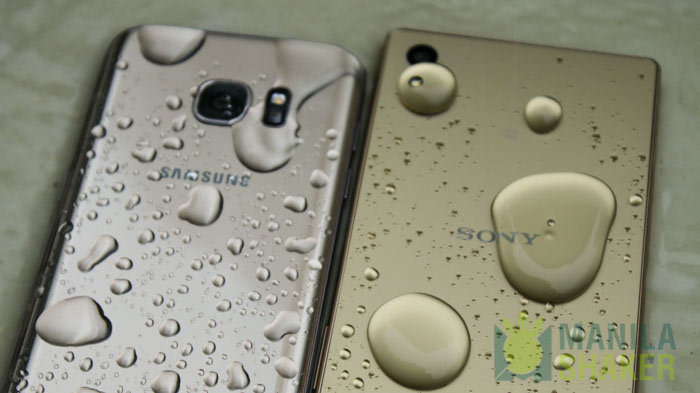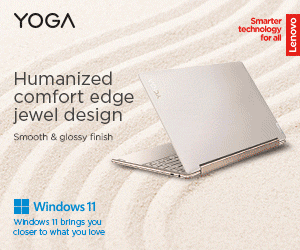 Finally, we put two of the latest waterproof Android flagships into a comparison. Which between the Samsung Galaxy S7 and Sony Xperia Z5 will emerge better in our Ultimate Comparison? From design and display to camera and performance, let's find out which Android will emerge on top.
More comparisons and reviews
Design and Build Quality
The Samsung Galaxy S7 follows the design of the Galaxy Note5 but added some refinements such as water and dust resistance. It's a subtle change over the Galaxy S6, all-in-all, but remains smaller and has more curvature than the boxy Sony Xperia Z5 remains slightly boxy.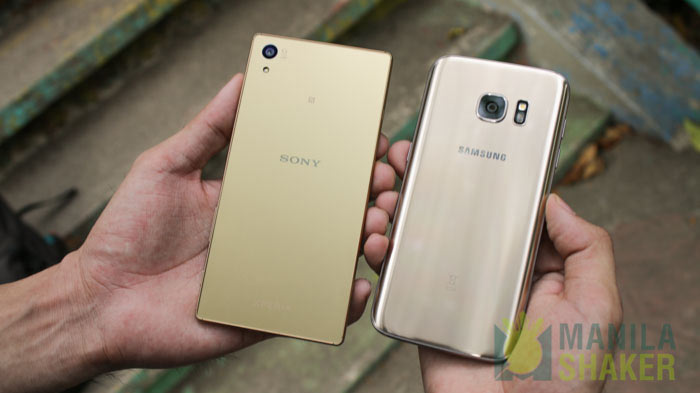 Unlike the former, the Xperia Z5 with its frosted back feels good and less prone to smudges and dirt.
Ports on two phones is a microUSB with a hybrid dual-SIM and microSD card tray for Galaxy S7 and separate options of dual or single SIM model for Xperia Z5. Each with expandable memory.
Native to Xperia Z series, the two are rugged and can be dipped up to 1.5 meters in the water, thanks to IP68 rating covering dust resistance too.
We can consider that both phones look and feel premium and solid, respectively.
Display: Super AMOLED vs BRAVIA Triluminos IPS LCD
Measuring at 5.1-inch Quad HD the Galaxy S7's Super AMOLED is punchy and packs more pixel than the 5.2-inch Full HD IPS of Xperia Z5. Frankly speaking, naked eyes will hardly see the difference in sharpness at all. It's on the colors, brightness and contrast that screens differ. The AMOLED offers saturated and slightly brighter panel than the LCD. But overall viewing experience on each is superb.
Camera in low light, selfie, 4K video
In papers, each is positioned with different camera features. The Galaxy S7 has a lower resolution at 12MP but with a bigger aperture of f1.7. On the other side, Xperia Z5 offers 23MP and f/2.0 lens.
In terms of quality, the S7 camera performs slightly ahead in colors with a warmer approach but is softer and less detailed in most shots. The Xperia Z5 has better detail handling but the noise level is more apparent.
Daylight in macro, HDR (High Dynamic Range) shooting
Low light and night shooting with flash
Selfie with front-facing cameras
See also: More detailed camera comparison against Xiaomi Mi5, Lumia 1020 and iPhone 6s
The camera is a pretty close fight between the S7 and Z5, but which one do you prefer?
Performance and benchmark
Packing a 4GB RAM and octa-core Exynos 8890 (Snapdragon 820 in other regions), the bigger RAM and faster CPU of the Galaxy S7 are its greatest advantages over the older Xperia Z5. The latter comes equipped with Snapdragon 810 octa-core and 3GB RAM.
But in terms of an actual speed test, we got a close fight in speed and performance. Though you can't go wrong on each hardware. S7 provided higher benchmark scores as expected.
Antutu Benchmark scores
Samsung Galaxy S7 with Exynos- 126314
Sony Xperia Z5 – 68563
Battery life and charging time
Now on battery, the Galaxy S7 features a bit larger juice at 3000mAh and Xperia Z5 with 2900mAh. We could easily squeeze out a day of usage from each with the latter lasting a few hours more than the S7 in our PCMark test.
Charging the Galaxy S7 using its fast adapter takes 1h 30mins while the Xperia Z5 is filled from 0 to a 100 in 2 hours with its non-quick charge adapter.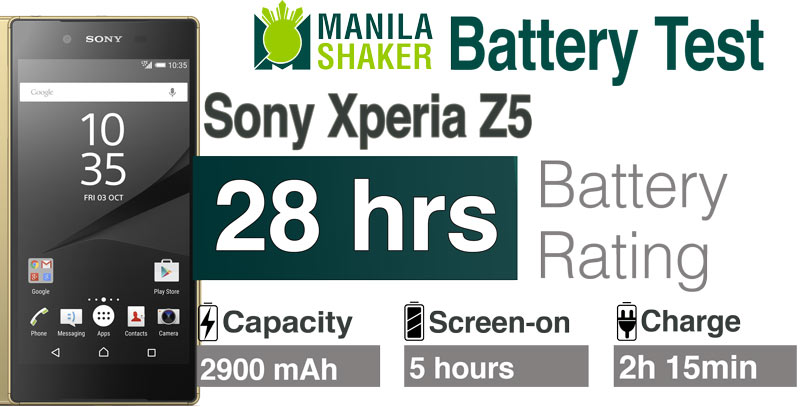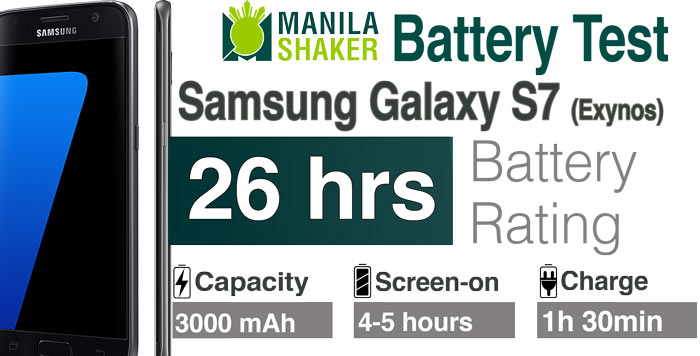 Speaker and audio
With a single speaker, the Galaxy S7 produced a slightly powerful bass and louder audio output. The front-facing stereo speakers on Xperia Z5 is slightly underpowered but has good vocals control.
Verdict and Value
In closing thoughts, the Galaxy S7 has a few advantages to the Xperia Z5 such as the more capable hardware. But all in all, the Xperia Z5 still felt a strong contender despite it was released half a year earlier. Of course, we will be doing another match up when the Xperia X Performance is released.
For the meantime, I can say that Sony Xperia Z5 is still worth the money especially if you could get it at a bargain price. The Galaxy S7, on the other hand, is a good start for any premium upgrades, of course, for a few thousand pesos more.
Galaxy S7 vs Xperia Z5 Ultimate Comparison Video


| | | |
| --- | --- | --- |
| Specs, PH Price | Samsung Galaxy S7 | Sony Xperia Z5 |
| Display | 5.1-inch QuadHD Super AMOLED, 577 ppi, Gorilla Glass 4 | 5.2-inch 1080p IPS LCD, 428 ppi, Scratch Resistant |
| Size | 7.9m thick, 152g weight | 7.3mm thick, 154g weight |
| Design | 2.5D Curved Glass + Metal, IP 68 Water and dust resistance | Metal + glass, IP 68 Water and dust resistance |
| Colors | Gold, White, Black, Platinum Silver | Gold, White, Black, Green |
| Chipset & CPU | Exynos 8890 octa-core | Snapdragon 810 octa-core |
| Graphics | Mali 880MP12 graphics | Adreno 430 graphics |
| Memory | 4GB RAM, 32GB storage, microSD up to 200GB | 3GB RAM, 32GBGB storage, 200GB max microSD |
| Camera | 12MP main, f1.7 lens, Optical Stabilization, 4k video, LED flash | 23MP main, f2.0 lens, Steady Shot Hybrid Stabilization, 4k video, LED flash |
| Selfie | 5MP selfie front-facing, f1.7 | 5MP selfie front-facing, f2.0 |
| Connectivity | 4G dual LTE nano SIM (hybrid), WiFi ac, Bt 4.1, GPS, fingerprint scanner | 4G dual LTE nano SIM (dedicated), WiFi ac, 4G LTE, Bt 4.1, GPS, fingerprint |
| Software | Android 6.0 Marshmallow, upgrade to 7.0 Nutella | Android 6.0 Lollipop, up to Nutella |
| Battery | 3000mAh, Qi wireless charging, Quick Charging | 2900mAh, Quick Charging |
| Ports, quick charge | microUSB | microUSB |
| Release date | March 2016 release date | October 2015 release date |
| Price | Php34k price in the Philippines / $760 | Php28k-34k price in the Philippines / $600 |