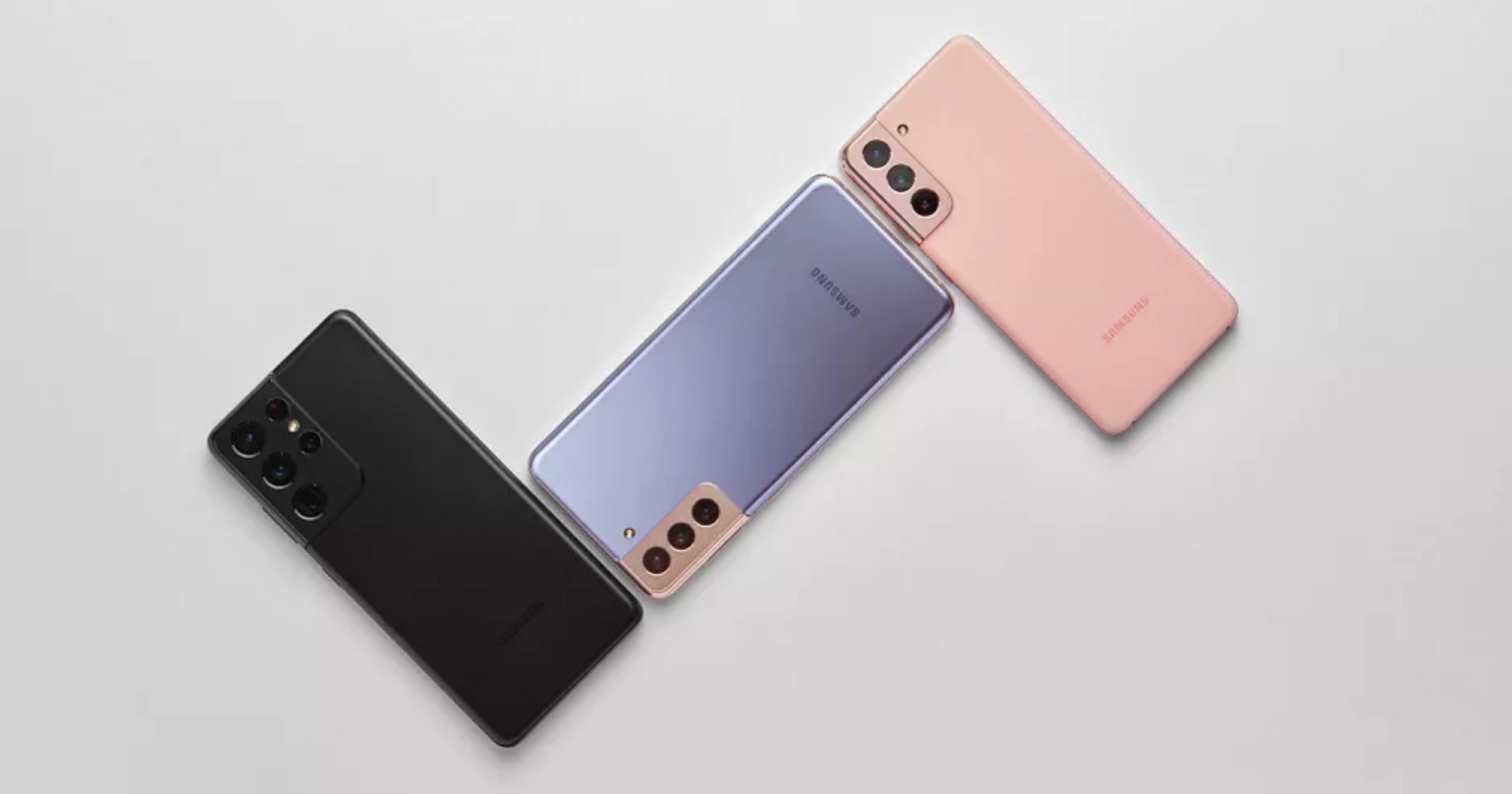 Now Samsung Galaxy S21 Series is out in the wild; we can finally take a look at the 2021 flagship lineup from the South Korean company and judge them with no reservations. And, can they justify their "new" price tags? In this article, we're going to talk about the cost of owning a Galaxy S21, the pre-order freebies that they come with, and if they are worth pre-purchasing or not.
Is the Galaxy S21 Series Cheaper?
Talking about price, let's start with that. If you've seen and read coverage from international outlets, you may have noticed them saying the Galaxy S21 Series is cheaper than the Galaxy S20 Series. 
In the US, Samsung Galaxy S21 and S21 Plus start at $799(~Php38,300) and $999(~Php47,900), respectively, while the Galaxy S21 Ultra starts at a whopping $1,199(~Php57,600). In the Philippines, here's how they look like:
S21 – 8GB/256GB – Php47,990 / $799(~Php38,300)

S21 Plus – 8GB/256GB – Php57,990 / $999(~Php47,900)

S21 Ultra – 12GB/256GB – Php69,990 / $1,199(~Php57,600

S21 Ultra 16GB/512GB – Php79,990
To be fair, US prices pertain to the base model of the S21 lineup. But then again, I don't think the additional 128GB storage is worth the asking price of Php10,000. To see the true difference in pricing, let's check how much the Galaxy S20 launched last year in the Philippines. 
S20 – 8GB/128GB – Php49,990

S20 Plus – 8GB/128GB – P55,990

S20 Ultra – 12GB/128GB – Php69,990

Seeing the price from last year, the Galaxy S21 Series is indeed less expensive than last year's models by Php2,000 (except for the S21 Ultra). However, they are still significantly more expensive than US pricing. But then again, we still have to take note of import fees and taxes. Perhaps, the pre-order bundle would make it more enticing?
Galaxy S21 Series Pre-Order Freebies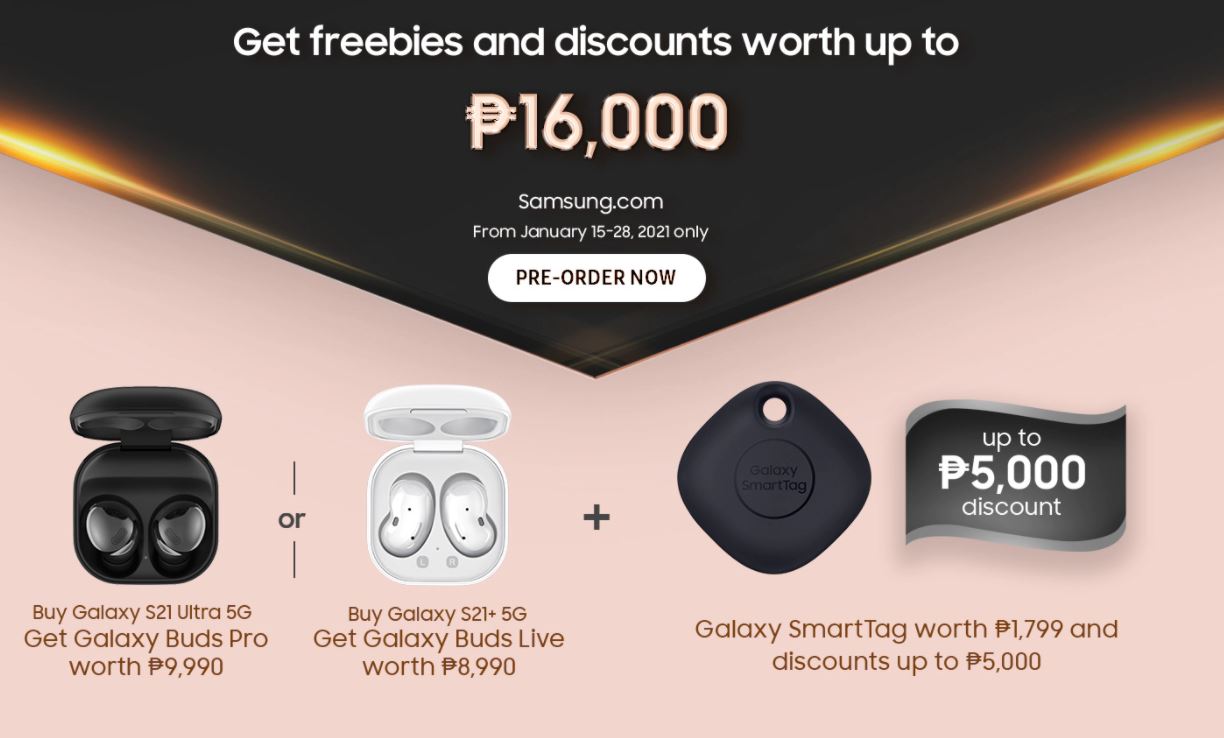 If you're planning to get the Galaxy S21 on pre-order, the only thing you're getting is a free 4-month YouTube Premium service. Looking at Samsung's website, there's no indication of free items for it. But if you're opting for either the S21 Plus or S21 Ultra, you can get up to a Php16,000 discount.
Starting with the Galaxy S21 Plus, those who will pre-order will get a Galaxy Buds Live worth Php8,990 and the new Galaxy SmartTag worth Php1,799. And if done through full cash payment, there's an additional Php3,000 discount. In total, that's already Php13,789 "savings." 
If it's the Galaxy S21 Ultra, other than the SmartTag, you now get the new Galaxy Buds Pro worth Php9,990 and an additional Php5,000 discount for full cash payment. In total, that's about Php16,789 discount. 
Upon purchase of a Galaxy S21 Plus, the total price of the device is Php42,201. As for the Galaxy S21 Ultra, it's at least Php53,201 regardless of the memory size. 
What Are Your Alternatives?

Assuming you have Php42,000 to spend, taking the freebies out of consideration, that will barely get you the iPhone 12 Mini with 64GB storage at Php43,990. Lenovo Legion Phone Duel is available for only Php39,995, but that means sacrificing camera quality. Vivo X50 Pro is also available for almost the price as the Legion gaming phone, but you're getting a premium mid-range experience. 
For a budget of Php53,201, you can at least get the iPhone 12 128GB model for Php52,990. If you want to stick with Android, the Mate 40 Pro is available for Php55,999, but it's more expensive, older, and lacks Google services. The same goes for OnePlus 8 Pro at Php45,990 but with Google support. If you want to stick with Samsung, Note 20 with a plastic body and outdated spec sheet, at least when compared to the S21 Ultra, is available for Php53,990.
Among the alternative solutions that we just mentioned, it seems like only the iPhone 12 128GB offers a decent option. You may not be getting the best Android phone, but you're getting a more powerful iPhone device that lasts at least 4-5 years. However, it's hard to pass up the pre-order bundle from Samsung. You probably don't need most of the accessories, but you always have the option to re-sell them separately. 
If you're interested, you can pre-order your Galaxy S21 phone here.