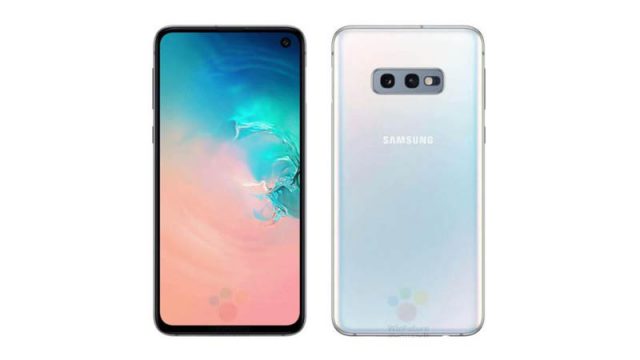 Along with the leaked images of the Samsung Galaxy S10 and S10 Plus comes a new set of images showing the compact and smaller Galaxy S10E. It also confirms that Samsung will use the S10E model name rather than the S10 Lite.
READ: Samsung Galaxy S10, S10 Plus, S10E series specs, pricing, variants
On the images, the Galaxy S10E features dual camera at the back while the front has a single selfie camera holed on the right side of the screen which is similar to the Galaxy S10 standard.
The fingerprint scanner is also missing on the back and we could predict that Samsung might incorporate an Under Display reader or a side-mounted one. We can confirm this once the trio is official.
Other leaked specs include a Snapdragon 855 chipset, 4GB RAM, 128GB storage, and 3100mAh battery. Meanwhile, pricing is estimated at $700 and will compete with the iPhone XR.
Samsung Galaxy S10, S10 Plus, S10 Lite full specs, release date, and pricing in the Philippines
| Model | Samsung Galaxy S10E or S10 Lite | Samsung Galaxy S10 | Samsung Galaxy S10 Plus |
| --- | --- | --- | --- |
| Display | 5.8-inch Full HD+ | 6.1-inch Quad HD+ | 6.4-inch Quad HD+ |
| Design | Infinity-O all-screen, Gorilla Glass 5 and metal, IP67 waterproofing | Infinity-O all-screen, Gorilla Glass 5 and metal, IP67 | Infinity-O all-screen, Gorilla Glass 5 and metal, IP67 |
| CPU | Snapdragon 855 processor, AI neural processing unit | Snapdragon 855 processor, AI neural processing unit | Snapdragon 855 processor, AI neural processing unit |
| GPU | Adreno 640 graphics, Gaming Mode | Adreno 640 graphics, Gaming Mode | Adreno 640 graphics, Gaming Mode |
| RAM | 4GB | 6GB | 8GB, 12GB (5G model) |
| Memory | 128GB storage | 128GB, 256GB | 128GB, 256GB, 512GB (5G variant, 1TB (5G variant) |
| Camera | 12MP variable aperture sensor + 16MP wide | 12MP variable aperture sensor + 16MP wide + 13MP telephoto | 12MP variable aperture sensor + 16MP wide + 13MP telephoto |
| Selfie | 8MP front | 8MP front | 8MP + 5MP front |
| Connectivity | Bluetooth 5.0, 4G LTE-A, NFC, GPS, USB Type-C | Bluetooth 5.0, 4G LTE-A, NFC, GPS, USB Type-C | 5G, Bluetooth 5.0, 4G LTE-A, NFC, GPS, USB Type-C |
| Security | Side-mounted fingerprint sensor | In-Display fingerprint sensor | In-Display fingerprint sensor |
| Battery | 3100 mAh, Quick Charge 4.0, Wireless Charging | 3500 mAh, Quick Charge 4.0, Wireless Charging | 4000 mAh, Quick Charge 4.0, Wireless Charging |
| Audio | Dual Speakers | Dual Speakers | Dual Speakers |
| Colors | Black, White, Blue, Green, Yellow | Black, White, Blue, Green | Black, White, Blue, Green |
| Release date | March 2019 availability in major countries including the Philippines | March 2019 availability in major countries including the Philippines | March 2019 availability in major countries including the Philippines |
| Price | $700 (est.) or P35,000 before taxes | $800 (est.) or P40,000 before taxes for base model | $900 (est.) or P45,000 before taxes for base model |