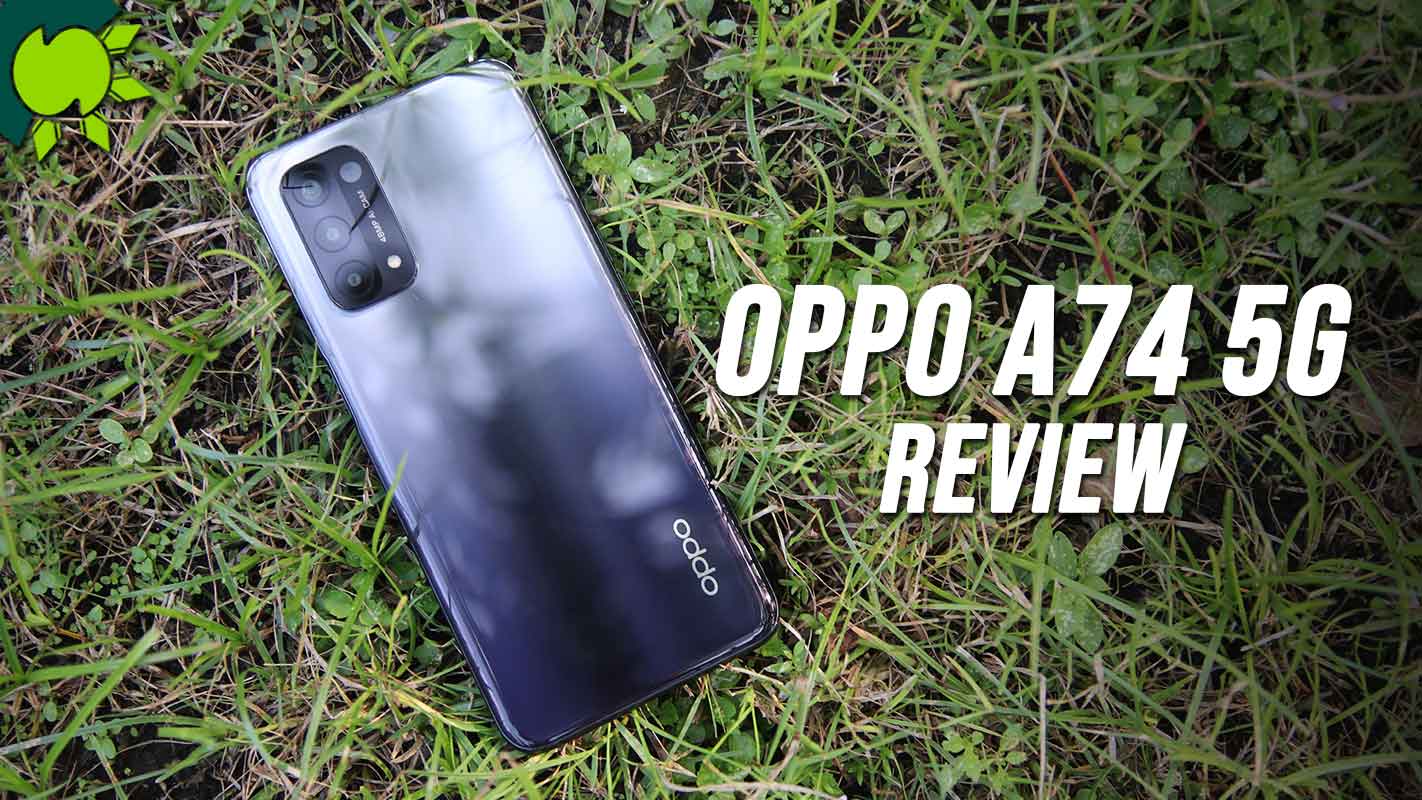 The higher OPPO A74 variant is an affordable 5G midrange phone from OPPO. It comes with the cherry on top 5G but it has ups and downs that can decrease its price value. It has to upgrade then downgrade some specs to pack the 5G chipset inside, but there's still another upside even some specs are compromised and upon reviewing our unit it's quite a performer. Read our review to learn more.
Pros
Affordable 5G mid-ranger
90Hz smooth scrolling
Battery optimization
Processor is quite powerful
Cons
1080p video recording only
slower charging speed
lesser ram option
READ: A Flex-worthy $2,890 Louis Vuitton Horizon Light Up Speaker
Design
The design of the OPPO A74 5G is very similar to the non-5G version with simple and minimalist vibes. It has a glossy finish on its plastic back that attracts fingerprint smudges. They could've opted for the matte or sandblasted texture to have more aesthetic.
The body of the OPPO A74 feels chunkier compared to the non-5G but it has a solid feel to it and only weighs 190 grams. It has an 8.4mm thickness which is still slimmer than the Redmi Note 10 5G, while the OPPO A74 4G variant is much slimmer and easier to hold. You might want to use a case to add grip as it is smooth, slippery and to cover the back due to smudges all over the place.
The overall look is fairly good looking despite the heftiness, and the camera bump is simple and neat at the same time. All components of its cameras are inside the module including the led flash and the four lenses and to be honest, it's acceptable on my standard.
This slideshow requires JavaScript.
Around the frame, unlike the 4G version that has an under-the-display sensor, the OPPO A74 5G has it integrated inside the power button as it is only in IPS LCD rather than AMOLED display. On the right side are the volume rocker and sim tray with two nano sims and a micro-sd card slot that can expand up to 256GB. It has nothing on top but at the bottom, it has a 3.5mm headphone jack, microphone, USB Type-C port, and a single down-firing speaker. The speaker produces a very loud sound and it gets distorted at max volume but fairly good at 80%. I used to listen to its loudspeaker at 40% volume all the time as it is so loud after 50%.
READ: Samsung M12 Review – Affordable 8nm Chipset, Can it Game?
Display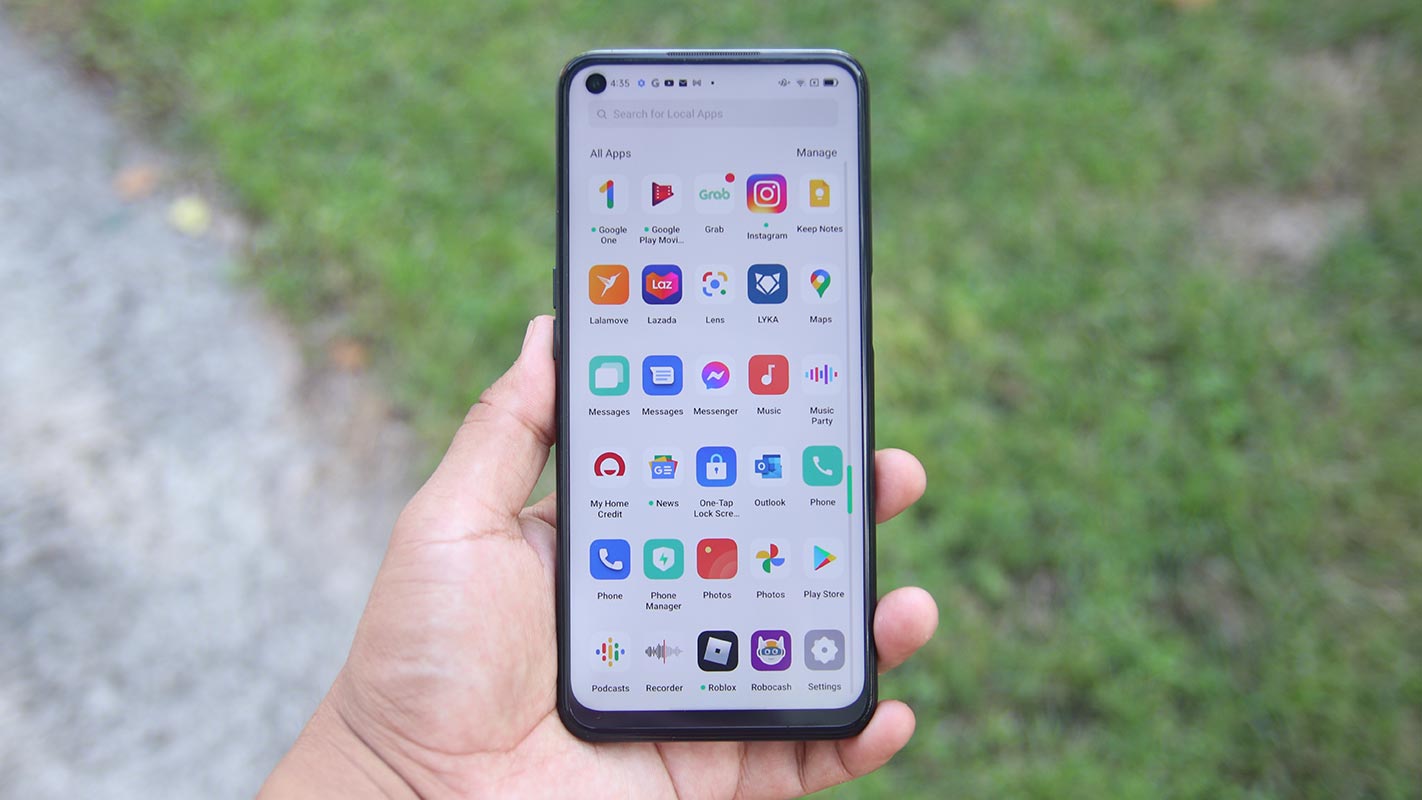 Moving on to its display, OPPO A74 5G boasts a large 6.5-inch IPS LCD with FHD+ resolution and 90Hz screen refresh rate. Like I said earlier, the display is downgraded to IPS from AMOLED of the non-5G variant. But it compensates for a higher refresh rate that adds visually pleasing animation when scrolling through social media feeds and some apps. It has a high screen-to-body ratio with minimal bezels but it has a thick prominent chin. The body is quite bulky as well giving it a less impressive overall look. The upside is the punch hole cut out is on the left side of the screen which isn't noticeable when watching in landscape mode.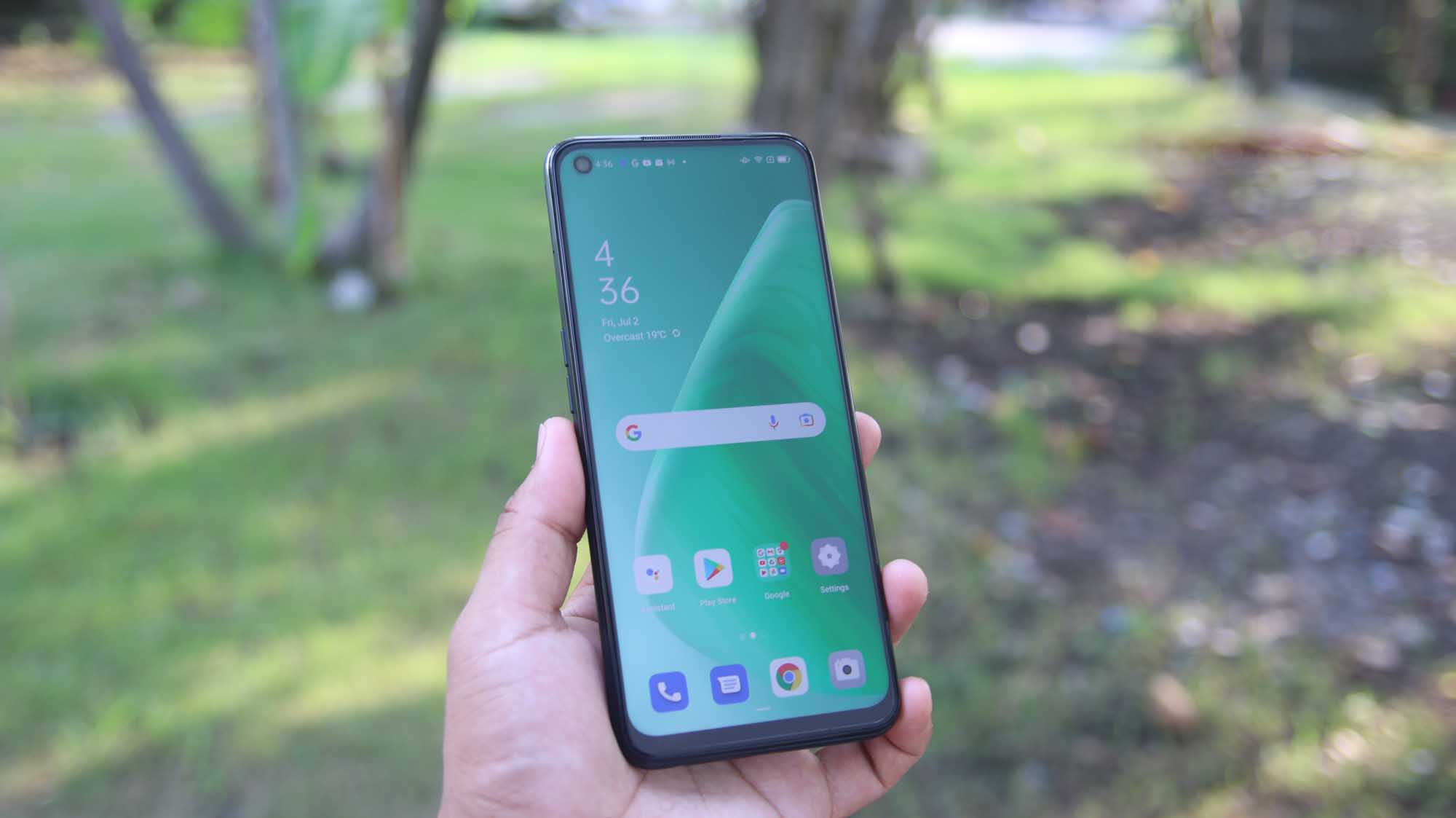 For its display quality, it has a very bright screen and there's no problem using it outdoor even in direct sunlight. The colors are near to natural while sharpness is tactile sharp due to FHD+ resolution and a high 405 PPI. The contrast is not a problem at all, and the UI feels premium thanks to the 90Hz.
This slideshow requires JavaScript.
Moving to the display settings, It has the dark mode feature for reducing brightness but this includes the option to enable eye comfort feature to reduce eye strain with screen color temperature adjustment. By default, the color temperature is cooler but it even looks premium in a warmer tone. The downside however there is no auto mode in the refresh rate which will affect the battery performance.
READ: Realme 8 Pro vs Galaxy A52, Reno 5 4G Comparison – Which has the best value for its price?
Camera
The OPPO A74 5G has four rear lenses consists of 48MP f/1.7 Main cam, 8MP Ultrawide, and 2MP for both macro and depth. They added the Ultrawide lens on this 5G variant as the non-5G only has a triple camera.
This slideshow requires JavaScript.
Moving to the quality, the main cam outputs great color reproduction, it has true to life color, white balance is on point, and it has tactile sharpness thanks to the 48MP sensor. Blacks are fine, it still preserved details while the shadows are soft which is a good sign, however, it tends to capture an overexposed shot or overblown highlights. It can be fixed by capturing HDR images to balance the overall exposure and since HDR processing fix shadows and highlights, it lifts the shadows more and it means it will also increase image quality.
This slideshow requires JavaScript.
Moving to nighttime shots, OPPO A74 5G tends to struggle to capture fast-moving objects and it has a tiny delay when clicking the shutter button. By means, you have to wait 1-2 seconds before you move the phone after capturing nighttime images to prevent motion blurs. The output is just acceptable but it struggles at very low light scenarios resulting in unwanted grains and noise. Shooting with night mode will generally lift some exposure or will balance the overall image but at the acceptable range only.
This slideshow requires JavaScript.
Switching to Ultrawide lens, colors are great and true to life however it's quite a downer and it struggles to capture with a lesser light source, especially at night time. The output is quite soft as well and there are grains here and there.
This slideshow requires JavaScript.
Lastly, the macro lens is just fine, it only has a fixed focus and it can capture subjects at 4cm apart from the device. It introduces grains whenever the scenery has lesser light but with decent lighting, it fairly outputs acceptable images. Not the best but it still has details which the main lens cannot achieve.
This slideshow requires JavaScript.
Switching to selfies, the OPPO A74 5G has a 16MP front camera inside its punch-hole cutout. Be aware when capturing with bright skies in the daytime as it will mainly focus to give exposure to the subject's face which will overblown highlights. Using HDR more will still make the selfie look unnatural. While capturing at night time, sharpness is still great and the image still looks bright with a compromise to the skin tone's color.
This slideshow requires JavaScript.
But OPPO really proves that they still have impressive selfie qualities. When the output doesn't have drastic highlights, it will output balance images. The colors, especially the skin tones are true to life as well while the shadows are well lit which provides better details and flattering selfies. Meanwhile, the subject to background separation is quite accurate and it looks natural.
This slideshow requires JavaScript.
For the camera features, we know OPPO for being a selfie expert and it turns out it has a feature to enable video call beautification and that adds gimmick but easy video calling without an overprocessed look on your face. The downside for me, however, is the limitation of its chipset to record a video. It only records up to [email protected] and cannot record videos in ultrawide which is quite a bummer. The upside is it has a slight UIS feature even without an ultra steady feature. Other features include slow-mo, expert mode with 32-second shutter and 6400 ISO setting, video beautification, Extra HD, and night mode on ultrawide lens.
READ: Logitech G335 Review –  A Great Investment for your Streaming Setup
Performance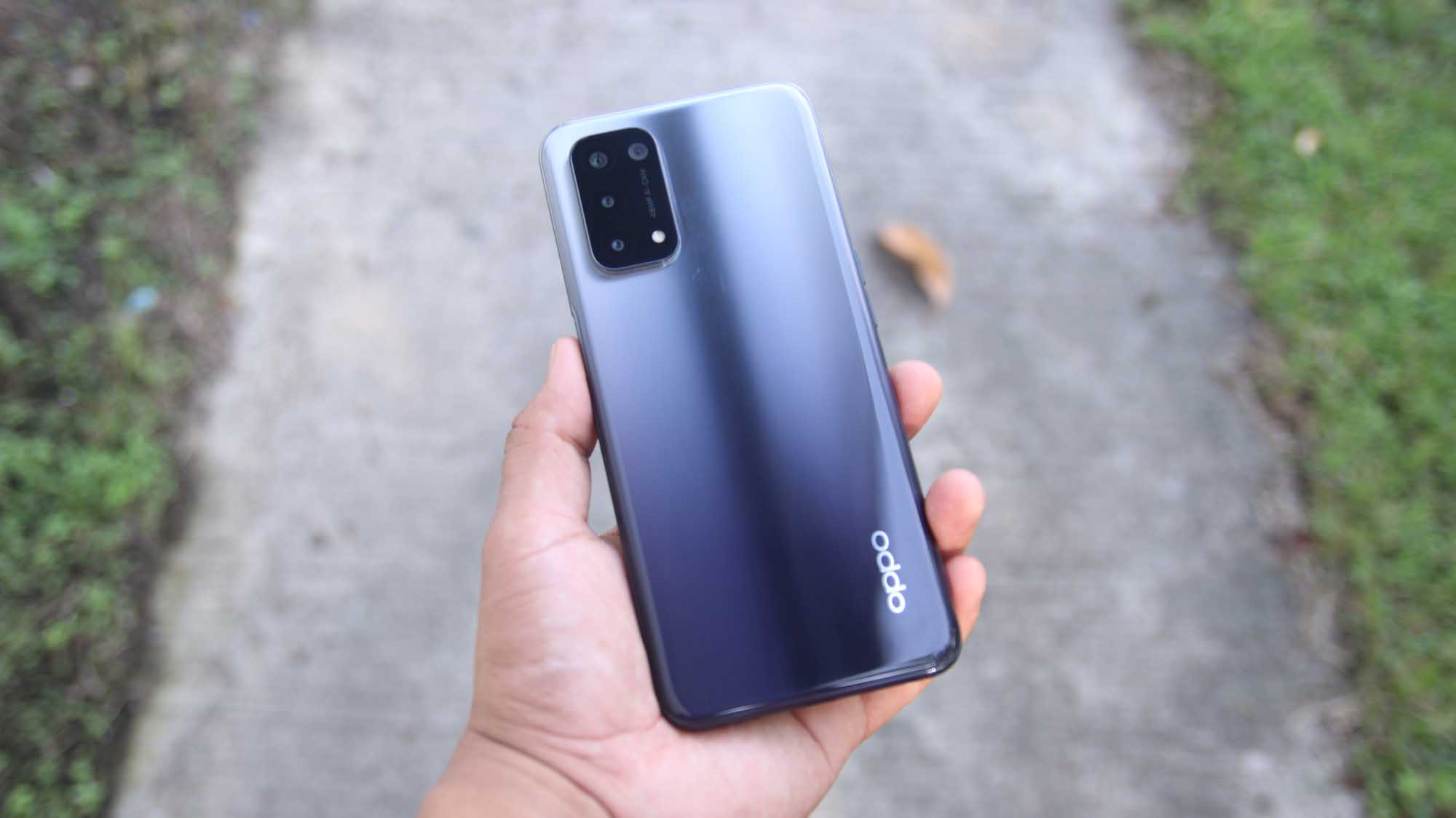 When it comes to performance, I am really confused about how Qualcomm named their chipsets. The OPPO A74 5G is equipped with Snapdragon 480 5G processor with an 8nm architecture.
This slideshow requires JavaScript.
At first glance, it has a lower number compared to this year's processor but for comparison, the Snapdragon 480 5G is almost on par with the 720g's battery efficiency, with a little less in CPU and Gaming performance. But the Snapdragon 480 5G is more powerful than the Snapdragon 662 as it is using a higher-end GPU.
The chipset is quite a performer as we tested its gaming prowess at high-performance mode. It can handle some Genshin impact and Honkai impact but it is best on MOBA and FPS games such as Mobile Legends and Wildrift with almost no stutter and up to 99-100% stability running at 60fps. The downside is, it only has one ram configuration, a 6GB of ram with 128GB of internal storage. Compared to other mid-rangers on the market, it lacks another 2GB of ram but thankfully the storage is UFS 2.1 and it has a fast launching time.
This slideshow requires JavaScript.
Speaking of, the OPPO A74 5G is running on the latest Android 11 with Color OS 11.1 on top. Launching apps and games is smooth and navigating through the UI is lag-free. It is still a multitasker even with 6GB of ram. It also has a lot of optimization and power-saving option in the battery settings. It even has a balanced mode on game space and features a lower resolution to save power. It's a relief as we don't get an auto mode in refresh rate.
READ: Realme Watch 2 Pro Review – A Premium Companion from Realme
Battery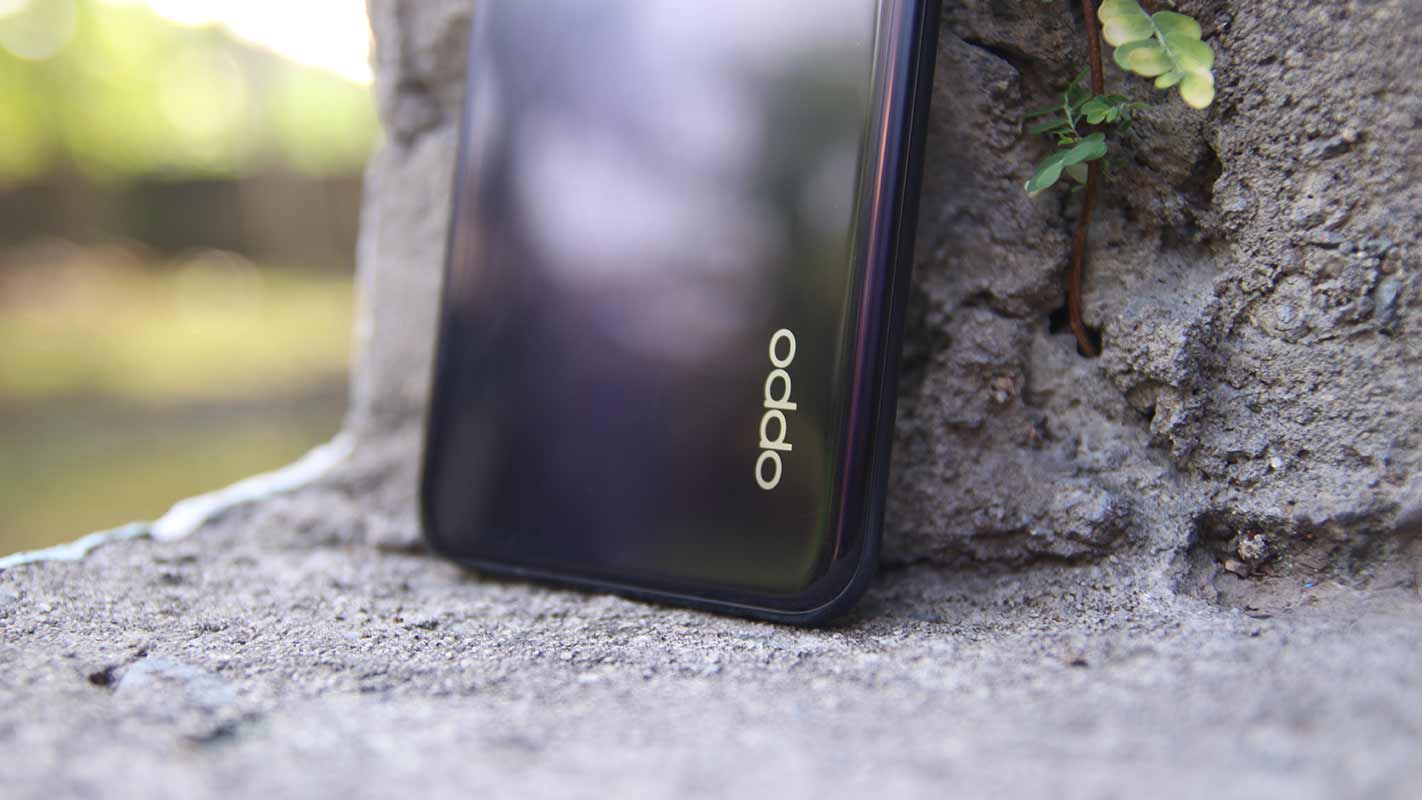 The 5000mAh can last a day or so with moderate use and 90Hz turned on, but it has a fast-draining performance that doesn't compensate for the 8nm chipset. As I said above thankfully it has a lot of power-saving options which will add a little more juice to the large battery before it drains out. As for charging it only has an 18W charging capability and this is one of the downsides in the specs to achieve the 5G connectivity. It has a 2hrs charging which is doubled the time of last year's mid-ranger with 30W charging capability.
Verdict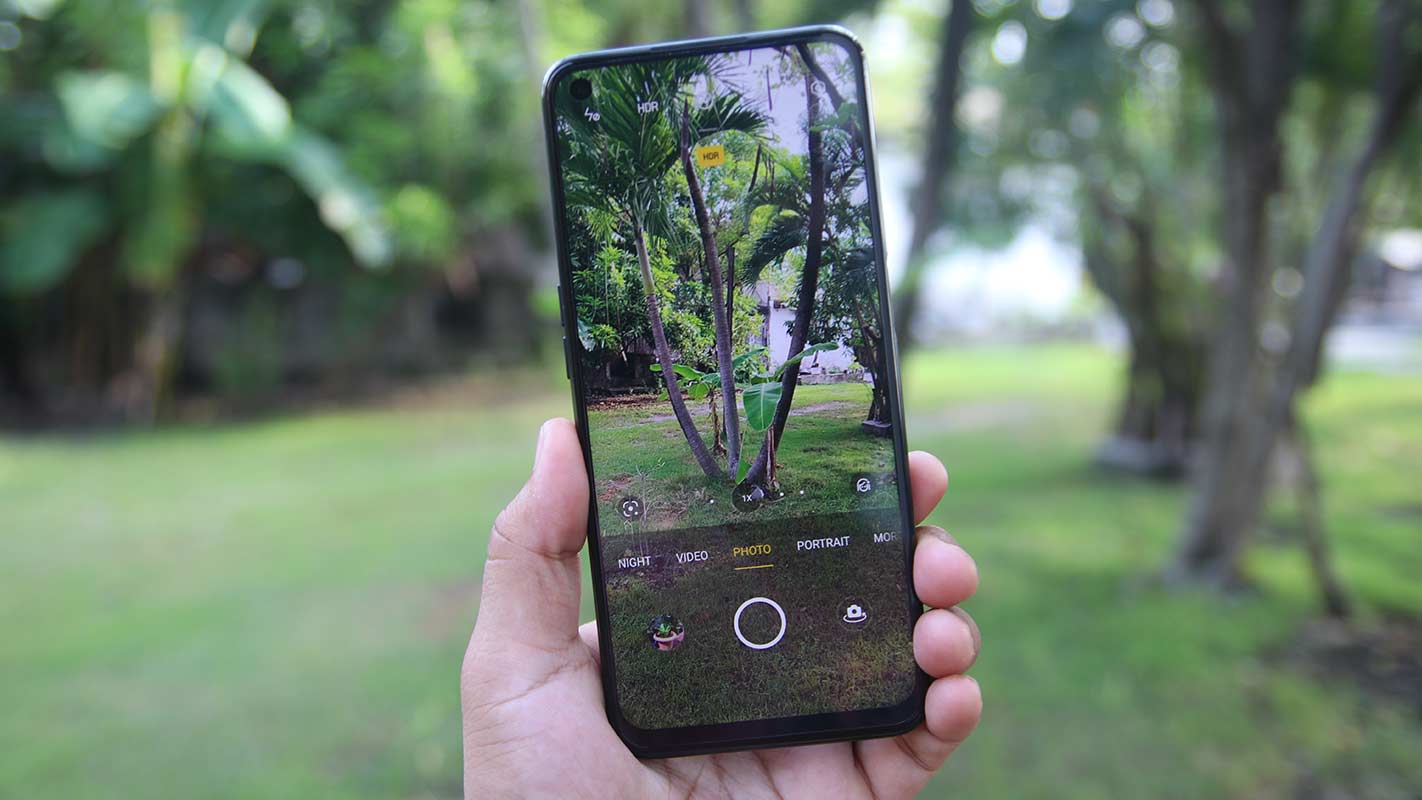 The OPPO A74 5G is priced at P15,999 for the 6GB ram and 128GB internal storage. It is now available in OPPO's official e-commerce platforms–Shopee and Lazada or on a smart signature plan.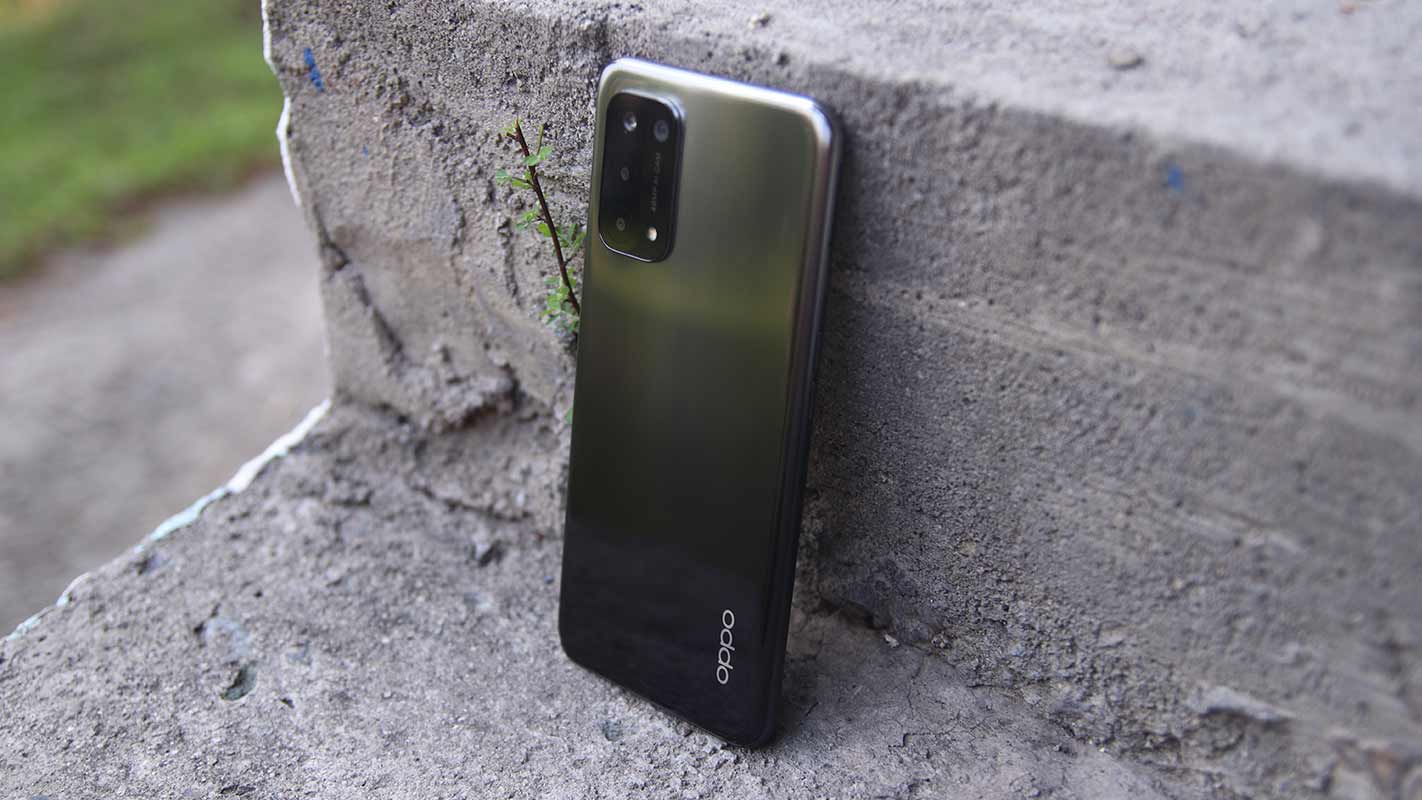 The Snapdragon 480 5G is nearly on par with the famous midrange chipset–Snapdragon 720G, however, it has a lesser ram with no other configuration, and charging time isn't that impressive. But despite these downsides, we can always see that there is no perfect phone right now that has the best specs while having a cherry on top 5G at a much cheaper price. It's a hard decision if you want a phone with fast charging capability, but nonetheless, if you want to experience 5G, fast refresh rate, and a powerful chipset for the price, OPPO A74 5G is one of the choices.
READ: OPPO Reno 6 5G Unboxing and First Impression