Mitsubishi Motors Corporation (MMC), Mitsubishi Motors Philippines Corporation (MMPC), and the Manila Electric Company (Meralco) unveiled its electric vehicle (EV) quick charging station at the Department of Environment and Natural Resources (DENR) Central Office in Quezon City held last February 15.
The charging station was donated by MMPC in fulfillment of its role in the reduction of environmental pollutions following a grant of 10 EV units from MMC from its Mitsubishi i-MiEV and Outlander PHEV (Plug-in Hybrid Electric Vehicle) lines.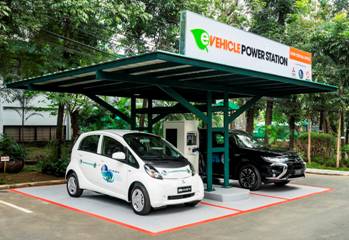 The i-MiEV is Mitsubishi's five-door hatchback electric car, while the Outlander PHEV is the world's first plug-in hybrid electric vehicle mid-size SUV.
"We are already working with the DENR to conduct a study on how to reduce carbon emissions through the use of electric vehicles. The creation of a charging infrastructure is a crucial step in enabling the market growth of electric vehicles in the Philippines," said MMPC President and CEO Mutsuhiro Oshikiri.
Other EV charging stations lined up for installation at the DENR offices in Cebu and Davao, as well as the DTI office in Makati City, have also been donated by MMPC.
The car manufacturer has been at the forefront of EV development and was the first to bring in a pure electric car in the country. MMPC's engagement with the DENR and DTI is just one of EV proliferation activities with various other Philippine government agencies and the private sector, including Meralco, in recent months.
"Our partnership with the Philippine government provides a clear demonstration of how we at MMC and MMPC are working together with policymakers to encourage the adoption of cleaner fuels and to reduce CO2 emissions," Oshikiri added.
Recognizing Meralco's prominence in the power space, MMPC commissioned Meralco's subsidiary, MSERV, to construct the EV charging stations equipped with CHAdeMO quick charging technology.
The contraction comes from the Japanese phrase O cha demo ikagadesuka, which translates to "How about a cup of tea?", in reference to the time, it would take to charge the car.
"Meralco prides itself for being the country's premier energy trailblazer, so we are quite honored that Mitsubishi Motors has chosen us to be their partner of choice in providing power innovations at the DENR and DTI," said Meralco Senior Vice President and Head of Customer Retail Services and Corporate Communications Alfredo S. Panlilio.
A proponent of energy innovation, efficient use of power resources, and sustainable green technologies, Meralco has been pushing for wider use of EVs in the country in response to ecological and economic demands.
The partnership between Meralco, MMC, and MMPC is a clear validation of the companies' continued leadership in expanding the use of electric vehicles in the country and their attention to environmental advocacy.