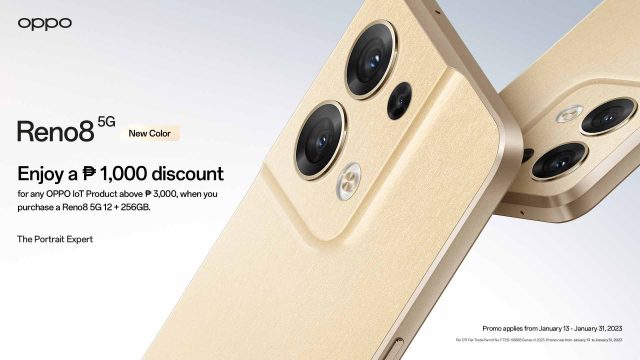 Any OPPO users around there? This month of January, OPPO, a global leader in smart devices, is offering unique IOT discount codes with the purchase of every OPPO Reno8 5G 12+256GB or any OPPO smartphone.
Let OPPO's new year's promotion equip you with the tools you need to achieve your resolutions, work more efficiently, and relax more effectively, whether that's a smartwatch, earbuds, or a tablet.
If you buy the OPPO Reno8 5G 12+256GB, the newest member of OPPO's Reno8 series of smartphones, you'll get the most considerable discount on OPPO IOT devices ever offered in this promotion. 
Glossy and fingerprint-resistant Sunkissed Beige is the new color choice for the OPPO Reno8 12+256GB, which also features an increased RAM of 12GB and a larger ROM of 256GB. This allows for a more refined and polished experience than the first release of the OPPO Reno8 5G. 
Capture more memories with more excellent storage and less downtime to better organize your life! Pretty impressive, right?
More OPPO Discounts
It doesn't stop there because you can get an additional ₱1,000 off any IOT gadget costing more than ₱3,000 when you purchase a new OPPO Reno8 5G 12+256GB. You may get a new mobile phone to kick off the new year, along with other great OPPO products like the ultra-thin OPPO Pad Air, the durable OPPO Band 2, the fun and affordable OPPO Watch Free, the versatile OPPO Enco X2, and so much more!
Customers interested in other OPPO smartphones can get a ₱700 discount ticket for any purchase of an IOT product worth more than ₱3,000 or a ₱500 discount voucher for any IOT gadget costing less than ₱3,000. You can pick up a brand new set of OPPO IOTs like the Enco Buds first release, Enco Buds 2, Enco Air, or even a smartwatch like the OPPO Band.
Upgrade to an OPPO smartphone for optimal performance with the help of IOT accessories designed to work in tandem with it. These deals are only valid through January 31, 2023, so don't waste any time and go to the nearest OPPO Brand shop or authorized reseller!
Visit https://www.oppo.com/ph/ or OPPO Philippines' official Facebook, YouTube, and TikTok pages to learn more about OPPO smartphones and IOT products. 
Also, visit an OPPO Care Center or get in touch through the OPPO website or Facebook for top-notch service for your OPPO products.