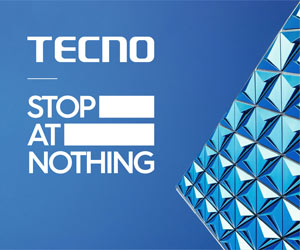 Dito Telecommunity has been in the game since last March 2020, despite the pandemic they've managed to make their first-ever international phone call and video chat. By July 2020, the DITO network core was put into place, and by October of the same year, 2,360 signal towers have been constructed. Their first 5G technical calls were made also in the same month. Friendly User Tests were completed by December 2020 up until February 2021, because of this, they've officially launched their network to the public last May 17, 2021, and introducing their first promo including a 25GB high-speed data connection.
Coverage
With over 2,360 signal towers that were constructed last year, Dito Telecom has enough range of signal coverage all over the country. In Luzon, they have covered most places going north and south of Metro Manila, in the Visayas area, they have only coverage on Cebu, while in Mindanao they have Davao Del Norte, Davao De Oro, Davao Del Sur, and South Cotabato area. Looking at their website, the list of their network coverage keeps on updating from time to time and hopes to cover the whole country someday.
READ: DITO Telecommunity Officially Launches In NCR
Speed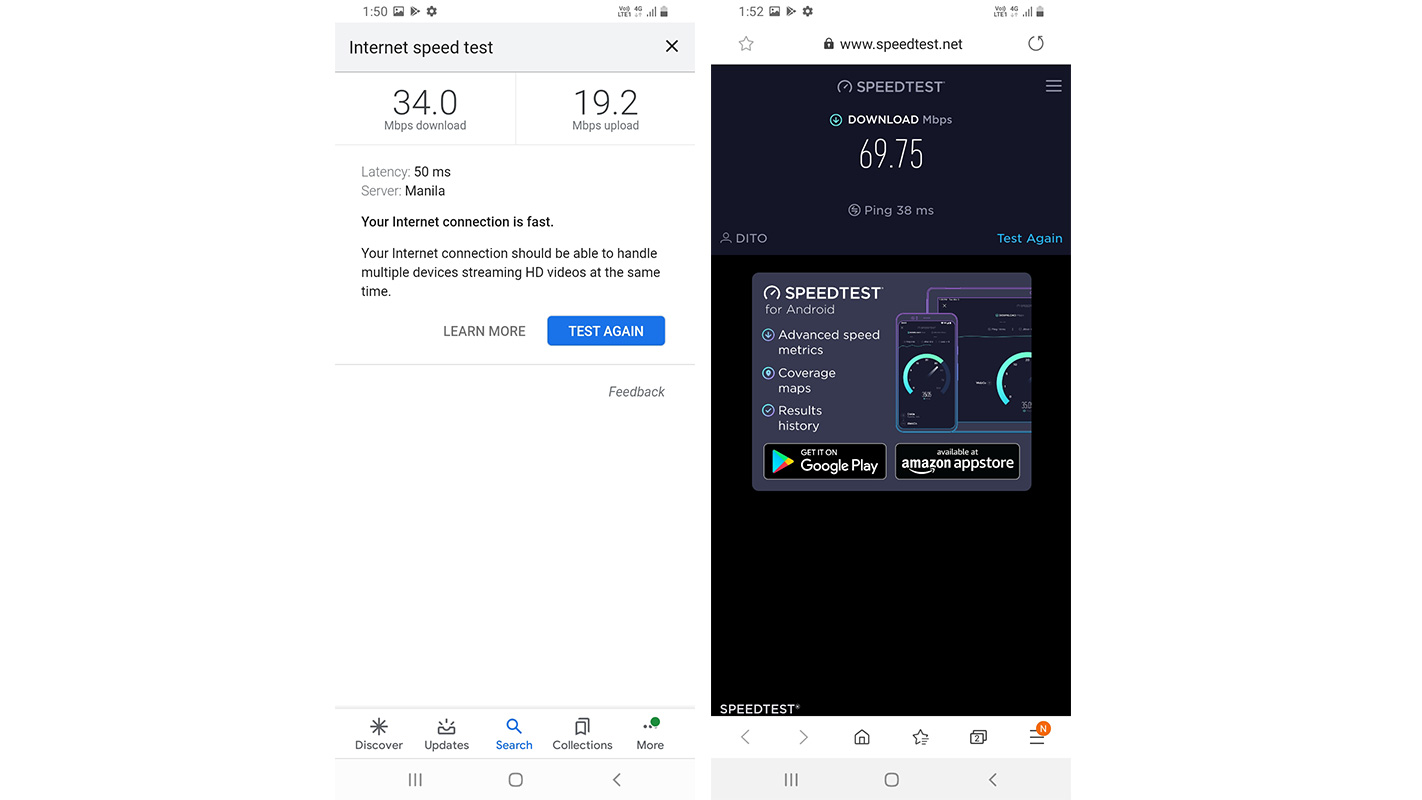 With their official launch last May 17, 2021, they've introduced to us their 25GB high-speed data connection promo together with unlimited texts to all networks and 300 minutes of calls. I tried testing its data connection to some online speed tester and it actually gave some pretty good results. I tested it on both Google Speed Tester and Ookla Speed Test, and as expected, they both got some promising numbers. The data connection is indeed pretty fast, no stutters or lags happened as I surf the internet and social media, no buffering as well when watching videos. With these results, we can easily tell that their so-called high-speed connection won't disappoint its users.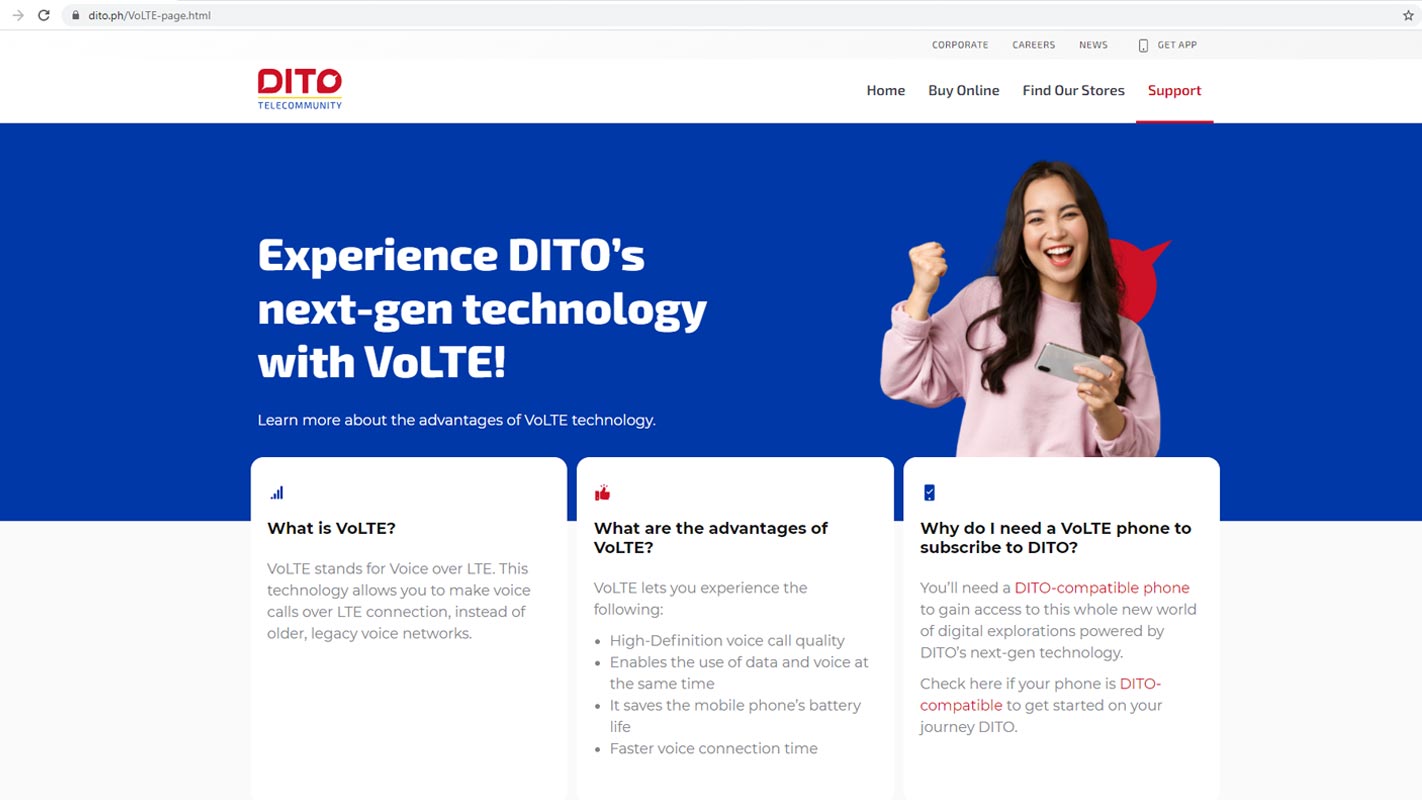 Dito Telecom also has a one-of-a-kind feature that only their users can experience: the VoLTE Technology, which stands for Voice Over LTE. This technology allows you to make voice calls over LTE connections instead of older legacy voice networks, giving you clearer and more stable connections.
READ: DITO Telecom stores spotted in SM malls, Opening in December 2020
Usage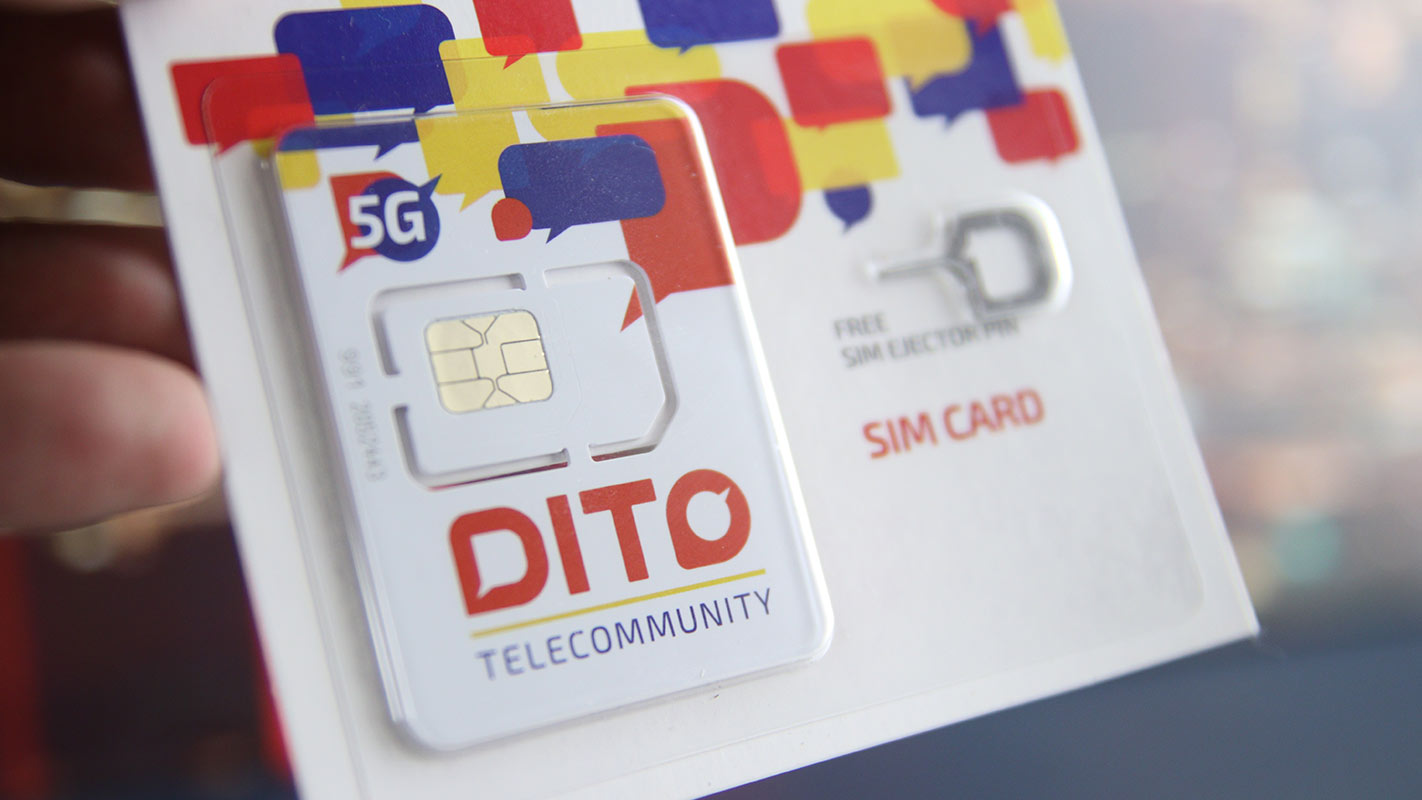 I've been using the Dito telecom sim card with a Samsung A02 because this is one of the compatible phones that I can use, take note that not all kinds of smartphones can be used together with the Dito sim card. Check out their website to know the list of compatible smartphones for this network.

Also, it already has a personal app where you can see everything you need to get started in using their network, the Dito app can be downloaded at the Google Play Store and Apple App Store.
READ: Dito Telecommunity granted with 25-year franchise by Congress
Upon activating your sim card to your phone and downloading the app. You'll already have their promo which includes 25GB of data for the internet, 300 minutes of calls, and unlimited texts to all networks that you can use for up to 30 days. This is their introductory promo, which is a great deal overall. One thing that I like about using its data connection is that it doesn't consume that much in your data cap unlike other network providers right now here in the Philippines, for example, I've watched a couple of movie trailers on YouTube, all in high resolution as well, and it only consumed about 1MB or less from my data cap. And having to consume it for 30 days, you will surely have your money's worth in it.

As I've explored the Dito app for a while, there are actually a lot of things you can do with the app, for instance, you can purchase load and promos using the app too and that's just one of the cool features that one can explore in the app.
READ: DITO Telecom may bring 200 Mbps internet speed, P799 starting price

And overall, I think that this newest network provider is worth trying out since this is what every prepaid network user could ask for, fast data connection, unlimited texts, clear reception of calls, and a cheap budget promo. So I would really recommend this to everyone and give it a try, who knows, this might be the network you've been looking for. If you're interested in trying out Dito Telecom, you can purchase their sim card at Lazada or Shopee for only P199 only or simply go to their website at www.dito.ph where you will also find a lot of information about the product on their website so better check it out.
READ: DITO Telecom Server Appears on Ookla Speedtest