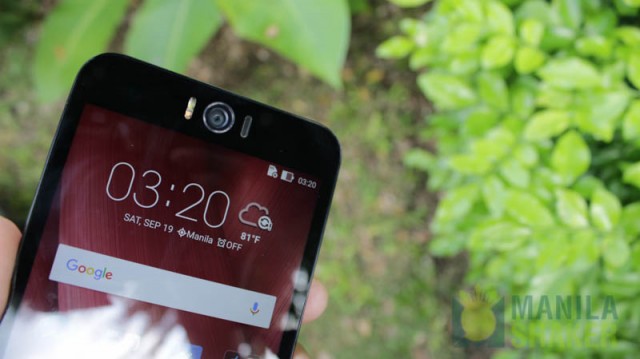 Selfie based smartphones are pretty rare in the market, only a few manufacturers
jumped on the bandwagon towards selfie city, yet, many still ignore the true power of selfies. One of the bandwagoners of the selfie trend is Asus, and thus they introduce the Zenfone Selfie. Recently launched a month ago, the Zenfone Selfie has all the opportunities in its grasp to deliver great camera capability to photo buffs and selfie lovers everywhere. The latter is currently priced at Php 11,995. Read further to know what we had to say on the Selfie shooting Zenfone Selfie.
Design and build
The Zenfone Selfie's design is pretty reminiscent of the Zenfone 2, in fact, the Zenfone Selfie felt like a camera focused version of the Zenfone 2, with the Zenfone Selfie, literally felt like the Zenfone 2, however, its not necessarily a bad thing, since Zenfone 2 users, would really feel at home with the Selfie and wouldn't experience any struggle with the Selfie's body handling overall.
The Zenfone Selfie, much like the Zenfone 2 features a 5.5-inch display screen, a metal bezel, a curved plastic back and some rear mounted buttons. Nothing much has changed on Zenfone Selfie, other than its front camera size, which is relatively larger than the Zenfone 2, which should be the case, since the Zenfone Selfie is a selfie-focused device.
Its huge front-facing camera sits, right above its display, exactly at the middle! specifically in the middle! For selfie purposes! Good call Asus, good call.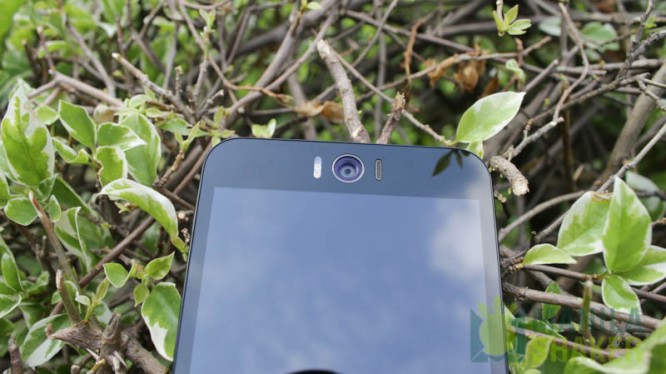 The different array of colors of the Zenfone Selfie is actually a pretty good thing that we noticed, with the one in our possession is the lovely chic pink Zenfone Selfie variant, which we really adore. The variant colors showcases the back cover's capability to provide different options and likings, which suits the introduction of the Zenfone Selfie, since Selfie's stand for expressing oneself, which, with the color variants, were heavily justified.
Its back part has a gently curve to it, which helps the Zenfone Selfie to deliver a comfortable feel upon holding the device. Its body has 10.8mm thickness measurement and weights at around 170g. No wonder it felt a bit heavy, still though, the Zenfone Selfie was a-okay in terms of gripping capability, so, no worries there. The device's power button is located at the tippy top edge of the device, while its volume controls are on its back. It kinda felt weird that these setup was transfixed on the Zenfone Selfie, however, overall, the device felt easy to handle, which is always a good thing.
Display and viewing experience
The Zenfone Selfie packs a 1080p display resolution, which is similar to the Zenfone 2's display capability. Certain problems were seen in the Zenfone Selfie's viewing angles, which delivered poor performance, while exposed to broad daylight. Despite this major problem, the Zenfone Selfie was still able to deliver decent color blending and accuracy, which is highly expected of the Zenfone Selfie.
Upon watching certain videos, a few problems regarding contrast change were experienced. Sudden change in video contrast and brightness on the screen was seen upon watching certain videos numerous times. Take note that, these were tested on downloaded videos and youtube videos, which delivered the same results. Just to enlighten everyone, this wasn't experienced on every video played, rather just a few downloaded videos and youtube videos only. Despite these many troubles, the Zenfone Selfie was still a decent device, in terms of display, for as long as you can tolerate a few of its drawbacks, then you're good to go.
Camera and Video performance
The Zenfone Selfie pioneered camera fusion on smartphones, with their rear and front shooting sensors carrying the same megapixel value of 13MP. With this innovation however, rear outputs and selfie outputs were on par, with one another, in terms of image quality and overall still image capability.
Upon seeing the outputs, we were able to determine that both shooters did deliver the same outputs, although they differ in quality, since selfie mode has beautification capability, which roughly increases the quality of the output. However, upon shooting around with the Zenfone Selfie for a few days, we happen to notice that its focusing speed was a bit slow.
We had issues with the rear camera's focusing capability, since we had to move and adjust to the camera's accepted shooting stance to get the shot that we needed. There was also a time that the Zenfone Selfie's focusing capability became a bit unweary and could not focus on the chosen subject, though this only happened only once. However, were yet to determine whether this is a predetermined incapacity of the Zenfone Selfie or just a problem on the unit that we had on our possession.
Front facing cam was great overall and delivered top of the line selfies with its wide viewing range, however, as mentioned in one of our comparison's before, the Zenfone Selfie was a bit aggressive in terms of warmth of the color in its selfie outputs, which to some might be a problem.
For video performance, it delivered a fair performance with its video shooting capability and output, however there were issues regarding exposure adaptability that was seen on the device. It seems that the Zenfone Selfie sometimes couldn't keep up with sudden drastic changes in lighting. We were able to observe in video shooting sessions that by transitioning the latter to a low lit area, the Selfie's sensor doesn't adapt very well on the sudden transition and provides a low lit output, which in contrast should have been able to adapt to the situation easily.
System and experience
Software experience on the Zenfone Selfie was smooth and was entirely enjoyable. The Android 5.0 Lollipop delivered a vanilla-like feel, combined with a few protective features on its screen, courtesy of Cornings Gorilla Glass 3 , which felt okay to us, for as long as the device delivered an overall good performance. The Zenfone Selfie surely does its job, however, Asus has been known to be notorious in putting up too many built-in applications on their devices, which was the case on the Zenfone Selfie. We know that some of these applications are quite useful on the device itself, however it's just that, the other remaining bloatware felt like they weren't necessary on the device.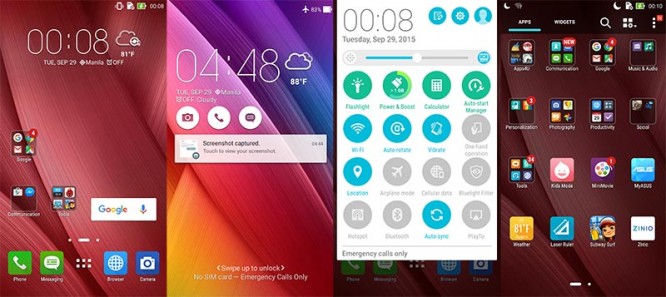 The Zenfone Selfie, despite a camera-focused device, surprised us with its smooth and excellent software capability, which is truly reminiscent of the Zenfone 2's overall excellent system and software capability. The Zenfone Selfie like the Zenfone 2, has a few things that are good to some, but may not be to a few. An example is its ZenMotion gesture feature, which was also present to the Zenfone 2 and some of its other handsets. We thought it worked okay, and was pretty satisfying to say the least.
We weren't exactly known to be fans of the ZenUI, however, the ZenUI on the Zenfone Selfie was tolerable and okay, since it was pretty much straightforward and clear, which is a quite rare. Our travels on the different stuff and UI of the Zenfone Selfie was all good and fine as dandy, however, if your looking for something new, in terms of software, then the Zenfone Selfie ain't exactly the best choice for you, which is obvious since the Selfie focuses on camera capabilities.
Performance and benchmarks
The Zenfone Selfie is empowered by Qualcomm's Snapdragon 615 chipset, which is quite of a shocker, since Asus were always more of a Intel chip patron and this is their first device in a long time to feature a Qualcomm Snapdragon chip. To us, though, this was a great move by Asus, since starting things off fresh on the Zenfone Selfie, with new a new chip capability is a broad way of saying that Asus is confident in their devices and they're always open for different types of transitions and approaches, to further improve their devices.
Here are the performed benchmarks on the Zenfone Selfie
AnTuTu rating – 36476
Basemark OS II rating – 827
Geekbench 3 rating – (single) 644, (multi) 2445
The transition to the Qualcomm chipsets, at least for us, paid off substantially, since the Zenfone were overall really strong in terms of system capability. There were typical lags here and there, when playing certain game applications, but was only for the beginning of gaming, the latter part of the gaming experience felt was smooth as glass and system-wise, again is reminiscent of the Zenfone 2's smooth capability.
In terms of internet browsing, overall browsing experience was manageable to say the least, since we experienced a bit of slowness in loading, which was actually acceptable, since the device's construction wasn't that used to, in running a Qualcomm chip. The 5.5-inch IPS FHD screen worked its wonders in video viewing, with the latter able to perform quick loading capabilities on youtube, an advantage that was shocking to be seen on a camera-focused smartphone.
Speaker
The Zenfone Selfie was far and wide on its mono speaker performance. Its speaker was superb in many ways and delivered a great performance overall. Nothing much can be said to its speaker, other than its quite amazing. The Zenfone Selfie's speaker is conveniently located on the device's lower back, which to us, helped it deliver its appealing and solid sound and volume quality and audio outputs.
Battery
The Zenfone Selfie's battery life was actually something to look at, if your looking for reasons why you should purchase the Zenfone Selfie, because by the looks of things, its a device that can give you great selfies and can continue to give you great selfies for a long bit of time.
Recorded on screen battery consumption of the Zenfone Selfie was for 2 hours. Take note that the Zenfone Selfie was already exposed to a 2 hour video, before this was determined. This means that the Zenfone Selfie's battery is gonna last much more longer than, lets say, the Zenfone 2, who's notorious in the battery department. The Zenfone Selfie helped differentiate itself from Zenfone 2 and primarily, trumps the Zenfone 2, in terms of battery longevity.
The Zenfone Selfie's battery did an excellent performance overall, so if you're worried that the curse of the Zenfone 2's battery will catch the Zenfone Selfie, then now you can put your worries to rest.
Verdict and Value
The Zenfone Selfie isn't necessarily the perfect selfie phone that Asus was aiming for, since there are obvious flaws in its camera performance, but the ironic thing is, that the Zenfone Selfie didn't trump in the camera department, but rather the system department, the Qualcomm chipset transition and overall system performance were exactly at par and if not better than the Zenfone 2, which is actually saying something. The Zenfone Selfie delivers a decent camera performance and a better system performance, its kinda confusing now, whether Asus should try to market the Zenfone Selfie as a Selfie smartphone or a system smartphone, though whatever works.
The Zenfone Selfie is currently priced at Php 11,995 on Lazada and other grey markets and online stores in the market. The Zenfone Selfie should fit the likes of photo buffs and selfie lovers, as well as new comers to the Zenfone series, since the latter was really user-friendly and was completely easier to handle than some Zenfone handsets.
What we liked about the Zenfone Selfie
Excellent selfie shooting capability
Decent rear shooter
Satisfactorily system performance
Good battery
What we didn't like about the Zenfone Selfie
Exposure issues on video
A few lags on gaming
An issue in display brightness while viewing videos
A not so fast focusing speed
What do you think of our take on the Zenfone Selfie? Leave your comments and suggestions on the comment section below! Feedbacks are always obliged!
Also, check out this video of the Zenfone Selfie in action.

Zenfone Selfie specs, Ph price
5.5-inch IPS 1080p FHD display, 403ppi
10.8mm thickness, 170g weight
Cornings Gorilla Glass 4, oleophobic coating
Qualcomm Snapdragon 615
2 GB of RAM for the 16GB variant, 3GB of RAM for the 32GB variant
16/32GB internal storage, microSD up to 64GB
13MP rear shooter, 4128 x 3096 pixels, laser autofocus, dual-LED flash (dual-tone
13MP selfie shooter, 1080p video, dual-LED flash
Dual-SIM, Wifi ac, BT 4.0, GPS, GLONASS, NFC
Android 5.0 Lollipop
3000mAh battery
Pure white, chic pink, aqua blue
Php 11,995 price at Lazada as of September 29
Related posts and reviews