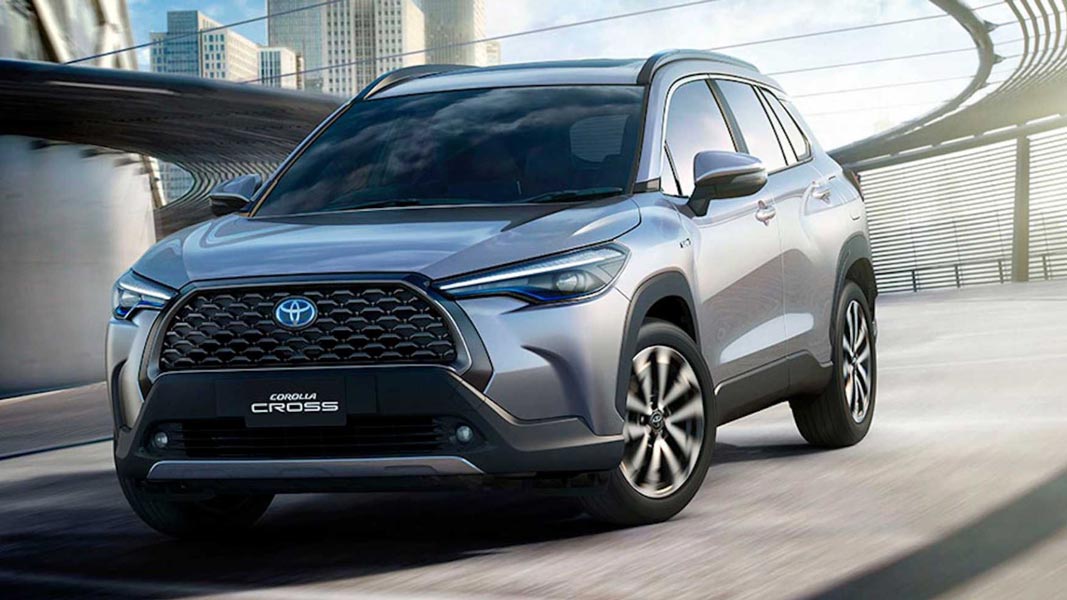 After introducing the Yaris Cross SUV and the new Wigo, Toyota has still a few cards left for 2020 as they launch the Corolla Cross 2021 in Thailand.
The new Toyota Corolla Cross is a big brother to the Yaris Cross but sporting the looks of the RAV-4 combined with the sedan Corolla Altis.
The front grille of the Corolla Cross has a big grille similar to the RAV 4 while its sides sport more curves, especially on the fender. The taillights resemble the Corolla sedan with a sleek looking finish.
READ: Toyota Raize compact SUV launched
Interior features include a digital instrument cluster and a big infotainment system along with several safety features like the Adaptive Cruise Control and Lane Departure warning system.
In terms of engine, the Toyota Corolla Cross SUV is powered by a 1.8-liter 4-cylinder with 140 HP power and 163 Nm torque. The Hybrid Corolla Cross is available in select markets like Thailand and Australia with a total power of 170 HP (98 + 72 HP from electric) and 305 total Nm of pulling power.
The estimated pricing of the Corolla Cross is at P1.2-million for the base model all the way up to the P1.7-million for the hybrid engine. Toyota Philippines will likely launch the Corolla Cross in our local market by early 2021 as they are focusing on introducing the Hilux and Fortuner 2021 first by this year.
Toyota Corolla Cross 2021 and Hybrid specs, release date Philippines, price
Body type: 5-door compact SUV
Engine:1.8-liter hybrid electric non-turbo gas or petrol
Power: 140HP and 170 HP (hybrid)
Torque: 163 Nm, 305 Nm (hybrid)
Transmission: e-CVT automatic or 5-speed manual
Fuel efficiency: 15 to 20 km/l estimated
Ground clearance: 180mm*
Safety: Driver, front passenger and side curtain airbags, Pre Collision, Lane departure, Lane tracing, Road Sign Assist, Rearview camera, reverse parking sensors, ISOFIX
Features: FKeyless entry, Infotainment touch center display, Digital gauge cluster
Price: estimated at P1,190,000 for the manual base model up to P1.69-million for Hybrid
Release: early 2021 in the Philippines