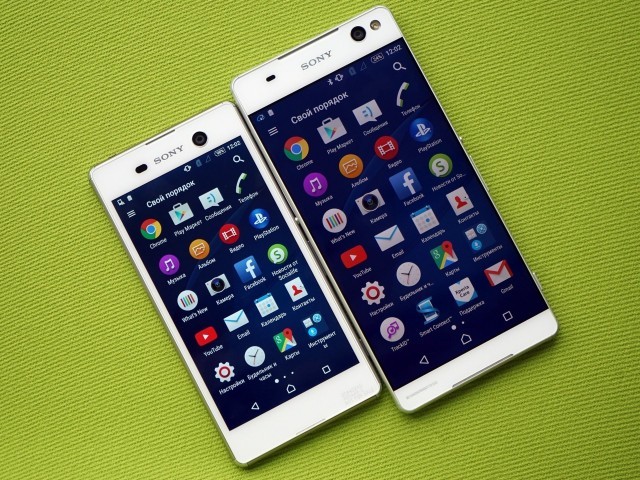 We highlight the top 5 things why Sony Xperia M5 is still a better buy than Xperia C5 Ultra. But by no means we are not bringing down the Xperia C5 Ultra, it's an impressive phablet with premium design and great camera capabilities and that is proven in our other comparisons and review. Below you can check the top 5 reasons why spending a little more when going for Xperia M5 over Xperia C5 Ultra is worth it.
Waterproof and dust resistance
Like its Xperia Z5 siblings, the Xperia M5 features IP68 rating which means you get a waterproofing up to 1.5m for 30min in fresh water. This feature adds ruggedness for your device and could possibly save your device when accidentally dropped in water. Just be sure to avoid beach or sea as these Xperias are not rated for salty water.
4K UHD video recording
The Xperia M5 is one of the mid-range smartphones from Sony to feature 4K UHD high res video or 2160×3840 pixels at 30FPS. This shooting feature is an advantage for Xperia M5 over Xperia C5 Ultra and most mid-range smartphones these days.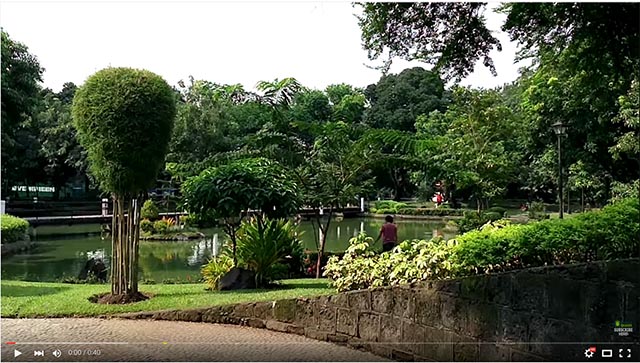 Better camera in still photos
In our comparison test we found out that the 21.2MP shooter of Xperia M5 performs slightly better than the 13MP shooter of Xperia C5. Images of Xperia M5 are visibly sharper, have more accurate colors and better flash lighting production.
See gallery of comparison here.
Compact design and with more screen ppi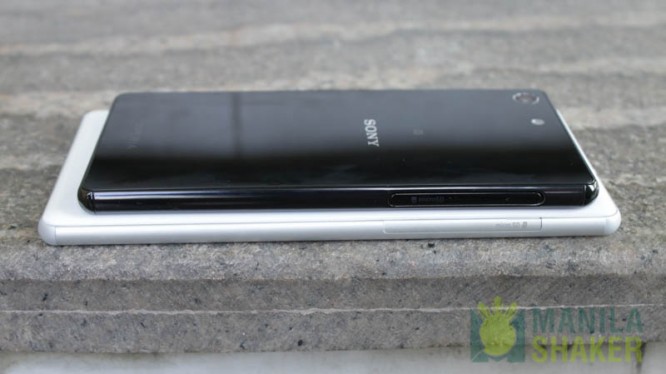 The 5-inch screen size of Xperia M5 packs more display density or ppi (pixel per inch) which means that you have sharper picture quality. The smaller display also equates to more compact footprint. The more compact, the more handy it is with one-handed use.
Speaker and audio quality
Both Xperia M5 and Xperia C5 have bottom-facing mono speaker, in our comparison the M5 edges out the C5 in audio quality. Sound output from Xperia M5 is a big cooler and clearer.
Bonus: More Memory with 3GB RAM
Sony Xperia M5 is packed with faster chip and more memory with 3GB RAM compared to 2GB RAM of Xperia C5. With ample memory, gaming and multitasking will be surely smoother.
See also: Sony Xperia M5 vs Xperia C5 Ultra Comparison
Verdict and Value
So is the price difference of Xperia M5 over Xperia C5 really worth spending for? For us it is a big yes, especially if you want the best mid-range experience. Investing on Xperia M5 will yield with better camera capabilities and more rugged features than the Xperia C5 Ultra. But if you want an extra real state screen, surely, the Xperia C5 is a recommendable phone for that.
Checkout the video comparison of Xperia M5 VS Xperia C5 Ultra

| | | |
| --- | --- | --- |
| Specs, PH Price | Sony Xperia M5 | Sony Xperia C5 Ultra |
| Display | 5-inch 1080p IPS LCD, BraviaEngine, 441ppi | 6-inch 1080p IPS LCD, BraviaEngine, 367ppi |
| Size | 7.6mm thick, 142g weight | 8.2mm thick, 187g weight |
| Design | IP68 water and dust resistant up to 1.5m for 30min | 0.8mm thin bezel |
| Colors | Black, Gold, White | Mint, White, Black |
| Chipset | MediaTek Helio X10 octacore | MediaTek 6752 octacore |
| Processor | 8 x 2.0GHz Cortex A53 | 8 x 1.7GHz Cortex A53 |
| Graphics | PowerVR G6200 | Mali-T760MP2 |
| Memory | 3GB RAM, 16GB internal, microSD card 200GB max | 2GB RAM, 16GB internal, microSD card 128GB max |
| Main Camera | 21.2MP AF, phase detection, fast focus, LED flash | 13MP AF, LED flash |
| Multimedia | 4K UHD video, HDR | 1080p FHD video, HDR |
| Front camera | 13MP AF, 1080p video | 13MP AF, 1080p video, LED flash |
| Connectivity | WiFi a, Bt 4.1, GPS, NFC, dual SIM 4G LTE, FM radio | WiFi a, Bt 4.1, GPS, NFC, dual SIM 4G LTE, FM radio |
| OS | Android 5.0 Lollipop update to 6.0 Marshmallow | Android 5.0 Lollipop update to 6.0 Marshmallow |
| Software | Xperia UI (close to stock Android experience) | Xperia UI (close to stock Android experience) |
| Battery | 2600mAh | 2930mAh |
| Ports | microUSB 2.0, MHL | microUSB 2.0, MHL |
| Official Price | P23,390 from Sony PH | Our unit bought from hotgadgets | P19,190 from Sony PH | Our unit bought from onestoptech |
| Availability date | Sep-15 | Sep-15 |
| Where to buy | Official Sony PH stores, retailers | Official Sony PH stores, retailers |
Related posts and reviews