Suppose you are a promising student who graduated from a bachelor's degree program and is now pursuing postgraduate studies. In that case, you can take advantage of the AD ASTRA Scholarships Program sponsored by the Philippine Space Agency (PhilSA) to receive financial assistance.
Several types of scholarships will be offered under this program, which stands for Advanced Degrees for Accelerating Strategic Space R&D and Applications. The Scholarships are awarded on full, partial, lateral, and sandwich bases to deserving students wishing to earn postgraduate degrees within the field of science and technology related to space.
What degrees do the AD ASTRA scholarships prioritize?
Several postgraduate fields are relevant to space science and technology, including:
Hydrological Science, Climate Change and Variability

Terrestrial and Planetary Environmental Science and Engineering

Aerospace Engineering

Mechanical Engineering

Software Engineering

Systems Engineering

Digital and Analogue Electronics

RF Electronics

Space Physics

Space Law

Space Policy

Ocean Science

Planetary Science

Geological Science

Hydrological Science
PhilSA AD ASTRA scholarship eligibility
Must not be more than 45 years old at the time of application (for Masters and Doctorate Scholarships) and not more than 50 years old for stand-alone sandwich programs.

Must be a Filipino citizen

Must be in good physical and mental health

Must be of good moral character

Must have a relevant Bachelor's Degree (for Master's Degree applicants) or Master's Degree (for Doctorate Degree applicants)

Must have no pending administrative/criminal case

Must have no pending service obligation from any previous scholarship programs

Must have a research/thesis/dissertation plan in line with the priority areas identified by the Scholarship Committee

Must have passed the admission requirements of any CHED-recognized HEI (for local studies)

Must have passed the internal scholarship process of their Department/Agency (for government employees)

Must have been accepted to their host institution or University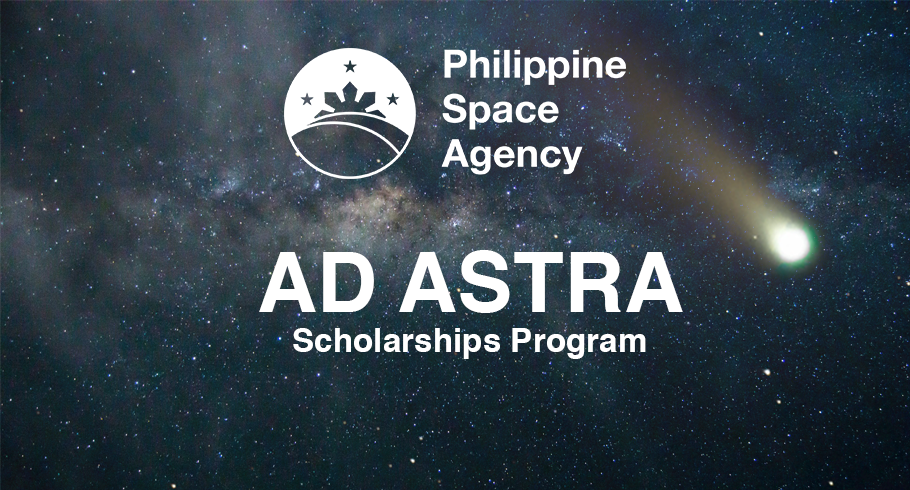 PhilSA AD ASTRA checklist of scholarship requirements
Checklist of requirements

Duly accomplished PhilSA Scholarship Program Application Form (Form 1)

Updated Curriculum Vitae

Photocopy of birth certificate

Certified True Copy of Grades/Transcript of Records

Certified True Copy of Diploma/Certificate of Graduation

Certificate of No Pending Administrative Case

Certificate of No Pending Service Obligation

Recommendation letters from 3 academic professors or supervisors (Form 2)

Medical certificate

Research and Career Plans (Form 3)

Duly accomplished Proposed Budget Form (Form 4)

Passport size photo

Valid NBI Clearance

Proof of acceptance in the University or host institution
Wondering what the benefits are?
PhilSA Ad Astra will cover your tuition and other school fees, depending on your eligibility. The scholarship program also includes accommodation, meals, and incidental expenses. Technological support is also given, which may vary; a laptop and basic monthly internet connection/communication expenses may be provided for full and local scholarship holders.
PhilSA also covers thesis, round-trip transportation, pre-departure, and relocation allowances for their scholars. For grantees with disabilities, PhilSA offers disability support. Membership in professional societies and PhilSA Scholars Group is also given. 
Interested? Anyone can access and download all the PhilSA Scholarship Forms through this link