Everybody's everyday routine gradually transformed into a radically different way of living. Many consumers have turned their heads from physical purchasing to online shopping as a norm. As online e-commerce progressively engulfs our systems, Lazada leveled up its services with the same-day delivery option.
How to order on Lazada with same-day delivery?
Find items displayed on Lazada to list them as same-day delivery options, and add them to the shopping basket. You must choose or pin your shipping address to complete the checkout procedure.
Make sure you have added the correct items to your online cart, check that you have selected Same Day as your delivery option, and then place your order. You should receive your items in the afternoon.
What are the benefits of ordering on Lazada with same-day delivery?
With Lazada's same-day delivery service, you will receive your items on the same day you order from the website. However, you should place your order before a specific time to qualify.
This service is great if you want to get your items as soon as possible without waiting for the next day. However, it must be noted that this delivery option is not available 24/7 in all parts of the country. On weekdays (Monday – Friday) except holidays, this service is available for Cavite, Laguna, and Metro Manila residents.
What is the cut-off time for ordering on Lazada with same-day delivery?
If you wish to avail of the same-day delivery service, ensure that you have completed your orders on or before 11:00 AM, as any orders beyond the cut-off will be delivered the next day. Orders can be made and delivered with cash on delivery, a feature that has helped maximize success for the online retailer.
How much does Lazada's same-day delivery cost?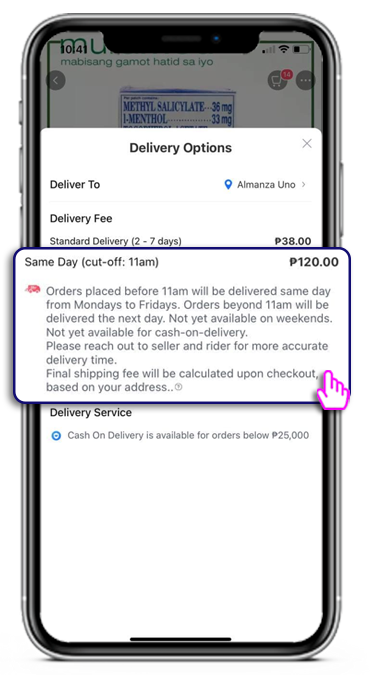 The delivery charge for the first ten kilometers will be P120. A charge of P8 per kilometer will be imposed for each additional kilometer after this distance. When applicable, you can use valid vouchers and discounts, such as free shipping to lower the cost of your purchase.
What is the mode of Payment for Lazada's same-day delivery?
According to Lazada, Cash on Delivery is not yet available for same-day delivery service. On the other hand, GCash, PayMaya, and other prepaid options like credit and debit cards are applicable, making it easier for customers to pay.
What items are eligible for Lazada's same-day delivery?
First, you must purchase the product from Lazada to be eligible for same-day delivery. Additionally, if your purchase includes the words "Same Day." under the delivery options, you will easily know if your purchase is eligible for same-day delivery.
It should be noted that if other items in the same order are not scheduled for Same-Day Delivery, the whole order will only be eligible for standard delivery at the time of checkout.
What are the Lazada same-day delivery policies?
Orders for the Same Day deliveries are possible through a motorcycle-type courier. Therefore, Lazada advises following the maximum weight of 20KG and a dimension of 43cm x 43cm x 76cm (Length x Width x Height) must be adhered to. 
Are there any restrictions when canceling with Lazada on same-day delivery?
If you'd like to cancel an order before it is ready to be shipped, you can still do so, similar to standard delivery. It should be noted that under this option, Lazada may cancel orders if (1) items are not ready to ship on the scheduled day of the shipment (or 2) items are not in stock, or (3) there is not an available rider to pick up the package.
Would it be possible to update my warehouse pickup address on Grab's website?
You may submit a request through this form to update your current geocode (pickup address location that is sent to Grab) for existing sellers who already offer the Same Day Delivery. On the Lazada Website, you can find instructions and details about how to acquire the geocode. 
How to disable the Same Day Delivery service? 
Disabling Same Day Delivery temporarily: Sellers can temporarily disable Same Day Delivery for the SKUs (Stock Keeping Unit) by simply clicking on "No" under Delivery Option. This is possible either by editing each SKU individually or by editing batches of SKUs together. When sellers want to offer the Same Day Delivery again in the future, SKUs can be re-enabled easily to offer the service again.
The option of Permanently Disabling Same Day Delivery from the seller's entire store is available here:         https://yida.alibaba-inc.com/o/LZDSDDRequestForm.
In short, if the seller chooses to disable Same Day Delivery, customers will no longer be able to select Same Day Delivery on any of the products.
As good as it may sound, remember that Lazada's 1-day delivery service may be inconvenient because of the fees they charge for this service. There are also instances when there is no guarantee that the products ordered will not be delivered on the same day you requested.