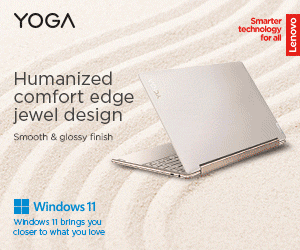 We put out Sony's premium handset, the Z5 Premium in a camera comparison against a few new known handsets in the market, none other than the Galaxy Note 5, LG V10 and Nexus 6P. We covered daylight and low light shots, selfies and HDR images and videos. Which among these 4 top of the line handset will show off better in our camera comparison?  Let's find out.
Related
The basics, specs, camera features of Z5, Note 5, LG V10, Nexus 6P
The Z5 Premium carries a 23MP rear shooter that carries a sensor size of 1/2.6″, an aperture of f/2.0 and a 24mm focal view. it has LED flash, shoots 4K UHD and has hybrid steady shot feature.
The LG V10 is most likely its main rival, with its 16MP 1/2.6″ sensor, a f/1.8 aperture, a 12.5mm focal view, shoots 4K UHD videos, 5MP front camera, and OIS feature.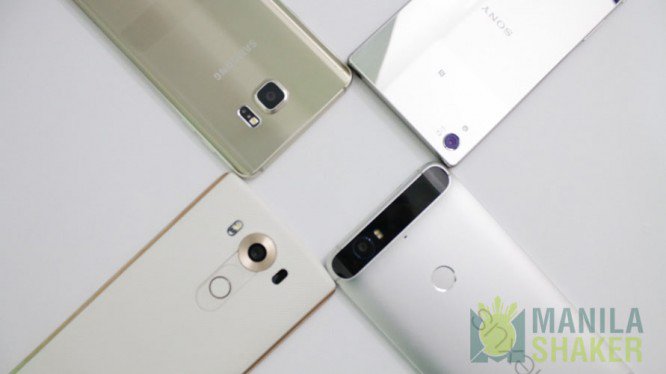 The Galaxy Note 5 is next to the stage with its 16MP 1/2.6″ sensor, f1/.9 aperture, 28mm focal view, 4K UHD video, 5MP front camera, LED flash and OIS feature, with a added touch of color spectrum capability on its sensor.
Next up is the Huawei Nexus 6P, that is currently doing great in the camera department. It carries a 12.3MP 1.55um pixeled sensor, a f/2.0 aperture, 26.6mm focal view, 4K UHD video, an 8MP front camera, dual-tone flash and an image stabilization camera feature.
How we shoot to get the best results from the camera phones
We all manually setup the cameras into certain modes to make all of them at the peak of performing. We set all controls to automatic mode to be fair for all as most users will leave this setting in their phones.
On Xperia Z5 Premium, we chose to put the settings to 4:3 aspect ratio in daylight shooting. For low light, we switched it up to 8MP, to maximize the shot on dimmed or no-light areas. 8MP shooting in low light provides better exposure, though it loses a great amount of detail, in comparison to the 23MP mode.
Everyone else is on 12MP auto mode, for higher capability.
Daylight and HDR shooting
The LG V10's outputs were clearly seen to be a bit out of color, in comparison to the 3 others. With the Xperia Z5 dishing out the better detail preserving capability amongst the 4.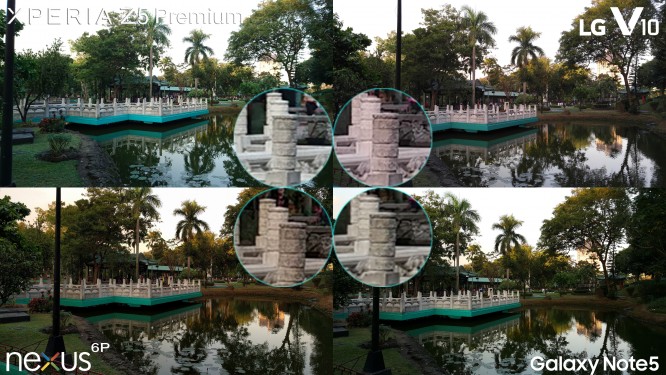 Both the 6P and the Note 5 were a bit closer to each other, in terms of overall exposure, color, and view. Most shots were well exposed, with the Xperia Z5 Premium showing off better and brighter scope than the 3.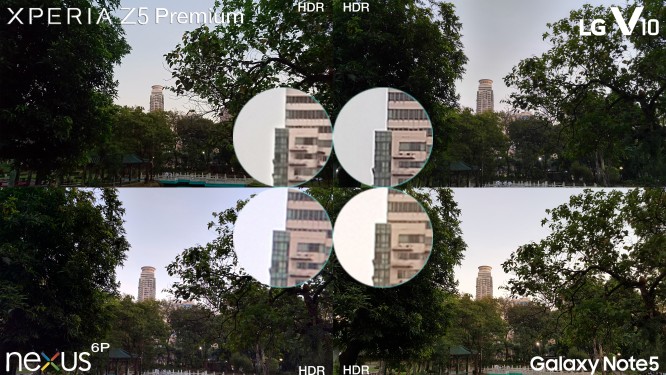 HDR Shots were all exposed great on 4 shooters, with the 6P, dishing out better color detail and Xperia Z5 Premium and V10 showcases similar blending of color while Galaxy Note 5 loses in the exposure department.
See also: Sony Xperia Z5 vs LG G4, iPhone 6s, Galaxy Note 5 Camera Comparison!
Night and low light with flash shooting
For night shooting, it was obvious that the Xperia Z5 Premium was a bit out of it, in terms of color, while others stayed in the dark. However, it was seen to deliver a brighter and overall more detailed output than the other shooters.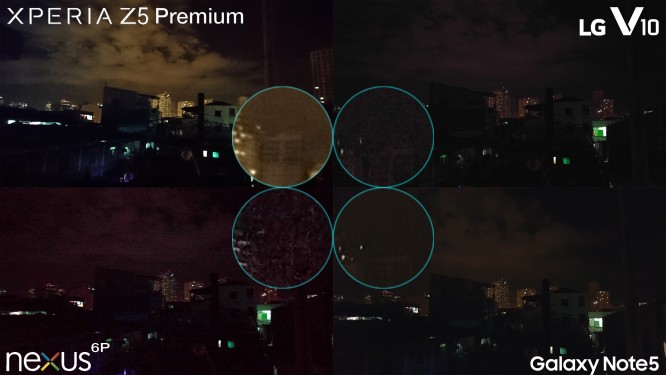 Other night shots showcase this ability of the Xperia Z5 Premium in night shooting perfectly and was able to deliver distinguishable outputs. Noise control was considerably better too.
On flash shooting, the LG V10, and Galaxy Note 5 showcased brighter flash and overall resulted to better exposure. Adaptability in night shooting though has to go to the Xperia Z5 Premium.
See also: LG V10 vs Nexus 6P Comparison, Camera Review, Benchmark, Speaker Test
Selfie from front-facing cameras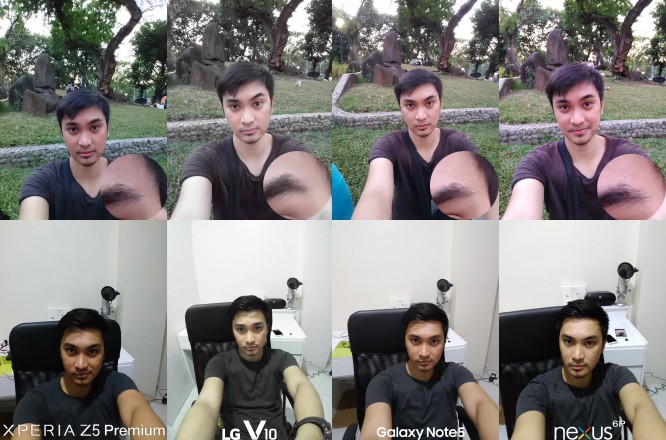 The LG V10 and Nexus 6P surprisingly showcased brighter and more exposed outputs among the 4. However, detail preservation is going over to the Xperia Z5 Premium, with its accurately blended outputs, background or not.
LG V10's front shooter shows a bit washed color while the Galaxy Note 5 and Nexus 6P showed a bit color. Color or skin tone is also better on the Xperia Z5 Premium and the Galaxy Note 5.
HD video recording and stabilization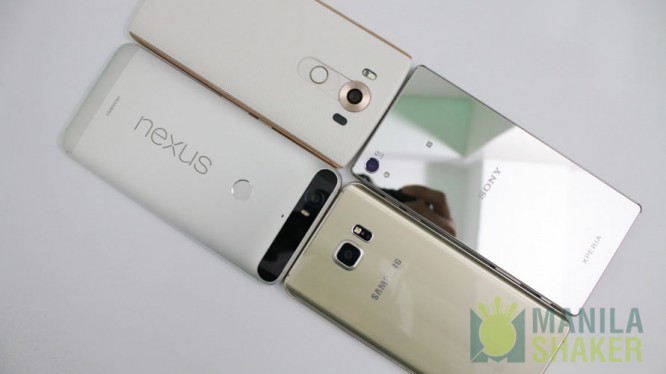 All 4 handsets are capable of shooting 4K UHD videos, with a 2160p at 30fps, with some of them having a 720p at 30fps lowest set video capability.
For video brightness, the Nexus 6P showcases a more lit video, with an excellently bright video output. Colour and detail are going towards the V10 and Xperia Z5 Premium, which almost delivers a pretty appealing output as a whole. The Note 5, on the other hand, delivered a bit washed out coloring. All 4 handsets were excellent since they all shot a great 4K Ultra high def video.
Focus-wise, the Xperia Z5 Premium delivered a faster-focusing speed, second only to the LG V10. While steadiness goes to the LG V10.
Conclusion: Which is the best camera phone for you?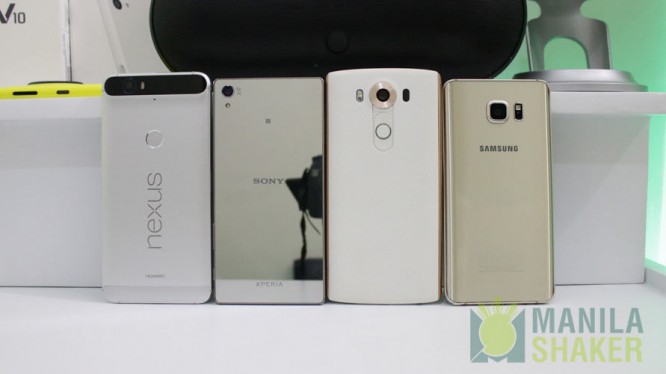 Xperia Z5 Premium and LG V10 have both excelled in this camera comparison though the 6P and Note 5 are no pushover. They all have their cons and pros, in which things will depend on you, the buyer, to favor a particular handset.
The big question is, which among these two would you want to have as a shooting companion?
Nexus 6P vs Xperia Z5 Premium vs LG V10 vs Galaxy Note 5 Comparison Video

Specs comparison of Galaxy Note 5, LG V10, Xperia Z5 Premium, Nexus 6P
| | | | | |
| --- | --- | --- | --- | --- |
| Camera Specs (in-depth) | Sony Xperia Z5 Premium | Samsung Galaxy Note 5 | LG V10 | Huawei Nexus 6P |
| Main Sensor | 23MP | 16MP | 16MP | 12.3MP |
| Sensor size in inch | 1/2.6″ sensor size | 1/2.6″ sensor size | 1/2.6″ sensor size | 1.55um pixels |
| Lens aperture | f/2.0 G lens | f/1.9 | f/1.8 | f/2.0 |
| Field of view | 24mm | 28mm | 12.5mm | 26.6mm |
| Video | up to 4K UHD video @30fps | up to 4K UHD video @30fps | up to 4K UHD video @30fps | up to 4K UHD video @30fps |
| Front facing | 5MP | 5MP | 5 MP Duo | 8MP |
| Flash | LED flash | LED flash | LED flash | dual tone LED flash |
| Stabilization | Hybrid Steady Shot | Optical Image Stabilization | Optical Image Stabilization | Image stabilization |
| Extra features or sensors | N/A | Color Spectrum Sensor | dual front facing sensor | N/A |