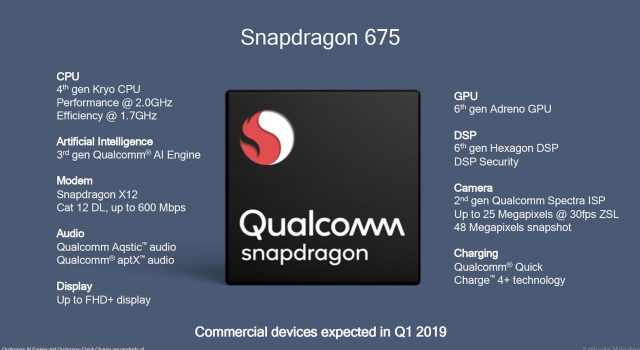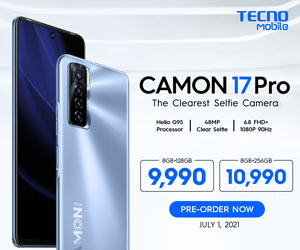 Qualcomm recently unveiled their newest mid-range SoC or mobile processor — Snapdragon 675 CPU– adding to the already crowded segment from the silicone manufacturer. While the first batch will ship in 1st Quarter of 2019, we wonder how it differs compared to the less than 6 months old 710 and 670? Well, it's a bit complicated.
OPPO R17 revealed with in-display fingerprint and Snapdragon 670
Snapdragon 675 vs 710 vs 670 Specs Comparison
Specs 
710
670
675
Process (node)
10nm
10nm
11nm
CPU
2x 2.2GHz Kryo 360 (Cortex-A75)
6x 1.7GHz Kryo 360 (Cortex-A55)
2x 2.0GHz Kryo 360 (Cortex-A75)
6x 1.7GHz Kryo 360 (Cortex-A55)
2x 2.0GHz Kryo 460 (Cortex-A76)
6x 1.7GHz Kryo 460 (Cortex-A55)
GPU
Adreno 616
Adreno 615
Adreno 612
RAM
LPDDR4X @ 1886MHz
LPDDR4X @ 1866MHz
LPDDR4X @ 1866MHz
Digital Signal Processing (DSP)
Hexagon 685
Hexagon 685
Hexagon 685
Image Signal Proceesor (ISP)
Spectra 250 – 32MP single or 20MP dual
Spectra 250 – 25MP single or 16MP dual
Spectra 250L –
25MP single or 16MP dual | 48MP snapshots
480fps HD Slo-Mo
Bluetooth
5.0
5.0
5.0
Quick Charge
4+
4+
4+
Modem
X15 LTE
800Mbps down
150Mbps up
X12 LTE
600Mbps down
150Mbps up
X12 LTE
600Mbps down
150Mbps up
Downgraded Specs But Better Real-World Performance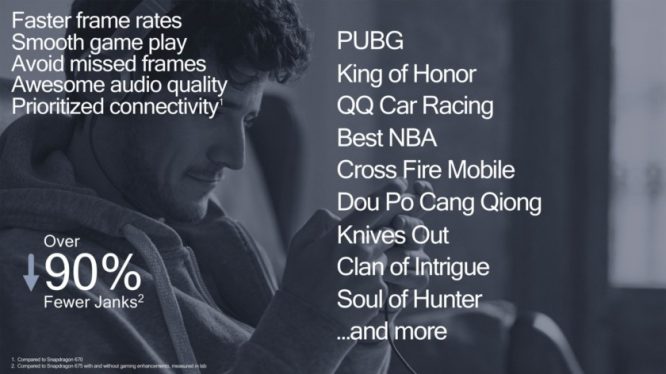 That's what's Qualcomm is preaching for the newest Snapdragon 675. Although the 11nm process seems to be a little bit bigger, there's not much of a difference in overall raw performance. Instead, it's the background enhancements that come with it, specifically gaming.
Made for better gaming performance, it's claiming to provide a smoother experience with "over 90% fewer janks" such as drop frames, stutters, and even higher frame rates.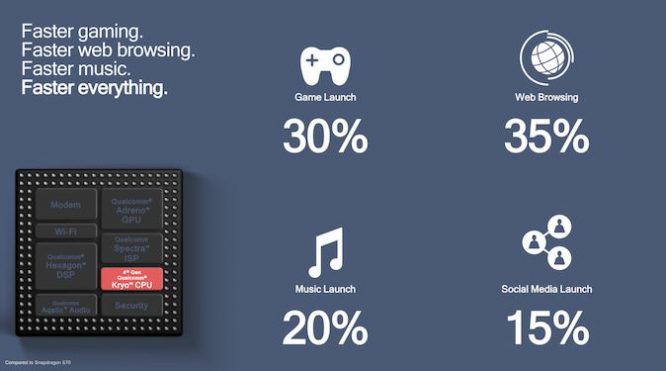 The real upgrade comes in the form of its camera performance. We're bound to see mid-range handsets in 2019 that can provide up to 48MP sensors along with the ability to record up to 480fps slow-mo video.
Last but not least, it also boasts of up to 50% overall AI recognition improvements for better artificial bokeh effect, optimized battery life, and learning user's voice for better voice unlocking.
Which is faster?
In this case, we just have to take Qualcomm's word for it. On paper, it might be considered a slower SoC compared to the two, but we've seen how software optimization works its magic with the hardware. After all, performance isn't just about specs.
Upcoming Snapdragon 855 processor Android Phones
Qualcomm Snapdragon 1000: How powerful is it?