The Asus Zenfone Selfie (priced at around Php 11-12K) is build for selfie lovers and photo buffs alike. In all aspects, it is a device capable of providing excellent selfies and image outputs, which photo buffs and selfie lovers would enjoy to the fullest extent. With that in mind, we figured we'll make a list as to why the Zenfone Selfie is the current best selfie phone in the market. Check out its specs, prices and overall features to know why its the best selfie phone right now.
Provides great wide angle camera capabilities
In our review comparison of the Zenfone Selfie and Sony Xperia C5 Ultra, we highlighted that the Zenfone Selfie possesses a great wide angle camera range on its front-facing camera, which was shown as superior to the C5 Ultra. With this trait, the Zenfone Selfie should deliver high-end outputs that would satisfy any selfie lover. This, combined with the Zenfone Selfie's very detailed and sharp outputs would truly be a factor to think about, when purchasing a selfie phone.
A dual-tone LED flash for its front-facing camera
Dual-tone LED flash feature is quite common to camera sensors, however, there are but a bit, of devices that offer them through their selfie shooters. With this, the Zenfone Selfie sets itself far from the rest with this very effective feature. This will help selfie lovers to enjoy a selfie anywhere and everywhere, at any given time, day or night. The dual-tone LED flash of the Zenfone Selfie is very utility-wise and should be given more consideration, when deciding to purchase a device of your own.
A whopping 13MP for its selfie shooter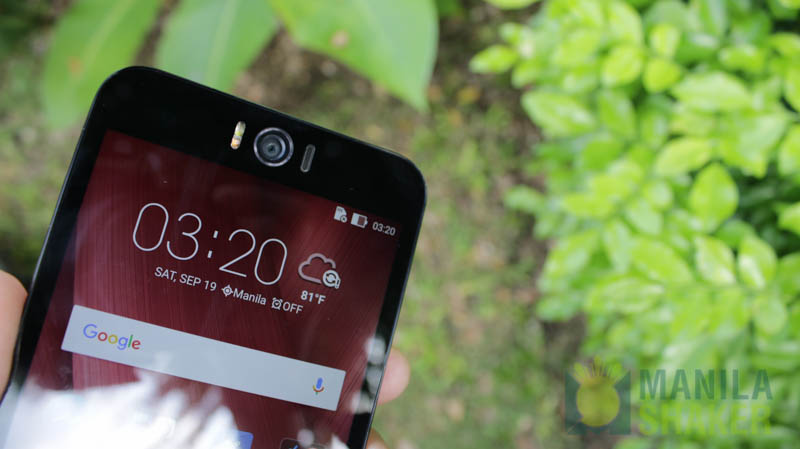 Only a few devices offer a 13MP selfie shooter, which is truly beneficial to those who frequently take selfies. The 13MP selfie shooter of the Zenfone Selfie provides very good quality on outputs and an overall excellent performance. Asus surely upped their game, when they packed the Zenfone Selfie with these bad boys. The Zenfone Selfie's 13MP selfie shooter is truly a remarkable transition to the usual Zenfone devices that provide at least 8MP in their front facing cam sensor.
 Built-in rear shutter button for Selfie shooter

The Zenfone Selfie showcases a few unique camera-related features, one in which is the shutter button present on the camera's rear. This is a very unique feature that is not present to most devices today. thus, this is another thing that helped the Zenfone Selfie in differentiating itself from the pack, which eventually helps the latter find its particular market. This feature helps selfie lovers in delivering utility in their selfie endeavors, by delivering great efficiency on every selfie they take, with the help of the rear shutter button.
Reliable main camera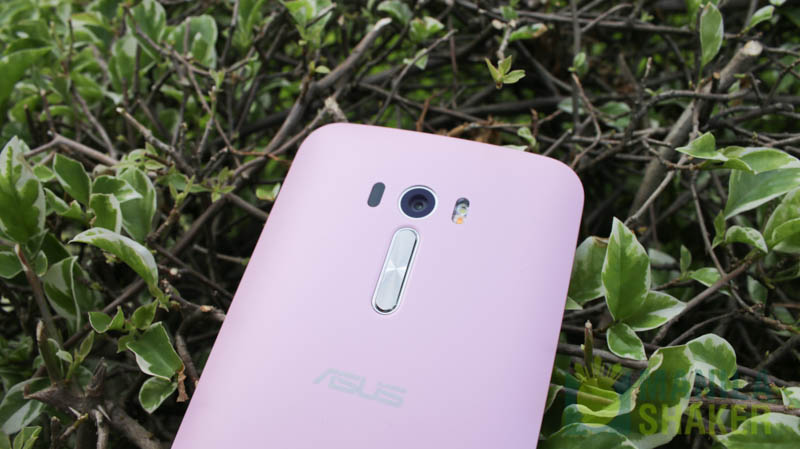 The Zenfone Selfie delivers one check of a performance in its rear camera, with the latter able to deliver sharp and color accurate outputs. The Zenfone Selfie isn't all for selfies, nope, its more than that, with the main camera's laser autofocus and a reliable 13MP rear shooter. The Zenfone Selfie pioneered camera fusion capabilities, which means that both the rear and the front camera are at the same megapixel value, which is quite an original feature if i may add.
Rich camera software features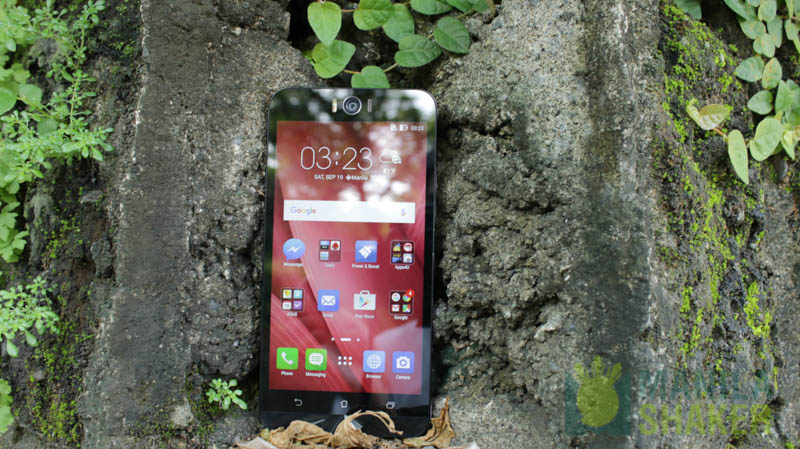 The Zenfone Selfie's panorama capability and beautify mode are something to look at. They help the user maximize their selfie experience with a few true selfie editing features. This generates many ways in how you can help improve your selfies to your preference. The Zenfone Selfie panorama capability, combined with its wide angle view delivers a picture perfect group selfie, while maintaining consistency on the background.
Price
The ultimate selfie machine, for only 12K or less? not bad of a deal actually. The Zenfone Selfie provides one heck of an affordable price. The biggest factor to take by selfie lovers and camera buffs. This deal is really good, when your thinking about the different expressive selfies and cherishable  moments you'll capture with the Zenfone Selfie.
Did you agree with our list? Leave your comments and suggestions on the comments section below. Feedbacks are always obliged.
Zenfone Selfie specs, Ph price
5.5-inch IPS 1080p FHD display, 403ppi
10.8mm thickness, 170g weight
Cornings Gorilla Glass 4, oleophobic coating
Qualcomm Snapdragon 615
2 GB of RAM for the 16GB variant, 3GB of RAM for the 32GB variant
16/32GB internal storage, microSD up to 64GB
13MP rear shooter, 4128 x 3096 pixels, laser autofocus, dual-LED flash (dual-tone
13MP selfie shooter, 1080p video, dual-LED flash
Dual-SIM, Wifi ac, BT 4.0, GPS, GLONASS, NFC
Android 5.0 Lollipop
3000mAh battery
Pure white, chic pink, aqua blue
Php 11,995 price at Lazada as of September 22
Related posts, reviews, comparisons: